Brian O'Driscoll has a World Cup remedy to fix Joe Schmidt's struggling Ireland midfield
Brian O'Driscoll believes it is time for Joe Schmidt to take decisive action with Ireland's struggling midfield and finally ask Garry Ringrose and Robbie Henshaw to replicate what they have done together at Leinster at the World Cup with Ireland. 
Multiple trophies have been won by the Irish province in recent years with the two young midfielders paired together at a unit by Leo Cullen. 
However, injuries and Schmidt's unyielding preference to choose Bundee Aki as his No12 have meant that the Ringrose/Henshaw double act has only been seen in action once – the 26-21 series-saving win over Australia in Melbourne in June 2018 – since New Zealander Aki became eligible for his adopted country under World Rugby's three-year residency rule. 
Before Aki became available, the Henshaw-Ringrose axis had started on five occasions and helped to deny England the 2017 Grand Slam. However, ever since the Connacht midfielder made a November 2017 debut, Aki has been Schmidt's starting inside centre in 18 of Ireland's 22 matches.  
Having now watched records tumble at Twickenham last Saturday on the back of Schmidt's worst result of his 69-match reign, O'Driscoll, who retired in 2014 as Ireland's most capped player ever, would like to see a major change in strategy ahead of the finals.
(Continue reading below…)
"The partnership for me is – if both players are fit – Garry Ringrose and Robbie Henshaw," said O'Driscoll to RugbyPass four days after a woeful Ireland conceded eight tries in London and leaked their most points ever in a match against England.  
"It's partly because of their understanding of playing together provincially as well. Bundee has never disappointed for Ireland, save for his game at the weekend against England.
"He will want to put that right next time he gets a chance. But for me, Robbie and Garry are the starting partnership all things being equal."
There has been widespread rancour in Ireland in the wake of the harrowing defeat to England, with people feeling the chance of achieving history at the World Cup is now banjaxed. 
However, while O'Driscoll refuses to say there has been an over-reaction, he does believe things can quickly turn around again before the tournament in Japan as Ireland have two more warm-up matches to go yet against Wales.   
"No (there hasn't been an over-reaction) because it was such a disappointing performance and it comes off the back of a very disappointing performance in the final game of the Six Nations. 
A disastrous day for Ireland against England at Twickenham is reflected in their low-scoring player ratings https://t.co/XyYpU3Lzzz

— RugbyPass (@RugbyPass) August 24, 2019
"That said, can it be rectified relatively quickly? Yes, it can, but confidence has clearly taken a bit of a battering and we haven't properly recovered from the England and Wales game in Six Nations and now we are going to have to do it the hard way. 
"But the reality in sport is you have the capability of turning a big deficit around in a short space of time as we have seen with the All Blacks a few weeks ago, as we have seen with a few other teams like England in the World Cup in 2007 where they got absolutely tonked by South Africa and then narrowly lost in the final to them. There is scope for this team to be able to turn it around, but it has to start this Saturday in Cardiff."
Having played out the last season of his stellar international career with Schmidt at the helm following three seasons playing under him at Leinster, O'Driscoll suggests no one more than the New Zealander will be as wounded by the 57-15 loss at Twickenham.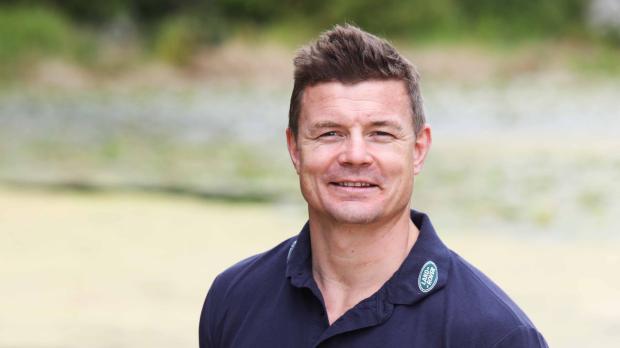 "He will take it very badly I would think and I'm sure he will look internally and try and question why it has happened the way it has and what he has done wrong as much as what hasn't happened with his players and why they haven't been able to implement his game plans," said O'Driscoll, a Land Rover ambassador.  
"He will look internally as well as externally and work even harder this week to try and make sure that the players are fully prepped. There is a big onus for players to get that right now and deliver for him because there is certainly going to be a couple of players who will be nervous in advance of the World Cup squad announcement next week. 
"If they have a second poor performance he could definitely cut someone adrift. Because of last week guys who would have thought they were an absolute shoo-in, now all of a sudden there might be a question mark over their head as to whether they are definitely on the plane or not. 
"There will be some guys that will still feel as though he is not going to leave them out but there will definitely be a few guys who will think if they don't perform well they could be one of the ones that could be cut adrift because he could make a point of doing it. 
"Nothing drives your performance better than that (fear) the next time you get to wear the jersey. You feel as though he is going to pick a strong team because you can't wait another week to ease your way back into it. The best way to go out and right the wrongs in the performance is the next time you wear the jersey, which is this Saturday."
WATCH: Ireland coach Joe Schmidt and captain Rory Best after their side's 57-15 loss to England
Land Rover is official Worldwide Partner of Rugby World Cup 2019.  With over 20 years of heritage supporting rugby at all levels, Land Rover is celebrating what makes rugby, rugby. #LandRoverRugby
Comments
Join free and tell us what you really think!
Join Free