Beating the Scots highlights how Georgia's age-grade evolution is in full swing
A dominant scrum and an array of hard as nails front rowers have long been the staple of Georgia rugby. However, while that strength and philosophy is not departing anytime soon, there are signs of evolution on the pathway for the Lelos.
The Georgian under-20s had suffered two defeats so far in the World Under-20 Championship in Argentina. That shouldn't come as too much of a surpriseal given they were in a pool with South Africa and New Zealand.
What they will be pleased with this Wednesday, though, is how competitive they were with New Zealand and their performance in their 17-12 win over Scotland.
It wasn't just that they were competitive up front, either. It was the creativity and composed execution of their back line which shone through, something which hasn't always been the case with Georgia as a rugby-playing nation.
As touched on earlier, their scrummaging is consistently among the best in the world and that shows no signs of abating with this group of under-20s. Loosehead pair of Nika Gvaladze and Luka Azariashvili are standing out as destructive set-piece operators.
?? Georgia 17-12 Scotland ??????? #???????????? #???????? ???
FT in Rosario, with the #JuniorLelos winning a massively tough match against very tough U20 @Scotlandteam 17-12 ? pic.twitter.com/zkq96nEYvU

— Georgian Rugby Union (@GeorgianRugby) June 12, 2019
With the regular pipeline of young Georgian front rowers to the top two leagues in France, where scrummaging is particularly prized, the continued existence of a strong Lelos scrum is one of the more certain things in international rugby.
Away from that area of strength, 19-year-old fly-half Tedo Abzhandadze is the potential spearhead of an evolution, if not revolution, in the way Georgia operate.
Despite still being at the forefront of Georgia's efforts in Argentina at the age-grade championship, he already has seven senior caps to his name and has been touted by coach Milton Haig as potentially "world class". The playmaker is – barring injury – a certainty to be part of Georgia's World Cup bid in Japan later this year.
Abzhandadze's ability to play late on the gain line is bolstered by the handling skills of his midfield options of Lasha Lomdize and Demur Tapladze, with Georgia at U20 level as adept at drawing defenders, off-loading and running at and exploiting space as they are at playing a more direct style. The creativity and distribution ability of players like Dachi Papunashvili and Teimuraz Tchitchinadze at full-back also adds to the variety and incision on offer.
With Georgia having ambitions of being regularly competitive with tier one nations, this evolution of their game, that has to start in the age-grades, bodes well for the Lelos. It's not that they are exciting talents for a tier two nation, either. It's that they are exciting talents full stop.
The front row is in fine shape at senior level, there are a handful of controlling and opportunistic scrum-halves, and now playmakers are being found and developed at fly-half and in the centres and at full-back.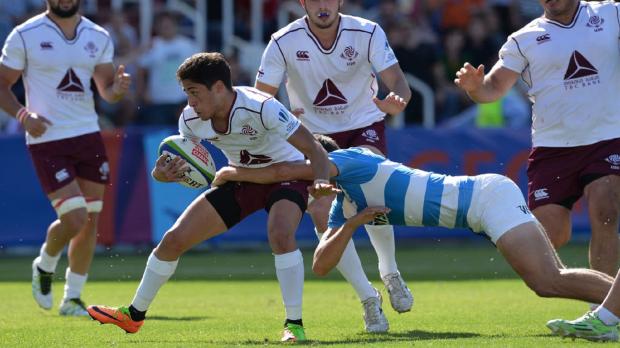 It leaves Georgia with two substantial holes as they bid to compete with the world's best – the lack of athletically-gifted second and back rows that have come to the fore for most other nations over the last few years, and the more dynamic wings, who either prosper through power or game-changing speed.
Current under-20 No8 Ioane Iashagashvili has impressed in Argentina with a turn of pace that has seen him break plenty of tackles. The young back rower is comfortable with the ball in his hands beyond the gain line, whether passing, off-loading or continuing to run at space.
Unfortunately for Georgia, there isn't a Maro Itoje or James Ryan coming through in the locks quite yet, but with a set-piece focus built around a dominant scrum rather than lineout ability, particularly on the defensive side of the throw, that's not too surprising.
The @GeorgianRugby U20s belt out their anthem as match day three kicks off at the #WorldRugbyU20s

It's GEO v SCO and ITA v IRE.

Watch live https://t.co/CL5sVkoYl9 pic.twitter.com/yOQXGQDshc

— World Rugby (@WorldRugby) June 12, 2019
Wings Otar Lashkhi and Kote Marjanishvili have had good tournaments so far and generate a noticeable amount of power through their footwork prior to contact, but they aren't the physical specimens that some of the tier one nations are able to call upon, nor do they have the speed to be threats to score from anywhere on the pitch.
The power and size of Georgia is never going to be called into question and with the skilful playmakers that are being produced alongside that now, they have players capable of exploiting those advantages that their forwards can give them.
Huge celebrations as @GeorgianRugby secure their first win on the #WorldRugbyU20s 2019, beating Scotland 17-12 pic.twitter.com/q0EiU8zCOk

— World Rugby (@WorldRugby) June 12, 2019
Top-end speed, especially away from the half-back and fly-half positions, and vertical ability remain the missing ingredients, but it is impossible not to be encouraged by the quality and quantity of player that Georgian rugby is producing at present.
As formidable as the senior side have been in one-off games against Tier 1 opponents at times over the last few years, Haig and his staff will know that they need to be a balanced and versatile squad if they are to compete on a more consistent basis.
It'll take time to blood these youngsters and get them up to speed with international rugby, but the calibre and all-round skill set of the players being developed speaks to a bright future for the Lelos.
WATCH: Part one of The Academy, the six-part RugbyPass documentary on how Leicester Tigers develop their young players
Comments
Join free and tell us what you really think!
Join Free