Barclay: 'You would never have seen giants like Paul O'Connell or Martin Johnson acting like that'
I want to use this week's column as a platform to address some embarrassing behaviour that has grown increasingly common during this Six Nations.
In the opening three rounds of fixtures, I've seen referees being badgered relentlessly by top players; some captains, some very experienced internationals. The names are unimportant to me, and it doesn't take a rocket scientist to figure out who I mean. At the weekend, there was constant whinging, gesticulating, throwing of arms in the air – a nonsensical carry-on that is not in keeping with how the game should be played.
Nobody asks to be a role model, but for sportspeople, it comes with the territory. Rightly or wrongly, these behaviours will have been imitated up and down the country – of that I am positive. Children copy their heroes; it's as simple as that.
I have a lot of respect for the guys in question – they are hugely successful players – but the way they interact with referees has disappointed me. Rugby prides itself on its values but at times on the weekend, those values were wafer-thin. It is not a good look for rugby, particularly when the Six Nations is being projected into millions of homes across the world.
You would never have seen giants like Paul O'Connell or Martin Johnson acting like that – complaining and waving their arms about in disbelief – and it should not be tolerated. Here's my suggestion: penalise the offenders immediately and I'd wager we'd see a swift decline in the heckling. Believe me, few things incur the wrath of coaches and team-mates like leaking such dull infringements.
Continue reading below…
WATCH: The guys round up all the Guinness Six Nations and Premiership action. They discuss the shenanigans at the breakdown in England v Ireland among others. We also hear from Brad Shields on his injury and his quest to get back into Eddie's England squad.


I do, though, empathise with players frustrated by the inconsistent refereeing of the breakdown. Wavering interpretations can be infuriating. Certain laws appear more in vogue and are refereed more stringently while others are just ignored.
Against England on Saturday, Irish players were smashing into the breakdown from not even a 45-degree angle but at 25 degrees. For me, the art of jackaling not only involves impeccable technique but perhaps more pertinently, bravery and an element of disregard for your own body. Being cleared out from illegal angles has long been dangerous and a source of frustration for players as your search for a precious turnover disappears before your – and the referee's ignoring – eyes.
And yet, clearing out at an angle is often how today's players are coached. We are told not to hit the breakdown straight-on, because people are too strong in that jackal position. We're taught to approach and ruck from 45 degrees – that way, players are much more unstable and can be wiped out, ideally leaving the ball on the proverbial platter to be stolen.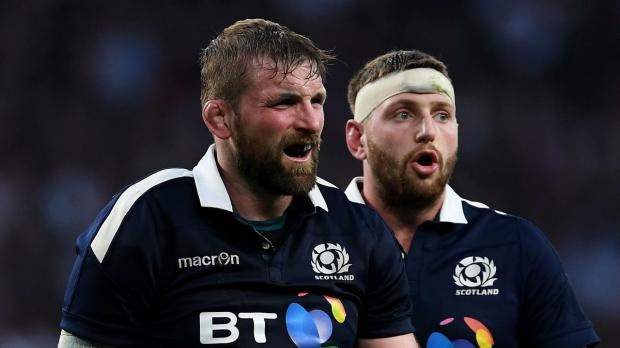 I'm not entirely sure how we can make the breakdown safer. As soon as laws are changed, coaches are so cute that they will find ways of exploiting them. Teams are sent weekly emails from the powers that be based on what happened in the weekend's games and themes that have appeared across the tournament. Coaches and players then prepare accordingly. More often than not, this involves finding ways to circumnavigate the officiating. My point is, coaches are now so innovative that they will find a way around new laws.
If you refereed every breakdown to the letter of the law, there'd be several penalties per ruck. If you want fast, flowing rugby, you may have to turn a blind eye to some things that are going on, but not at the expense of keeping players safe.
As far as Scotland are concerned, it's fair to say the much-needed win over Italy will not live long in the memory. The 17-0 triumph in Rome was hugely important, but as a spectacle, perhaps not one for the annals.
"I think he was 90kilos at the time. He was awful, nothing short of that. He was a bad rugby player! Everyone was like: 'We're just handing trials out? He's a competition winner?'.https://t.co/xvft0zK3Lb

— RugbyPass (@RugbyPass) February 28, 2020
Speaking to some of the boys and reading some of the post-match press, they do feel the pressure has eased and a weight lifted after losing to Ireland and England – and in the end, it was a comfortable victory. The pressure on a team can have dire implications to their performance, and both sides looked uncharacteristically nervous.
Despite that, I don't think the result changes much. We didn't learn a lot from the game. The pressure is still on Scotland to finish the Six Nations with more than one win from five.
I am not sure where the Italians go from here – nilled twice in three games, and a defence that is porous as the best of times. With the Ireland game now derailed by the outbreak of coronavirus, Italy are left with the less-than-tantalising prospect of a visit to Twickenham hoping to avoid the wooden spoon and a 26th consecutive Six Nations loss. Dare I say, they may not be too disappointed if the quarantine period is extended by another few weeks.
Just Faz things ? #ENGvIRE #SixNations pic.twitter.com/9duz61Rlp6

— RugbyPass (@RugbyPass) February 23, 2020
If we're highlighting Scottish positives, let's look no further than Stuart Hogg. In a climate where it's too easy to pick apart mistakes and pay lip service to good play, I find it more important than ever to stress just how good the captain's try and all-round performance was. Assured with the ball in hand, he offered Scotland scintillating entries through the ragged Italian defence. Hoggy was prickly after the game and rightly so. People are eager to jump on the bandwagon when things are looking rosy, but far quicker to throw someone under the bus when the internet experts decide a performance wasn't good enough. You can't have your cake and eat it too.
And save some praise for the back-row. The trio of Jamie Ritchie, Hamish Watson and Magnus Bradbury has the makings of a unit that could endure for years to come. They have power, pace, skill, a relentless work-rate and are in my opinion the heartbeat of this team.
We also have to credit the Scottish defence under new specialist Steve Tandy. Last year, we shipped 11 tries against Italy, Ireland and England. Against the same opposition this time around, we have only conceded two. While stats can be produced to serve their intended purpose (there were never going to be as many tries in the horrific weather of this year's Calcutta Cup fixture than there were in the madcap Twickenham draw of 2019) there is no denying the Scotland defence has looked more comfortable. We have lost the fewest points and the fewest tries in the tournament, although we are yet to come up against all-conquering France.
Former referee Paul Smith says abuse of officials is filtering down to lower levels and referees are becoming increasingly despondent. https://t.co/ADe9GiPDXJ

— RugbyPass (@RugbyPass) February 24, 2020
From what I hear, Tandy has simplified the defensive strategy a little.
Beforehand, the players had to stick to certain specifications – for instance, at times everyone had to tackle low, which didn't suit certain guys and made them uncomfortable. There was a pressure on everyone to make a nuisance of themselves and jackal for the ball. Now, instead of investing in the ruck, they're investing more in filling the pitch and having more numbers in defence.
The boys enjoyed defending under Matt Taylor, but Tandy has provided a different voice and a new stimulus. The biggest test of the new system will come when France rock up at BT Murrayfield next Sunday. They've got bruising power and individual flair; they are fearless and flying under some fantastic new coaches. They will present Scotland with their greatest defensive challenge, one I am sure Hoggy, the back-row, and the rest of the squad are relishing the chance to tackle head-on.
Comments
Join free and tell us what you really think!
Join Free