The acrimonious split between Finn Russell and the Scotland camp has handed 23-year-old flyhalf Adam Hastings the chance to start at flyhalf in this year's Six Nations.
After two key clashes, Hastings has handled the promotion remarkably well. His direction at 10 was brilliant in Dublin and his composure at Murrayfield was also impressive in the atrocious conditions.
The England game didn't reveal much about Hastings' development as the conditions were not conducive to attacking rugby, so the Ireland Test is a much better source for review to see how Scotland is coping without Finn Russell.
Continue reading below…


Scotland's attack looked square and direct against Ireland who struggled to prevent them marching downfield. It was only at the breakdown where Ireland repelled and killed multiple Scottish opportunities.
Hastings was integral to creating these opportunities but there were also moments for Hastings to take more control and expand his influence on the game.
On Scotland's first entry into Ireland's 22 they have played eight phases, thinning out the far side of the defence.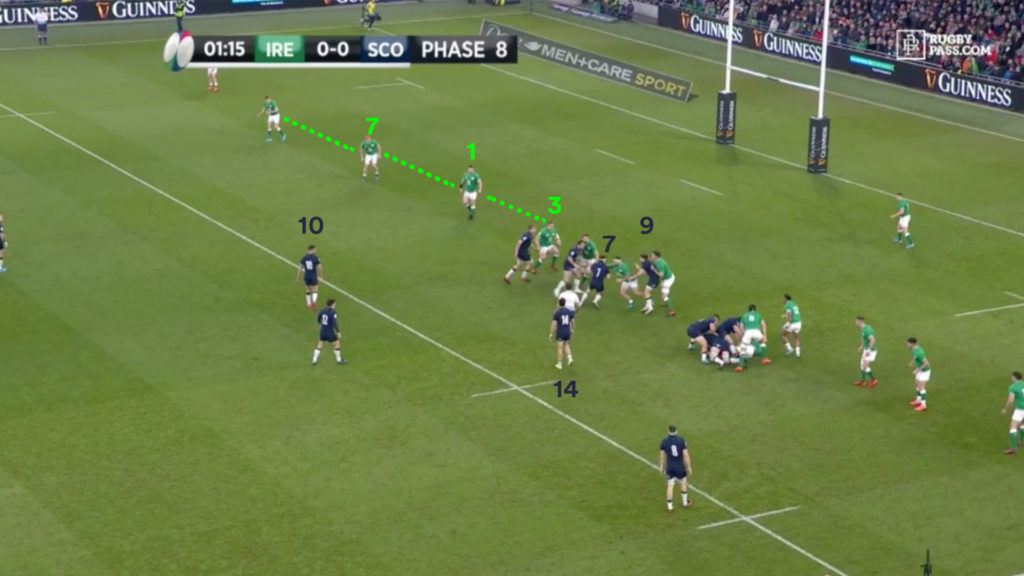 As Hamish Watson (7) takes a carry off a flat pass from Ali Price (9), the time is right for Hastings to take over and attack flat on the next phase with no other options present for Price.
The first two defenders are props, Cian Healy (1) and Tadgh Furlong (3), giving Hastings a speed mismatch advantage to work with.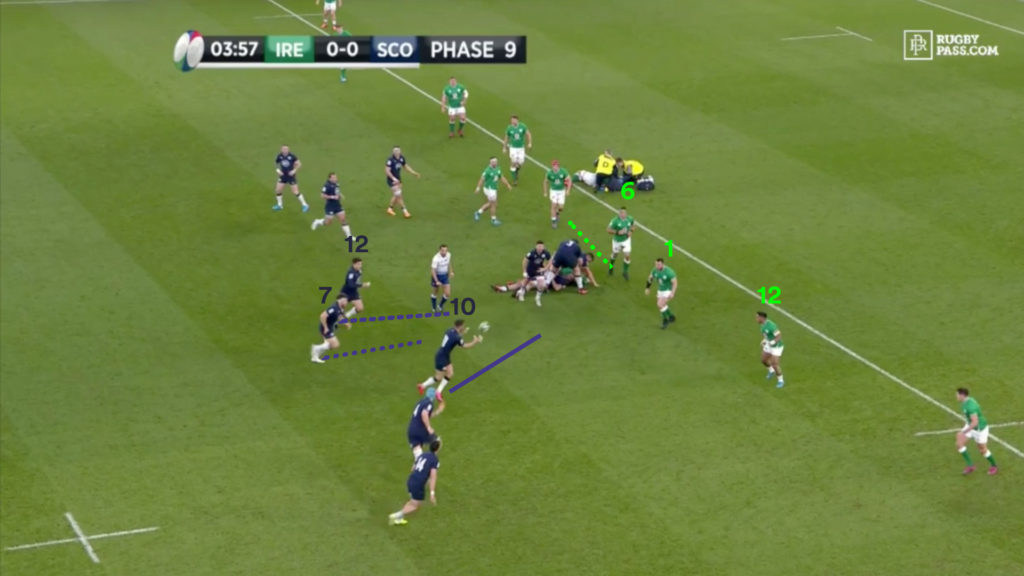 Instead, he sits back and defers to Price, who tries to play a short pass to a lurking Sean Maitland (14).
This pop pass play to the winger around the ruck needs a foil to work, but there is no pod option for a carry and Hastings is not showing the defence he is an option either.
Maitland's carry is an easy read and one phase later, Ireland win a turnover, with Hastings losing the opportunity to get his hands on the ball altogether.
If he had taken on the line, a good pass from Price would likely get him on the outside of the two props.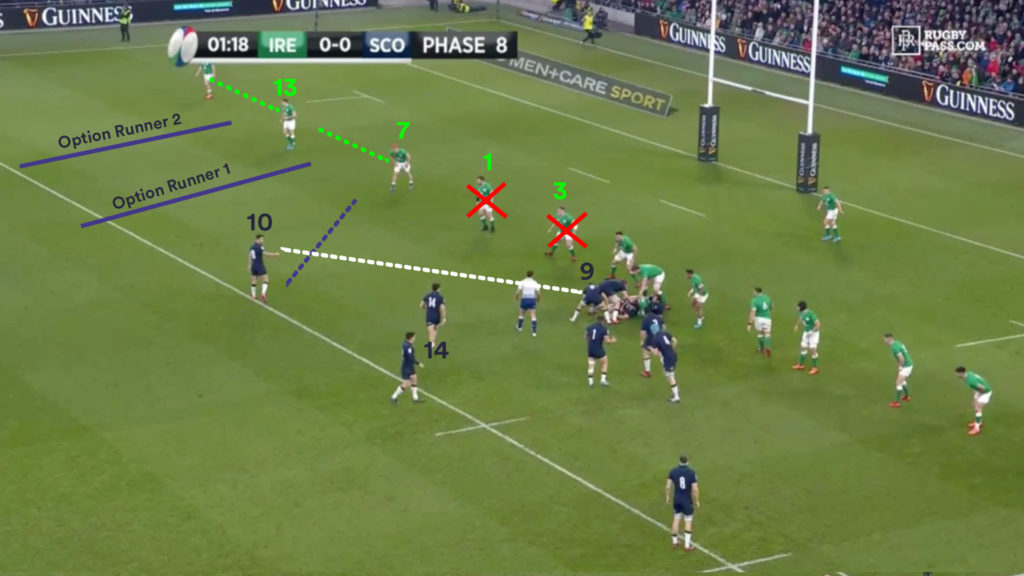 With two option runners either side of Garry Ringrose (13), Hastings could make the read off Josh van der Flier (7).
If van der Flier (7) holds off and drifts towards the first option runner, Hastings can see him off with a dummy and skin the inside defender Cian Healy (1) with pace.
If van der Flier bites in and takes Hastings, he can try and play one of his runners and pressure Ringrose (13) to make the right decision.
In the lead-up to this possession, this is exactly what captain Stuart Hogg did on the very same edge to set up the great field position.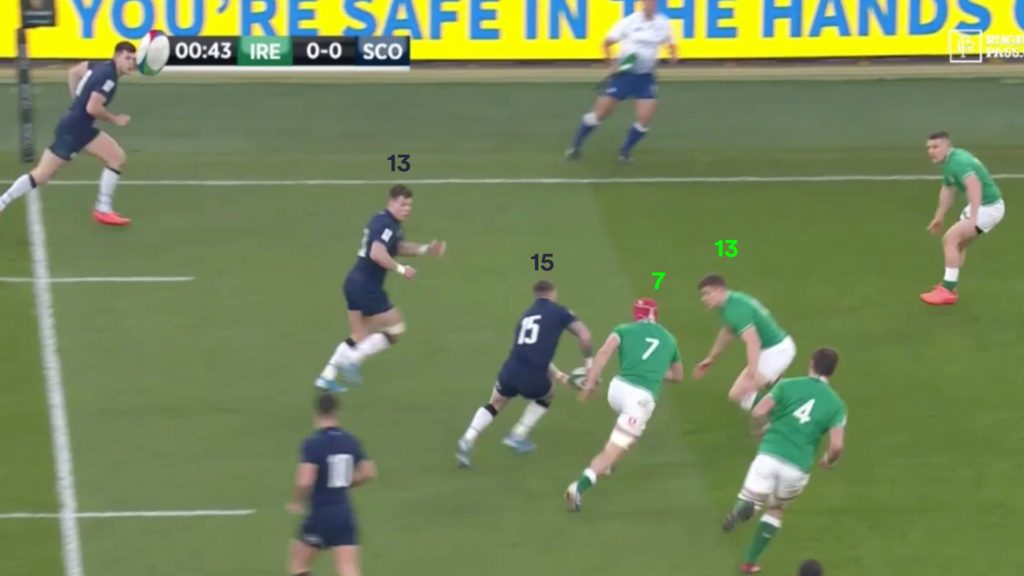 After getting to the outside of Van der Flier (7), Hogg commits Ringrose (13) and frees up Huw Jones (13) on the outside.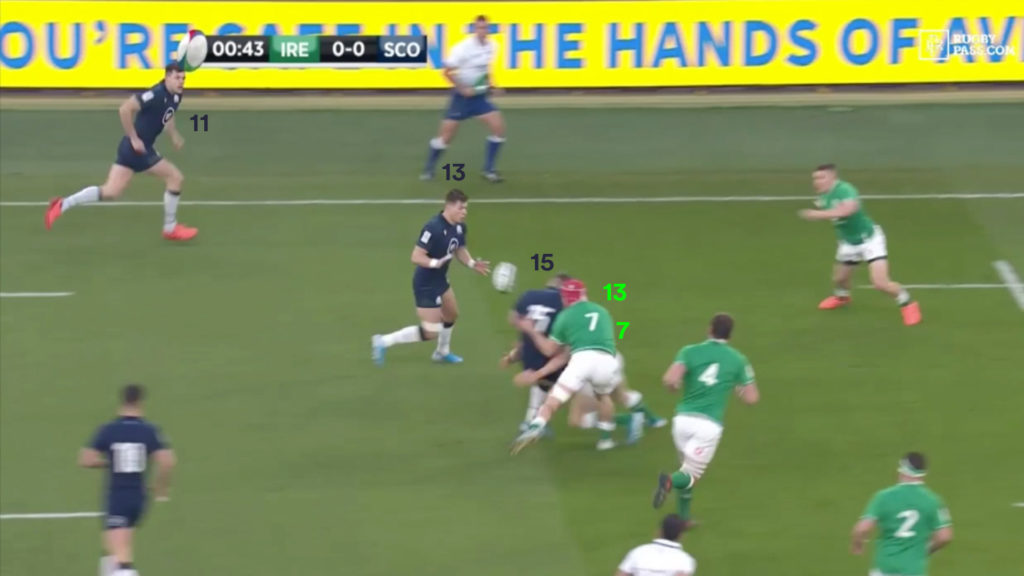 Quick hands from Jones saw the free man, Blair Kinghorn (11), scamper down the touchline to give Scotland front-foot ball to work with inside the 22.
Hastings showed his ball-playing nous moments later to prove that is very capable of making such a play that was missed on the first raid inside Ireland's 22.
Scotland has been installing pet plays in their attack to use after a box kick has been secured. This is an attacking concept used successfully this year by the Glasgow Warriors under Dave Rennie.
If the ball is secured near the sideline, one phase will be used to carry back towards the middle before switching back to the short side with a loaded move.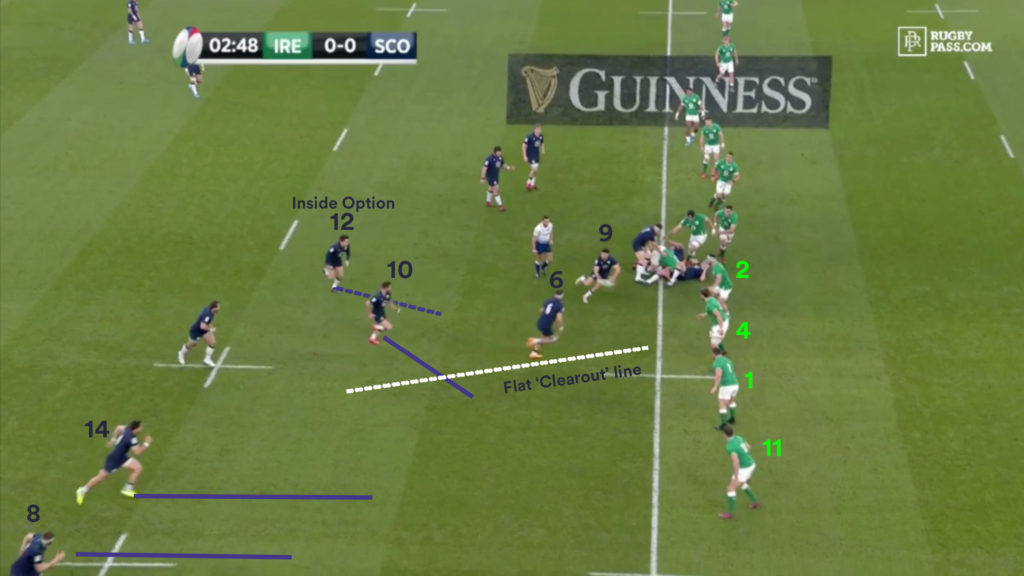 On this occasion, Jamie Ritchie (6) runs a clearing line to flatfoot the defence.
The defence cannot rush up until they confirm Ritchie is not the recipient of a flat pass from 9, while the ball eventually went out the back to Hastings (10) sweeping across from the open side with an inside runner in tow.
Scotland have a numbers' advantage but not only that, Ireland are potentially disadvantaged with three tight five forwards to that side.
Hastings goes through multiple progressions, each time making the right decision but also showing the defence different looks.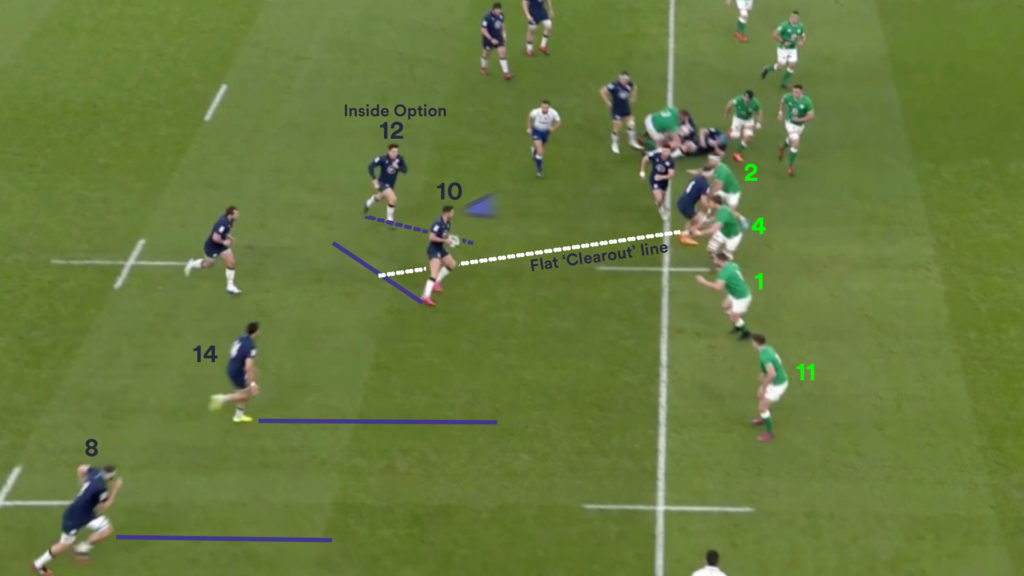 His first movement is to cut back and straighten up, shaping to play his inside runner Sam Johnson (12).
He identifies that Ritchie's (6) clearing line doesn't get a decent 'chip' block on Irish hooker Rob Herring (2). Incidental contact by Ritchie could help open up the hole for Johnson to get through but on this occasion, Hastings decides against it.
The directional change by Hastings also freezes Cian Healy and Jacob Stockdale to some degree, keeping them square and stopping them from drifting, preserving the outside space.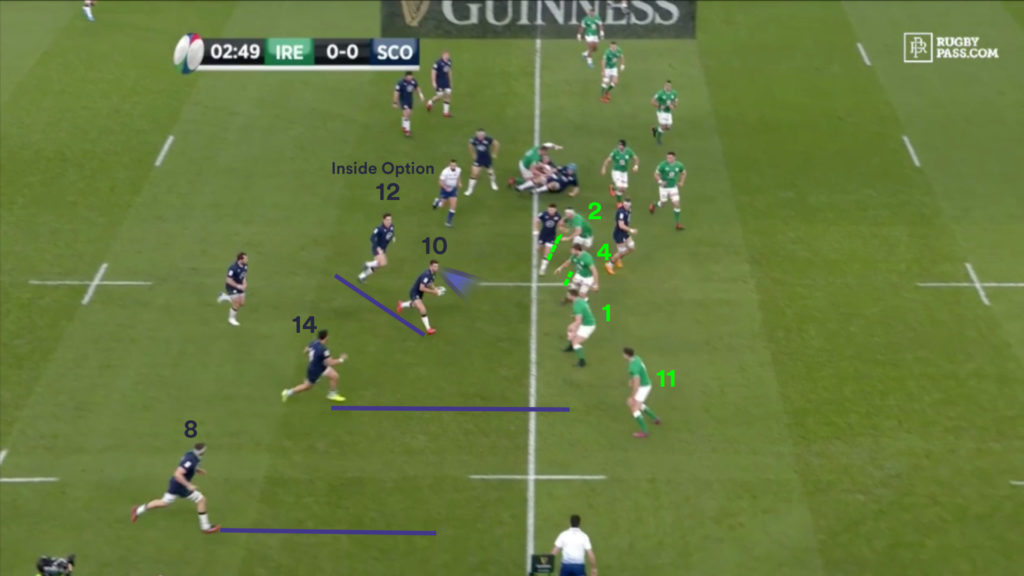 Rob Herring (2) and Iain Henderson (4) are now drifting but Healy and Stockdale are still square by the time Hastings turns back to assess his outside options.
The long ball option to the unmarked man Nick Haining (8) is on but with known intercept merchant Jacob Stockdale (11) present, it is a risk.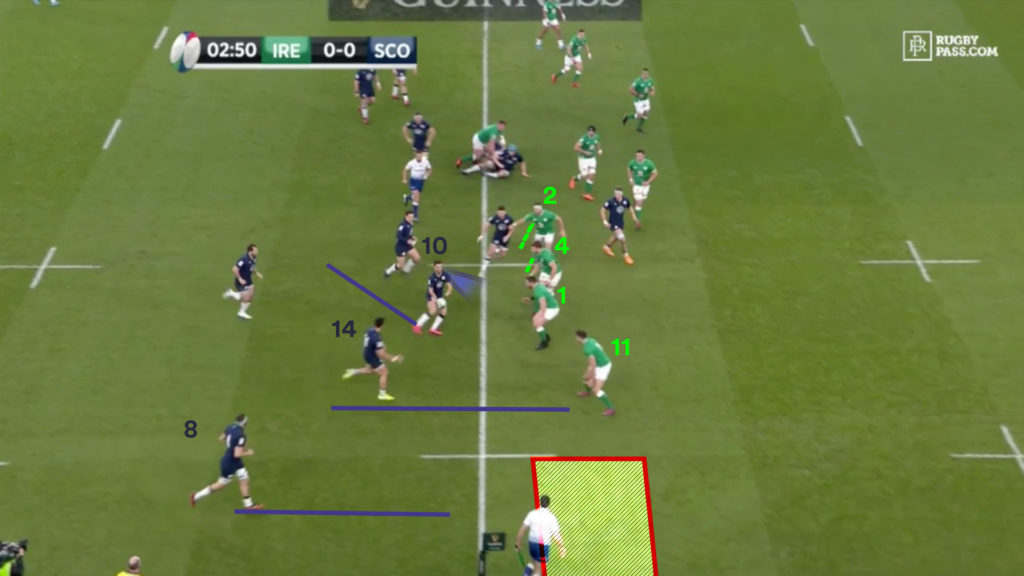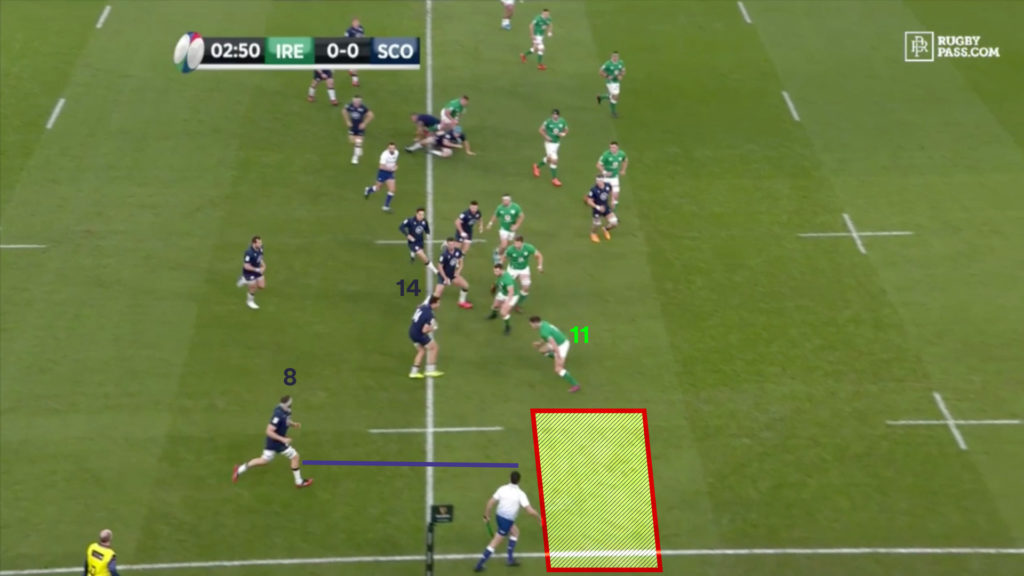 He plays the safer option and passes to Maitland, who has enough time to pass to the free man Haining (8) but instead he takes the ball into contact and the opportunity is missed.
Hastings' involvement was crafty but at the same time reliable, making multiple reads and taking the right option with the lowest risk but with as much chance of creating a line break.
Again, in the early stages, smart work by Hastings brings Scotland another opportunity inside Ireland's 22.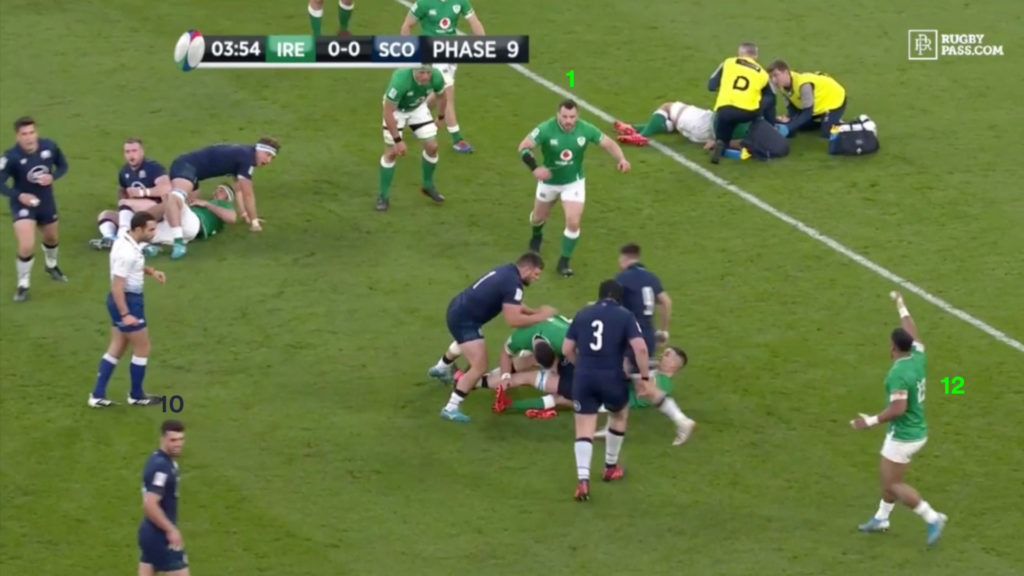 Scotland have made good ground after 9 phases and Ireland now have a man down receiving medical attention.
Ireland's ruck defence is shakey, with Bundee Aki (12) calling for forwards to fold over to help on his side.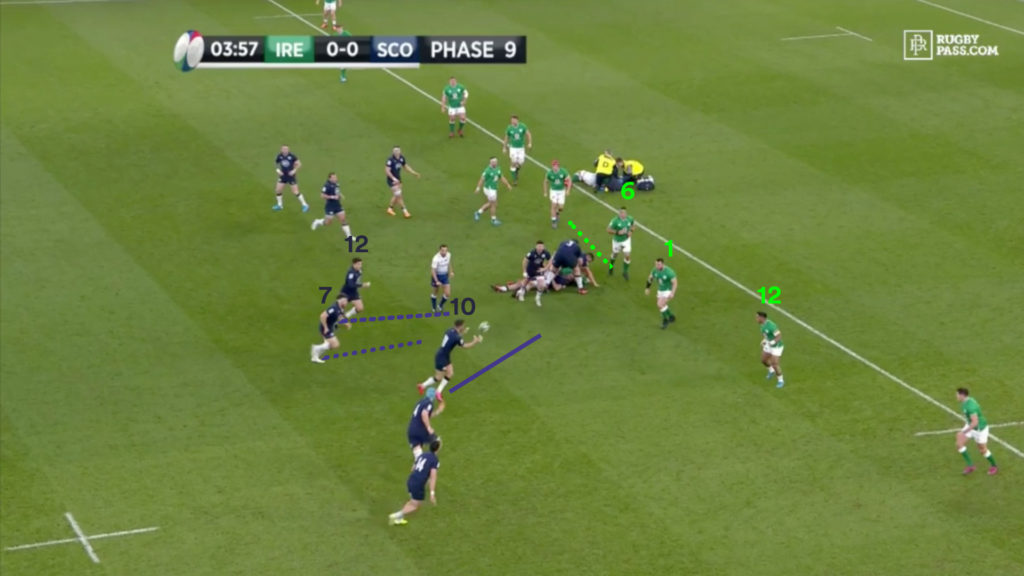 CJ Stander (6) is sliding across in the process of folding as Hastings gets his hands on the ball. Multiple Scottish players are running inside options for the flyhalf. He squares up again and looks to target the weakness in the Irish line around the ruck.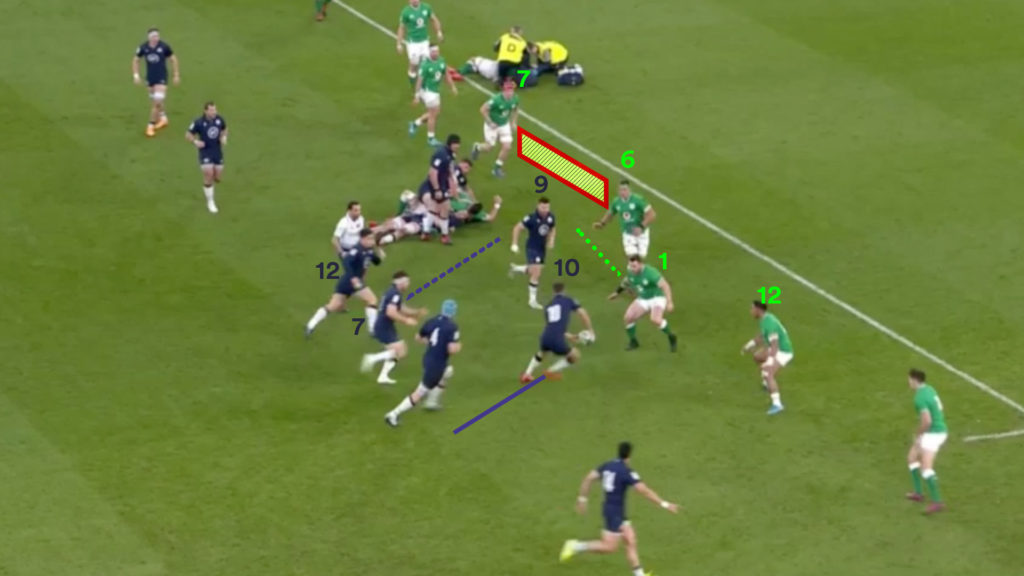 Ali Price (9) runs a nice front running line that somewhat obstructs CJ Standers' view but is legal as long the inside pass goes completely behind him.
Hastings threads the ball back behind Ali Price to Johnson who is running hard at the separation between Stander (6) and van der Flier (7).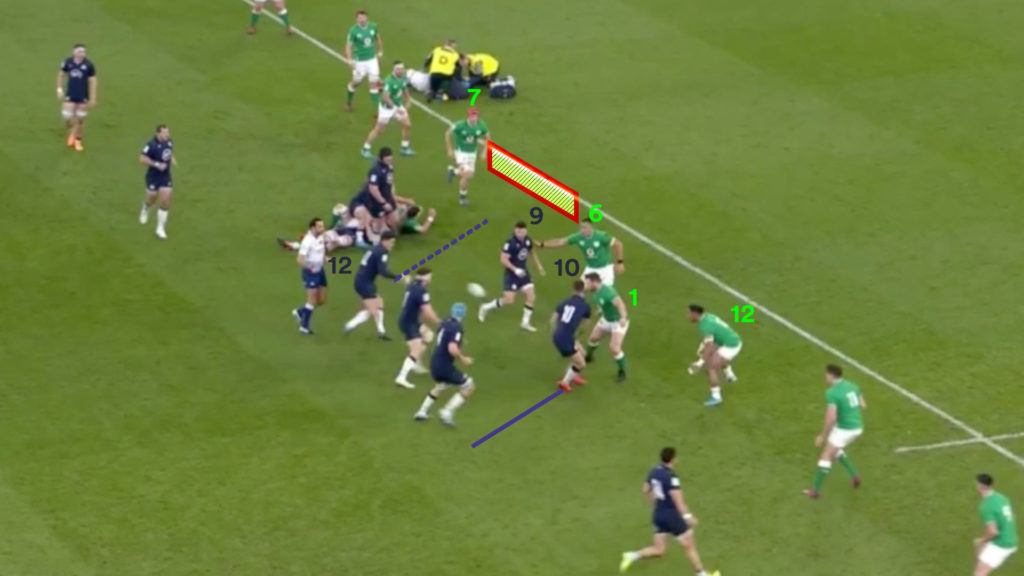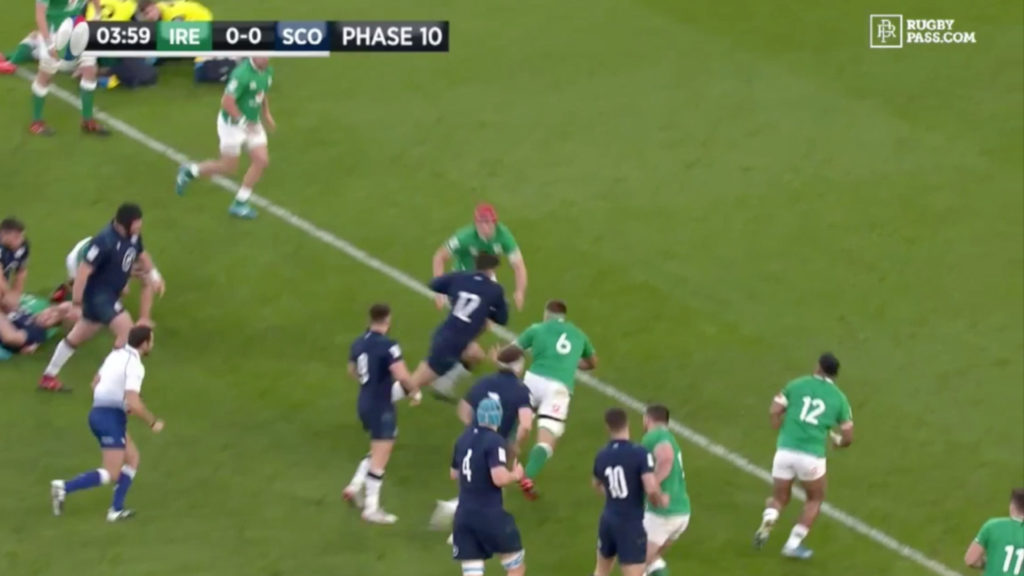 Johnson punches through and breaches Ireland's 22, setting up good front-foot ball.
This is where Hastings needs to command more, as Ireland are shot to bits on his side and extremely vulnerable. Jacob Stockdale (11) and Conor Murray (9) are seen screaming for help on the far right side.
The gap between Cian Healy (1) and Stockdale is enormous, and Hastings has up to three inside running options coming around the ruck in support.
There are no greater opportunities to take the line on at test level than this.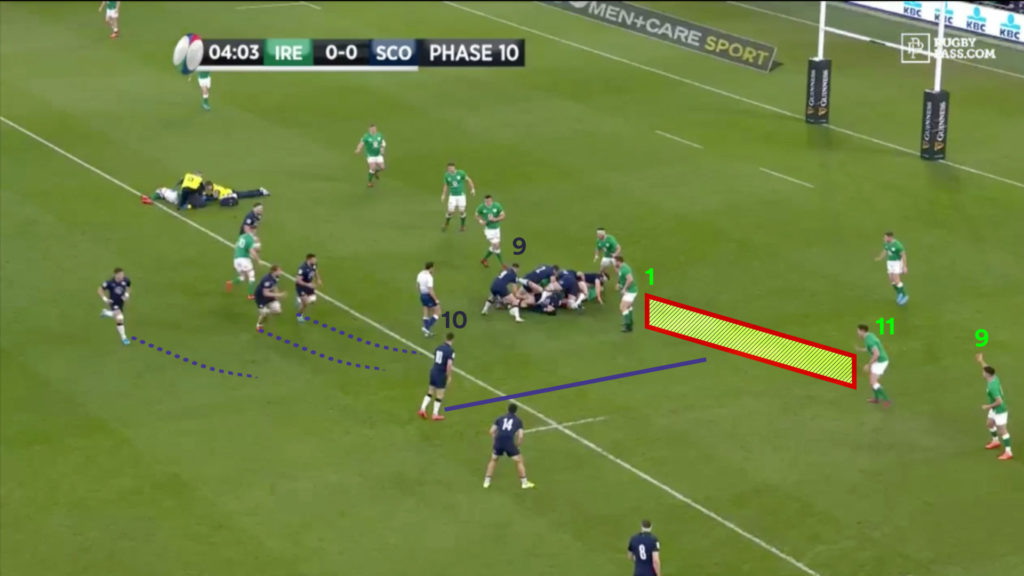 There is either a communication breakdown or no communication at all as Ali Price (9) takes a scoot the other way and plays a flat runner who is then isolated with no help.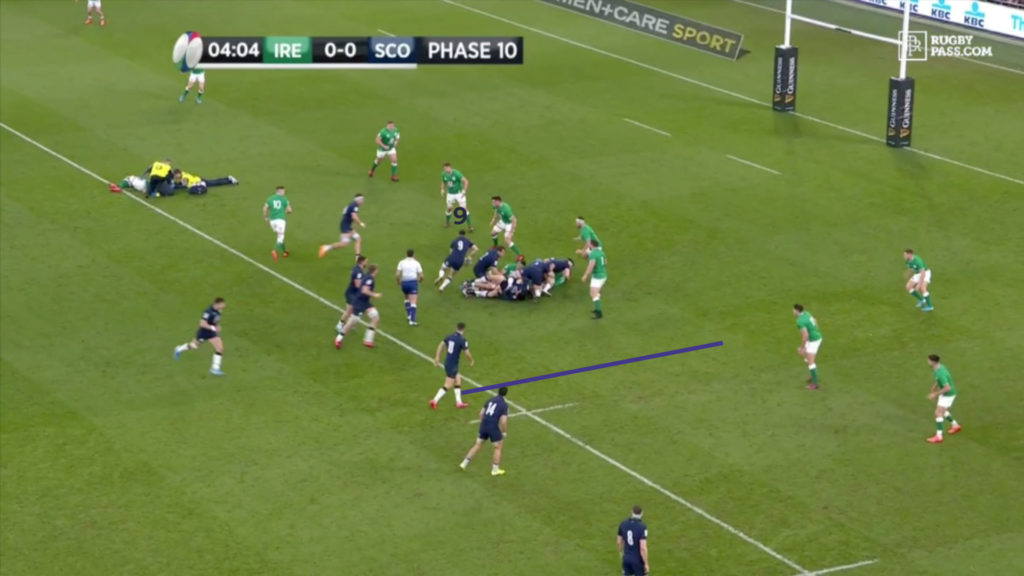 Scotland recieved a penalty and took three points but the best attacking option was for Hastings to receive the ball, and that may have resulted in seven points.
With his side down by seven late in the game at 19-12 and needing a big play, Hastings manufactures a line break with expert-level ball playing.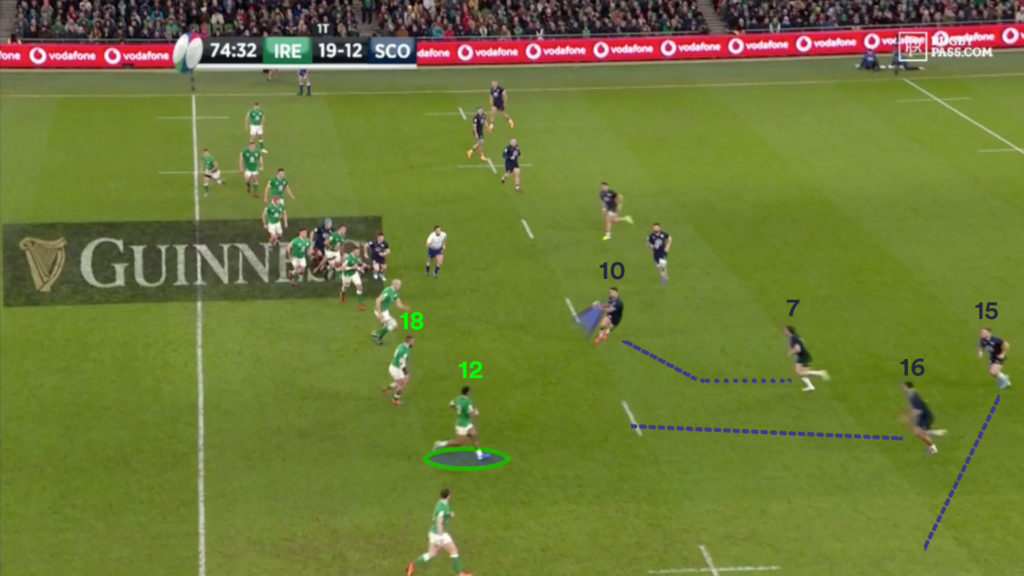 The formation is quite common, where the closest forward, Hamish Watson (7), splits off underneath the first receiver and the ball is sent between the two forwards to backdoor receiver Stuart Hogg (15).
It is a play that Ireland is very familiar with as they run it themselves frequently with Johnny Sexton.
It is the sleight of hand by Hastings that sells the pass to Hogg out the back that makes this work.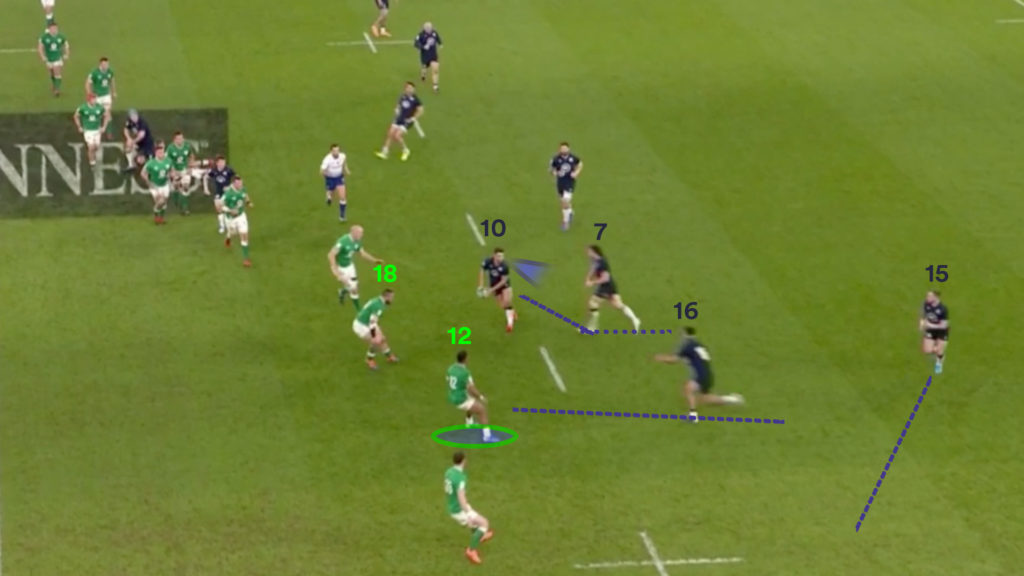 The flyhalf winds his pass up, selling the deep pass, while using a head-fake before holding the ball up beautifully.
Bundee Aki (12) is caught a little bit hedging his bets and loses alignment with his first assignment, Stuart McInally (16).
The timing on the pass is perfect from Hastings which hits his runner on time in the gap.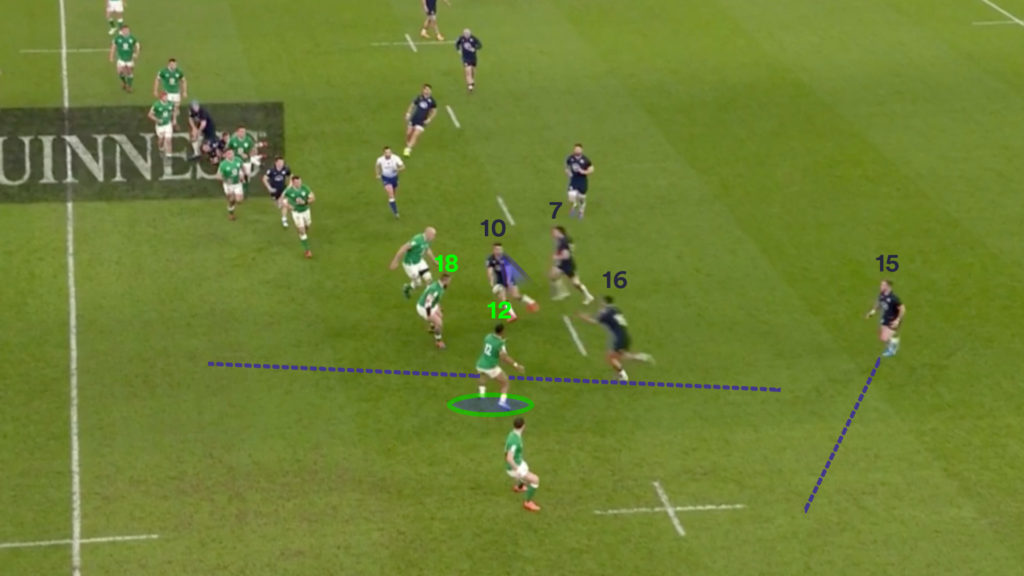 Although the line break was eventually snuffed out by CJ Stander once again, the nuance shown by Hastings is the stuff of a mature and experienced playmaker well beyond his years.
Hastings' attitude and execution against Ireland was as good as it has ever been at this level, whenever he did take it to Ireland's line, he did so without fear of being battered.
What's more impressive was his level of execution throughout both games, with no wild turnovers or handling errors and reliable kicking absent of unforced mistakes.
Two smart kicks from Hastings led to set-piece opportunities for Scotland inside Ireland's 22 in Dublin. One was a wipers bomb that bounced off Irish defenders into touch, the second was a return volley hammered back downfield after an Irish chip kick that was then knocked-on by Sexton covering.
The bad news just keeps on coming for Scotland supporters.https://t.co/gU3PsNEwMf

— RugbyPass (@RugbyPass) February 10, 2020
In the wet conditions at Murrayfield, as England sent ball after ball out on the full, Hastings was reliable and made zero kicking errors. His bombs were contestable and his long kicking was kept in-field or found grass.
He was the most reliable member of Scotland's backfield in the air as Sean Maitland, Blair Kinghorn and Stuart Hogg all had various issues covering kicks and defusing high balls.
His only 'turnover' involvement in Dublin was when he was pinned on the ground on a kick-return and Jonny Gray was penalised for sealing off the ball. His one against England was also not entirely his fault, getting pilfered at the breakdown after taking a sliding catch to diffuse a high kick.
Defensively, he has been managing some load for a 10 in the front line, making 16 of 18 tackles against Ireland and 7 of 8 against England.
He has been, on balance, one of Scotland's best players – if not the best – in this Six Nations campaign.
That is saying something as they have scaled back all the set-piece attack that funnelled a lot of touches through the 10's hands, in favour of a more direct approach using Sam Johnson to win gain line with simple crash balls.
As illustrated above, there are plenty of times Hastings has been deferring to Price when there are opportunities there for him. As they build their understanding, trust, and rapport, this communication should improve.
The surface has only been scratched with Hastings and that should excite every Scottish fan.
The Rugby Pod discuss Finn Russell's falling out with Gregor Townsend:

Mailing List
Sign up to our mailing list for a weekly digest from the wide world of rugby.
Sign Up Now