Analysis: Marcus Smith vs. Christian Lealiifano - The English prodigy against the Wallaby
Ulster's clash with Harlequins on Friday night put two fly-halves head-to-head in contrasting stages of their career. A southern hemisphere stalwart making a remarkable comeback from a life-threatening illness, against an 18-year-old touted to one day be entrusted with the English 10 jersey.
Ulster's Christian Lealiifano, who last year was undergoing chemotherapy for leukaemia, showed in the match that he hasn't lost an inch of class. Meanwhile, upstart sensation Marcus Smith, fought back with some big plays of his own – making for an intriguing encounter.
Ulster's architect – Lealiifano and his Wall
Lealiifano is a medium-volume passer in Ulster's system. He drifts in-and-out of first receiver, letting the play run off the halfback for periods of time before injecting himself on set formations.
Ulster came out determined to play a possession game early, holding the ball for long periods within their 1-3-3-1 pattern – even from deep in their own half.
One formation becomes apparent in this structure. After a wide stretch towards the sideline, Ulster brings play back towards the middle with one pod, before setting up the 'Wall' formation with the second pod – an attacking platform central to Ulster's game plan.
Lealiifano slides into first receiver with four option runners outside of him: a Wall of three players and a fourth man (usually a back) as the boot man.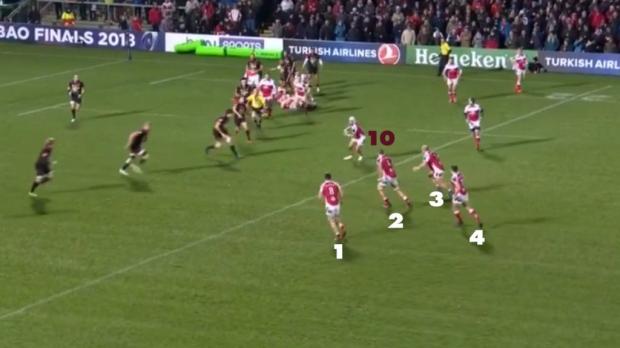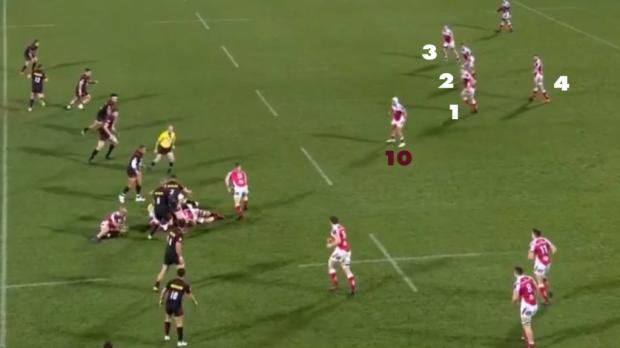 Ulster run a variety of plays off this formation. Lealiifano can simply distribute to '1'or '2' for a hit-up, throw a cutout to '3' or hit '4' out the back. The boot-man '4' can also run off any of the front three runners, and the forwards can tip pass amongst each other giving Ulster a multitude of possibilities from the Wall.
In the third minute, Lealiifano slashes open Harlequins with this variation – the first runner drops under him with a dummy-cut line and he drifts across the field.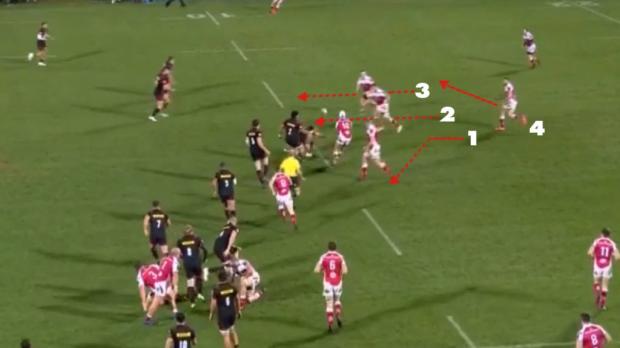 Harlequins lock George Merrick breaks ranks and puts a shot on Lealiifano, leaving a gaping hole. He hits his third runner with a perfect flat cutout ball for a line break and 50m gain, leading to the first 3 points.
If Lealiifano runs a simple hit-up play with the Wall formation, the next phase he will use the half the field available to run another play – this time with the remaining backs – utilising the space to the sideline until they run out of room, at which point they begin tracking back and restart the process.
The Wall is always used in the middle of the field.
Marcus Smith – Easy does it
Harlequins are cautious with Smith's induction to top-level rugby, he's rarely seen at first receiver and often stationed in behind forward runners.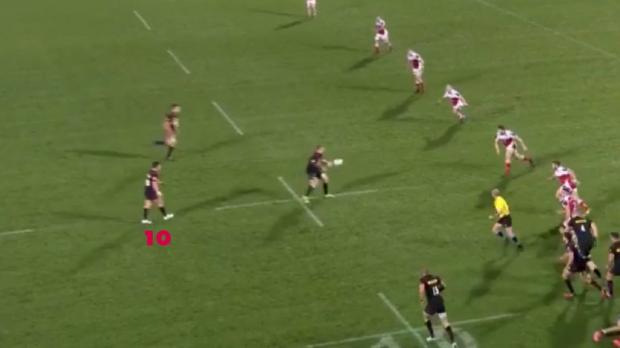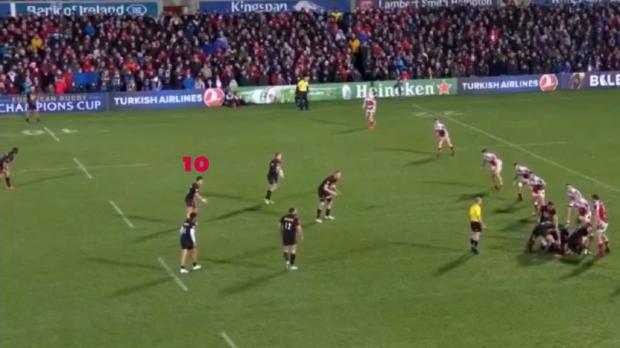 Their forward-dominant play gives Smith the opportunity to play the back-door option on the swivel pass and introduce himself into the game at speed with his dangerous running game. However, this approach limits his touches and ability to make a mark on the game.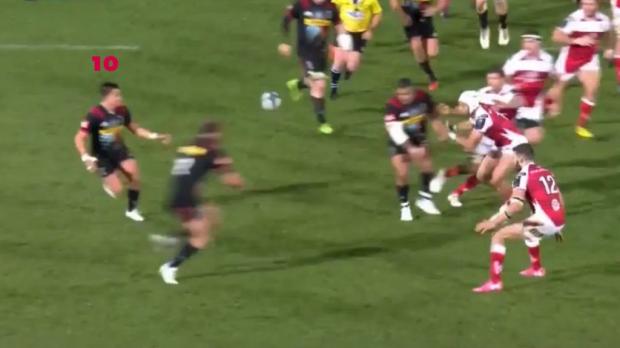 On defence Smith is a quasi-fullback, removed from front-line duty and holding position in the back three on the wing. On the few occasions Ulster kicked, they kicked smartly, targeting Smith in the back and winning back possession on more than one occasion. Lealiifano was often the orchestrator of this.
Harlequins use a dosage of box kicks to relieve Smith of too much kicking. But on a few occasions, Smith showed a willingness to take risks with the boot.
Camped on the back of his own in-goal preparing for an exit kick, Smith audaciously makes a cross-kick from his in-goal across the posts, – finding his mark wide giving the Harlequins a chance to catch Ulster off guard.
However, who shuts down the play? Lealiifano.
He drags down the runner in a crucial cover tackle, gets up and swoops round to jackal the ball – earning a penalty and another 3 points.
Going blow-for-blow – Makings of a duel
With Leallifano taking the early points in this contest, Harlequins get a break. Against the run of play, they make a long run off an intercept.
An opportunity beckons for Smith to work off front-foot ball.
He calls for the ball down the short-side on the next phase and gets a one-on-one matchup – skipping around the defender almost effortlessly, illustrating the athleticism that makes him such an exciting prospect and scoring the first try of the match.
Ulster return serve not long after – getting attacking ball after a poor box kick immediately after the restart.
Lealiifano goes into distribution mode, taking control of Ulster's pattern from a lineout: Crash middle. Spread right to sideline. Pod off 9 back to the left. Wall formation and crash middle.
Coming around the corner on the fifth phase Lealiifano hears the call for a cross kick and stabs one in behind. The kick finds space, bouncing up awkwardly for Harlequins fullback. Ulster's inside centre Stuart McCloskey toes the ball forward and scores.
Lealiifano has officially entered the zone – showing complete mastery of Ulster's 1-3-3-1 and the bravado to make a bold play on the fly – executing both structure and impromptu play flawlessly to hit back within minutes.
He can't put a foot wrong at this point – he has been responsible for the work leading to all of Ulster's 13 points.
Smith in the saddle
Down 13-5 on the scoreboard, Quins start to get more possession. Smith finds himself getting into first receiver more, and on the stroke of the half-hour mark, ignites the play.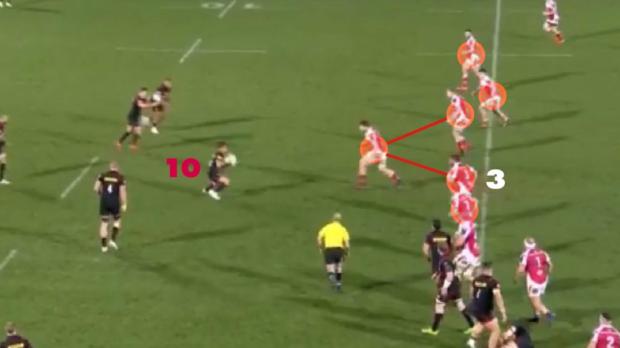 Feeling pressure from the outside rush defender, Smith cuts back off the left foot and attacks the line, breaking through a valiant effort by Ulster's prop Wiehahn Herbst.
The one thing you don't want to present Smith with is a staggered defensive line, especially when the inside defender is a front-rower.
Smith feigns the gap, jinks off the left again and comes out the other side. He has the presence of mind to find an inside support runner in Kyle Sinckler out of his blind spot, but the prop is tackled around the 22.
With the pressure completely on Ulster, things fall apart just as quickly as Smith reverts back to normal structure, backing out of first receiver whilst his forwards struggle to get down the field.
After two aimless phases, Harlequins are completely disjointed and the momentum is lost from their line break.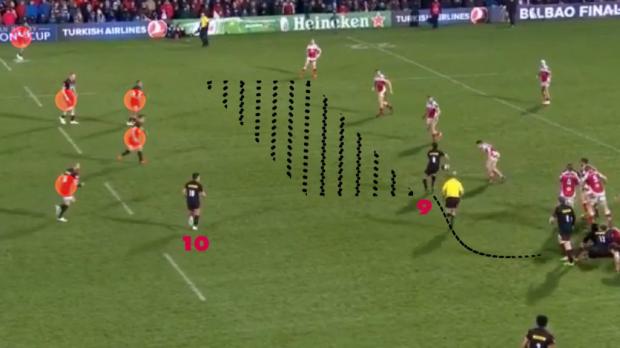 With Smith falling back out of play, halfback Ian Prior has to carry across field when no forward runners present themselves at first receiver. The outside men are so deep, Prior has to launch a wide pass further losing more ground.
On the next phase, Smith works around back into first receiver and attacks the line working an inside ball with winger Charlie Walker. Walker ghosts straight through and stands up Ulster fullback Charles Piutau to score under the posts.
Smith is most dangerous playing flat and attacking the line. His best asset is his running game and any time he can use it, the better. Within seconds he had opened up Ulster with two line breaks – one himself and assisting on another.
In Harlequins' current structure, his opportunities of getting first receiver ball are limited. He's generally out of play for long periods of the match, and on this occasion reverting to his role nearly blew a scoring opportunity.
Hopefully, as his game develops, he is encouraged to find more touches and structures are put in place to support that. The potential is there for Smith to be a game-breaking force.
Master and apprentice
Smith had worked his side back into the game down 16-12 at halftime. But Ulster who were far more clinical in what they were doing, cracked the Harlequins three minutes into the second half and never looked back.
Lealiifano was involved in more lead-up play through the second half, although in a lesser capacity as Ulster found other ways to break the Harlequins.
The performance from Lealiifano was world-class, but Smith showed he will be a force one day. On this occasion though, the Wallaby got the treats.
Comments
Join free and tell us what you really think!
Join Free