Back
By Will Owen
Why Tommy Freeman is one of the most exciting wings in world rugby
In the past 12 months, it's been impossible to escape the phrase "New England". With Marcus Smith at 10, Freddie Steward at fullback and Alex Dombrandt in the back-row, Eddie Jones has freshened up his options across the park ahead of next year's Rugby World Cup. Some of these players pick themselves – Smith has proven he's capable of developing into a truly top-class 10 and deserves more international opportunity. Steward is the model of a modern fullback, rising high above his competition. On the wing, however, Jones faces a small dilemma.
The Gallagher Premiership is a competition absolutely stacked with fresh, exciting English wingers. Beyond the experienced Jonny May and Anthony Watson, the electrifying Adam Radwan and Henry Arundell have the gas to make Lightning McQueen look like a broken-down campervan. The fact Cadan Murley, Ollie Hassell-Collins and Louis Lynagh all remain uncapped speaks volumes of England's depth out wide. Hell, Max Malins can't even make the squad anymore.
There is, however, one player who has really raised his hand to Eddie Jones – and that's Northampton Saints' Tommy Freeman. A fullback by trade, Freeman is everything Jones wants in a winger. Outstanding under the high ball, balanced on and off the ball, and covers every blade of grass. When selected on the wing this summer, Freeman perhaps didn't seem like the obvious choice, but was backed up by his 13 tries for Saints last season.
Firstly, let's have a look at one of those tries, and how it encapsulates Freeman's attacking ability. This try is scored in the second half against Newcastle, and Freeman already has two tries under his belt in this match!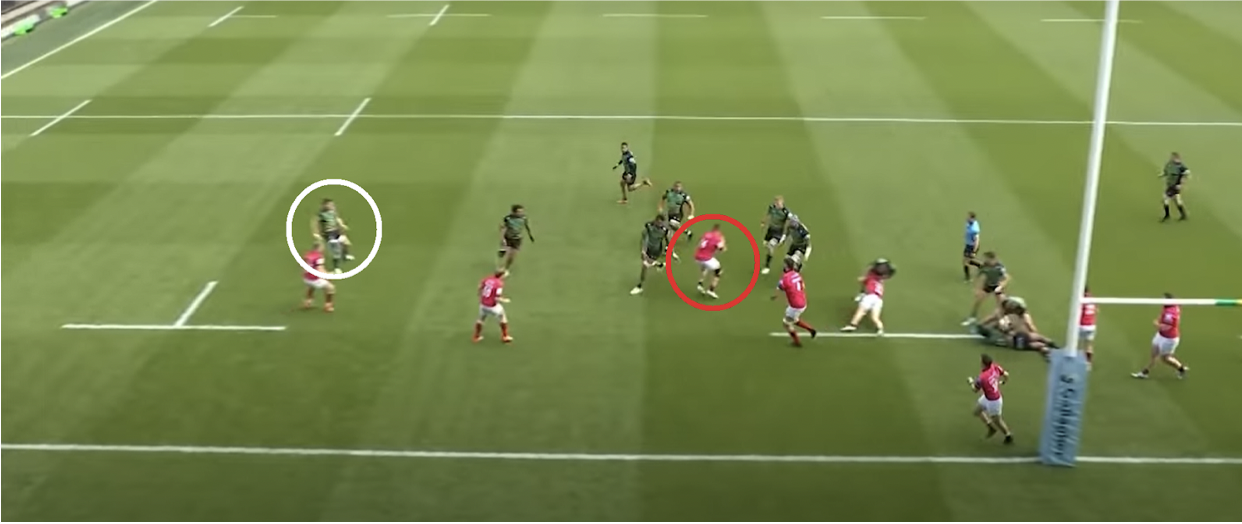 Circled in red (above) is Newcastle's Jamie Blamire, who has just intercepted a Northampton pass and is about to make a breakaway. Circled in white is Tommy Freeman, probably the seventh closest Saints player to the ball!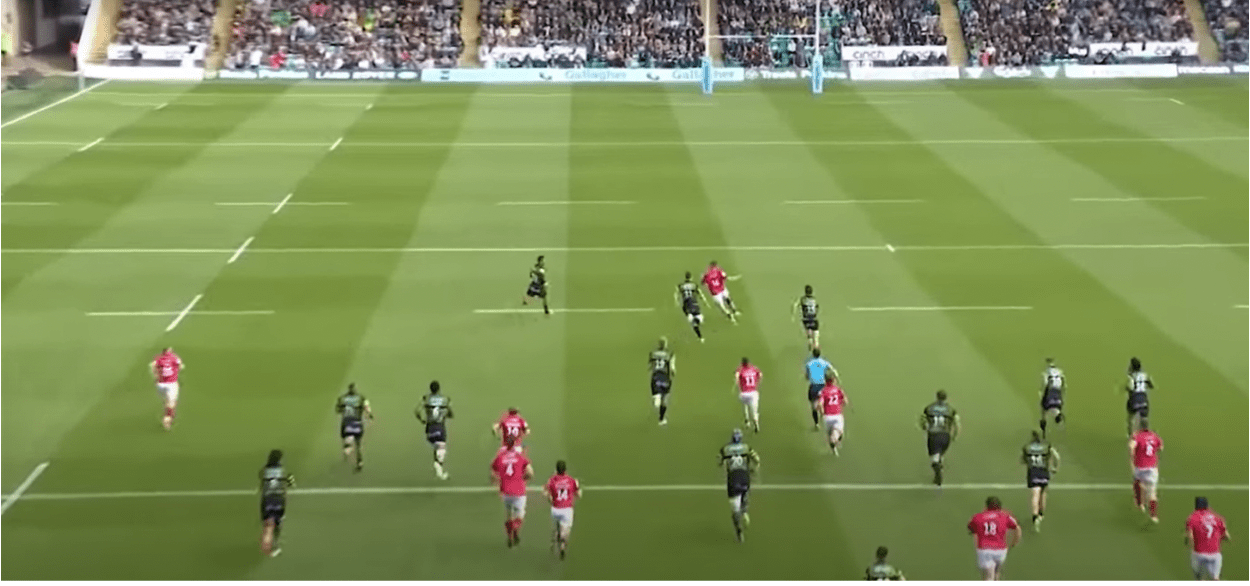 Blamire may be a hooker, but he is pretty rapid. Freeman makes a fantastic effort to chase him down before he reaches the halfway line, forcing Blamire to step inside.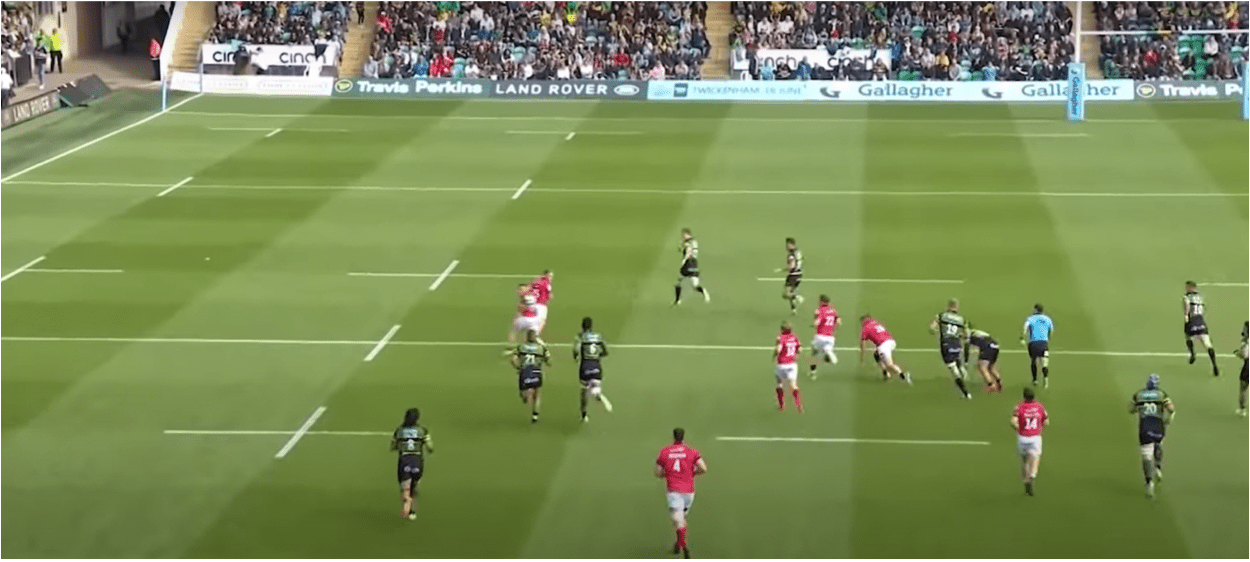 As Blamire throws the offload, Freeman doesn't commit to making a tackle. He sits off, lets the slower cover defence catch up while the ball is airbourne and hangs back. Poised on the 10m line, he simultaneously covers the backfield and marks Alex Tait, who would probably head for the left-hand corner if he caught the ball.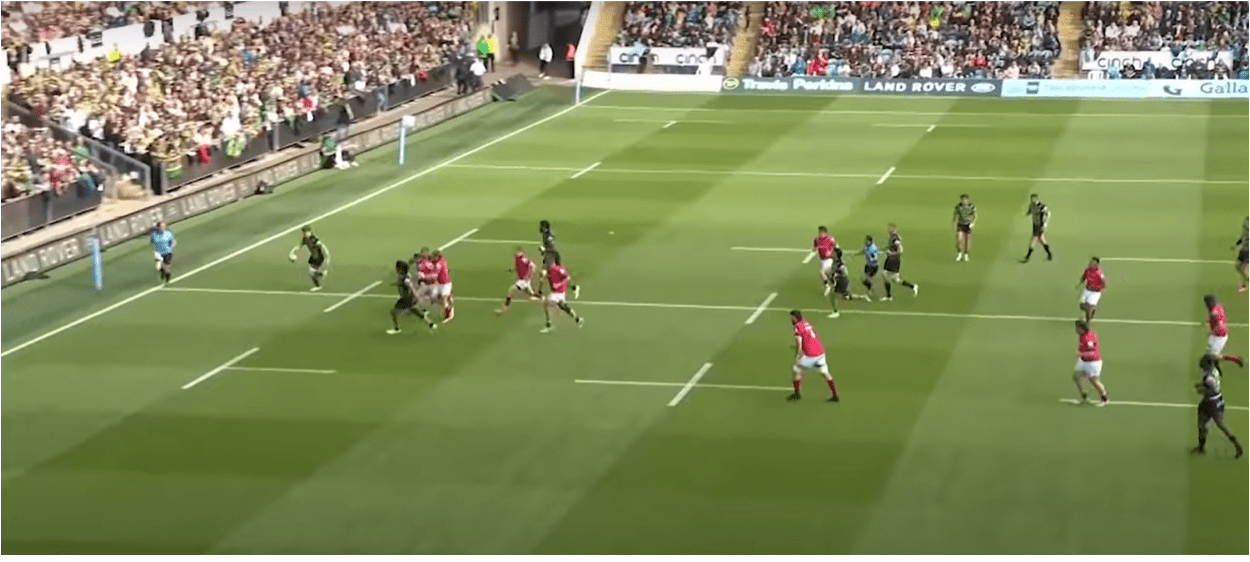 Tait fumbles the ball and Northampton quickly get it into Freeman's hands. With Tait having flooded forward on the line-break, there is no-one home in behind. If there were five more metres of pitch outside Freeman, he probably could have just ran it in, but instead he puts it on the toe to just inside the 22.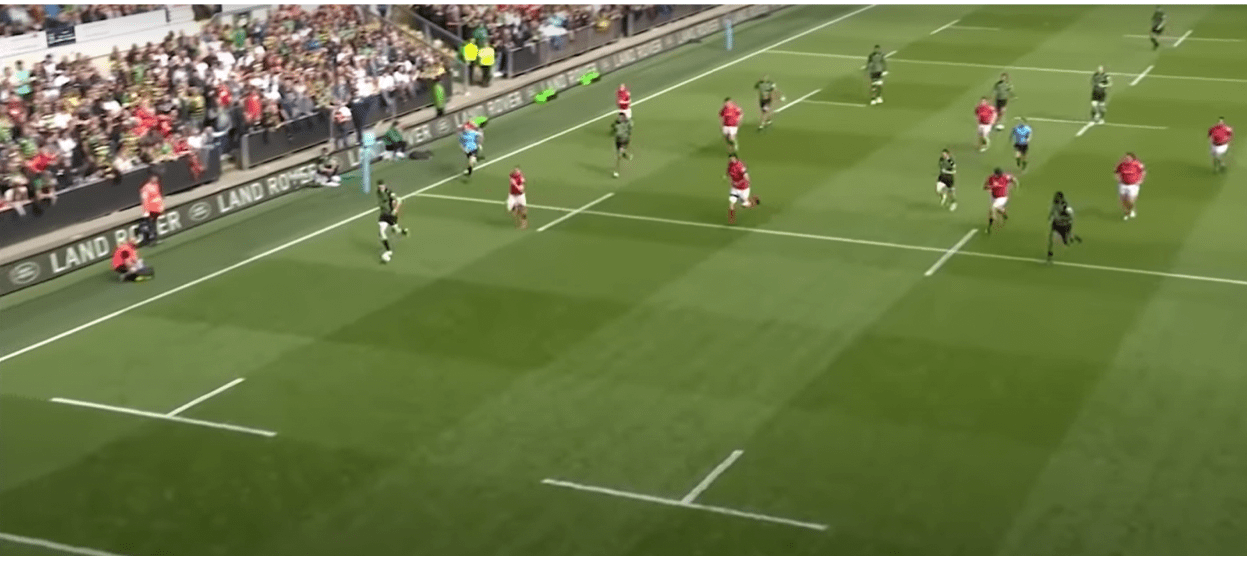 Such is the accuracy of Freeman's right boot, Tait is the only Newcastle player who could realistically come anywhere near the ball. Freeman knows this is a straight footrace at this stage, with a 10m head start. He controls the ball excellently to complete his hat-trick.
Don't underestimate the skill level involved in this try. This whole sequence takes place over 18 seconds, in which Freeman runs around 130 metres; from the opposition 5m line, to his own 10m line, sideways to the wing and back to the in-goal area. To cover that distance and still have the level of awareness and execution to put that kick on the money is truly exceptional.
Next, let's look at a much simpler try Freeman notched up for Saints last season – the bread and butter of his club rugby. This try is scored in the 38th minute against Saracens.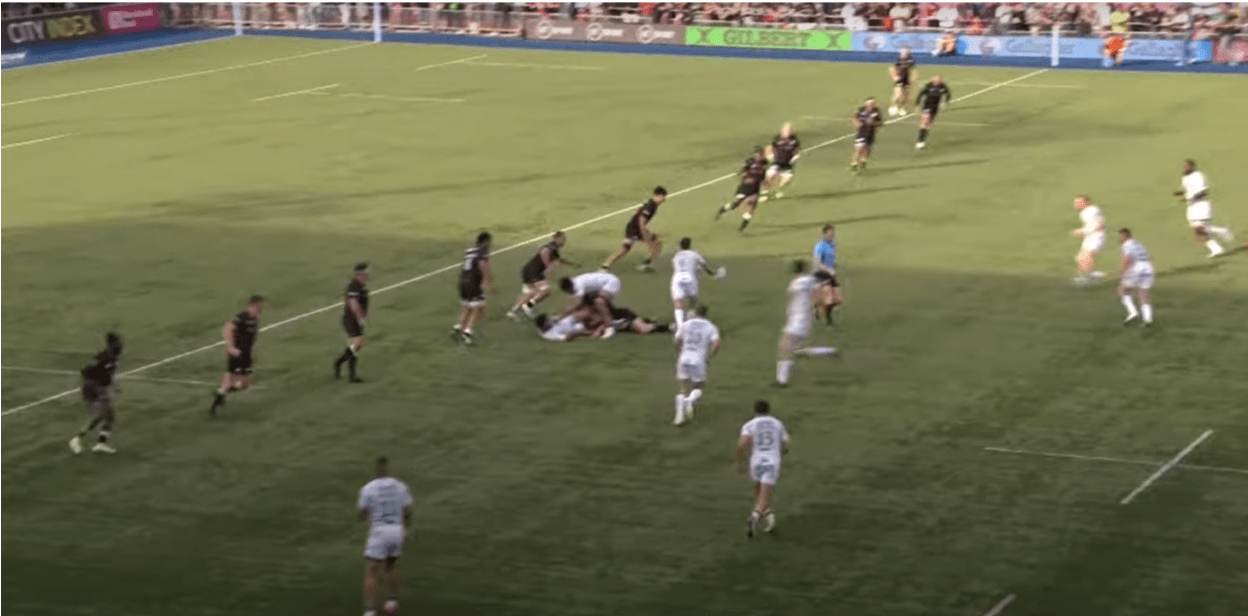 On this occasion, Saints are playing a 1-2-3-2 structure, with two forwards on the floor, one flashing to the blindside as a decoy, two on the right wing (out of shot) and a three-pod in midfield. In this still image, Sarries' defence looks alright. Maro Itoje and Vincent Koch have this group of three covered, but Billy Vunipola (behind the ruck) hasn't folded and pushed everybody out by one or two metres. In theory, this isn't a huge defensive miss, but a certain Northampton back is about to make them look very, very silly.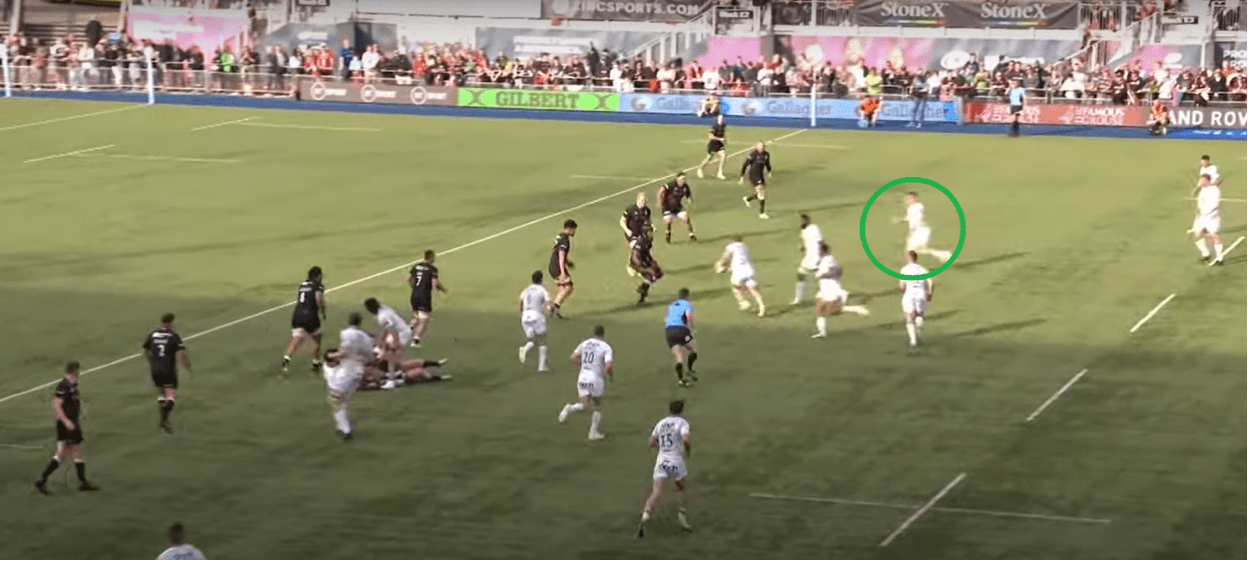 Koch has his eyes fixed on Api Ratuniyarawa on the tip-on. Freeman (circled in green), initially stood extremely deep and wide, comes from miles away to turn the three-pod into a four – this is the line of an excellent number 8.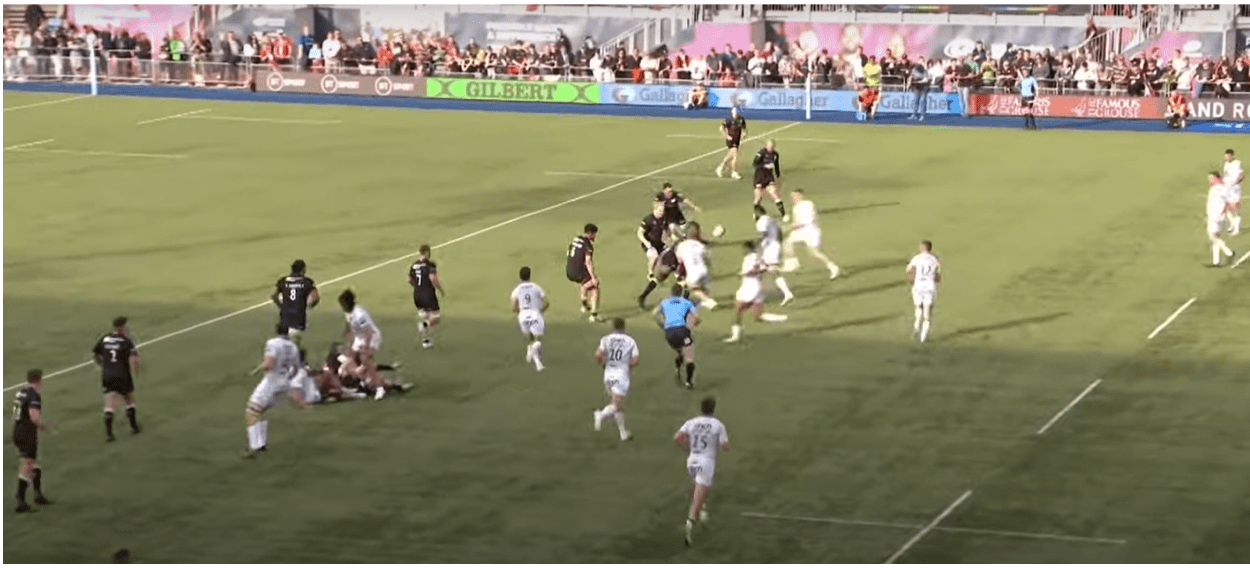 As the ball is lifted for Freeman, Koch still has his eyes on the original group of forwards. Itoje gambles on blocking the pass, but with Mako Vunipola (outside Koch) the only defender with any chance of getting to Freeman, he angles his line even further inwards, meaning he merely has to outpace two tired props to break the line. Koch's ball-watching is a tiny error, but it creates enough of a gap for the Saints wing to blitz through.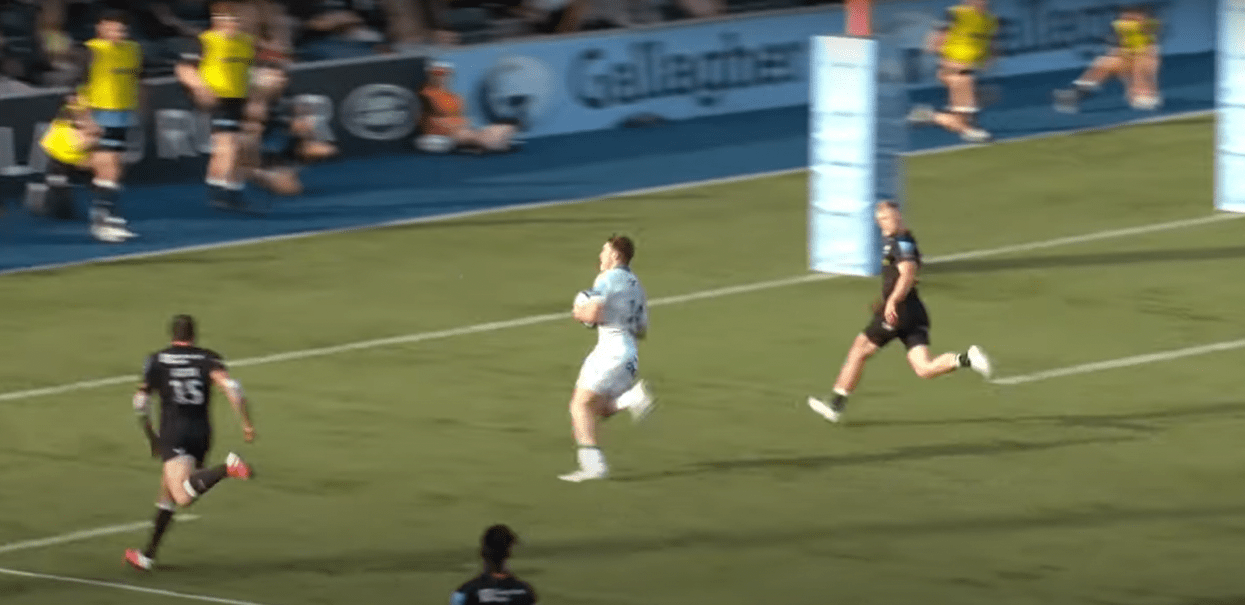 Freeman arcs around Aled Davies to finish just next to the uprights. A tiny error in D by Sarries turned into a 7-pointer for Saints in a flash.
Freeman's ability to change his line late, or sidestep before receiving the ball, is a skill that creates so many tries for Northampton. Next time you watch a highlights compilation, keep that in mind.
Finally, let's assess how this translates to international rugby. Freeman played the second and third tests against Australia this summer, and did an excellent job. In the latter test, he made clean breaks on his first two touches of the ball, and had a direct influence on Freddie Steward's try on the stroke of half-time. Let's have a brief look at that moment.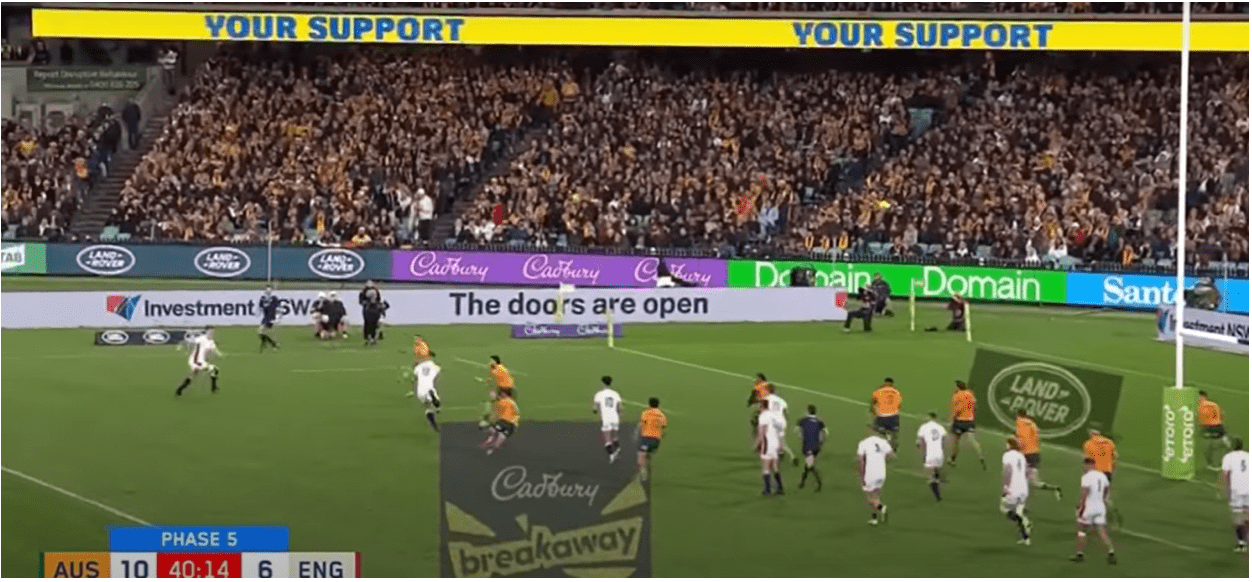 Freeman is stood on the wing here opposite Reece Hodge. The temptation is to hold your width, stay square and race Hodge to the corner. Freeman, however, spots Australia adopting a hard drift defence and doesn't risk getting put into touch.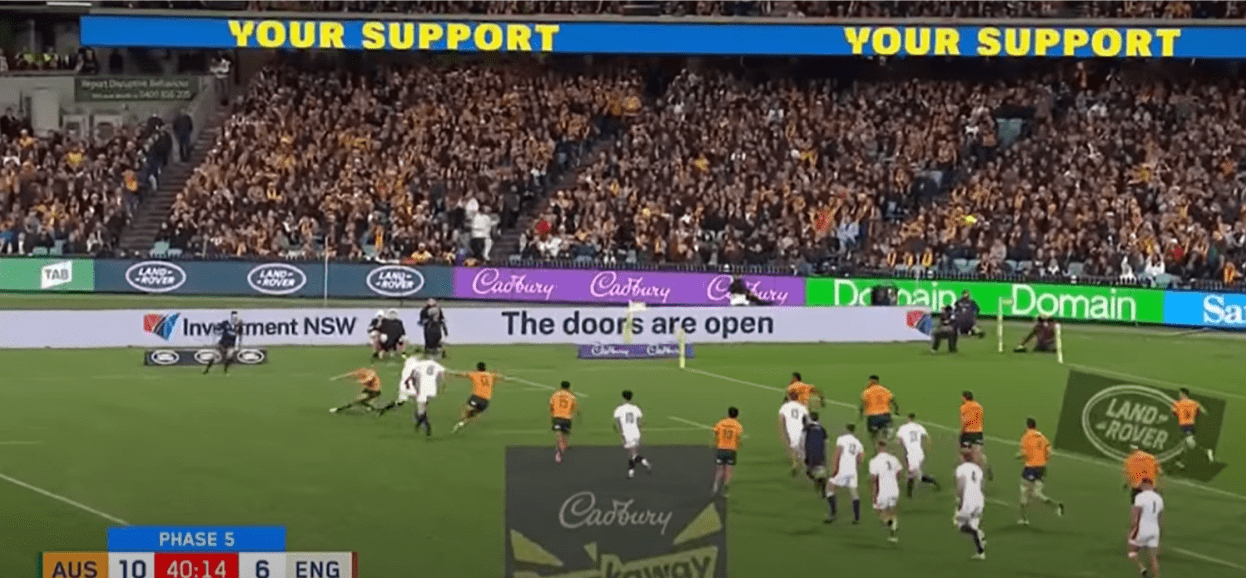 He cuts inwards and beats Hodge to the space as Steward passes him the ball. He changes direction three times in two seconds, going from running overs, to unders, back to overs.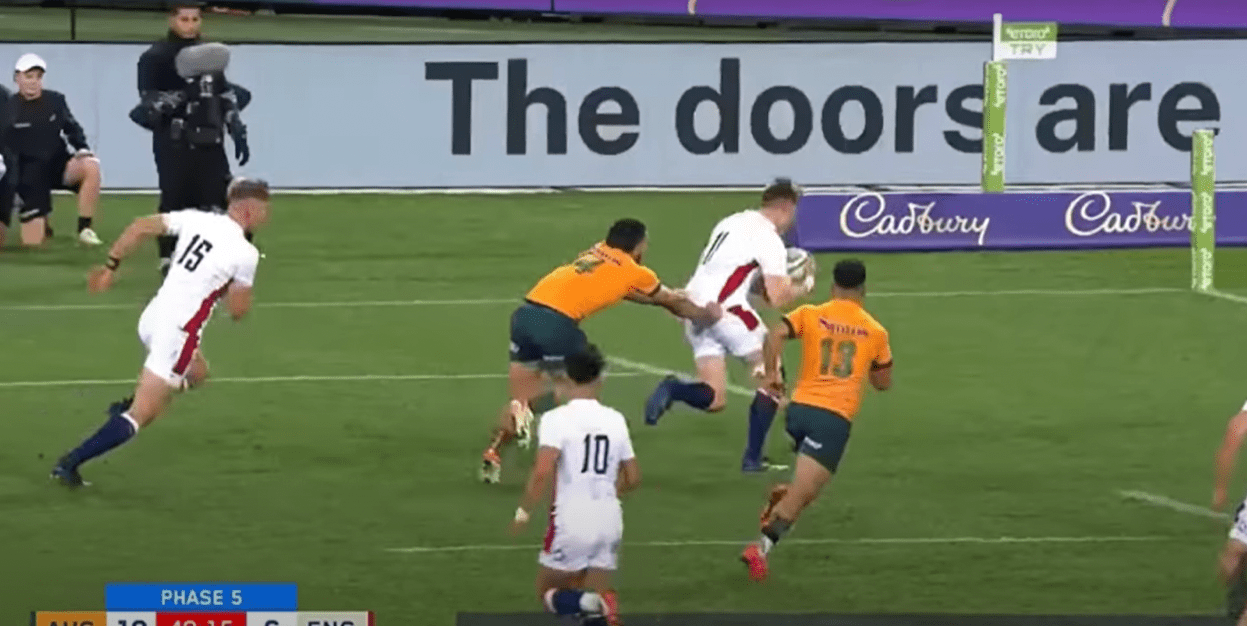 He creates enough separation between himself and Tom Wright that he has a reasonable shot at scoring, despite Australia being well numbered up. He pumps the legs to within a metre of the line.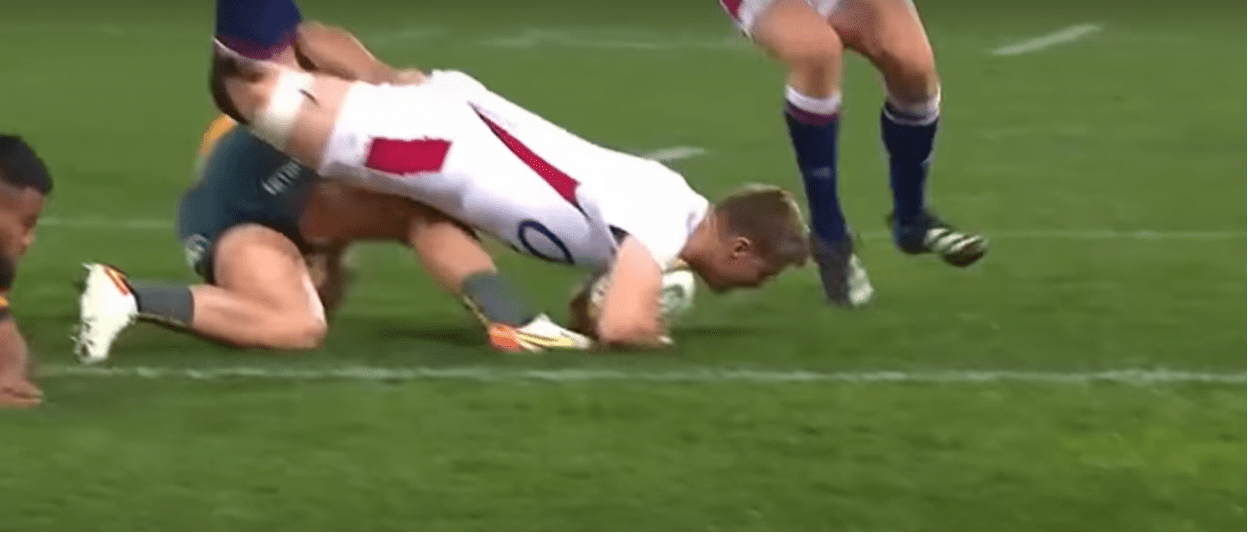 If not for an utterly world class tackle by Wright, you'd fancy Freeman to score here. Luckily, Steward scores in the same spot two phases later.
So, let's recap. What does Eddie Jones want in a winger, and does Tommy Freeman possess those skills? Vision? Check. Attacking kicks? Check. High ball prowess? Check. Work rate? Ohhh yes. Runs good angles? Look no further.
Make no mistake, there is a lot of competition on the wing for England. But given some time, Jones will absolutely find an individual role for Freeman in his starting XV. Coupled with Steward at fullback and whichever outright speedster Jones fancies on the other wing, Freeman has the potential to be the star of the show, and the encapsulation of the "New England" fans are lauding so.