Back
By Will Owen
Why Ireland's Dan Sheehan could transform rugby
Jerry Flannery. Frankie Sheehan. Rory Best. The three hookers Ireland took to the 2007 Rugby World Cup, and to be completely arbitrary, men whose names sound like hookers'. Their rugged facial features make them look like hookers. The icing on the cake is, each has a physique perfectly matching what you'd expect of a front-row forward.
At this stage, one Dan Sheehan from Dublin was nine years old, probably schooling all of his fellow speedy backs in minis rugby; on the path to winning his first senior cap fourteen years later. While we're being arbitrary, let's get this out of the way: Sheehan doesn't look like a hooker. His fresh, unblemished face makes him an outlier among broken-nosed front-rowers. Sheehan, generally, is just built different.
Sheehan's selling points are clear for all to see. He carries superbly, has a sumptuous skillset, holds his own at the set-piece and, above all, has blistering pace. Now, the novelty of hookers being fast is old news. Keith Wood could shift, and of the No 2s still in business, Dane Coles set this trend in 2012 when he won his first cap, and latterly shared the All Blacks No 2 jersey for many years with similarly fleet-footed Codie Taylor. Ireland themselves are no stranger to a quick man in this position in recent years, with Sean Cronin regularly showing the acceleration of an outside back.
But as I say, Sheehan is… different. He's not just an individual talent whose speed and power are optional extras. He has the potential to revolutionise the hooker position entirely. In fact, under the guidance of Leo Cullen and Andy Farrell, he's practically playing a brand-new, never-before-seen position. This is how.
 First, let's look at one of his tries against England in this year's Six Nations.
Ireland have a line-out just inside the English 22, which Sheehan throws in to. Usually, in the opposition 22, Ireland will either drive for the line or pull out a special move. Here, they do a bit of both. James Ryan transfers the ball back to Josh van der Flier in the receiver position, with Sheehan approaching the back of the maul as all hookers do.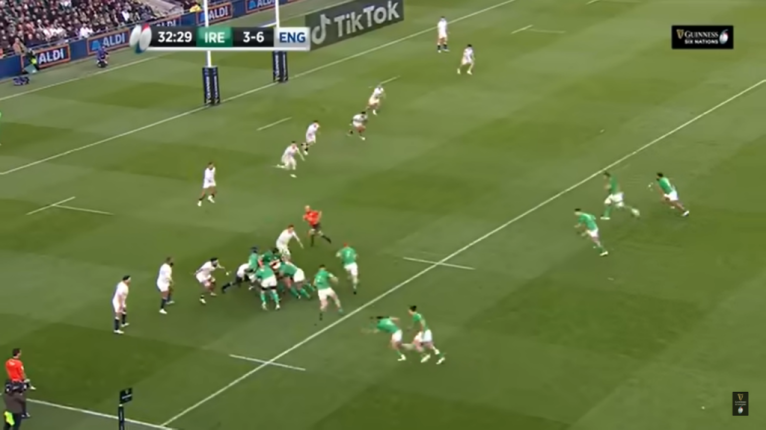 Ireland hold Jamison Gibson-Park and James Lowe behind the maul, meaning Lewis Ludlam and Kyle Sinckler have to remain on the blindside. Van der Flier hears the call and breaks off before Sheehan gets to the back. He crabs sideways to attract the attention of Alex Dombrandt, with Sheehan running square on the inside.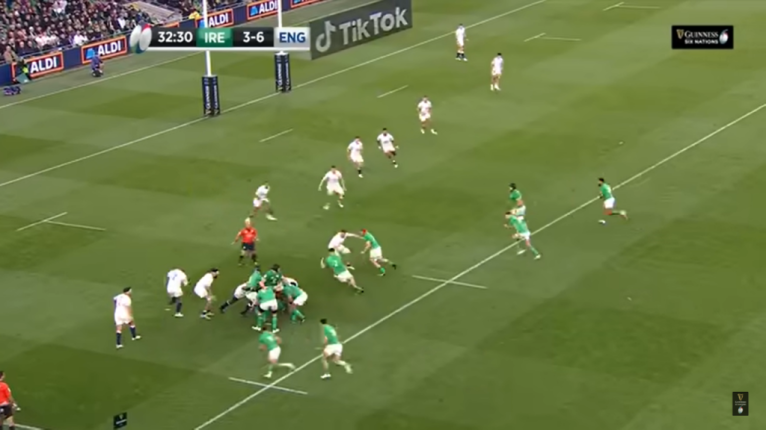 Dombrandt bites on Van der Flier, who feeds Sheehan on the inside. The gap here isn't huge, and the first cover defender is Anthony Watson, who gets tripped by Van der Flier as he changes direction to chase Sheehan. With this level of assistance, it's an easy 20m sprint for the hooker.
This try is about the whole team, not Sheehan himself – but it's hard to think of a single other hooker in the world (including the outstanding Ronan Kelleher) you could run this move with. This sort of play is typically used with wingers, but if Lowe ran the inside line off van der Flier, England would cotton on to it – plus it would sacrifice a man on the blind side who is holding a defender. Back in the 1970s, wingers used to throw into line-outs – and in the age of wingers being strike runners, that's practically what Ireland have. With Van der Flier also being a capable hooker, this is an excellent move.
Let's look at another way Sheehan is used in these systems – this time outside of the opposition 22. This clip comes from early in the Champions Cup final between Leinster and La Rochelle.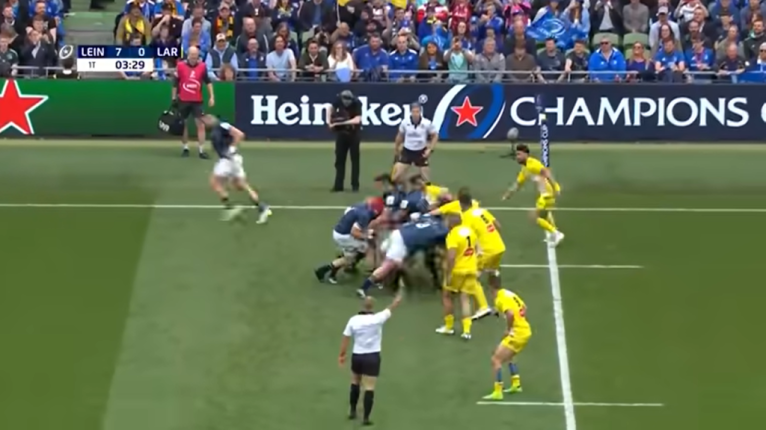 Just inside Leinster's half, Sheehan throws in and immediately gets on his bike, running up the touchline, towards his own goal-line. Van der Flier once again takes the ball in the receiver position. Ross Byrne takes it at fly-half, with both of his centres running hard lines to hold the La Rochelle defence. In a pre-planned move, he passes to James Lowe in the pocket.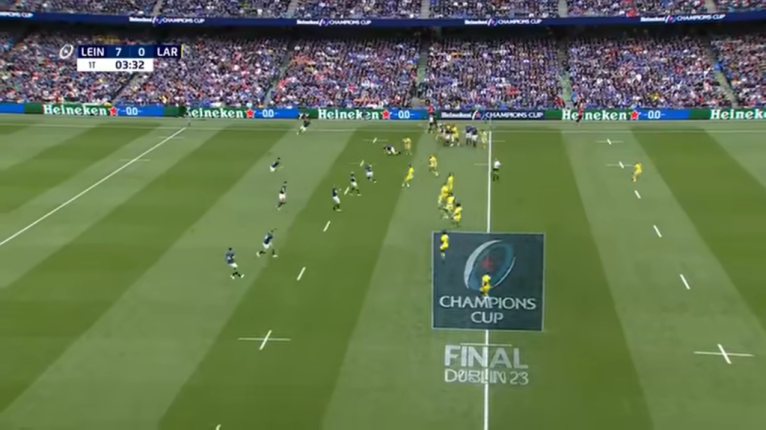 Keen watchers of Leinster and Ireland will know that Lowe is both sides' nominated left-footed kicker. He plays on the left wing, but has one of the largest left pegs in the world, so sometimes you have to compromise his position and use him as a first or second receiver. Usually, this can be problematic if his kick isn't on the money – or it means reshuffling an entire backline: putting your 10 on the wing, a centre out wide, or having your full-back chase and someone else drop.
Not a problem for Leinster. Their third winger is already stood on the touchline, as he threw the ball in. As soon as it leaves his hands, he can get onside to chase Lowe's cannonball.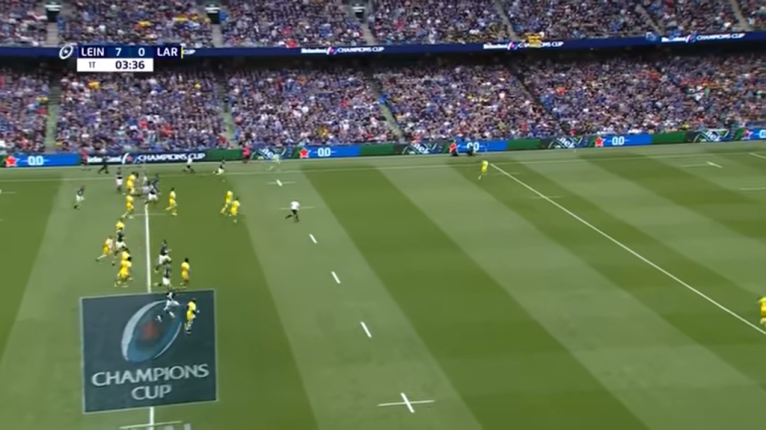 Lowe nails the 50-22, but Sheehan is leading the line and ready to hit Raymond Rhule if the ball misses touch. This could be equally effective in exit plays, as you'd back Sheehan to belt most wingers over the touchline if the ball stays in.
Finally, let's watch his second try against England. This one is much simpler, but further proof his new "third winger" position will complement Ireland's other winger/fly-half hybrid, Mack Hansen, ahead of the World Cup.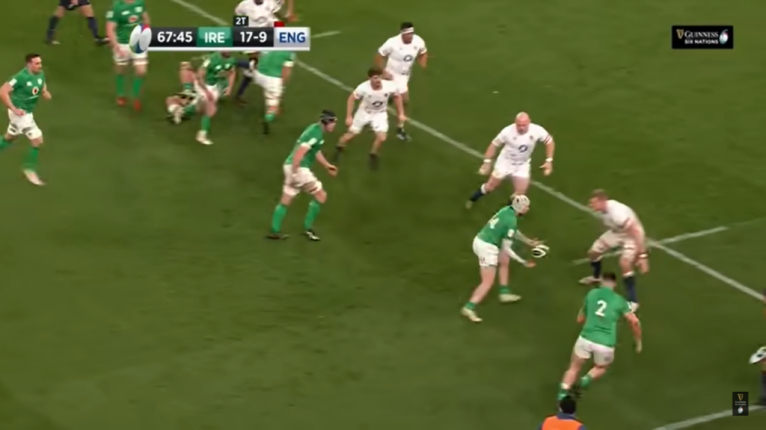 After carrying himself, Sheehan gets straight back to his feet to stand on the touchline, giving Ireland credible shape to attack the blind side – which they do. Gibson-Park misses Ryan to hit Hansen, who stays square and pops to Sheehan, who makes a good 10m on his run.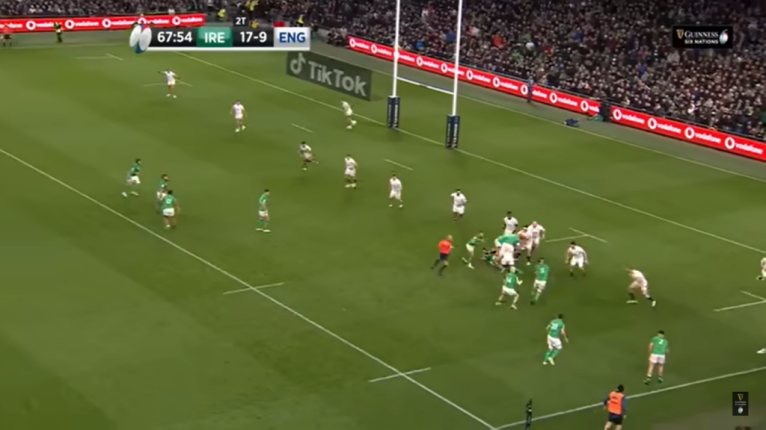 Ireland play a phase infield, and Sheehan, Ryan, Hansen and Jack Conan are all immediately back on their feet and in shape. What's important here is Sheehan can hold his width and trust Hansen to organise the shape and play the ball. Often, the temptation would be for a hooker to crab infield with Conan to set up a carrying group – but not this hooker.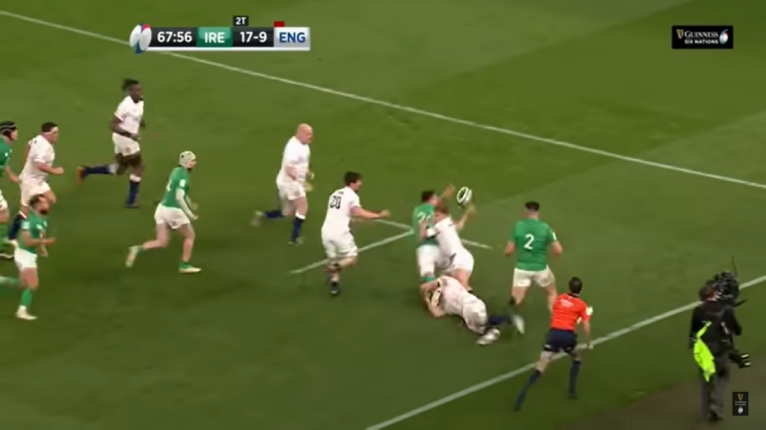 Hansen takes the ball and passes to Conan early. Sheehan is stood so absurdly wide – borderline risking going into touch – that it opens up enough of a gap for Conan to only ride arm-tackles. Conan, being a ridiculously strong tackler and offloader, gets the miracle ball away to Sheehan who slides in out wide.
 It seems simple, but Sheehan has the instincts of an international winger. Whether it's a kick-chase, defensive positioning or finishing tries. Both of his tries against La Rochelle also fit this trend – watch the highlights of that game and keep an eye on a) how fast he is out of the blocks after throwing the ball in for his first try, and b) his insistence to hold width for his second – stretching the defence and allowing his team's actual right winger to linger in midfield for a strike play.
The versatility of these players is a seriously scary prospect. Ireland have a flanker he can share the hooker duties with, plus two wingers who are equally threatening in midfield, allowing him to take care of the wide responsibilities.
Not only is Sheehan one of the fastest forwards in the world, he could be emblematic of what the hooker position may look like in five or 10 years' time. It's one thing watching one of the form players in the world rip it up in big games, but seeing them transform the sport as we know it is something else. Opposition defence coaches will need to think outside the box like never before if they want to devise a way to keep Dublin Dan, the centre-looking-hooker, quiet.