Back
By Nick Bishop
Why Eddie Jones is off the mark about the Wallabies' new tactics
Since Eddie Jones was appointed head coach of the Wallabies back in mid-January, Rugby Australia has upped its game in support of the Randwick man's undoubted marketability. Eddie talks and Hamish McLennan walks – hesitantly at first, but more decisively with the recent snatch of brilliant youngster Joseph Suaalii from under rugby league noses.
Suaalii will cost RA $1.6m AUD per annum, and arguably the money could be better spent elsewhere, at grassroots level rather than on a Wallabies backfield already well-stocked with talent. Suaalii may be an outstanding prospect, and the ARL exemption clause which allowed him to play in the NRL before he had reached the tender age of 18 proves it. He played his first game for the Roosters at only 17 years and 294 days old, and it is rare indeed for a boy to be able to compete on equal terms in a man's game.
Nevertheless, the back three is the most talent-rich area of the Wallabies without him. Just ask Jordan Petaia, Tom Wright, Reece Hodge, Mark Nawaqanitawase, Marika Koroibete, Andrew Kellaway, Suli Vunivalu, Filipo Daugunu and young up-and-comers like Max Jorgensen and Corey Toole. They will tell you. Fullback or wing is not exactly an area of need with that bunch around.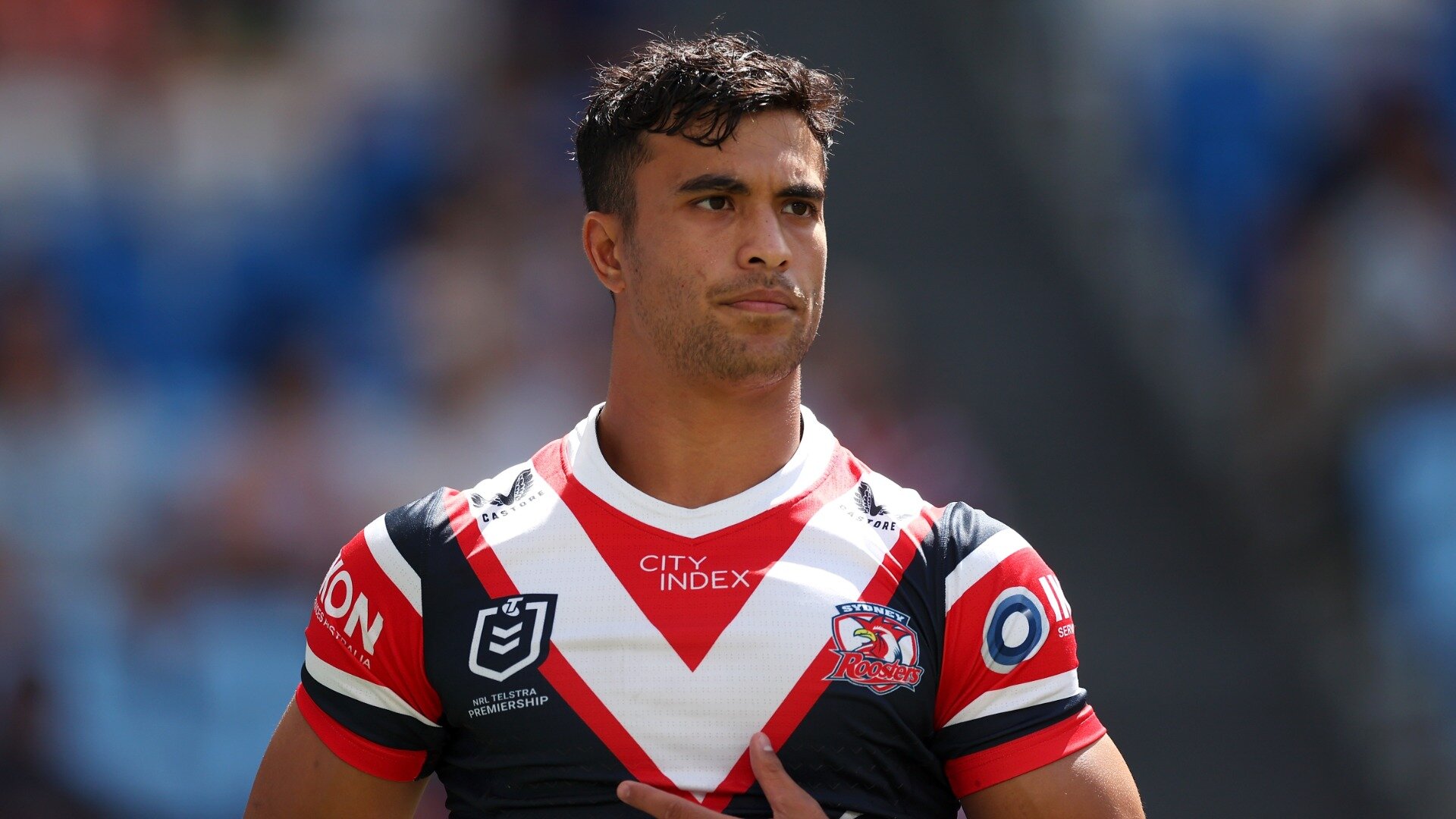 As his Sydney Roosters' teammate, hooker Brandon Smith pointed out succinctly after the signing:
"Super-stoked for him, he's an amazing talent and rugby really got a gem there.
"[But] a $1.6m winger from the Roosters isn't going to help you beat the All Blacks.
"Like [ARL Commission chairman] Peter V'landys said, 'go over, get that easy money and then come back to the real sport'. That $1.6m could've been spent better on the grassroots of rugby."
Splashing a lick of paint, however bright, on a bare piece of wood is not the answer. It needs to be rubbed down, properly primed and given an undercoat first. Suaalii might want to talk to Suli Vunivalu before his own experiment ever begins in earnest. Vunivalu was touted as 'the next big thing' but League players do not improve in a vacuum in the sister code.
We've got to be junkies for winning, not junkies for possession.

Eddie Jones
They need special guidance in the requirements of their new role. It took Jason Robinson the best part of three seasons to learn how to run the ball back from kicks without losing the ball in contact. He did it in the mud and rain of Manchester, so there was nothing glamorous about it at all.
Jones' other recent publicity gambit is the claim that the Wallabies no longer need to play a version of the possession footy which suited Australia so well at the time when it led innovation in the game, back in the late 90s and early noughties:
"There'll be a hundred thousand people there, right, and we kick the ball 70 times and we beat New Zealand, everybody is going to be happy.
"[If] we kick the ball 10 times and we get beaten 40-10, they're going to walk out kicking stones.
"So, we've got to be junkies for winning, not junkies for possession. Possession rugby is dead. It's dead for the moment and it's probably going to be dead for a long period of time.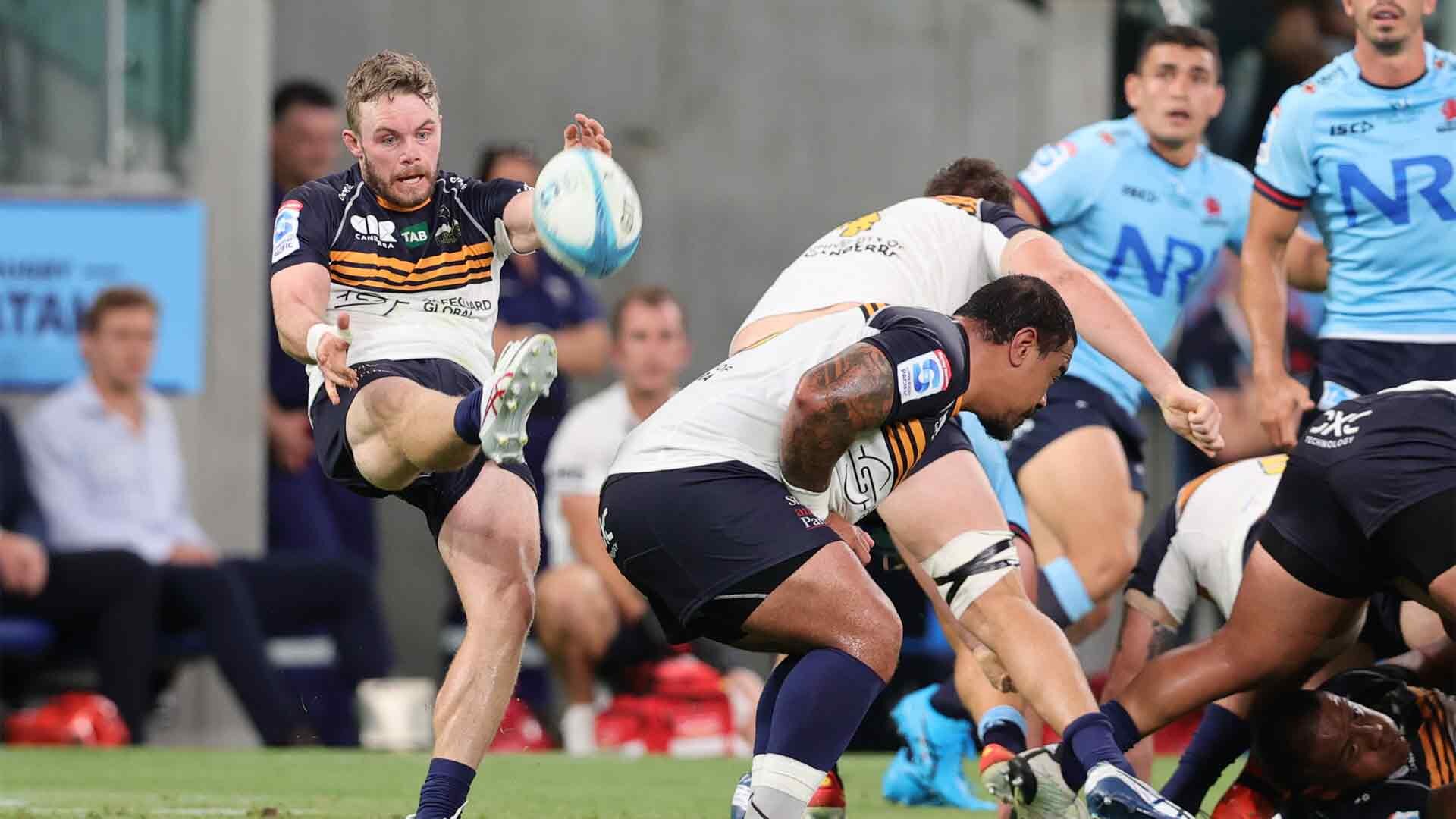 "The game's about being fast now. You've got 75 per cent of tries being scored in three phases – 75 per cent.
"So why would you keep the ball for 10 phases?
"That's just stupid to even think like that anymore, and unfortunately there's that thinking still in rugby."
Eddie Jones always has his reasons for making such statements, and they always have a smart rationale behind them. But let's squash the obvious half-truths. The following stats are culled from the most recent international tournament, the Six Nations championship which finished only two weeks ago:

The overall split between tries scored in under three phases, and the proportion scored afterwards, was 56-44, and the team that won the competition, Ireland, scored more tries from 4+ phase possessions than they did from phases 1-3. The closest Six Nations' side to Eddie's statistical model is France, but both the French and the Australian franchises in Super Rugby Pacific, who have scored 65 per cent of their 81 tries in under three phases, still come in well under the 75 per cent watermark.
The bulk of the iceberg always lies under the water-line, and so it is with Eddie Jones' stats. Let's take a look at some other figures from the Six Nations, and then tally them with equivalent Aussie stats from Super Rugby Pacific 2023:
The average ball-in-play time in the Six Nations was 38.1 minutes. Games involving Ireland had an even higher average at 39.3 minutes. The average SRP ball-in-play time is currently 34.5 minutes for 2023; in the matches involving Australian teams that drops further, to 33.3 minutes – six minutes fewer than in Ireland's matches.
Ireland held the ball for 20.5 minutes per game in the Six Nations. Compare that to an Australian SRP average of 16.6 minutes per game.
Ireland built an average of 107 rucks, with 139 ball-carries and eight clean breaks made per game. The current SRP average is 75 rucks for the Australian sides, with 106 carries and five-and-a-half clean breaks per game.
The top two sides in the Six Nations (Ireland and France) scored 51 per cent of their tries from unstructured scenarios (kick or turnover returns and tapped penalties) as opposed to set-piece (scrum or lineout). The pattern is reversed for Australian teams in SRP 2023, who have scored 69 per cent of their tries from a set-piece starter play, and only 31 per cent from unstructured situations.
Despite the recent law trials aimed at speeding the game up and keeping ball-in-play for longer periods, Super Rugby (and Australian Super Rugby in particular) is still lagging behind the north. It always used to be the quickest version of rugby on the planet, but that is no longer the case.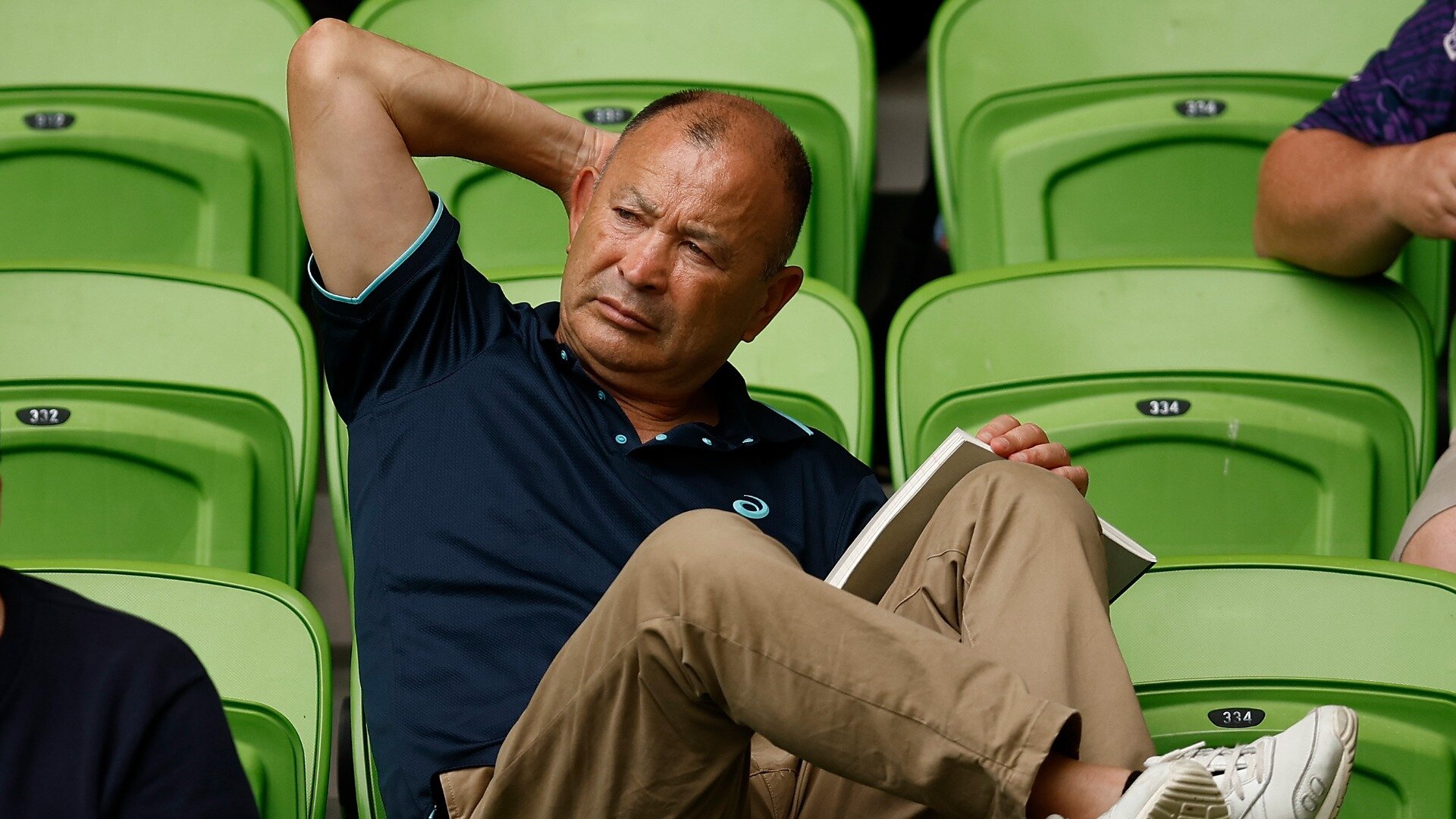 The reasoning behind Eddie Jones' comments becomes a whole lot clearer when you realise that Australia cannot keep up with the Irelands of the rugby world. The world's number one-ranked side can maintain possession for longer periods and recycle it quicker throughout the phase count. The possession game is far from dead, it's alive and well in the Emerald Isle.
Eddie acknowledged as much as the talk continued:
"You look to the playing population of Australian rugby now: 60 per cent is Pasifika, 40 per cent is white.
"So that means the 60 per cent of Pasifika, we've got to play power rugby. Like, we can't play a long-phase, hold-the-ball [rugby] with different sorts of gene pools.
"We've got to play smart, we've got to play to what the laws are now and we've got to play to our strengths, which is about being smart, being really fast and aggressive on the first couple of phases, and then be able to kick constructively to get the ball back."
Australia cannot keep up with the Irelands of the rugby world. The world's number one ranked side can maintain possession for longer periods and recycle it quicker throughout the phase count.
If Australia cannot break the opposition on the first three phases, there is going to be a whole lot of kicking – just as there was towards the becalmed end of Jones' tenure with England. It might be three shots-and-out, just like American Football.
The best game of 2023 so far was undoubtedly the Six Nations championship decider between Ireland and France. It boasted a colossal 46.1 minutes of ball-in-play, and it was even exhausting to watch. Ireland owned 25 of those minutes of active possession time, building 142 rucks and carrying 178 times in the process.
They wore France down, and nothing exemplified their ball control better than their decisive fourth try in the 70th minute of the match. The scoring sequence began at halfway with a kick receipt by Mack Hansen, and lasted for two minutes and 15 seconds – and 19 phases – before Garry Ringrose crossed the whitewash.
Ireland found their attacking shape immediately after Hansen's initial return: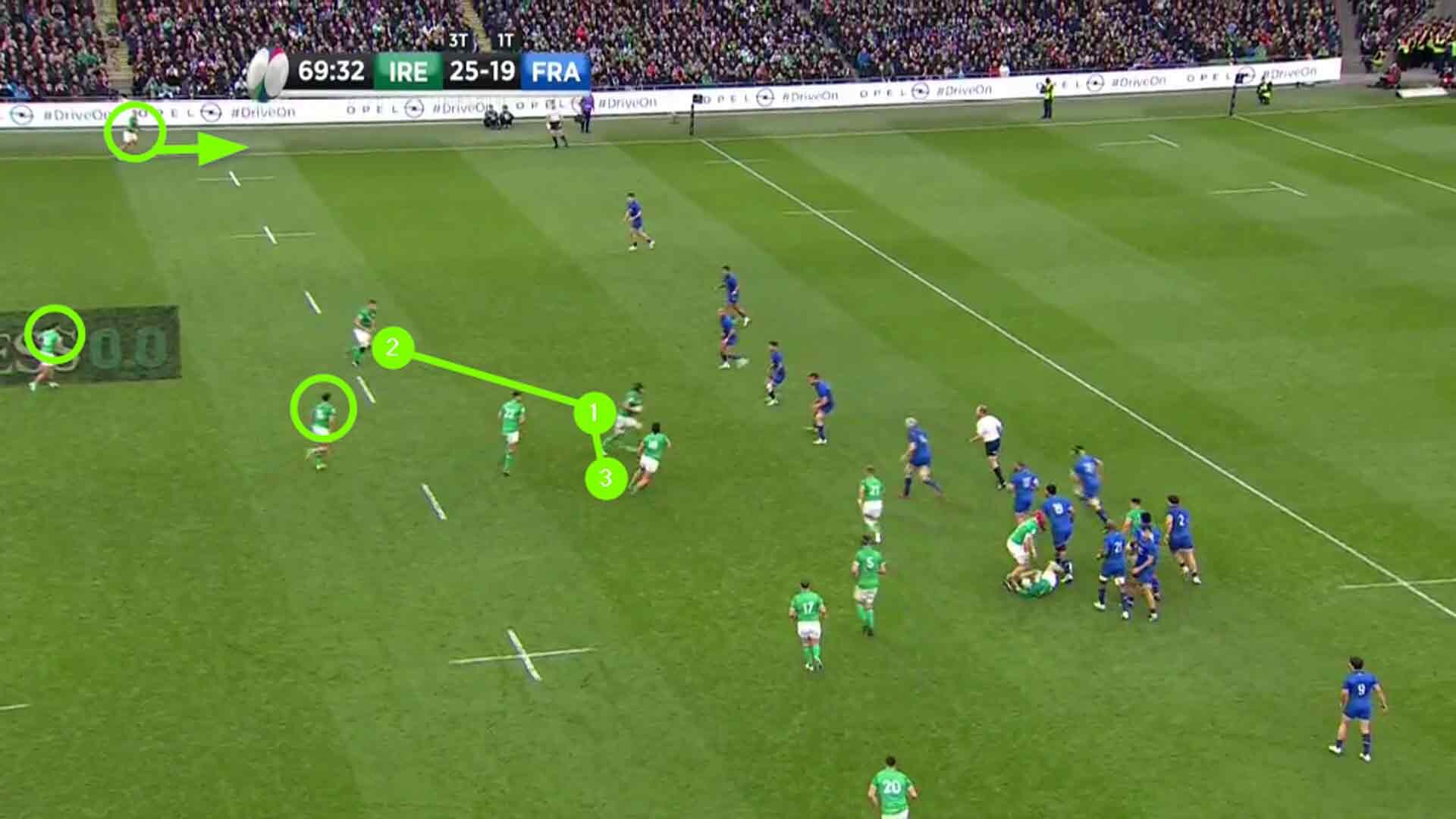 There are already three forwards ahead of number 10 Ross Byrne, with two more backs outside him and extreme width immediately available to the left side-line. The man organizing it all in the midfield is number 8 Caelan Doris, who makes the first carry, beating France's best forward tackler Anthony Jelonch with sublime late feet at the line.
Doris was one of the keys to Irish progress in the phase count, carrying and directing play:
This time Doris is stopped at the line, but there is ample compensation in the form of one-second ruck ball, which restores momentum to the men in green. The Leinster eighth man was at the heart of the scoring play, too:
Doris calls for the ball behind, and even though Bundee Aki is smothered by a superb defensive read from Gaël Fickou, he manages a long 'nail' presentation which returns the ball quickly to Ireland's pivotal player. A long offload out to the left gives Ringrose all the space he needs for a magnificent finish.
The possession game in the modern era is all about smart reads, quick shifts and accuracy of choice at the cleanout. Ireland second row James Ryan had three one-on-one cleanouts in the sequence, and always picked the right cleanout to suit the occasion:
Both of these cleanouts are directed against the imposing frame of France flanker François Cros, but they are completely different in character. In the first instance, Ryan has to skip around the tackler (Jelonch) and remove a jackal (Cros) who is playing with weight forward of his centre-of-gravity, so a roll technique is required. In the second, Cros is defending with his centre of gravity high and looking to hold the ball-carrier up for a turnover maul, so Ryan drills straight through him and takes him to the floor.
It is impossible to miss the bittersweet irony: Eddie Jones was one of the architects of possession footy back in the early 2000s, but is now claiming that it is dead. In fact, it was the foundation of Ireland's success in the Six Nations.
It is rather a case of Eddie Jones justifying Australia's future direction of travel. He doesn't see the feasibility of a possession game with the players he has available, and the rugby culture underpinning them. Grit your teeth, hold on to your armchair and get ready for a lot of kicking. Three 'downs' followed by a punt.
Where Joseph Suaalii fits into that vision is anyone's guess. Despite the white noise surrounding his signing, he will soon face a stark reality. The number of those who started their professional careers in league and have proven to be as good, or better in the rival code can be numbered on one hand: Jason Robinson with England, Lote Tuqiri with Australia and Brad Thorn in the All Blacks. More recently you can add the likes of Semi Radradra and Marika Koroibete to that list.
At some time in the near future, the marketing and cheerleading will have to stop and there will be silence, the ominous silence punctuated only by the peep of a referee's whistle. It is only then that Australian supporters will find out whether they have been led up the garden path by a pied piper, towards yet another false dawn.