Back
By Jamie Lyall
The players who lit up the nine Rugby World Cups
In 100 days' time, the rugby world will gather for the big dance in France. The game's tenth global showpiece kicks off in blockbuster fashion, with the host nation taking on the All Blacks in a seismic tournament opener.
As part of RugbyPass Plus' countdown to the Rugby World Cup, we remember those who set the nine previous editions ablaze.
The World Cup was a novel and curious beast back in 1987, a brave new dawn for a sport creaking inexorably towards professionalism. Twenty-two-year-old Kirwan was one of its shining lights. He scored two tries in the curtain-raiser against Italy, the first of which still ranks among the very best ever seen at a tournament. Collecting the ball off a restart in his own 22, Kirwan slalomed and sped past virtually the entire Italian team on a blistering 90m dash. The wing later revealed he honed his agility and evasion by sprinting through a forest side-stepping trees at full pace.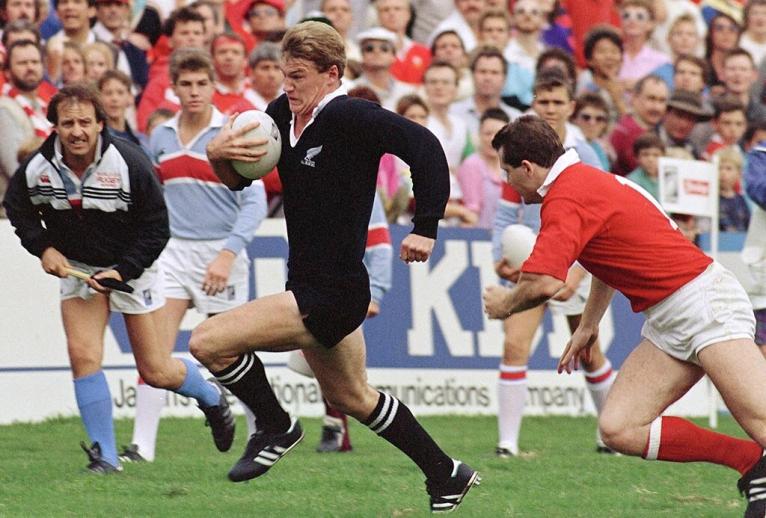 He scored six tries in the 1987 edition, including one which rounded off New Zealand's final victory over France, and sealed the inaugural cup on home soil.
In all his years and all his commentaries and all the names which rolled off the Scots Borders tongue, whenever the great Bill McLaren was asked to cite the best players he'd seen, David Campese was invariably at the top of the pile. The wizard of Oz was at the peak of his powers in 1991, conjuring acts of mind-bending sorcery as the Wallabies won their first World Cup.
Typically of Campese, there was a little of the maddening alongside the magnificent. He was exposed in the quarter-final heart-stopper against Ireland, before playing a key part in Michael Lynagh's famous winning score. It is the semi-final against New Zealand, though, which is etched in Australian rugby folklore. Campese began his career-defining show before the game even started, warming up on his own while the rest of the team faced the haka. Sand kicked in the face of the black juggernaut. If that was impudent, what followed next was outrageous.
Campese left New Zealanders scrambling in his wake as he scorched over in the left corner, before seizing upon a Lynagh chip, bamboozling the All Black defence down the right and tossing a sumptuous ball over his shoulder without looking to send Tim Horan away. Genius. And vintage Campese. Much-respected Australian rugby writer Greg Growden would call him 'the Pele of rugby' in his match report.
Special mentions for England flyer Rory Underwood and Scottish totem Gavin Hastings.
Who else but Jonah? Rugby's first and greatest icon, who shattered barriers, captivated minds and revolutionised the game. The 1995 World Cup was the sport's first real introduction to Lomu, then aged just 19, his hulking frame, ridiculous speed and often overlooked dexterity. His four tries in New Zealand's quarter-final shellacking of England – sorry, Mike Catt – endure nearly 30 years on. This was the start of Lomu the legend.
His haul of seven tries that tournament was bettered – by himself – four years later, and since then only Bryan Habana and Julian Savea have matched the tally.
Of course, Lomu's All Blacks did not lift the Webb Ellis Cup in 1995. South Africa's glory, wrapped in a tale of freedom, is one of the most arresting stories in any sport and heroic Joost van der Westhuizen was instrumental in it, felling Lomu brilliantly in the try-less final.
It is such a wretched shame that these two giants are no longer with us.
If we're picking a standout performer across the entire tournament, then Tim Horan is the undisputed player of the 1999 World Cup. But if we're looking at pizzazz, shock and out-of-the-blue magnificence, Christophe Dominici is our man.
Nobody gave France, oscillating and vulnerable, a prayer against the ruthless All Black machine in the semi-finals. That New Zealand team had a back-three of Lomu, Jeff Wilson and Tana Umaga, with Christian Cullen in midfield, Andrew Mehrtens at fly-half, and Josh Kronfeld, Robin Brooke and Craig Dowd in a ferocious pack. They led by 14 points six minutes into the second half. How often are New Zealand usurped in this position?
France, and probably France alone, could have climbed Everest that day. They were wonderous in a way only the French can be. Harmonious and beautiful and yet utterly deadly. And little Dominici, all 5ft 7ins of him, was the All Blacks' tormentor. He sliced them open down his left side, veering past defender after defender to set up Christophe Lamaison; he capitalised on a wicked bounce from Fabien Galthie's box-kick to scuttle clear himself. He splattered joyous swathes of red, white and blue all over a dull Twickenham canvas.
After Dominici's sudden and desperately tragic passing in 2020, people talked about 1999 again and again, revelling in the feats of the pocket dynamo who shook up the rugby world.
It's not just about the drop-goal, though Wilkinson's nerveless, weaker-footed strike to deliver a first English World Cup is, in many senses, the fly-half in microcosm. His tournament was laced with so many moments of supreme class, from the beautiful crosskick to Iain Balshaw against Samoa, to the reeling in of a rampant Wales and the tactical dismantling of France in the semi-final. He pulled strings and conducted England's lethal orchestra. There is nobody in the history of rugby you would sooner have standing before the posts, World Cup at stake, to take the ultimate pressure shot.
Fijian phenomenon Rupeni Caucaunibuca deserves huge recognition too, as do Joe Rokocoko, Jason Robinson and Lote Tuqiri, each of whom bewitched Down Under.
2007: Bryan Habana (South Africa)
This wasn't a classic World Cup to watch, partly because every team seemed to embark on a mission to get as jacked-up as possible in the gym beforehand. European teams faded from view in the Six Nations only to emerge for the warm-up Tests with veins popping and jerseys straining beneath the sinew. Such was the trend of the game in 2007.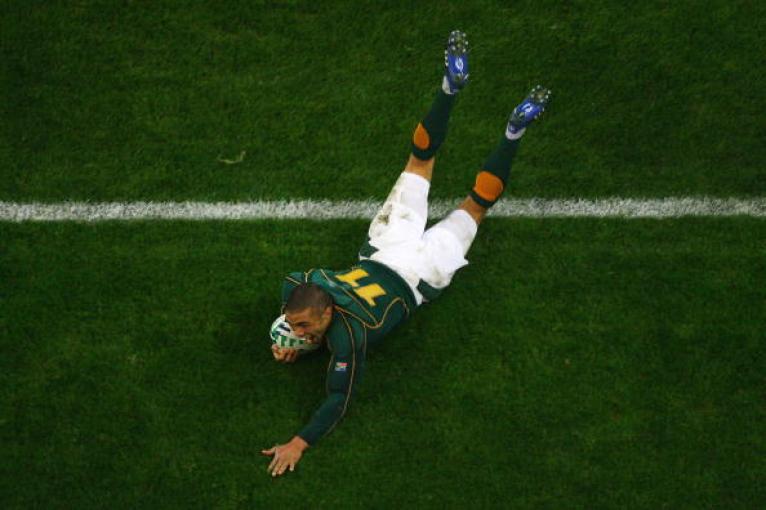 Habana was hugely muscular, but blunt-force trauma was never his weapon of choice, even in a Springbok team laden with brutality. He possessed the instincts of a true Test-match predator, burning Samoa for four tries in a single game, and scoring two more apiece against USA and Argentina. Some were based on speed and positioning, but others, in particular that brace against Los Pumas, were all skill and intelligence. A clever chip and chase; an expertly timed interception. He would become a world champion and win World Rugby's player of the year award.
Elsewhere, Agustin Pichot led an Argentine campaign so amazing that shaped their quest for Tier One inclusion, while Sebastian Chabal was a cult hero and a wrecking ball for France.
Most of the leading candidates from 2011 are back-row forwards. We could easily have plumped for a young Sam Warburton, despite the infamous red card, whose breakdown excellence drove Wales to new heights. Heinrich Brussow and David Pocock were two of the best jackalers around. Jerome Kaino was the ultimate hitman for New Zealand on the blind-side flank.
McCaw, though, was the All Blacks' go-to man, at a time when anything but victory would have sparked a thermonuclear reaction across rugby's most fanatical nation. He shouldered the weight of the world, after the squad's failure in 2007, at a first World Cup in New Zealand since 1987, playing with a damaged foot which severely limited his training time. The captain produced telling performances in the semi-final and final, tackling 16 Frenchmen, winning three turnovers and cleaning over a fifth of All Black rucks.
2015: David Pocock (Australia)
Trying to shift Pocock, clamped and strapping, from a tackled player was like trying to pry a limpet from a rock with a toothpick. At his best, the Wallaby was nigh-immovable, his timing, speed and strike rate over ball a form of potent rugby artistry. As good as he was in 2011, in 2015, he was arguably even better, as part of a fabulous Australian back-row featuring Michael Hooper and Scott Fardy.
Pocock's quality needs context. He didn't play a Test match between December 2012 and July 2015. In that long, barren period, he ruptured his knee ligaments twice, requiring almost back-to-back major surgeries and gruelling months of rehabilitation. Michael Cheika deployed him not as an out-and-out open-side, but a number eight, so he could get Pocock and Hooper into the same team. That meant more than fetching and scavenging was asked of him. The results were spectacular.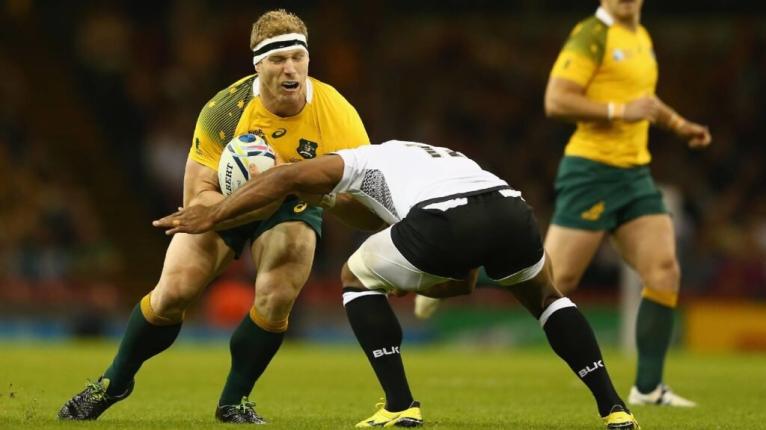 Pocock annihilated England and Wales at the breakdown in a fiercely contested pool, and did a number on Argentina in the semi-finals. Even in a losing cause to the All Black champions – perhaps the greatest team of the professional era – the fit-again colossus sparkled.
A host of New Zealanders – particularly Ben Smith, Ma'a Nonu, Nehe Milner-Skudder and Julian Savea – could have been picked here.
South Africa's victory was forged on brawn, but the sprite on the wing was so often the dagger used to make the killer thrust once the bludgeon had done its job. Modern rugby is the domain of giants. It takes a special athlete to make it, far less thrive, at 5ft 8ins and 75kg. Kolbe is like a featherweight pitched in among the heavies and he has them all lurching and flailing like giraffes on ice.
It is bonkers that for many years, coaches in South Africa seemed set to deprive their nation and the rugby world of this immense talent. Kolbe was told more than once that he was too small, a luxury player who wasn't Test material.
What those coaches could not see, Rassie Erasmus emphatically did. He saw the footwork of a ballerina, the spring of a gazelle and the fighting spirit of a mongoose. He saw a player who could tip the balance at the highest level. Kolbe came of age under Erasmus in 2018, and in Japan, made himself a superstar. The skinning of England to clinch the final lingers in the memory, but there were mighty tries and mightier hits against Italy and Japan, rocketing bursts against New Zealand and countless moments of dynamism belying his small stature.
Michael Leitch was heroic for Japan. Tom Curry and Sam Underhill, the 'kamikaze kids', were influential on England's run to the showpiece.