All hail Chris Ashton, the Premiership's first try-centurion
We are creeping towards the denouement of a curious season in rugby's tender professional history. We have lost Wasps and Worcester, certainly for the foreseeable future. We have had a near-players strike in Wales, and both the Scottish and Irish Rugby Union's have had shots fired their way for their mishandling of sensitive issues. Meanwhile in France, despite a few ructions off the field, the garden appears to be in bloom, especially with the Rugby World Cup in the distance, and a growing stream of players heading their direction as economic migrants, as the Top 14 threatens to become the promised land for the world's rugby talent.
Here's what RugbyPass+ made of the action…
Ash splashes to Premiership century
It was never in doubt. From the moment Chris Ashton announced his impending retirement, his quest to smash the 100-try Premiership barrier was destined to succeed.
Fairytales are rare in sport, even for the best, but there's something inevitable about try machines who operate as ruthlessly as Ashton. They back themselves and they deliver. They find opportunities where seemingly none exist. And in purest sense, Ashton is the finest finisher England has seen.
Nobody has a nose quite as sensitive as his. A capacity to sniff out the merest morsel of a scoring chance and launch in feverish pursuit of his quarry. In all these years at the top, his work rate has never faltered, his instincts never dimmed. His chasing of apparently lost causes, willingness to hunt for half-breaks and offloads and track the most searing support lines, have created tries many other wingers do not or cannot score.
With two regular-season games remaining for Leicester, Ashton stood on 98 tries. Already the Premiership's record holder, but not quite into the storied three figures. He scorched home four times against a battered Exeter, the second ruled out for a toe on the touchline as Stuart Hogg then Olly Woodburn clattered him towards the corner flag. Welford Road swayed and sizzled. Ashton's team-mates looked for him whenever they entered the red zone and their joy was both palpable and pure when the showstopper seized his moments.
You wonder how many more Ashton might have plundered were it not for troubled spells at Sale, Harlequins and Worcester featuring reported fall-outs behind the scenes. You wonder, too, how England might have prospered had they used him on more than 44 occasions.
For even now, at 36, the axe shows little sign of blunting. Ashton averages a try every 109 minutes this season. Last season, it was 91 minutes. In his first year at Sale, that was 138 minutes. During the glory days at Saracens and Toulon, and the early years at Northampton, the numbers were spectacular. Twenty-six tries in 30 games by the Med. A try every 90 minutes. Fifteen in 19 – one every 86 – for Sarries the year before, 15 in 22 the season before that, 17 in 30, 19 in 26, never averaging more than 130 minutes per try.
Of course, Ashton would settle for no ordinary coronation. Having scampered in for his hat-trick, Premiership score number 101, he hurdled the barriers, took a seat in the front row and applauded. A homage to Felipe Contepomi, who watched from the stands as speculation mounts about a coaching role next season. Ashton will be not be there, but his legacy will endure. All hail the try-scoring centurion.
Hello boys, it's 2023
It is unlikely if any union in the world has received as much praise as Ireland's. Well-resourced, the producer of three competitive provinces, and one outstanding one, the accumulation of three Grand Slams and two further Six Nations Championships across the last 14 years, has won the respect of the rugby world.
Compared to their Celtic rivals – the Welsh are in a mess while the Scots have only two professional sides – they are standard bearers. Look closer again at the production line, back to back Grand Slams for the Irish Under 20 side, and it isn't too hard to imagine two decades of success becoming three. Yet all this comes with an asterisk attached.
Every achievement we have spoken about here is in the men's game. The women's game, in contrast, has been under-resourced, poorly structured and left behind. They failed to qualify for last year's World Cup. They have lost three from three in this year's Six Nations and memories of the outstanding team, captained by Fiona Coughlan, who reached a World Cup semi-final, won a Grand Slam and then followed that up with another championship, has faded.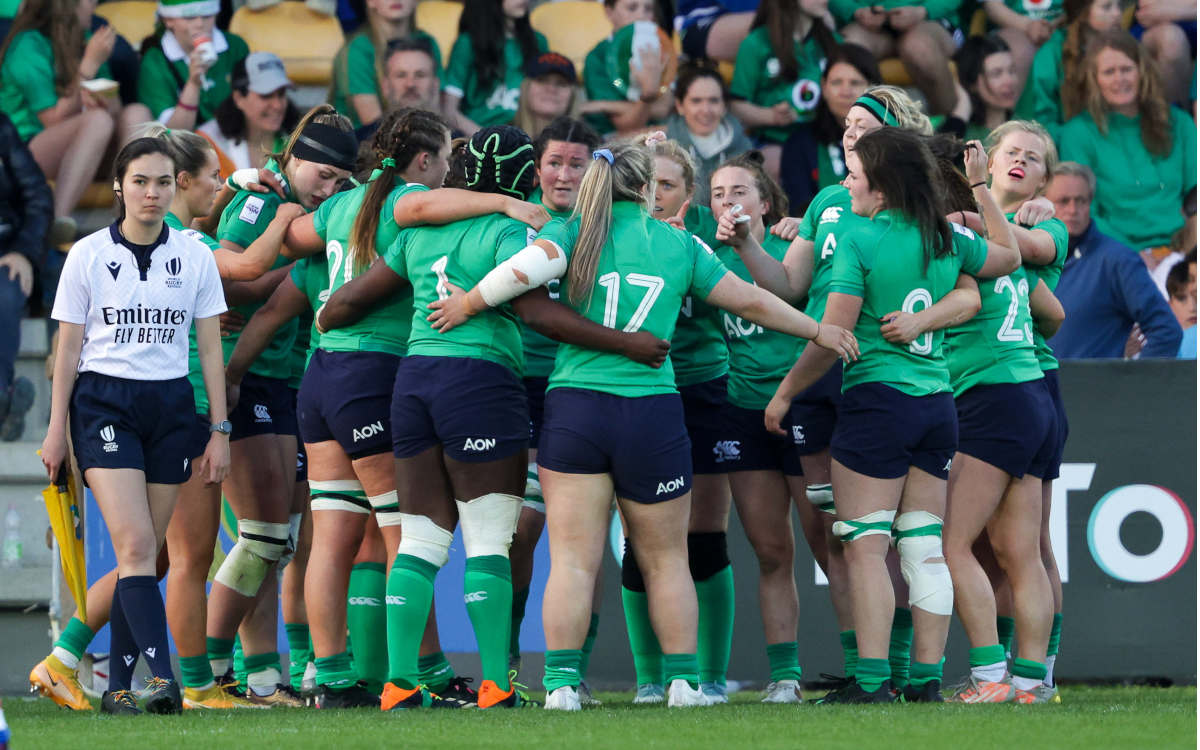 The bottom line is the IRFU took their eye off the ball with women's rugby. At a time when France and England invested both time and money, Ireland's union did far too little to capitalise on an outstanding side who broke the mould in a brief but golden period between 2013 and 2015.
It's the union's job to sort this. No one else's. The slip in standards and run of shocking results is theirs to own and switching the head coach every now and then won't solve the problem. Investment will. Restructuring will. It took the creation of a Heineken Cup and Celtic League to transform Irish men's rugby, the provision of regular, meaningful matches for the 120 or so professionals in the country. Ideally that is what is needed here, a purposeful outlet for the country's leading female players.
If that's beyond the union's control, other things aren't. They can allocate their budget whichever way they choose. So, if that means cutting their Sevens programme, if it means dishing out a slighter smaller slice of pie to the four male provincial teams, then so be it. Irish women's rugby players need more meaningful matches. That'll cost. It may mean an increasing number of tours for the provincial or international teams, which in turn may mean taking a financial hit and doubling or even trebling the salaries of the part-time players. But so be it. They have to aim high and right now they are bottom of the table.
Welsh regions continue to struggle
The crisis has been averted. The strike called off, and the long-term participation agreement has been signed, but if any member of the Welsh rugby fraternity thought all Wales' ills would be spirited away with a sense of optimism and progress, they could have been disabused on that notion on a weekend where the Welsh regions scorecard read; wins 0 losses 4. The aggregate was hardly inspiring, either, 135 points against and 68 for (34-17) against Scottish and Irish opposition. With a game left of the regular URC season, Wales' professional sides are ranked 11th, 13th, 14th and 15th. Their points difference as a collective is a chastening -373. This is a downgrade on last season's 9th, 10th, 14th and 15th, but the punchline is no laughing matter because the salary cap will be cut by around 30 per cent, yet Malcolm Wall, the PRB (Professional Rugby Board) chairman says he expects the funds afforded to the regions to be 'competitive' next season. Go figure.
Of course, anyone involved in business, knows that the product suffers if you significantly reduce investment by that heady sum. There are no rabbits to be pulled out of hats, no short cuts, no magic wand, it is a managed decline, unless a serious calls are made, including the perennial Damacles Sword of a region being cut. Either way, it is deeply dispiriting for lovers of the game in Wales. Meanwhile, the steady flow of players leaving Wales continues unabated. Will Rowlands, Jarrod Evans, Dillion Lewis, Joe Hawkins, Max Llewellyn and Ross Moriarty have already been announced as heading out of Wales and many more are expected to follow. Speak to well-placed employees at the regions and there are question marks over swathes of players, so in this environment of uncertainty, such uninspiring results on the pitch are perhaps unsurprising.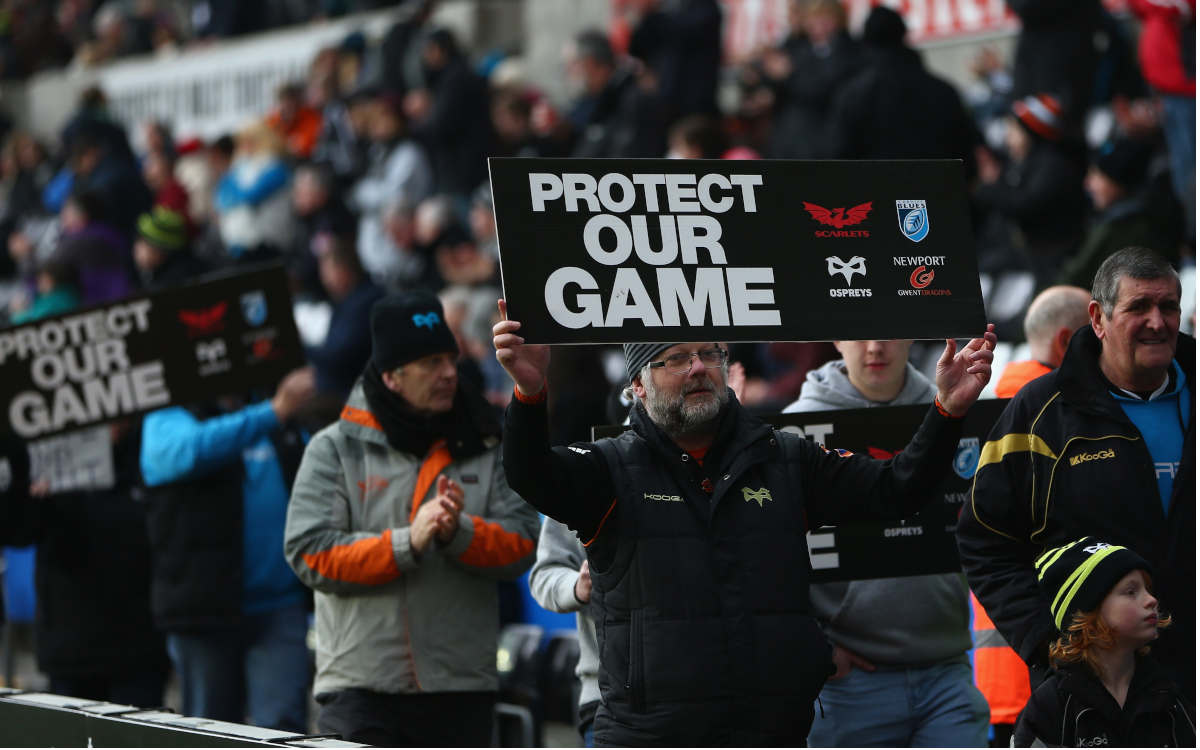 Compare that with the Irish provinces, who are unified, working towards a common goal and a picture of financial stability off the pitch. Can you imagine World Cup winning coach Jacques Nienaber being secured by a Welsh region, as Leinster have with the South African, or Scott Fardy, the outstanding Wallabies backrow, honing his coaching at Connacht. It's hard to see. Off-the-pitch, with a vote to change the governance passed, there is now a race to find the right personnel to drive progress at the union and come up with long-term, sustainable plan to make Welsh rugby the envy of others, but at the moment, it feels like light years away.
All that's left is Judgement Day where the regions are left scrapping over a Welsh Shield to be entered into next season's Heineken Cup, with the play-offs a party they are not invited to. Is this the height of Welsh regional rugby's ambition? One thing is certain, it will it get worse before it gets better.
No doubting Thomas
There was a time when people genuinely wondered what Ireland would do when Rory Best retired. The former Ireland captain put in a remarkable stint in a green shirt, lasting 13 years and four World Cups in it.
When he retired in 2019, Rob Herring inherited his No2 shirt. Then along came Ronan Kelleher and people got excited. Next came Dan Sheehan and Rob, Ronan and Rory got used to life in the shade.
And now there is yet another phenomenon on the scene. Tom Stewart is only 22. This, essentially, is his first full season as a starter at Ulster. On Friday he scored his second successive hat-trick, taking his try total to 16 for the season – more than any other player has scored in a single season for Ulster, or for any team in the URC. In fact, no player in Europe's three top leagues, the URC, Premiership or Top 14 has as many tries to their name as Stewart.
He's Ireland's fourth-choice hooker.
But for how much longer?
Even if many of his tries have come from the back of a maul, even if all bar one have been scored in the URC, the stats are compelling, and are backed up by performance levels which have just been startling. The idea that he won't even make Ireland's World Cup squad is frightening, yet it is also likely, as Sheehan is world class, Kelleher squeezed onto the plane for the most recent Lions tour and Herring was the player who scored the key tries for Ireland in their series win over New Zealand and their Grand Slam decider against England.
At No 2, Ireland right now is No 1.
Where has this Edinburgh been?
Saturday night at the DAM Health Stadium was at once magnificent and maddening for the Edinburgh fans who sold their home ground out.
The magnificent part is fairly obvious. Seven tries in a fabulous dismantling of the Ospreys. Scintillating rugby. Edinburgh as they should be.
The maddening? That it has taken them until the penultimate round of the season, with nothing but pride to play for, to end a run of nine losses in ten URC matches. There were some truly insipid performances too. Connacht away last month was grim. Scarlets in Llanelli and Leinster at the DAM, even more brutal. The Champions Cup, in particular a rousing win over Saracens, offered some hope, but no lasting solace. Mike Blair announced his intention to stand down in amongst it all.
Blair is a fine technical coach but the system and its many all-consuming facets wore him down, taking him away from the pitch, where he was most at home and best utilised. He could yet stay on in an attack role and spoke with poignancy post-match about his love for the club and its people. Home-grown coaches of his calibre do not grow on trees in Scotland and Blair's departure altogether would be a loss. He may feel a new environment and a fresh stimulus better equips him to return one day.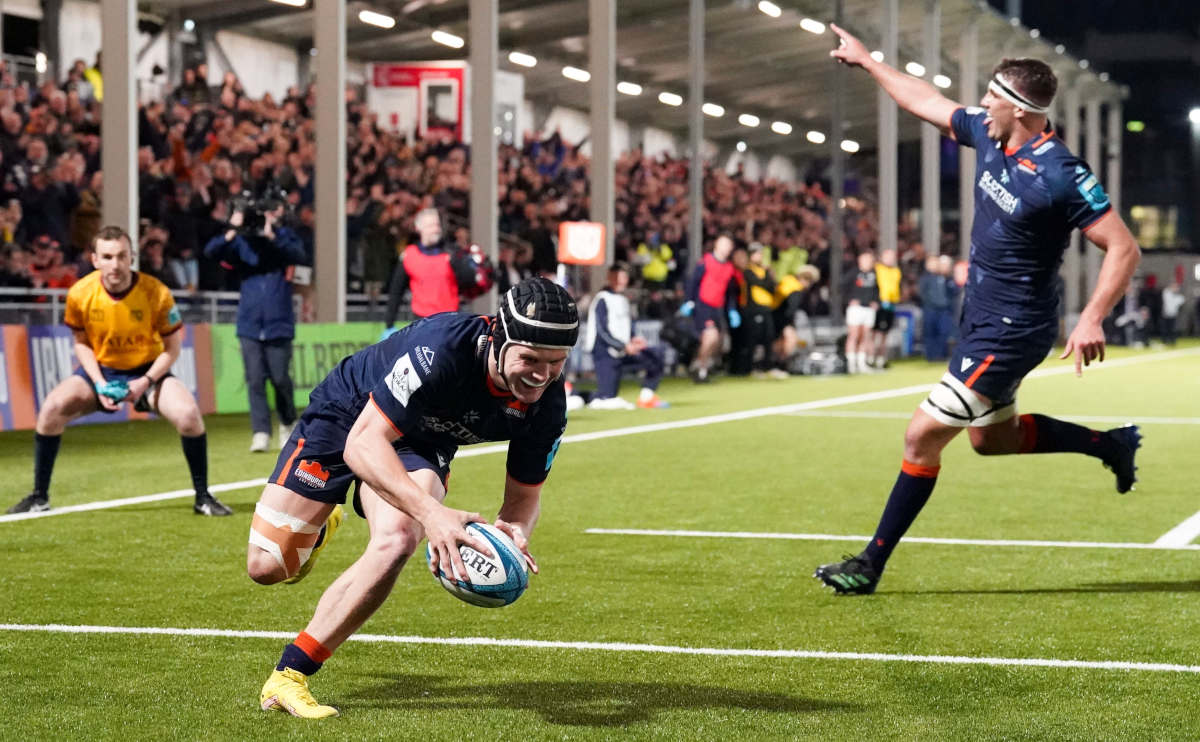 This campaign has been a paltry reflection of Edinburgh's playing squad and resources. They have a talent-laden roster of internationals, including one of Europe's most effective back-row units and most eye-catching back-three ensembles. Their playing budget is understood to be around £8m, a handsome sum in the current climate which stacks up favourably to counterparts in England.
Injuries have not helped their cause, but every rugby side has them. International call-ups are numerous and frequent but this is hardly a new phenomenon to a Scottish pro-team supplying the national squad. Edinburgh are eight places and twenty points behind their Glaswegian rivals from the west. There have been near misses, but there have been some heavy beatings too.
Next season will test them again. A huge swathe of their squad will vanish for World Cup training camps and the tournament itself. Some will return injured, all will require significant rest. If, as has been rumoured, the URC does not restart until October, a long and bruising season lies ahead.
Edinburgh need a new coach who can harness the skill and excellence at his disposal, without being pulled in too many administrative directions – the fate which befell Blair. Steve Diamond is in a senior consultancy post for now. His steel and streetsmarts could be useful in the long term. Brad Mooar's name has been mentioned, after he helped mould a dangerous Scotland attack during the Six Nations. Lee Blackett, currently with Scarlets, is an interesting option too.
Whatever, the new man will inherit a fine squad that cannot founder so. Magnificent, not maddening.
Best weekend ever for Ireland's provinces
It's unlikely if Ireland's four provinces have ever had a weekend as profitable as the one just gone. First there was Cullen's Cubs, essentially their third XV, winning away in South Africa, against the Lions, a game they had no right to win but one they did so via a last minute penalty from their talented debutant, Sam Prendergast.
Then there was Connacht. They opened their season with three straight losses, without even a bonus point to their name. They have finished it with six straight wins, a place in the play-offs guaranteed, and a sheer desire to win once again to guarantee Champions Cup rugby next season as well as avoiding a trip 'up to bloody Dublin to face those (Leinster) blokes' in the URC quarter-finals.
Munster's win in South Africa against the Stormers provides Ulster with the chance to stay in Ireland for the remainder of the URC, and potentially ending a 17-year-gap to a trophy. More to the point, it rules out the possibility of them missing out on Champions Cup rugby next year for the first time, which would have been an absolute disaster, financially and psychologically, for the province.