Saracens peg back Tigers in the race for the Premiership
The 'fallow' week between Rounds 3 and 4 of the Six Nations had enough drama to keep the column inches packed and rugby fans sated before two huge weekends of international rugby. Bath kept up their modest return to form, Saracens put down a marker against league leaders Leicester, while in the URC, Irish sides continued to dominate the Welsh regions and there was controversy with Duhan van der Merwe's red card provoking much debate. It's all covered in The XV's talking points…
Saracens show their Premiership title credentials to runaway leaders, Leicester
Saracens proved that a Leicester Tigers procession to a first Premiership title since 2013 was far from a formality at a chilly StoneX stadium. The hosts, who are often painted as arrivistes to the top table of English rugby, compared to the aristocrats of the East Midlands, were good for their bonus point 34-27 win in a pulsating fixture.
With Owen Farrell watching on from the stands, they showed power and panache, with two tries from a short distance and tries from Alex Lewington and Sean Maitland that showed Mark McCall's men had lost none of their customary enterprise in attack. At the fulcrum of their performance was Nick Tompkins, who is a enjoying a fine season. A bedrock in Wales' midfield, it was his speed of thought and deed that put the wings away as his constant desire to straighten up and whip the ball through hands caught the Tigers flat-footed in defence.
Leicester were second-best, but not by much, as they clawed back from 29-13 down, to 29-27, before a second try from hooker Tom Woolstencroft, put the result beyond doubt. It was the hooker's seventh try in five games, and his industrious showing was mirrored by defensive in the pack that made life tough for Tigers at the breakdown.
The victory puts Saracens back in second-place as the Premiership reaches its latter stages. Steve Borthwick, the former Saracen, has magnanimously said his former side are still the best side in the league, whether the two meet at Twickenham in June is still to be decided, but for the neutral, it would be a clash for the ages.
Duhan van der Merwe left to sweat after contentious red card
After the hammering visited upon his team by France, the last thing Gregor Townsend needed was a red card to his biggest and deadliest strike runner.
Duhan van der Merwe was sent off for an awkward fend to the head of Kyle Rowe, his fellow Scotland squad member, for Worcester against London Irish.
The dismissal has polarised opinion beyond the usual vacuous whining about the game going soft. It was neither a malicious nor deliberate act. If Van der Merwe had a fraction more time or space to properly extend his arm, had he angled that massive limb a few degrees lower, the outcome could have been entirely different.
But that's the thing: outcome is key here. Intent is not. It has never been legal to strike someone in the head with your forearm. But nor could Van der Merwe reasonably be expected to allow Rowe to tackle him unhindered. All of this happens in less than a second. These are the microscopic margins within which today's players exist, as the game grapples with the perilous issue of brain injury.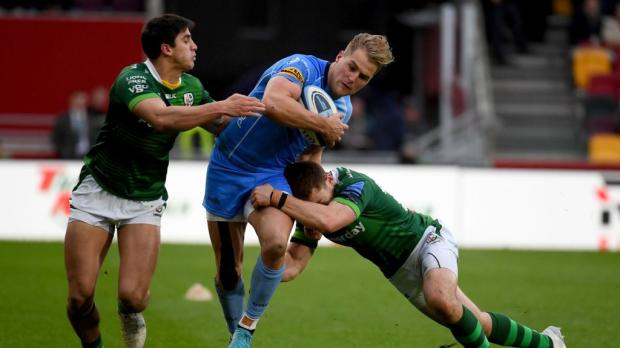 In an effort to diminish subjectivity, World Rugby introduced its foul play framework. If you disagree with Van der Merwe's sending off, your quarrel is with them, not the referee who correctly applied the protocols.
The giant winger and his international coach now face an anxious wait to learn whether further punishment will be meted out. Scotland should beat Italy on Saturday with or without him, but for the trip to Dublin a week later, against a superb team, and the only Six Nations rival Townsend has yet to beat, he would be a savage loss. When it rains, it pours.
Van the right man – Bath have made smart choice
If only Johann van Graan was one of the good ole boys. If only he was born in Puckkaun rather than Pretoria. If only he had a couple of Heineken Cup medals in his pocket or even better, a couple of anecdotes from that period in time. Had he possessed that background, you just wonder how his tenure in Thomond Park would be viewed, especially by the class of 2006 and 2008.
At its height, just after he announced he was leaving Limerick for Bath, the criticism of van Graan was getting too much. One commentator wondered if he really 'wanted to be here', a stinging criticism that was also unjust. Whatever about his tactics – conservative – whatever about his televised press interviews – very conservative – anyone who has come into contact with the South African has been impressed by his passion and work ethic.
Yet there's a lot more to him than simply being glad to turn up at the office. He has a 70 per cent win ratio with Munster – a statistic bettered by only one of his predecessors, Rassie Erasmus. Even Declan Kidney – the coach of Munster's two Heineken Cup winning sides – doesn't have that good a strike rate.
What Kidney did have, however, was the capacity to win trophies and big games, a Celtic League as well as that pair of European Cups, not to mention two Heineken Cup semi-finals. The semi-final stage, of course, has been Munster's ceiling ever since they last won the competition in 2008.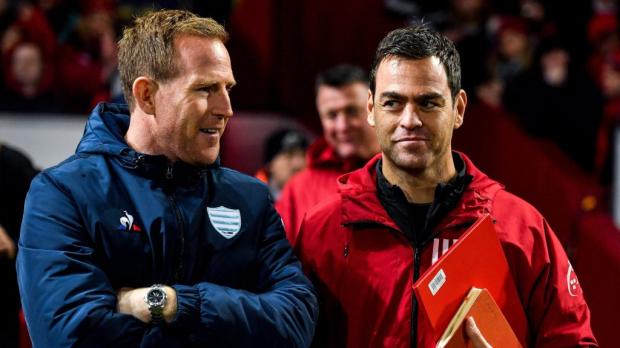 Van Graan has been there twice. He has lost there twice. He's also lost three URC semi-finals and the final of last year's competition, Leinster the conquerors each time. Kidney and the good ole boys used to beat Leinster. Then again, when Kidney got his biro out to fill out the Munster team sheet, he was able to write names like O'Connell, O'Gara, Stringer, Hayes, O'Callaghan, Wallace and Foley.
Van Graan hasn't had that luxury, hasn't had that quality, his era coinciding with one of the greatest periods in Leinster's history.
Three sticks have been used to beat him, one that the rugby Munster play isn't entertaining enough; secondly that they haven't promoted youth as seamlessly as Leinster; thirdly that they have not won any silverware. Let's hear the case for the defence. On Saturday they scored 10 tries, back-of-the-hand offloads the order of the day, en route to a 64-3 win. Ten of those involved in that win over Dragons were handed their debut by van Graan. No silverware? You suspect this is the year that can change – a fitting farewell gift from a coach you suspect really wanted to stay.
In the short-term, Exeter – Munster's opponents in the Champions Cup round of 16 – should be worried. Long-term, Bath should be glad. He may not be a good ole boy – but he is the right man to rebuild a Rec.
Irish gap become a chasm for Welsh regions
Wales have restored some pride after a narrow win over Scotland and an equally narrow loss to England at Twickenham but the spectre of Irish domination of their Celtic rivals looms large on a domestic level. Weeks after their national side dominated Wayne Pivac's men with a one-side 29-7 victory in Dublin, Cardiff and the Dragons headed over to Cork and Belfast for United Rugby Championship (URC) fixtures.
Over 24 hours, the two teams shipped 17 tries, scoring two in return, as the aggregate score was 111-15 to the Irish provinces. You don't have to be Carol Vorderman with numbers to work out this is an abomination. Dai Young, who has been round the block in nearly two decades of coaches, was withering in his post-match comments, saying it had been his side's worst performance since he returned to the region in 2020. Fielding 13 internationals, which included a returning Josh Navidi, the visitors were picked off by the in-form Ulstermen far too easily.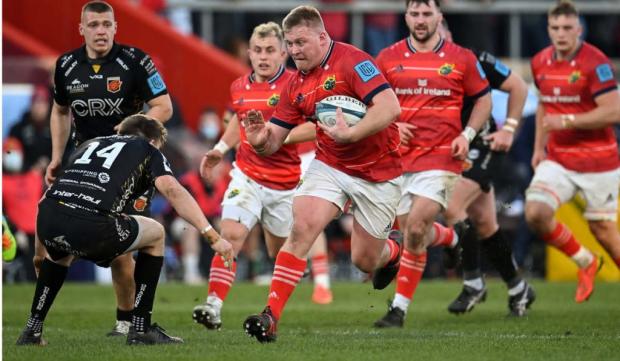 Worse was to come at Thomond Park. The Dragons, who have only won one game this season, against Connacht, were obliterated by a Munster side not featuring its Irish internationals. Craig Casey, the young scrum-half tormented Dean Ryan's side, and crossed for a brace, along with Jack O'Donaghue and Chris Cloete. Three tries were scored straight after the kick-off and a worrying 33 tackles missed. It was a nadir for a side who seem incapable of breaking a losing run.
In mitigation, with Leon Brown, Will Rowlands, Ross Moriarty, Aaron Wainwright and Taine Basham, you would have expected more resistance, but it is a result with zero positives to cling onto. Their biggest ever loss and the fifth biggest in URC history, according to rugby statistician Russ Petty. Rumours of disquiet in the Dragons dressing room means these are uncomfortable times for Ryan, whose contract is up in the summer.
On a wider point, the WRU, who owns the region, has decisions to make. They need to be accountable and arrest this decline with a rescue strategy immediately. The regions travails are everyone's problem in Welsh rugby and after a financially ruinous pandemic they shouldn't be allowed to wither on the vine. Investment and more decisive leadership is desperately required from top to bottom.
Celtic hopes about to head south
Look at the URC table and you'll probably switch off. It's Leinster, Ulster, Munster in the top three, same as it has been since the decent Glasgow team that Gregor Townsend built and the even better Scarlets side Wayne Pivac put together got torn apart.
As a league, it has never been loved and you wonder if it ever will be. Teams like Zebre – no wins this season – don't help its credibility. Nor do scores like this weekend's, Munster 64-3 Dragons; Benetton 17-61 Leinster; Ulster 48-12 Cardiff. All that did was reinforce the view we've always had – that when games are scheduled for the international window, we quickly discover which clubs have a decent XV and which have a great squad.
Now, though, six months in – or if you are being especially cruel, 20 years into its existence – the league is about to kick off. You mightn't think it, looking at the table, one where South Africa's four franchises occupy eighth, ninth, 11th and 14th positions.
That's about to change. All four South African teams have eight games left. Only one of those will be in Europe. In other words, we're about to see what Europeans think of the idea of playing in heat and altitude with a bit of jet-lag in their system.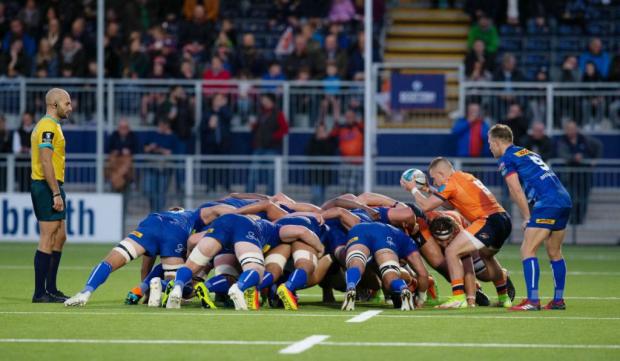 Already this season, the Sharks, Stormers – particularly the Stormers – Bulls and Lions have had their moments but they repeatedly ran out of gas when the final quarter approached, tossing away games they could have won. That's about to change. If the blustery rain in Galway takes a while to get used to then compare that to the 30 degree heat of an Ellis Park afternoon. "I've done both, gone from hot to cold weather for games and from cold to hot," said Johann van Graan of his impending trip home. "It's a lot easier for teams to adjust to the cold."
This league then is about to heat up. While the leading three Irish sides should have enough points banked to secure top four slots, can the same be said of every other European team in the top eight? Seventh-placed Connacht, quite frankly, look vulnerable to a chasing pack that has three games in hand on them. Ospreys aren't much better off and while Glasgow and Edinburgh appear to be, they'll know that if the Sharks or Stormers get on a roll that a top-four spot, and with that, a home quarter-final, could easily disappear. Does anyone fancy a trip south of the equator for a play-off game?
We'll soon find out. As Munster, Scarlets, Zebre and Cardiff get their boarding passes checked, South Africa's four sides are about to take flight. Expect at least two of them to be in the Champions Cup next year.
Muncaster flexes his muscles 
Rugby folk in Scotland have been talking up Ben Muncaster for a while, since the hulking young back-row was lured north from the Leicester Tigers academy in mid-2020.
The problem was, there had always been a mighty logjam of loose forward talent between Muncaster and an Edinburgh starting berth. At 19, playing in the semi-professional Super6 for Watsonians, he already looked like an adult in an under-16s match.
It is only this season, with Jamie Ritchie, Hamish Watson, Magnus Bradbury and Nick Haining away with Scotland, and Bill Mata and Luke Crosbie long-term injured, that opportunities have befallen him and how Muncaster has gobbled them up. In Friday's evisceration of Connacht, Muncaster, now 20, delivered a statement performance on the blind-side flank. His carrying is thunderous, his tackling explosive, and his work over ball compelling. He made as many carries as Connacht's entire starting front five (16), and more metres than their entire starting pack (90m). A phenomenal return.
And it's not just Muncaster emerging apace from Scottish rugby's back-row nursery. Connor Boyle, the ravenous fetcher to Muncaster's ballast, has only just turned 22 and is in a rich vein of form in his first sustained exposure to the URC. Rory Darge, a shining light on a bleak day for Scotland against France, is the same age. Scotland U20 captain Rhys Tait and dynamic open-side Ollie Leatherbarrow are fine prospects. Even Matt Fagerson, an established international, is not yet 24. The fight for Test jerseys in the years ahead will be colossal.