Back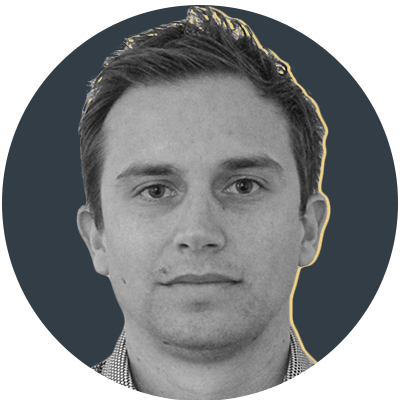 By Ben Smith
Redpath to success
In the last few seasons Scotland have searched to no avail for a midfield combination that truly commands selection every test.
It was at Twickenham in 2017 where the Scottish midfield was torn to pieces by the fluent running of Jonathan Joseph, as England sliced through gaps at will en route to a monstrous 61-21 thrashing.
Alex Dunbar and Huw Jones marshalled the centre channels that day.
A year later, Jones would put on a starring performance at outside centre at Murrayfield alongside Peter Horne, but just as his attacking power promised stardom, he too slipped from standing and was usurped by Chris Harris by the World Cup. Horne himself fared no better as an experienced option prone to blowing up Scotland's plans on occasion.
Australian project player Sam Johnson has earnt time at 12, and when injury struck, Kiwi Nick Grigg was also tried. Whilst building depth is also a necessity, a first choice pairing has not been settled on.
None of the previous options have played such an assured hand as 21-year-old Cameron Redpath showed against England in his debut, which immediately bolsters the prospects of Scotland's improving backline with another genuine star prospect.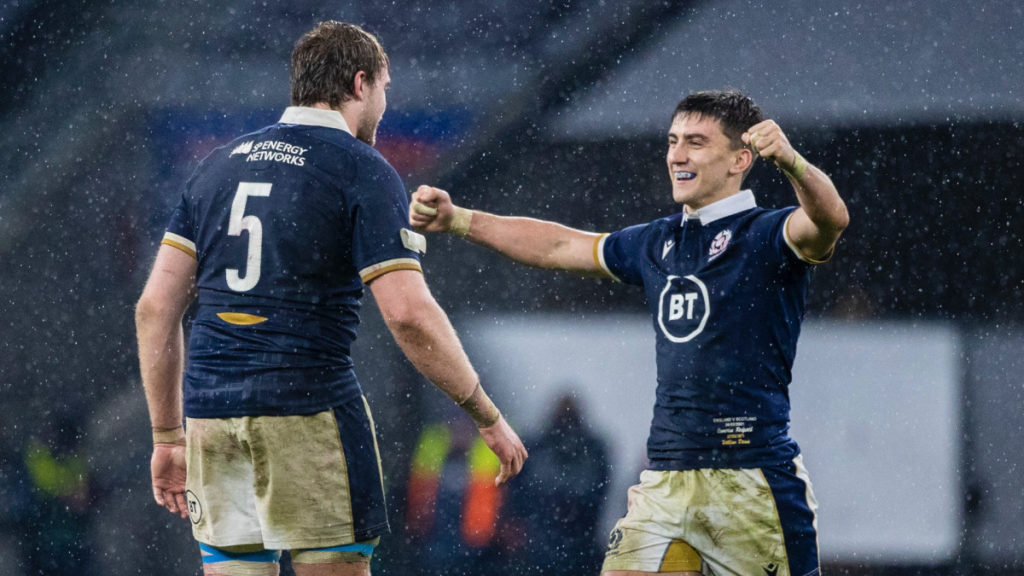 Redpath showed the class of a mature player in Scotland's drought-breaking 11-6 away win, with a natural style that indicates greatness beckons. He is of a solid build without being 'big', fast without being a sprinter.
He is 'rugby fast' in the sense he can cut direction sharply, and use the right angles to find a way forward without redundancy. There seems to be no inefficiency in his touches. It is the combination of all the small things that makes Redpath a potential diamond.
As a growing 21-year-old without a fully developed frame, there were going to be big questions to answer in his test debut.
How would he handle the traffic sent down his channel? How would he get Scotland's launches moving? Would the coaches trust a 'kid' on debut to perform such a role against a vaunted England side? He answered all with flying colours.
It would have been expected that the young midfielder would be tested early and frequently by England. On one early line out launch, England used a favoured setup which put Redpath in the firing line.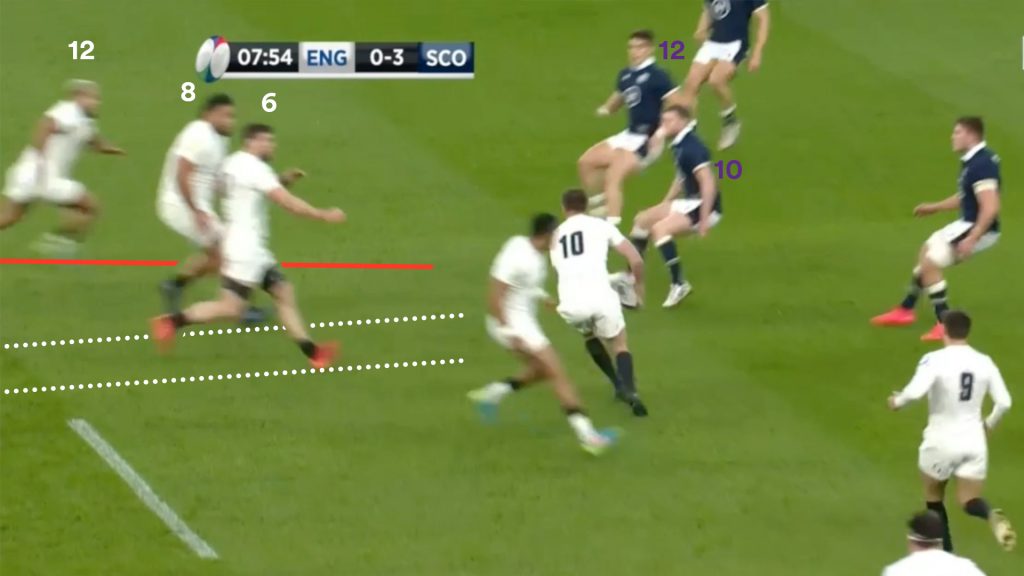 Eddie Jones likes to gives the defence multiple power options to defend in short space, so using a short line out is a regular tactic to enable the likes of loose forwards like Billy Vunipola (8) to carry on first phase with other power runners as secondary running options.
On this occasion, Mark Wilson (6) and Vunipola present flat options for Owen Farrell (10) whilst Ollie Lawerence (12) offers a wider option from depth outside Vunipola.
The threat posed by Wilson & Vunipola on this play can open up space for Lawerence, however Redpath covered the move fairly well.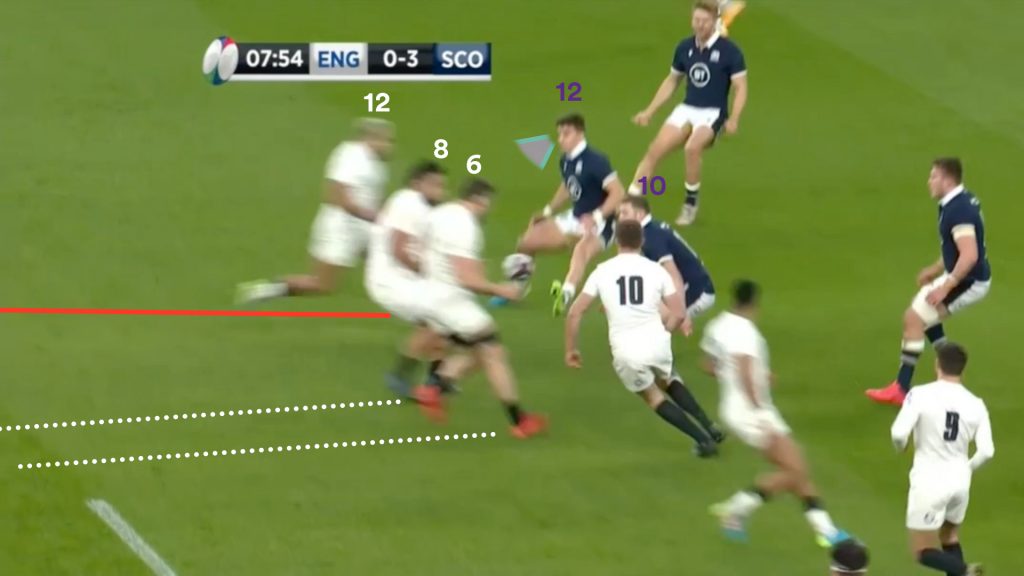 Sensing the oncoming threat of Lawerence, the Scotland inside centre closes the space and 'checks' his opposite number, covering him in the event he is the recipient but not committing entirely.
This decision saved Scotland from being a man down on the next phase, while Redpath gave Lawerence enough of a body check to put him on the turf.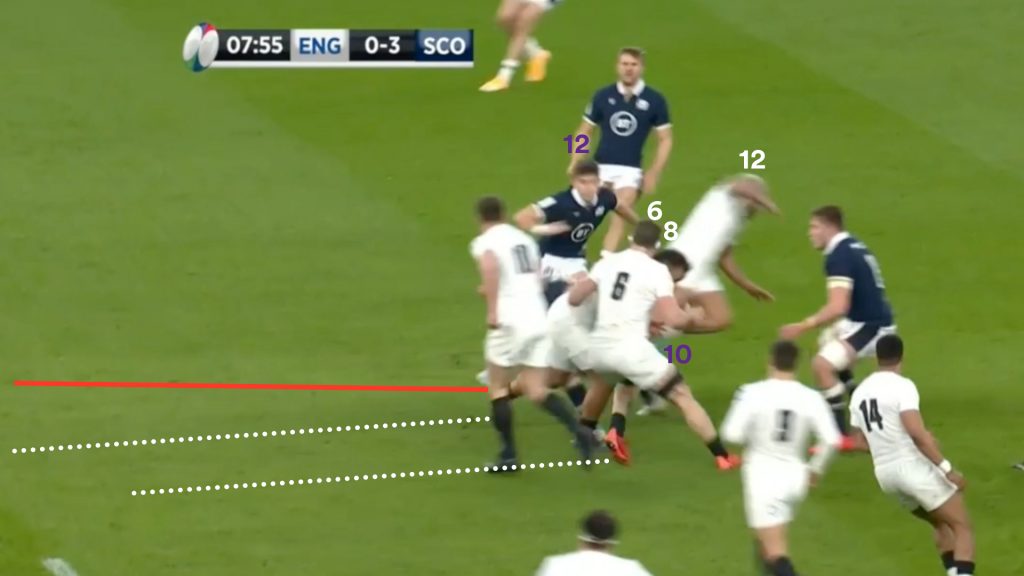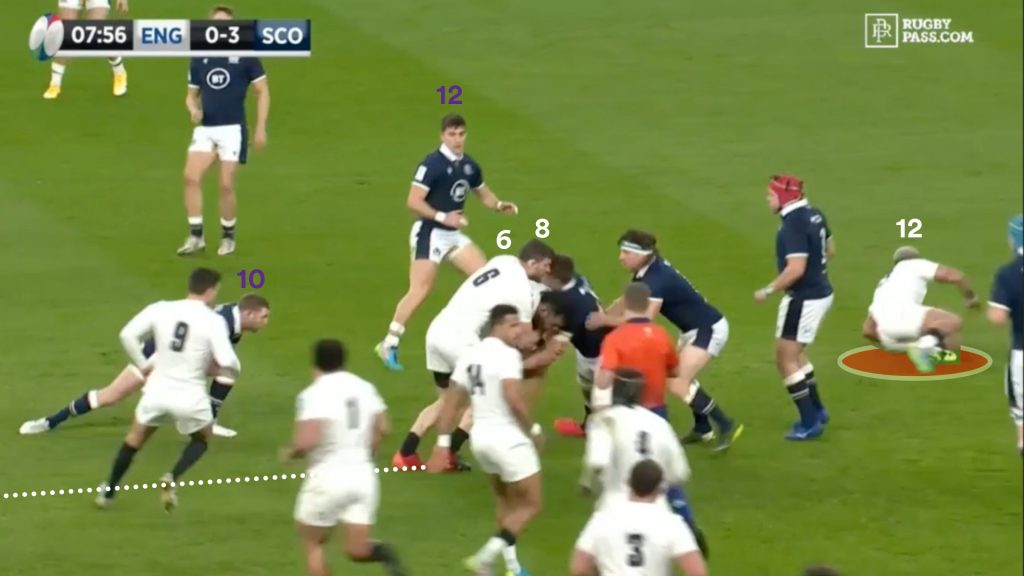 The end result is Scotland had their centre pairing in tact while England lost a strike runner for potentially the next couple of phases as Lawrence regains his feet.
The next phase after Vunipola's crash ball, England have another scripted play to pressure Scotland on the edge the same way.
Ellis Genge (1) runs a flat option for scrumhalf Ben Youngs to prevent the defensive line pushing up too fast, before the ball is passed out the back to Farrell (10) to attack the line.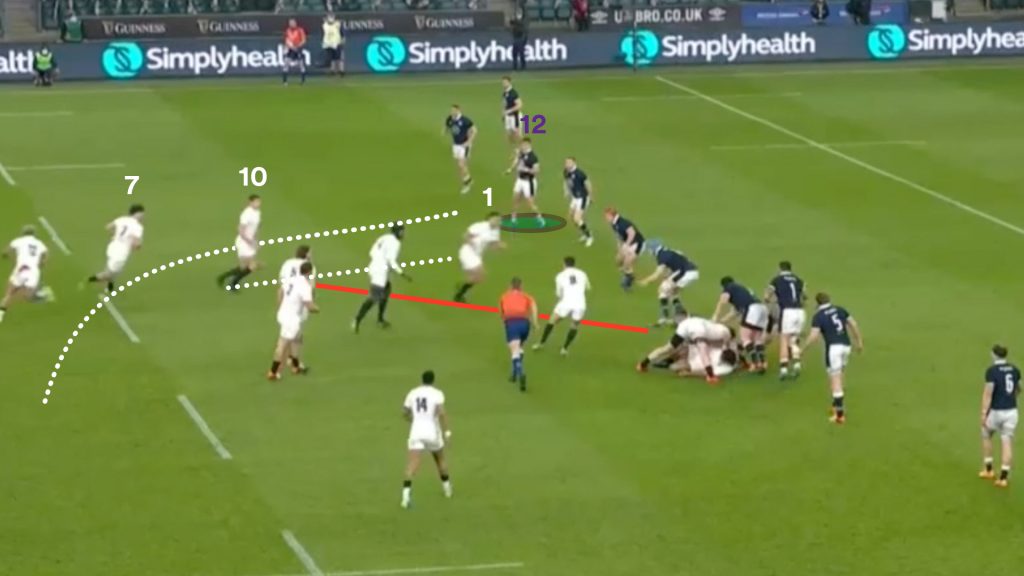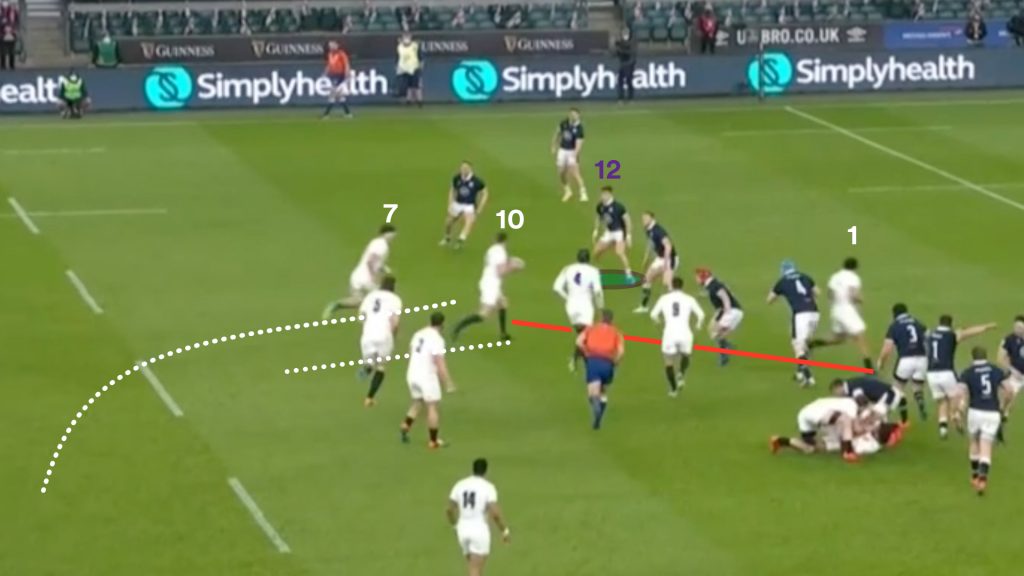 With Tom Curry (7) as a looping runner, Farrell plays his openside flanker directly into Redpath.
The young centre assesses the threat, holding off until Curry is confirmed as the runner.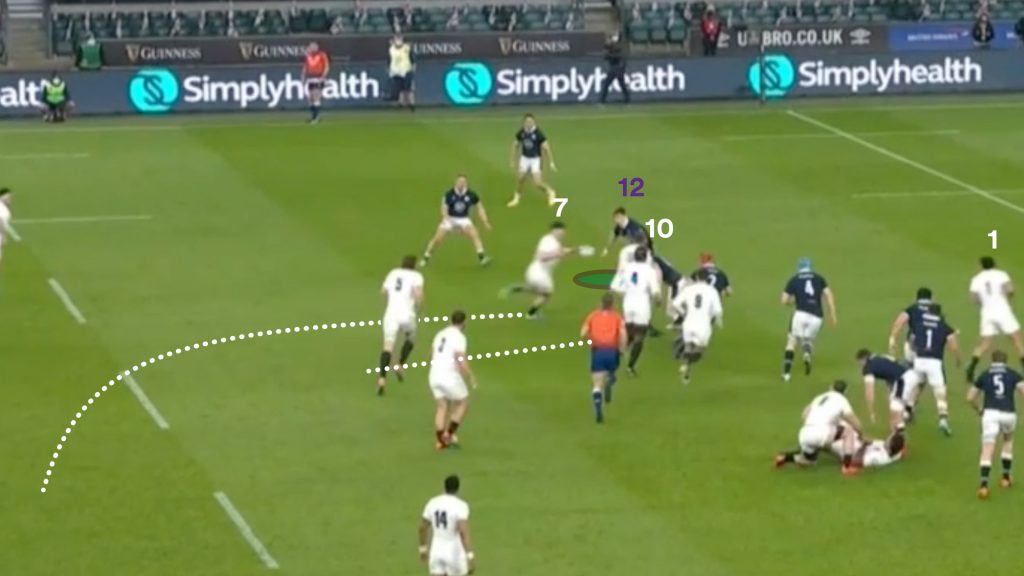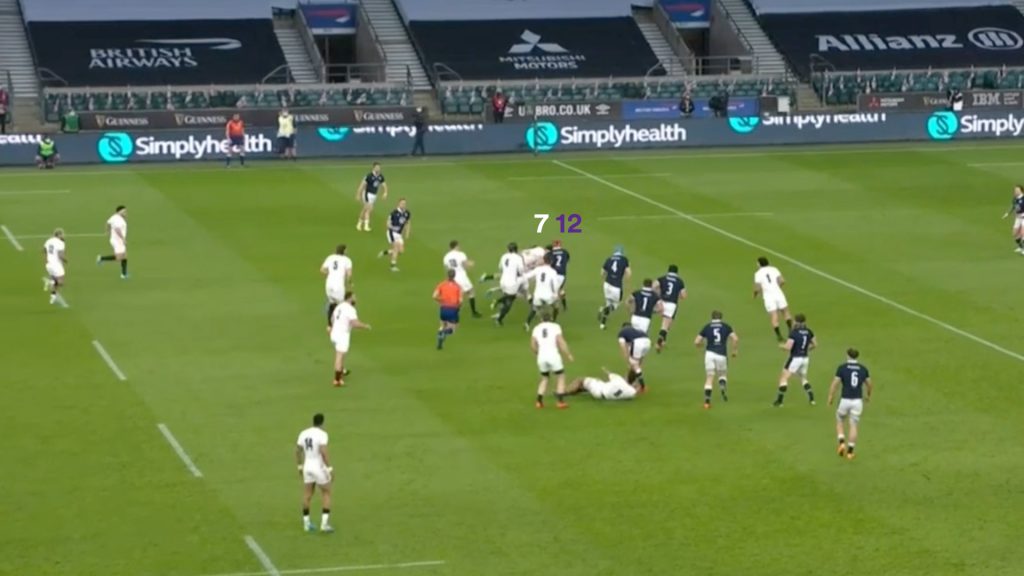 The calm and assured back-to-back defensive reads by Redpath more than adequately fulfilled his duties as a midfielder. Without being dominant, he passed the test being thrown at him after being targeted two phases in a row early in first half.
A short while later in the same passage, Redpath would scoop up a loose pass and boot it downfield, foiling England's attacking possession and allowing Scotland to escape the early raid without conceding any points.
One of the beauties in Redpath's game is the effortless way he achieved gain line, not through brute power but with timing, shifty footwork and spacial awareness. As cliches go, he is a natural. He bossed players with much greater standing in the game than himself time-and-time again.
On his second touch, he flashes this potential by dusting Tom Curry one-on-one and slipping past the cover of Henry Slade.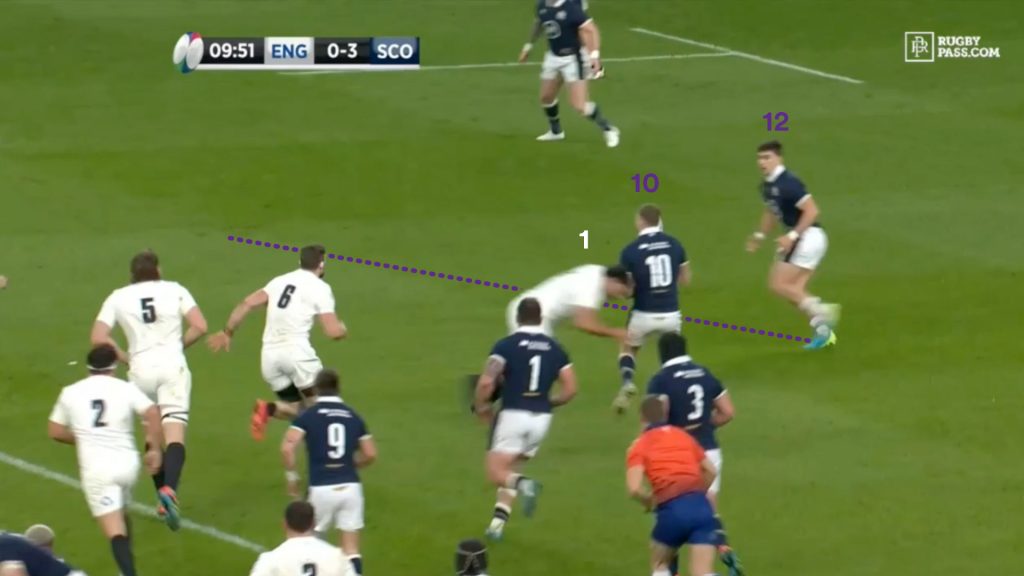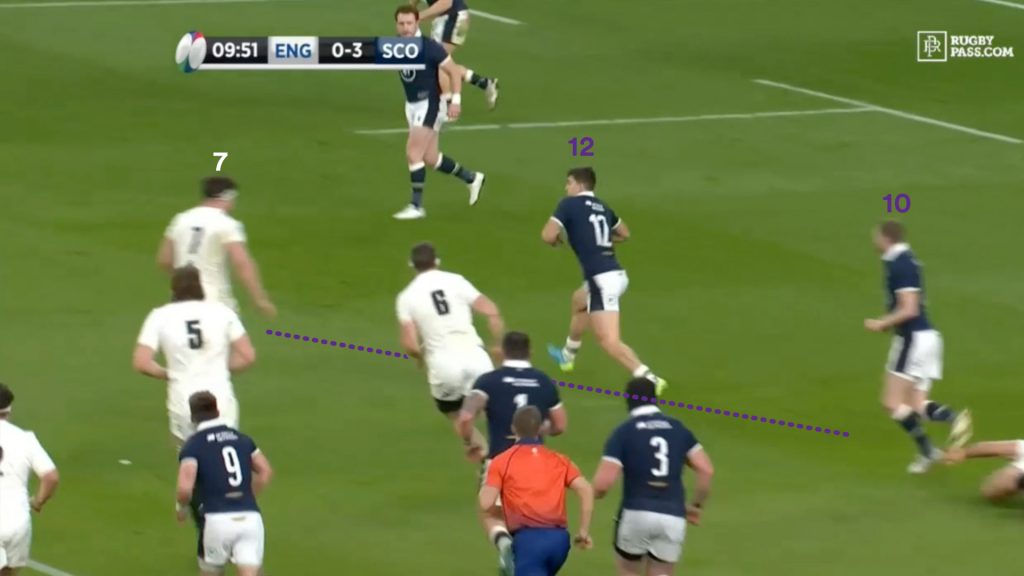 With a jink that appears to set-up a right foot step, Redpath skips to the outside, faking out Curry and leaving him clutching at air. A defender of Curry's calibre is rarely put in this position but was well and truly bamboozled by the quickness and deceptiveness of Redpath's footwork.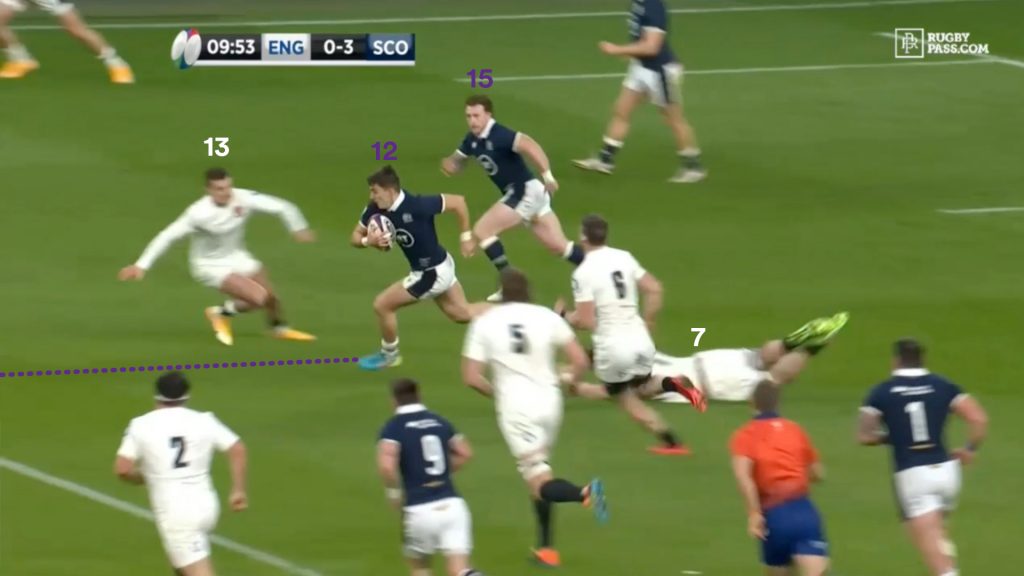 It is this ability that gives Redpath the ability to give Scotland front-foot ball even when he is identified early as the ball carrier. The defence knows the assignment is Redpath, they just can't get a dominant hit on him.
Not long after, off the top of the line out, Scotland begin a launch pattern with Redpath running against the grain on a first phase crash ball. His job is to get across the gain line and bend the defensive line back.
He times his run perfectly and targets the seam between flyhalf Farrell (10) and the tailgunner Jamie George (2).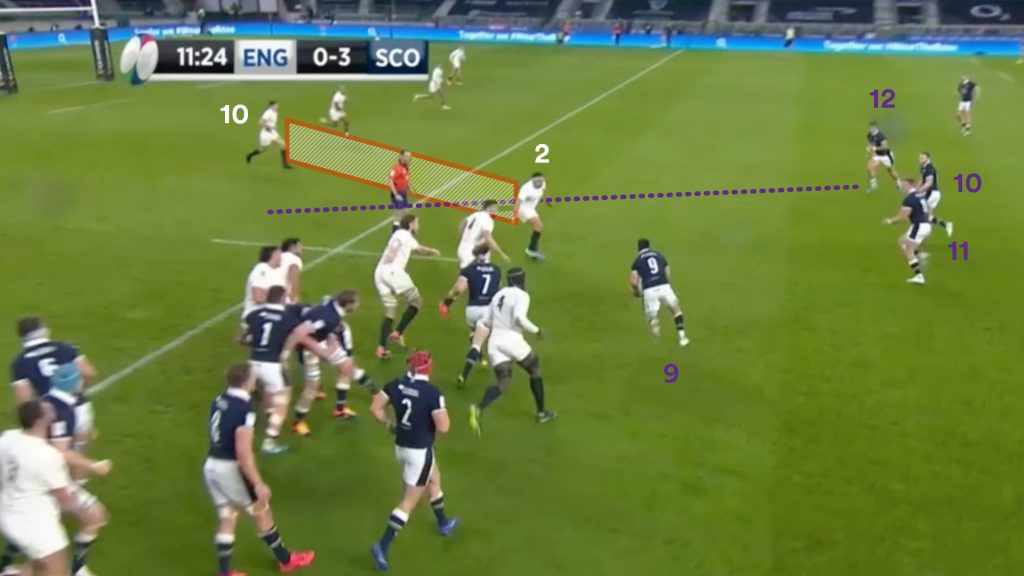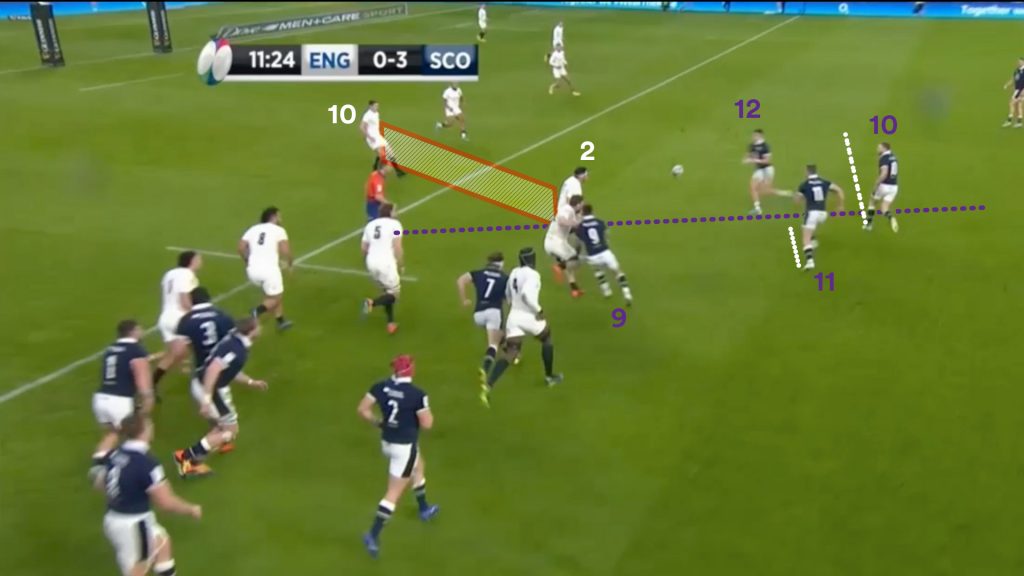 Redpath's timing on the ball combined with his ability to change his angle at full speed creates the gain line advantage for Scotland. It's not power, it's sharp finesse.
Farrell knows who the target is, he can see quite clearly who has the ball and who is running at him but is caught flatfooted in anticipation of the contact.
Redpath uses his jink again to cut towards Farrell's inside shoulder, towards the space forcing the England captain to chase.
He is never going to get a dominant hit from the side, so the 21-year-old 'wins the collision' by avoiding a front-on one.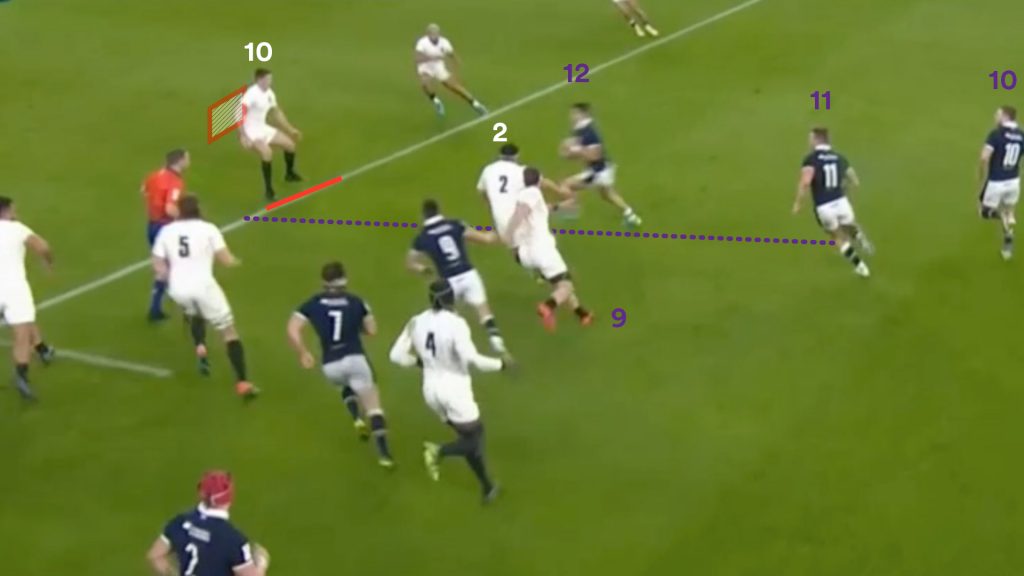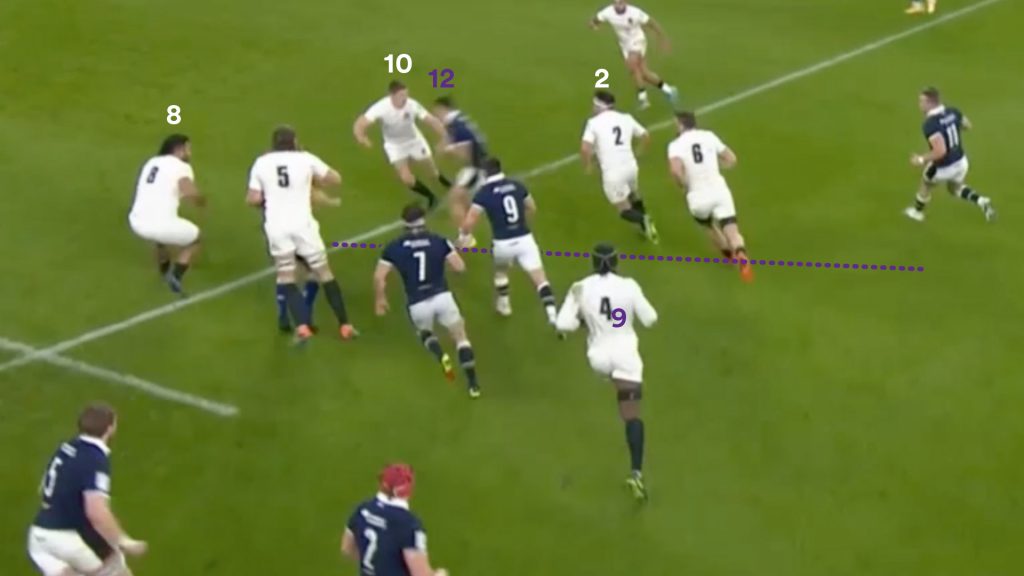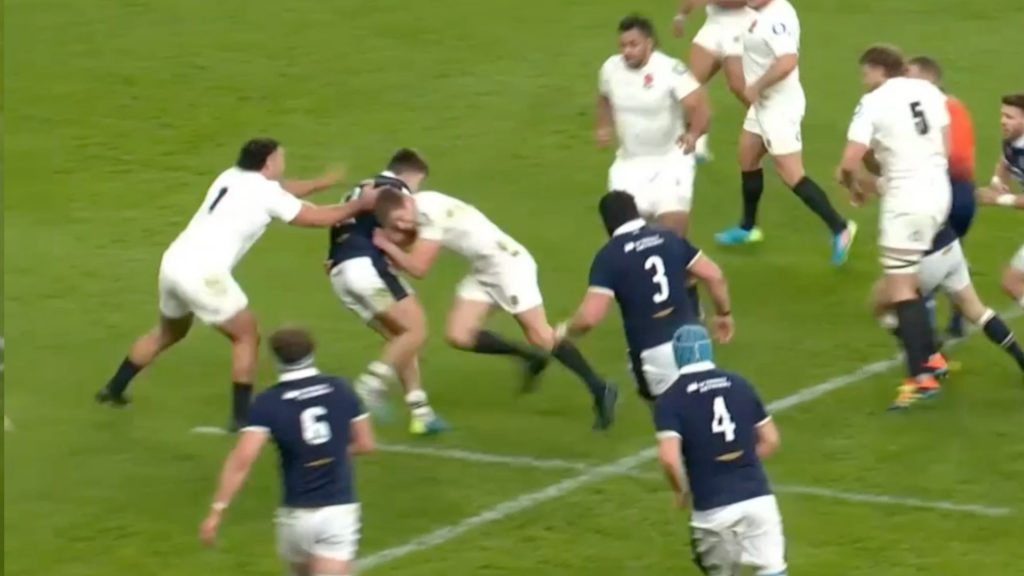 By the time he is brought down, Redpath has gained another 5-7 metres after the first contact, giving Scotland a huge start to their launch pattern of which the likes of Finn Russell and Stuart Hogg can work off the back of.
On the next attacking line out, Scotland call the same play but with the variation of throwing over the top from the lineout direct to Redpath, and again the ability to divert his line leads to a monster gain.
The high angle shows just how far Redpath can move, with Farrell lining up to ensure Redpath is on his outside shoulder.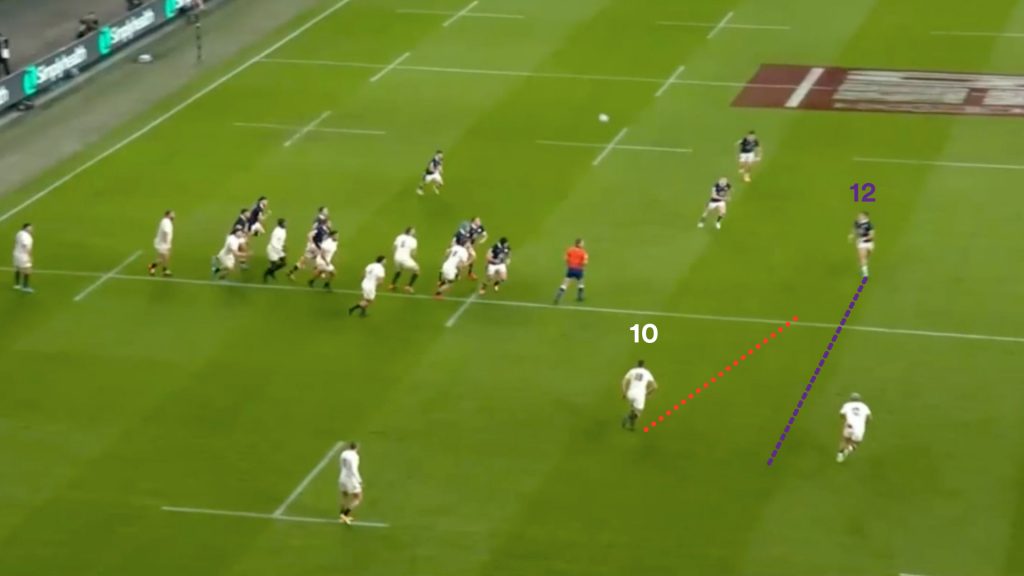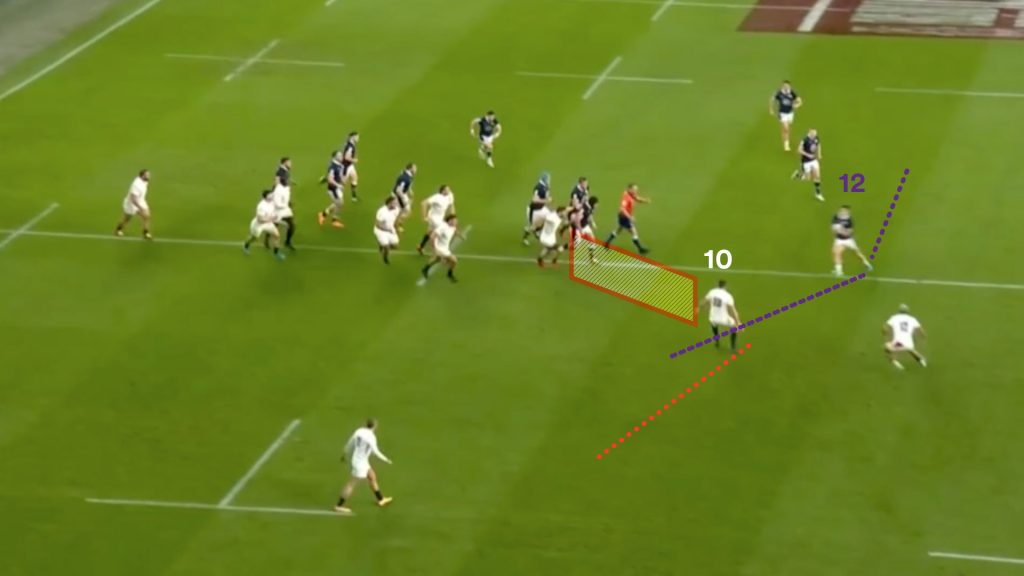 Again, Redpath attacks the seam by simultaneously cutting and landing from catch in one motion. Despite Farrell's best efforts to keep him to the outside, the debutant is able to again work to the inside shoulder and bust through the England captain.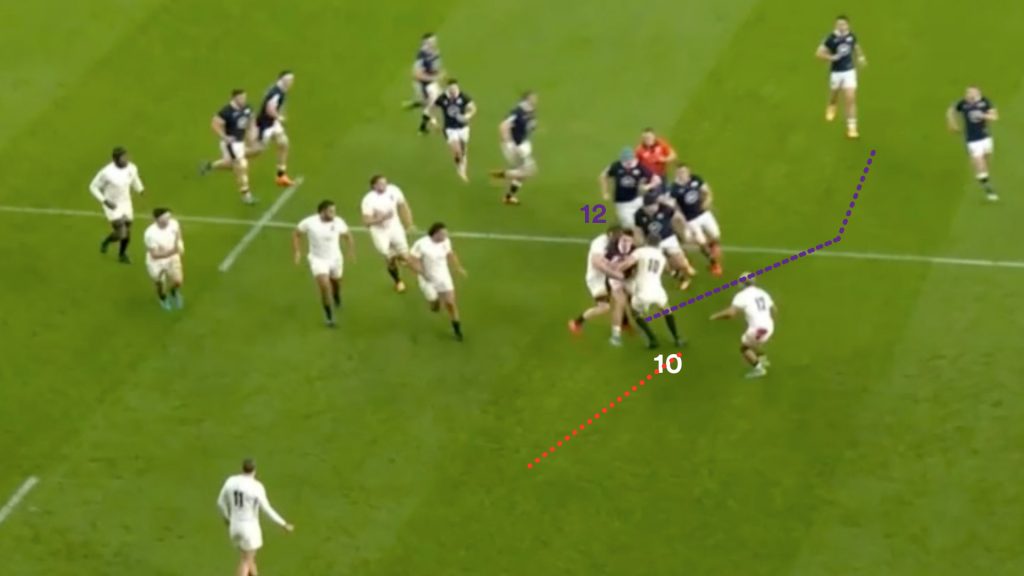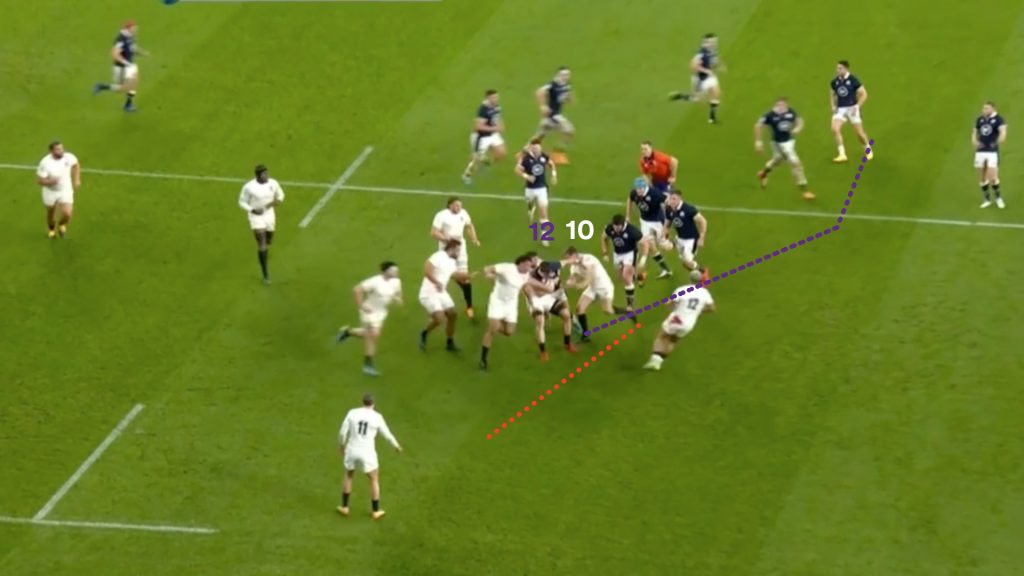 Powerful leg drive keeps Redpath up and he ends up deep into England's 22, setting up a great platform for Scotland to play from.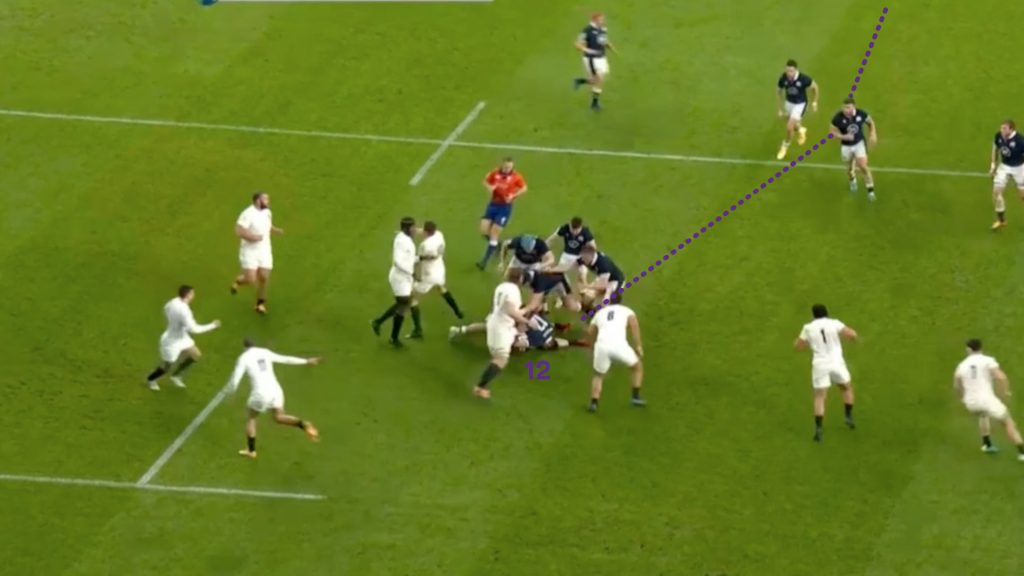 Redpath showed his ability to link up as a second distributor in the movement leading to Duhan van der Merwe's try. After Scotland regathered an aerial contest, Russell combined with Redpath to shift the ball to the opposite edge in two sweeping passes to Stuart Hogg out wide.
It won't be remembered as a career highlight but it was the right decision and showed he can interlink when required to set free the outside men. It was one of the few moments Scotland had broken field to play with and required accurate decisions from all for the team to capitalise.
Where many one-dimensional midfielders of the crash-and-bash type don't have a clinical long pass in the arsenal, Redpath showed how he can interject for Scotland in multiple ways going forward, playing a complementary role to the two main playmakers in Finn Russell and Stuart Hogg.
He finished the evening with five carries, making the gain line 80 percent of the time for an average of 3.6 metres post-contact, the third highest in the match. In defence he finished five from six tackles, slipping off Billy Vunipola after rushing out of the line to pressure him. He added a crucial breakdown turnover with 10 minutes remaining, surviving over the ball to win a penalty.
Redpath didn't put a foot wrong in a calm, assured performance. In the same way that captain Hogg became an instant starter after being capped, it feels like Redpath has the same potential and needs to be afforded the same status.
He belongs at this level and there is every sign he will be hanging around for a long time.
More analysis from Ben Smith