Back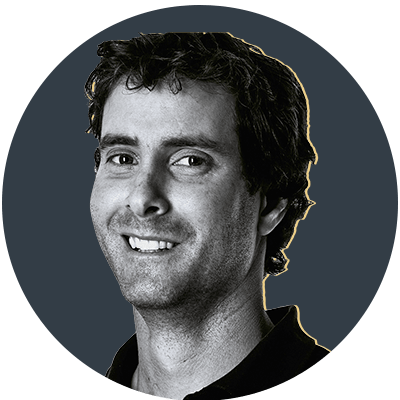 By Jon Cardinelli
Race against time
The odds are stacked against the Springboks winning the Rugby Championship and finishing 2020 at the top of the World Rugby rankings. With South Africa's players only just returning to play after a seven-month lockdown, the Boks will be hard-pressed to prepare for the challenge of what will be a brutal tournament in Australia.
New Zealand and Australia have already concluded their respective domestic tournaments and will be battled-hardened by the time the Rugby Championship commences in early November. By contrast, the Springboks face a race for form and fitness ahead of the clashes with their southern-hemisphere foes.
Just how tough the Rugby Championship is going to be remains uncertain as South Africa and Argentina successfully won a concession to change the schedule from playing five tests in six weeks as was originally proposed, to six tests in six weeks.
If the tournament had been kept at five weeks, the Springboks would have had play three tests in nine days. That was deemed too severe given their lack of rugby, but New Zealand has fought the change, arguing it never agreed to it as the extra week in Australia will mean their players will be in managed quarantine over Christmas as a result.
Board room battles are par for the course in the Sanzaar alliance and usually sort themselves out with some kind of compromise deal and the Boks will carry on their Rugby Championship preparations on the basis they will be playing six tests in six weeks.
Besides, uncertainty has been the theme of 2020 and the Boks, like everyone else have become used to adapting as a result of matters outside their control placing them in a precarious position.
Rewind to the start of 2020. The Boks were well placed to build on the World Cup and Rugby Championship successes. Jacques Nienaber was promoted internally, while Rassie Erasmus, mastermind of the South African resurgence, confirmed that he would continue to work closely with the national side. For the first time, the Boks looked as if they would take the momentum of a successful World Cup campaign into the following season – and even into the all-important series against the British & Irish Lions in 2021.
Whereas the South African rugby community was filled with optimism in late 2019, it's suddenly crying out for any sort of good news story

Jon Cardinelli, The XV
Nine months on and a global pandemic later, however, and South African rugby is beset by crippling crises. Western Province and Eastern Province have made headlines for all the wrong reasons, and the future of the Southern Kings remains unclear following the announcement that neither the franchise nor Eastern Province will compete until 2021. In a further blow SA Rugby revealed that the Kings have gone into voluntary liquidation.
Whereas the South African rugby community was filled with optimism in late 2019, it's suddenly crying out for any sort of good news story. What would a disappointing showing by an undercooked Boks side in the Rugby Championship do to the team's reputation and the South African rugby community's morale? SA Rugby will net as much as R300m from the Boks' involvement in the Rugby Championship – a much-needed cash injection in these financially troubled times.
But will that money offset the other costs of a disastrous campaign?
The coronavirus has forced a rethink with regards to the Boks' preparations for the 2020 and 2021 Test seasons. Jacques Nienaber told The XV in no uncertain terms, that the world champions will begin their reign on the back foot – whether it's in the Rugby Championship or in the Lions series next July.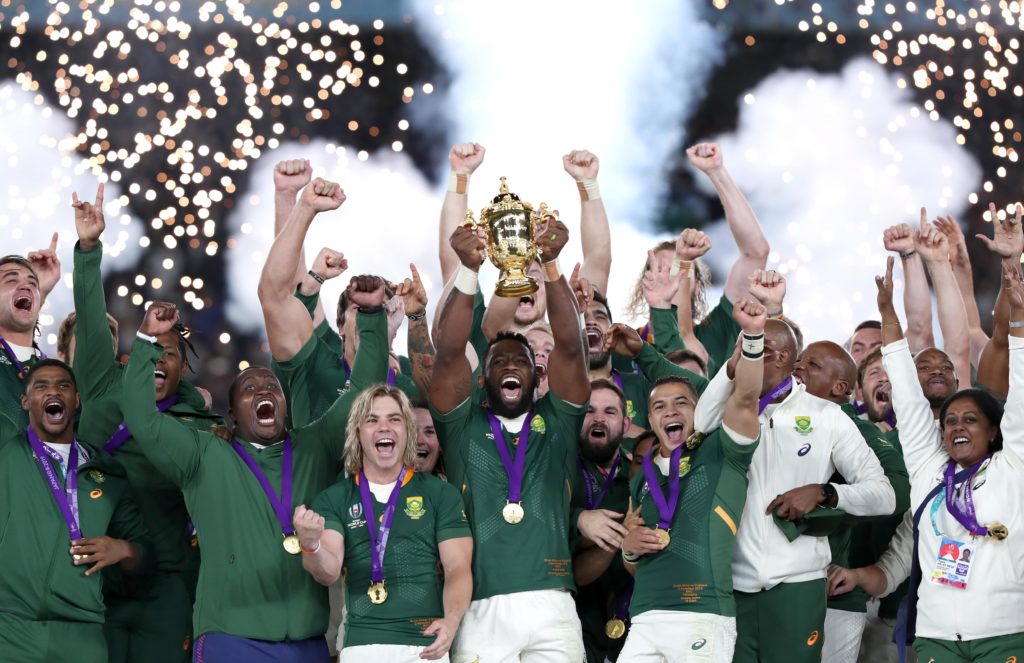 Things were different in January, where this writer had the chance to interview the new Bok coach at SA Rugby headquarters, with both the Webb Ellis Cup as well as the Rugby Championship trophy as a backdrop.
The Bok coach's office bore no sign of the national team's 2019 successes, but rather a photograph of the side that won the Series against the Lions as well as the Tri-Nations crown in 2009. Nienaber explained that his own team was determined to match those feats in 2021 and become the greatest outfit in history.
When The XV caught up with Nienaber on this occasion, however, it's on Zoom rather than in person. There are no major trophies or aspirational images in the background to complement his messages or declarations. Indeed, much of what Nienaber has to share relates to the unexpected challenges facing South Africa – not just in the build-up to the coming Rugby Championship but ahead of the all-important series against the Lions in 2021.
"These are uncertain times," he commented, earnestly. "As the weeks and months have gone by, and as the number of coronavirus cases have increased, I've started to wonder whether my first Test in charge may well be against the Lions – 18 months after my appointment as head coach.
"We had a strategic plan for the lead-up to 2021. With respect to Georgia, that Test [initially scheduled for 18 July in Port Elizabeth] would have presented an ideal opportunity to give a few of the younger guys international experience and to strengthen our depth.
"Everyone is talking about Sharks fullback Aphelele Fassi and Stormers lock Salmaan Moerat following their outstanding Super Rugby performances earlier this year. We would have loved to have seen those guys on the international stage sooner rather than later. You don't want to throw them straight into the mix against New Zealand or the Lions.
"Now, with the current situation being what it is, you have to rethink how you are going to bring those guys through so that they are ready by 2021. You have to adapt your thinking."
Nienaber is concerned that Australia and New Zealand have had ample time to shake off the post-lockdown rust. They may well have an edge over their South African counterparts by the time the Rugby Championship commences later this year.
New Zealand will be better for the experience of Super Rugby Aotearoa. Players involved in the Premiership have been competing since August. By contrast, we've been forced to sit, watch and wait.
The Boks are still waiting for the green light to travel to Australia for that tournament. In the interim, the local players will compete in a domestic competition – which has been dubbed 'Super Rugby Unlocked'.
While Nienaber's charges will have the chance to gain some semblance of match-fitness, there is the risk of further injury-related losses. World Cup stars Handré Pollard, RG Snyman and Lood de Jager – and more recently Fassi – have all sustained serious injuries over the past month and will not feature again in 2020. Who else will fall by the wayside before South Africa embarks on their mission improbable?
"It's worrying in the sense that we're not even on the pitch yet," Nienaber says.
Following two preseason clashes at Loftus Versfeld, a Bok trial fixture – excluding overseas-based players – will be staged at Newlands next weekend. The new domestic competition will commence a week later – less than a month before the Rugby Championship kicks off in Australia.
"You're not going to become a better rugby player or team if you're not out there competing," the Bok coach concedes. "New Zealand will be better for the experience of Super Rugby Aotearoa. Players involved in the Premiership have been competing since August. By contrast, we've been forced to sit, watch and wait.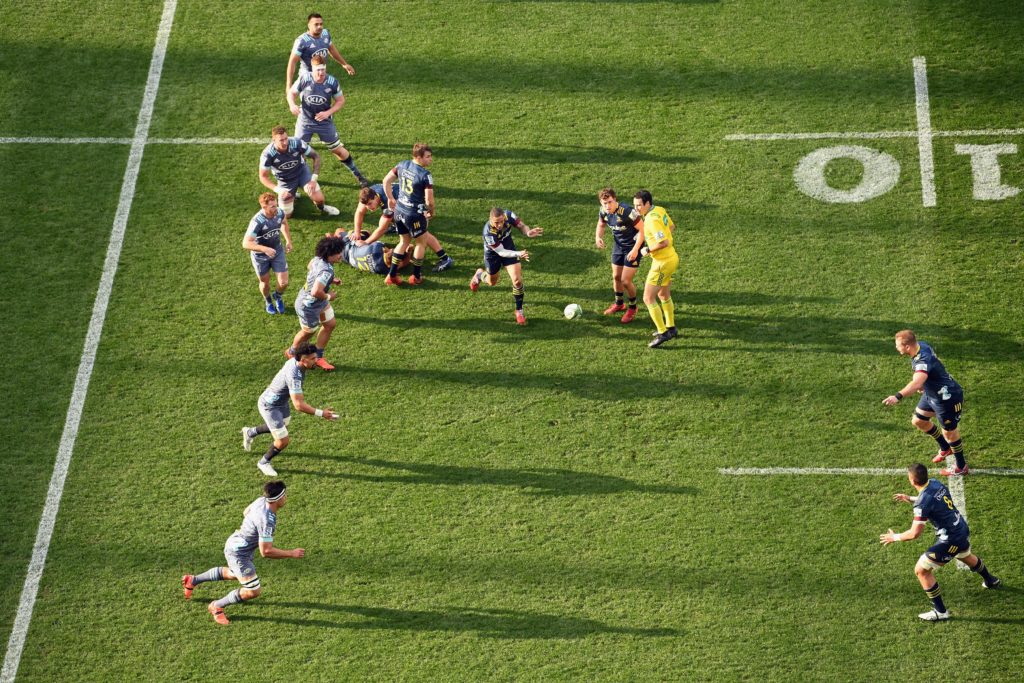 "Don't get me wrong, the safety of the players is paramount and we have to accept that the situation is what it is in South Africa. We will have to think outside the box if we're going to make up the lost ground. We are going to be very raw in the Rugby Championship. Indeed, I think it's going to be a race against time to be ready for the Lions next year."
When rugby gives Erasmus and Nienaber lemons, the innovative duo usually finds a way to make lemonade. The manner in which they transformed the Boks from a laughing stock into a world force in less that two years suggests they are well-equipped to deal with another time-sensitive challenge.
"Listen," Nienaber says in his no-nonsense manner. "We're going to have to make a plan if we want to be competitive. The Kiwis returned via Super Rugby Aotearoa in June which means that they have a three-month head start on us in terms of preparation.
"I guess you've got to adopt a positive mindset and try to make a plan to close that gap. We managed to turn things around in the two seasons building up to the World Cup. That's encouraging.
"The whole situation does make me laugh, though," he adds. "It's as if we keep getting new challenges thrown our way. It's as if someone is saying, 'You turned things around in two seasons to win the Rugby Championship and the World Cup? Well, here's another set of hurdles for you to overcome before you play the Lions!.'
"Again, it's a challenge we have to embrace. Regardless of the circumstances, there are no excuses. Everyone will be going all out to make that Lions series count."
When Nienaber was appointed in January, Erasmus spoke of the respect that the players have for him as a coach and how he's been able to extract the very best of his charges. Nienaber hopes to build on those existing relationships, and it shouldn't surprise anyone to hear that Siya Kolisi will continue to lead the Boks in the Rugby Championship and – fitness-permitting – in the subsequent Lions series.
"I don't think I can be a father figure to Siya (Kolisi). We've travelled such a long road together in rugby. If anything, he's my brother.
"Every World Cup-winning team has had a famous coach-captain combination, where the coach was almost a father figure to the captain," observes Nienaber. "I don't think I can be a father figure to Siya, though. We've travelled such a long road together in rugby. I was coming through as a young coach at the Stormers when he was playing age-group rugby for Western Province. If anything, he's my brother.
"Is that problematic? I don't think so. What will happen if I develop an ego as the Bok coach? I'm sure that Siya will tell me – in a respectful way – that I am losing the plot. It won't be an easy exchange, of course. I might be angry, but if I go away and think about it, I may be forced to realise that I'm in the wrong.
"That's the kind of relationship that I have with Siya, Duane Vermeulen and a lot of the other players that I've worked with for a long time. That transparency and brutal honesty was a big part of the environment in 2018 and 2019.
"They don't call me 'Coach', they call me 'Nienas', because they've been calling me that since 10 or so years back when they were coming through the system and I was cutting my teeth as a conditioning coach.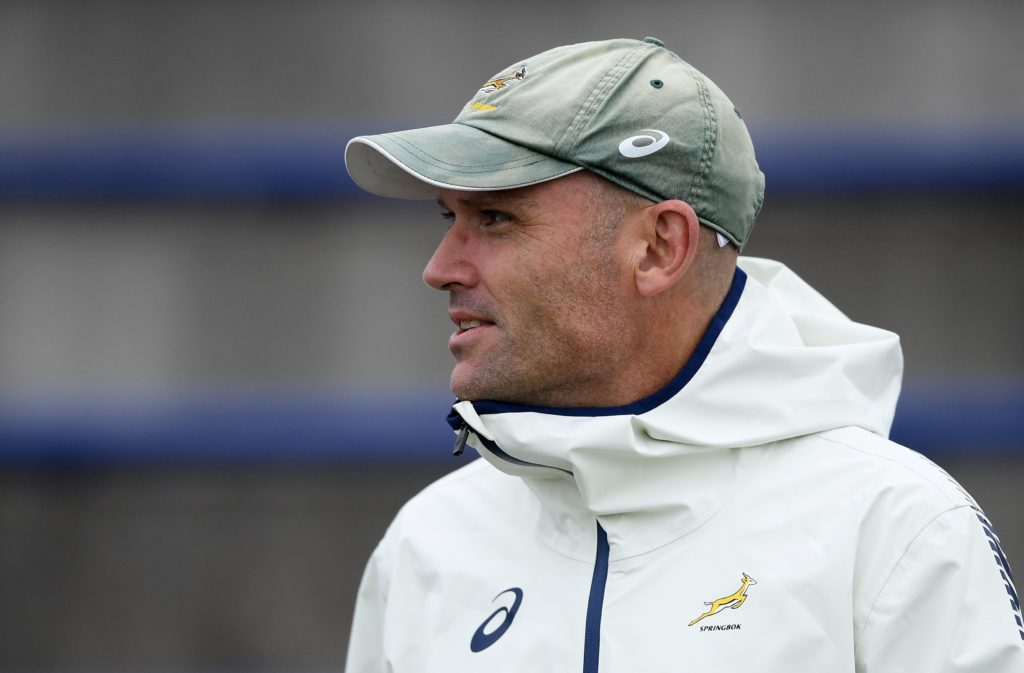 "Nowadays, when I get the chance to coach a few school clinics, the kids call me 'Sir'. It just doesn't quite feel right. I think it's great to have an existing and honest relationship with the players, and it's even more important when one considers the time constraints and the challenges we're up against. We can't afford to get bogged down in bullshit."
And make no mistake, the pressure to perform will be intense. Whereas Erasmus was given time to build the side in 2018 – and was allowed some leeway with regards to results – Nienaber will need to produce the goods from the outset. It seems a lot to ask of someone who is operating as a head coach for the very first time.
Nienaber, however, accepts that the pressure to perform is always greater on the world's No 1 team.
"If you take over a team that is, for example, at the bottom of the Premiership, any sort of movement up the ladder will be hailed as an improvement. There is not a lot of expectation when you take a job like that.
"On the other hand, if you take over Leinster in Ireland, or the Crusaders in New Zealand, you will be expected to win a trophy. A semi-final finish may not be good enough.
"Perhaps that's the situation we find ourselves in now. We have a fantastic squad. We've just won the World Cup and are the No 1 team on the planet. People expect us to keep winning and anything less that victory may be deemed as a failure."
The Lions beat Australia in 2013 and then drew with New Zealand in 2017. They're coming to South Africa next year to complete the southern-hemisphere sweep.
When Nienaber speaks about the Boks' short- and long-term ambitions, though, it's clear that neither complacency nor fear of failure are part of the collective mindset.
"The Rugby Championship is not as big as the World Cup, but it's a bloody hard tournament to win. England got a taste of that in the 2019 World Cup play-offs when they faced Australia, New Zealand and then us in quick succession. The final was very much a championship game with England playing the winners of the southern-hemisphere tournament.
"Beyond those tournaments, there are a lot of smaller trophies and accolades that our players need to chase in the coming years. The Boks haven't beaten New Zealand twice in one season to win the Freedom Cup since 2009. That is one of the things you have to push for if you want to take things forward after a World Cup."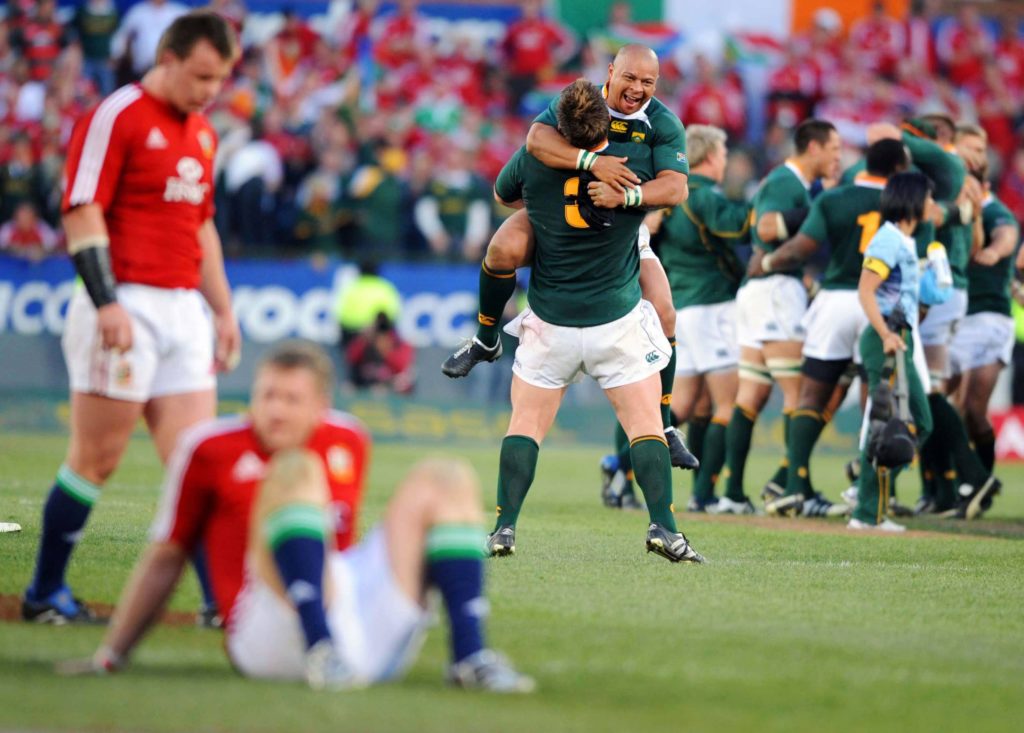 As the conversation comes back to the Lions, I ask Nienaber if that picture of the famous 2009 team that beat Ian McGeechan's charges is hanging somewhere in his office at home. He laughs, and reveals that he wasn't able to grab it before the hard lockdown was enforced and SA Rugby's offices were closed.
The idea behind that photograph, though, has not left him.
"That marks the last time the Lions lost a series," he says. "They beat Australia in 2013 and then drew with New Zealand in 2017. They're coming to South Africa next year to complete the southern-hemisphere sweep.
"It's not something that I take lightly. It would be detrimental to the southern hemisphere. We don't want to allow them any bragging rights. Coach Warren Gatland would have succeeded in all three countries.
"I received that picture as a gift a while back," he continues. "I remember the first time I looked at all those Bok players – giants of the game like John Smit, Victor Matfield and Bryan Habana. I realised that the team had won absolutely every trophy on offer. It would be beyond my wildest dreams to do something similar. Winning a World Cup was great, but there is more that we as a team can achieve."