Back

By Daniel Gallan
'Make sure you get this right': Bismarck du Plessis' tears as Springbok warhorse retires
Bismarck du Plessis is crying.
It's an unexpected sight midway through an hour-long video call. Really, this shouldn't come as a total shock. More than any previous generation, modern athletes are emboldened to share what they're genuinely feeling. To be vulnerable. To bear their souls publicly and send out the message that it's okay not to be okay.
But this is Bismarck du Plessis. A man who shares a name with a World War Two battleship. A man whose forehead could crack a walnut with a simple nod. A titan with meaty forearms that ripple like the hind legs of a stallion when he moves. A 79-cap Springbok who wags a menacing finger at the screen and gives a clear instruction to share the article with him so that he can "make sure it's right".
This sea change is disarming. He wipes away the tears and splutters on.
"It's amazing you would say that," he eventually manages, struggling to regain his gruff exterior. "It's something that I really, really appreciate you saying."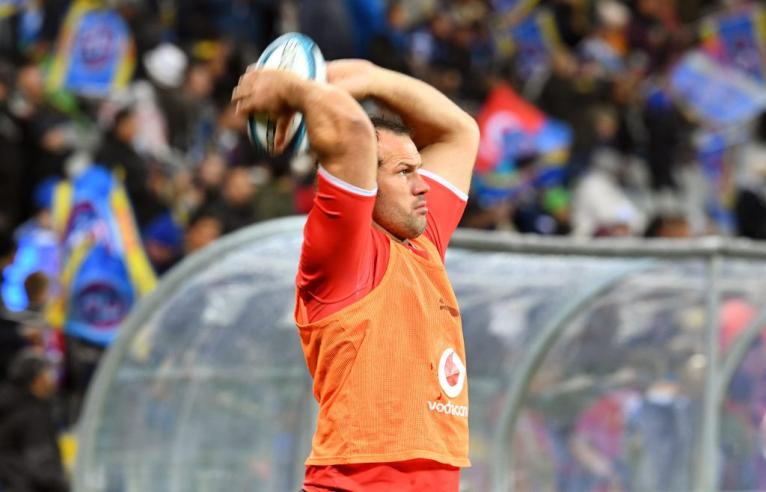 I only said that many people would consider him one of the greatest ever South African hookers. And that during his Test career, which began in Sydney in 2007, included a Rugby World Cup win, traversed a victorious British & Irish Lions series, and ended with a bronze medal at the 2015 World Cup, he was a contender for the best in his position in the world game. He must have heard this before.
"I know many people loved me but there were many people who hated me," he says. "I never played the game to bring the game into contradiction. I always played the game to always be good. To be as fair as I could. And always put the team above my own ambitions."
On 10 June 2023, in the final round of the regular season of the Currie Cup, after 392 professional matches spanning 20 years, at the age of 39, Du Plessis called it quits. He ended on the losing side as his Bulls were beaten 31-27 by the Cheetahs, the province where his journey began in 2003.
There was more symmetry to be found. After the final whistle he posed with a framed jersey signed by all his Bulls teammates. Alongside him was Morne Steyn, who likewise hung up the boots and was holding a framed jersey of his own.
I remember a lot of people at the time were saying, 'Oh, you know, Bismarck should leave. This is obviously an obstacle to his progression'.
Back in 2002 the pair began their rugby odysseys with the Free State at Craven Week – the elite provincial competition for the best high school talent in the country. Other future Springboks on the roster were Ruan Pienaar and Andries Strauss.
Not that Du Plessis envisioned his life would pan out the way it has. He describes himself as "a small boy from a small town". He grew up on the family farm in Bethlehem in the middle of the country. The land is fertile in these parts and the Du Plessis household was a nursery for rugby talent. 
"We were hard on each other," he says of his relationship with brother, Jannie, a year older and one of the most decorated props in Springbok history. "But we were always supporting each other."
After high school the older sibling managed to gain a foothold with the hometown Cheetahs but the younger brother soon found himself in Durban with the Sharks. Something clearly worked on the east coast, where the air is often as thick as soup and the sun sets earlier than it should. It wasn't long before the pair were united again.
"It's where we really moved from boys into men," Du Plessis explains of their time together with the Sharks. "And we were in a very successful unit that I gave my life to."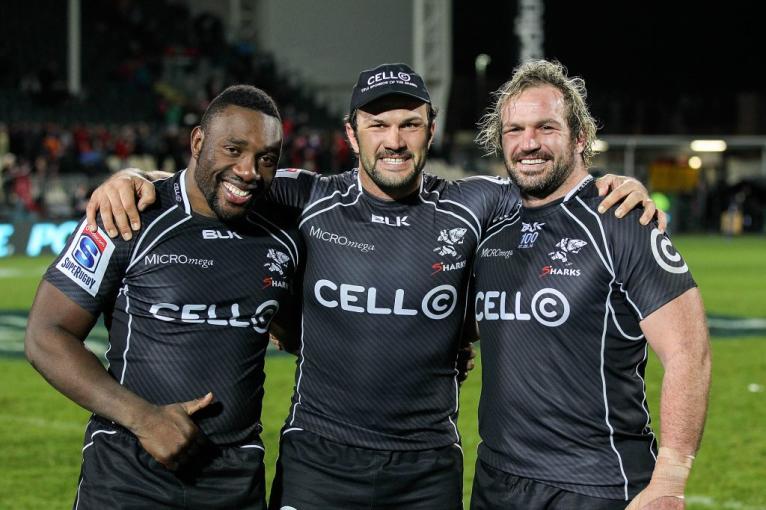 Du Plessis spent a decade in the famous black and white. There was talent everywhere. Pienaar and Butch James ran the show. Percy Montgomery and JP Pietersen controlled the backfield. Francois Steyn – "the most talented Springbok I ever played with," Du Plessis says, "he could do anything on a rugby field" – added pizzazz. But the grunt during was supplied by the front-row.
Tendai 'Beast' Mtawarira. Deon Carstens. BJ Botha. Jannie du Plessis. Springboks all of them. At the centre was John Smit.
"He was always someone who made me want to be better," Du Plessis says of the 2007 World Cup winning captain, an all-time great himself but more the prototype hooker. Du Plessis was a pioneer of the all-action, dynamic specimen which is now ubiquitous. There were questions at the time if the Springboks' inspirational captain was holding back a generational talent.
"The competition drove me to be better," he declares after a pause. "If I had a high road all the way through my life, I think I would have finished about 10, 12 years ago. I wouldn't have pushed myself the way I did to where I am today. Because I remember a lot of people at the time were saying, 'Oh, you know, Bismarck should leave. This is obviously an obstacle to his progression'.
"I made my Springbok debut in 2007. And 2008 was starting for the Boks. That doesn't look like it stopped my progression. I can be grateful for a guy like John, who always pushed me and always encouraged me.
"I'll also be grateful to a guy like Plum [John Plumtree, the New Zealander who was recently re-appointed Sharks head coach]. It couldn't have been easy for him but he picked me and he gave me an opportunity. And he believed in me and he believed in the process we were creating at the Sharks at the time."
Despite the star names and feelgood energy, the Sharks couldn't match the success of the Bulls. During Du Plessis' tenure, the club won three Currie Cups and made two Super Rugby finals. A decent return, but hardly the plunder of a dynasty. Eventually the cohort ran out of steam and moved on.
"I always wanted to play for one club," he admits. "We were a cool group of players. We were always together and were always playing together but our contracts all ended around the same time.
"A lot of those guys that we started together with, in about 19 months of each other a lot of them left and it wasn't the same. And that gave me the opportunity to go to Montpellier."
There are certain people in your life who make you want to be better and the first time I met Jake I knew he was that person.
This was in 2015. Allister Coetzee was South Africa head coach and sought to forge a new team after the World Cup. In his first Test in charge, newly appointed captain Adriaan Strauss started with the number two on his back, while Bongi Mbonambi and a young Malcom Marx waited in reserve. Du Plessis' world view centred on the south coast of France. 
The move was made easier by the fact that Jake White, who handed Du Plessis his Springboks debut, was at the helm at Montpellier. His brother was there too. Other South Africans, including Steyn, Pierre Spies, Wiaan Liebenberg and Demetri Catrakilis made it feel like home away from home.
Du Plessis' wife, Anja, opened a coffee shop in the middle of town. She gave birth to twin boys and another son four years later. The whole family learned to speak the local language. Life was good off the pitch and successful on it with a 2016 European Challenge Cup title secured.
Du Plessis still desired a national recall that never came. On the same weekend the Springboks were hammered 57-0 by the All Blacks in 2017, he helped a Vern Cotter-led Montpellier to a famous 43-20 victory over Toulon. When asked why his form, and that of other foreign-based Boks were going unnoticed by Coetzee, Du Plessis was just as confused as the rest of the South African public.
"You'd have to ask the Springbok coaches and the people in South Africa," he said at the time. "I can't change what their decisions are and I can't change what they want to do."
It wasn't until Rassie Erasmus replaced Coetzee that Du Plessis, along with his brother, was back on the Springboks' radar. The pair were included in a 43-man training squad in May 2018. Unfortunately, neither would go on to win another Test cap.
Two years later the Covid-19 pandemic brought the world to a halt. When things got going again, South Africa's strict travel restrictions meant Du Plessis and his family – which now also includes twin girls – were isolated from loved ones across the world. That distance started to take a toll.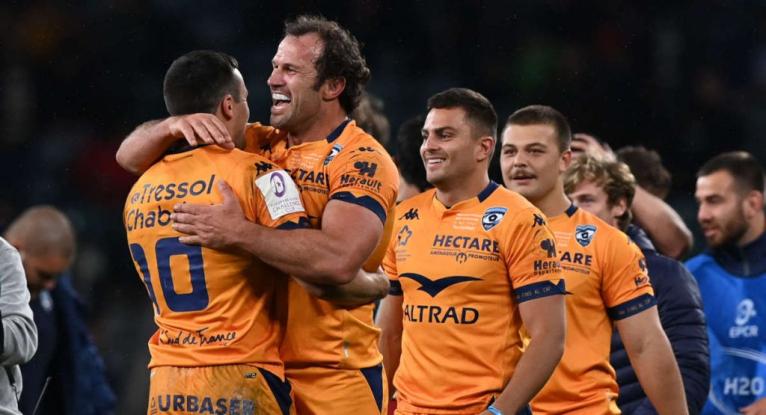 "We absolutely loved our time in France but I think we were in France for two years almost before we could come to South Africa because of Covid," he says.
"That was really difficult for my family and especially for my kids not knowing their grandparents and not knowing their roots. And that was also a decision why I left a year early in my contract. It was difficult for me. My family struggled. But the thing is it worked out for the best because I came back to South Africa."
And so, to a life of farming and family. Or so he thought. One day, while sitting on a harvester in a field of maize, he received a phone call from his old coach who had shown up on his doorstep. White had a proposition for him. If he fancied it.
"There are certain people in your life who make you want to be better and the first time I met Jake I knew he was that person," Du Plessis says, explaining why it didn't take long to convince him to come out of retirement and join the Bulls. "I was a teenager when we first met. He was a really tough man. But I needed tough love to make a success out of my life. And he did give me a lot of tough love."
Du Plessis still had much to offer on the pitch. White wouldn't have picked him if the tank was entirely empty. But the veteran served a dual purpose in the squad. He was to lead by example and instil an old-school hardness in a union that had fallen from its once-lofty heights. Did he have any particular advice for the young bucks in the group?
My teammates were sitting idle on their phones not talking to each other. I put my watch on a timer. For 15 minutes not one of my teammates spoke one word to each other. 
He takes a beat. It is now he juts a gnarled finger towards the screen and insists I get this part right. He's clearly given this some thought:
"Two weeks ago, I came out of the shower [in the Bulls' dressing room]. I was drying myself and getting dressed and my teammates were sitting idle on their phones not talking to each other. I put my watch on a timer. For 15 minutes not one of my teammates spoke one word to each other. 
"They're all on their phones. The amount of hours people spend on Facebook and on Instagram is absolutely frightening. And for me, that is very worrying. Because before you know it, you'll blink and your career is over. You have to make sure you put effort into everything you do. And that includes relationships. Make sure you have no regrets.
"Make sure you control all the things you can control. Not the coach's choices, if he picks you or doesn't. What you can control is [making sure] our unit is in good condition. And make sure you enjoy your time with your teammates. Make sure you know your teammates, their wife's name, kids' names and make sure that you have personal relationships with each and every person."
A deep inhale of breath. A slow release. That seemed cathartic for him and he's happy to once again go down memory lane. 
So, who's the best player he ever faced? "Richie McCaw," he declares in no time. "We all rated him as the best. We tried for years to annihilate him but we couldn't. We'd smash him and he'd come up from a ruck or a tackle, scratched up and bruised but he'd go again. He had more tenacity than any other player. I respected him so much, respected him like I've never respected anybody. If you look at his numbers when he played for the All Blacks, the amount of times they won, you've just got to take your hat off."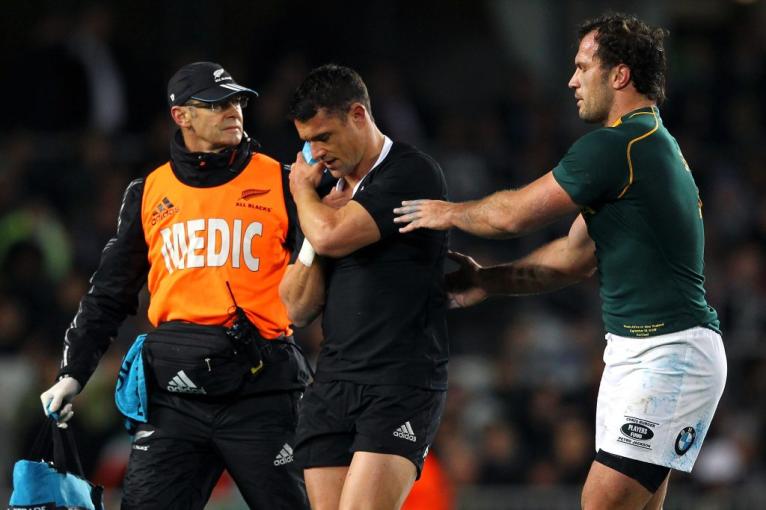 So, not Dan Carter, another legendary All Black who felt the full force of Du Plessis' might in 2013 when the South African nailed the Kiwi with a bone-crunching hit in Auckland. That shot was payback of sorts. Not to Carter himself but to a female colleague of Du Plessis at a financial services company who had recently bought a pair of male underpants that bore Carter's face.
"She asked me to get Dan to sign them," Du Plessis recalls. "I told her, 'one day I'm absolutely going to annihilate him'. Three weeks later everything fell into place."
Du Plessis was erroneously sin-binned for the tackle and would cop a red card for another infringement later in the game. Referee Romain Poite later admitted he got it wrong, which was scant consolation for Du Plessis at the time.
"The funny thing is I was very good friends with a lot of the All Blacks," he says. "Me and Andrew Hore in particular. I remember him shouting at me as I left the field, 'I told you you're never allowed to touch Dan Carter like that.'"
Many of the All Blacks Du Plessis did battle with over the years were the first to send messages when he announced his retirement. He says he is "humbled" by the outpouring of support though his competitive spirit still burns. When I mention the time Eben Etzebeth dramatically bounced him several metres backwards in a South African provincial derby, Du Plessis swiftly shuts the conversation down.
I didn't even think you'll be able to make a career or even profession out of what we play.
"I remember we beat the Stormers in Cape Town and were then flying to play the Chiefs in the [2012 Super Rugby] final," is all he'll say about that incident. 
He is however more than happy to heap praise on some former teammates. Besides Steyn he singles out Fourie du Preez – "the most intelligent Springbok ever" – and Victor Matfield "the most tactical player". When it comes to toughness, he can't choose between Schalk Burger, Juan Smith and Bakkies Botha. 
He's now looking forward to spending time with loved ones, those people he says he ignored in order to fulfil his dream. He has a wine business, the Rugby Field Vineyard, with operations around the world, in rugby-playing countries such as Argentina, Australia and France. The vineyards are in the shape of a rugby field in each location. Every sip of Malbec or Pinotage will tether him to a game that has given him so much.
"In my wildest dreams, I never thought that anything like that is even possible," he says quietly, welling up slightly once again. "When I didn't even think you'll be able to make a career or even profession out of what we play. But it's been an amazing time.
"Every day I got picked for the Boks, every day I woke up and I could put my Springboks jersey on or training shirt on, whether that was my first or hundredth time, that was special. It's something I never took for granted."