Is George Ford primed as a starter or support act?
Just as the bruises are subsiding from a European weekend of a patched up Champions and Challenge Cup, then we are thrown into the permutations of selection with Six Nations squads. Can George Ford fill the breach for the stricken Owen Farrell, can Ireland's in-form provinces boost their national team, and can does the myriad problems that beset the Welsh regions point to a chastening Six Nations. And what of Scotland, are bullish noises to be taken at face value? With 12 days to go, the conjecture is sure to reach a cacophony by kick-off…
Ford needs to be shown some love to act as Smith support act
You could feel a bolt of electricity coarse around The Stoop on Friday evening as Marcus Smith stripped off his overalls late on, ready to orchestrate Harlequins' latest Houdini act, with a controversial last-gasp try from Alex Dombrandt, who picked up a hat-trick for his troubles, a visceral representation that magic occurs when the duo are on duty at TW2.
Smith is box-office. He knows it, Harlequins know it and the Twickenham-faithful just over the A316 know it. The problem is in sport, as in life, you can only skip from one high to another for so long. The law of averages decrees that if you play a high-risk, high-reward game, as Smith gloriously does, under the unforgiving microscope of millions of TV viewers, a mis-timed pass, an errant kick or a half-hearted tackle with see the mood turn, especially in the partisan Six Nations.
It is with that backdrop that Eddie Jones has to manage the re-introduction of George Ford to the squad and privately be telling him that he still believes in him and still believes that, at 28, and having omitted him from the past two England squads – despite him being in imperious form for Leicester – that he is still the man. For Jones, who prides himself on his man management, this will be where he earns his significant crust.
Ford knows he's only got his opportunity thanks to a 'freak' training injury incurred by his close friend Owen Farrell, and he will have to wait in the shadows and see if he will be given a chance to come on and close out games if Smith starts hitting bum notes. Never anything less than professional, the 77-cap fly-half, you would imagine will want to prove Jones wrong. He will want to show the Australian that it was foolhardy of him to cast him aside.
Oh to be a fly-on-the-wall at some of those private conversations would have been illuminating because the general consensus what that Ford had been imperious for Tigers. What then did Ford need to improve in his game? The Ford-Smith subplot is one page-turner we should all be following over the next few months.
Despite flawed format, ECPR deserve some forgiveness
In the old days of the Heineken Cup, 24 teams went at it and only eight survived to figure out what European rugby tasted like in spring. Quality was rewarded. Now mediocrity is. Again, we have 24 runners at the starting line but this time only eight get eliminated by the end of the pool stages.
That allows half-assed efforts like Montpellier's to make it through. In round one they lost 42-6, in round three 89-7. Yet their name was in the hat last night, courtesy of a 28-0 postponement victory over covid-hit Leinster and then, to be fair, a powerful win over Exeter on Saturday.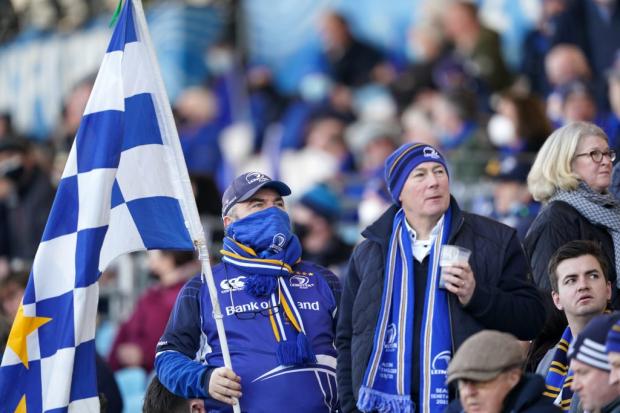 Yet while there is something unrewarding about the sight of five teams getting through to the round of 16 after recording just one win, and something unforgiveable about Montpellier's decision to put out the team they did against Leinster in round three, there's also the need for context.
This an international tournament played out in the middle of a pandemic where health experts and government officials are overriding the best laid plans of well-meaning sporting administrators. So yes, it's flawed, but given the times we're living in, the ability to keep the show on the road has to be applauded to some extent.
Bear cubs sharpen their teeth
There have been bigger stories in the South-West than the quiet upturn in form of Bristol Bears in recent weeks. Their old neighbours, Bath, going through the mill has been keeping the column inches ticking over, hell, the Bears have even lent them their 19st No 8 Nathan Hughes. If you head 30 miles upstream, Gloucester's renaissance has been heartening to the neutral, but whisper it, and Pat Lam's side has turned a corner.
Seeds of that resolve returning came in defeat. On December 26, they lost to Leicester Tigers by two points, with the winning try coming from Guy Porter in the 83rd minute, but there was enough in that excruciating loss to sense a revival that wasn't wholly to do with Semi Radradra's timely return.
Since a narrow loss to Exeter Chiefs, they have picked up three consecutive victories, scoring 112 points and 16 tries. The swagger of last season is returning and their 90m try, scored by Radradra, against the Scarlets on the weekend, where the ball passed through six player's hands, spoke of a side whose confidence was absolute.
Unlike many Premiership sides, they have not been deprived of a wealth of Six Nations talent. Indeed beyond Kyle Sinckler, Callum Sheedy and Harry Randall, their squad is untouched. To boast the quality of Ioan Lloyd, Steve Luatua, Ratu Naulago and Chris Vui among your ranks watching the venerable tournament on television is reassuring.
Their next five fixtures are all against sides in the bottom half of the table; Newcastle Falcons, London Irish, Worcester Warriors, Wasps and Bath. They look eminently winnable and they could yet propel themselves back up the table and in contention for European qualification.
When the Bears were three wins from 11 in the Gallagher Premiership, the 'where has it all gone wrong for Bristol?' editorials were piling up but by early March, Lam could afford himself a wry smile. Some wags quipped that his seven-year contract was the kiss of death, but the former Connacht man is an astute coach and man manager who will welcome Ellis Genge and AJ McGinty to his flock next season.
Rumours of the Bears demise are grossly overstated.
Restrictions lift, Irish hopes rise
There was a moment of significance on Friday that probably passed over the good citizens of France, Wales, Scotland, Italy and England. In an address to the nation, Michael Martin, the Irish Taoiseach (prime minister), announced his government were lifting all restrictions. Needless to say, after 612 days of them, few were in the mood to complain.
From a rugby perspective, this is a game changer. Under the emergency legislation passed in December, attendances at Irish sporting fixtures were limited to 5,000 people. You don't hear a lot of noise out of 5,000 people. Nor do you generate much income, the Six Nations being the cash cow that funds the entire professional organisation in Ireland.
So aside from the long-term financial benefits of being able to play in front of packed houses again – think future signings like RG Snyman and Damian De Allende or the kind of contracts that persuades Tadhg Furlong and Robbie Henshaw to stay at home rather than try their luck abroad – there's also an immediate bounce.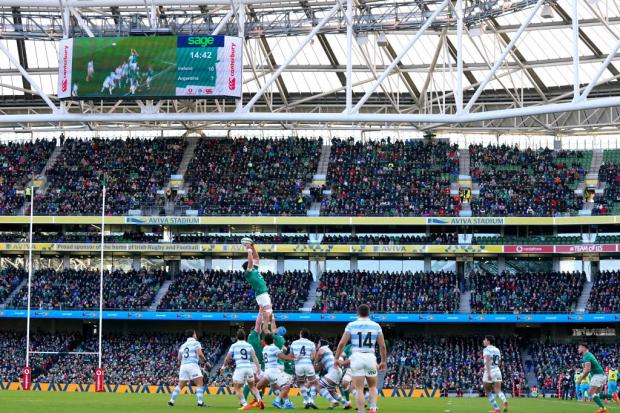 Until Friday, Ireland seemed set to play their opening Six Nations game in front of a sparse attendance at the Aviva Stadium. "It would have been like giving away our home advantage," says Johnny Sexton. And that counts. Since 2013, Ireland have lost just twice at home in this competition, once to a vibrant England side that would end that year as World Cup finalists, then last February to the French with just echoes and 51,000 empty seats for company. Could they have won that game with a raucous crowd cheering them on? Quite possibly.
And all of a sudden, with the stroke of a politician's pen, Ireland's home games against Wales and Scotland in this year's championship look like home bankers. You wouldn't have said that before 6.01pm on Friday. If they go on to have a title winning championship, Michael Martin could end up on their player of the year shortlist.
Reality check for Glasgow
You could resurface the entire Scotstoun pitch using the vast clumps of hair Danny Wilson must have been tearing from his scalp on Saturday night, watching in anguish as his Glasgow side squandered their chance to reach the Champions Cup last 16.
Wilson does not pull his punches in the press. He was blunt in his assessment of a mortifying half-hour in Exeter a week ago, and equally critical of Glasgow's deficiencies against a ruthless La Rochelle.
For two weekends running, until around the 50-minute mark, his team stayed in the fight against European powerhouses. They led briefly at Sandy Park early in the second half through a brilliantly dynamic Matt Fagerson try. They did so again on Saturday when Josh McKay screamed over for a delightful score.
But in this most ruthless of club environs, mistakes are feasted upon and boy, did Glasgow make a mountain of them. They were bossed in the breakdown trenches by the jackaling monsters of La Rochelle. In the aftermath of McKay's try, they conceded a staggering twenty points in five minutes.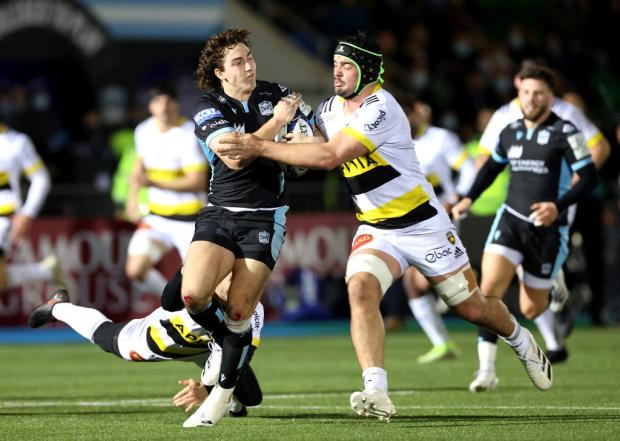 The following figures are eye-wateringly bad. On successive matchdays, Glasgow have shipped 32 and 23 second-half points respectively. They have conceded 90 in total against the English titans and the French juggernaut. Their staying power – in terms of physicality, consistency and concentration – has waned alarmingly, and facing such opposition, will always be brutally exposed.
The infuriating part in all this is that Glasgow do plenty of good stuff. They have aggression and snarl on the carry, a better set-piece platform than in recent years, and potent running threats synonymous with the Warriors blueprint of old.
They are laden with internationals. They conquered Exeter at Scotstoun and were not a million miles away from scalping La Rochelle in France. Eliminate those brief but costly hair-brained minutes, and Glasgow might be eyeing up a spicy last-16 tie.
But they are not, and nor do they deserve to be. The Champions Cup demands consistent excellence which Glasgow have not been able to muster.
The Challenge Cup is their domain now. It is not what Wilson hoped for and believed would be possible. It does not hold the allure of its illustrious big sister, but it is far from a tinpot competition.
Lyon, Gloucester and Toulon have qualified for the knockouts. Edinburgh should join them. Wasps, Northampton Saints and others will, like Glasgow, drop down from the top table. Warriors must use the Challenge Cup as a vehicle to reenergise a frustrated fan base, and gather themselves to embark on a tilt at the trophy.