Back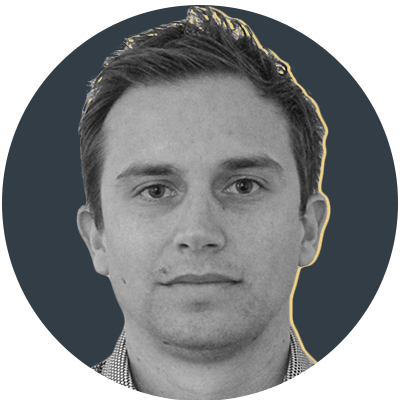 By Ben Smith
Ireland have the world's best attack with Johnny Sexton at No 10
Ireland's clinical attacking play was on show to dismantle a Welsh side in a 29-7 romp to open in the Six Nations at Aviva Stadium in Dublin.
After a dominant performance with ball-in-hand against New Zealand and Japan in Autumn, Ireland proved it was no fluke with another world-class showing.
No team in international rugby can move the ball quite like Ireland during phase play at the moment. When the defence should be at their strongest with a full line of defence, Ireland still find a way to roll them over and cut them up.
Many teams rely on unstructured play, opposition mistakes and turnover ball to generate tries as their cohesion in planned attack is limited. Not Ireland.
Their attack is the fastest on the planet at reorganising and rolling out a highly complex play with moving parts. Ireland's shapes are varied, disguised and hit defences so quickly they don't know what has just happened.
It cannot be understated just how difficult it is trying to get five to eight key players to reload and be on the same page for an attacking shape faster than the defence is ready.
The defence just needs to form a connected line. The attack needs every runner to understand their role, get their depth and timing right, and no one can make a mental error in the process.
Ireland are crushing tier-one teams by doing exactly this and beating their opposition to the punch.
When the mastermind of structured attacking play left the Irish set-up, Joe Schmidt, few would have thought their attack would actually be better. Right now, it might be.
Two massive litmus tests await, of course. Against France in Paris and England at Twickenham, Ireland will face more power and brutality in defence than they did against the All Blacks or Wales.
For now, though, this attack deserves to be admired for its ingenuity, precision and execution from anywhere on the field.
In the lead-up to the first try to Bundee Aki on Saturday, Ireland's ability to run multiple shapes throughout an attacking sequence is highlighted.
After a lineout peel on first phase, the set-up is shown below: two forwards in the first pod, then three backs in the second pod, with another floating in behind in Mack Hansen (11).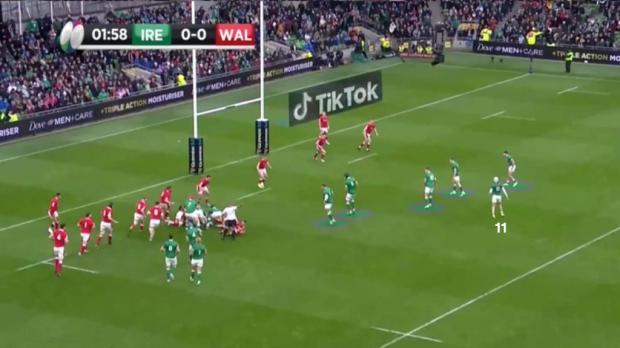 From this shape, Wales are none the wiser as to who the first recipient will be. The set-up is well disguised, and any number of plays could be run from this configuration.
The two forwards could take a carry. They could also link with the scrumhalf Jamison Gibson-Park by providing a pop pass back to him on loop play out the back. The Kiwi-born halfback could interlink with anyone in the second pod.
There could be any number of variations from the same set-up. Wales are thin out wide with the bulk of their numbers yet to get around the corner, so a wide play is a good option for Ireland.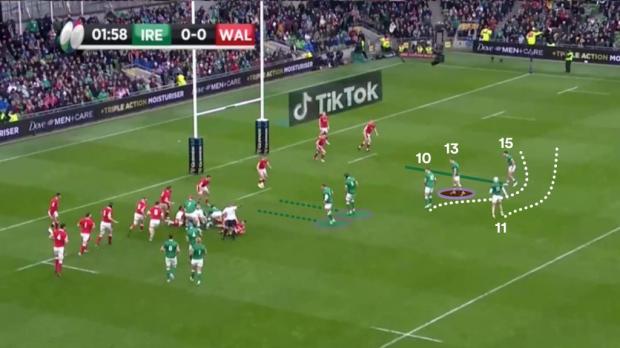 The fourth man circled in black, Garry Ringrose (13), is the recipient of the pass direct from the base of the ruck across the face of the two-forward pod.
Ireland ran a shape off Ringrose that tried to seal the edge, where Hugo Keenan (15) ran directly at the defence, while Sexton (10) and Hansen (11) ran out behind on sweep lines.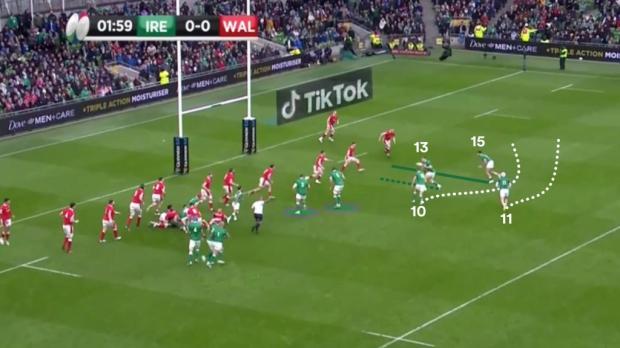 Welsh wing Johnny McNicholl doesn't get drawn into Keenan's line, making it less likely Ireland would have scored by going out the back, but they still would have had a three-on-two situation to work with.
Ringrose (13) opted to take the carry instead and dies with the ball for another phase. Here is where Ireland regroup incredibly fast to run another play.
They burn one more phase by carrying through a forward from a short Gibson-Park pass, and just four seconds after Ringrose had recycled, they are swinging play back to the left edge with this set-up.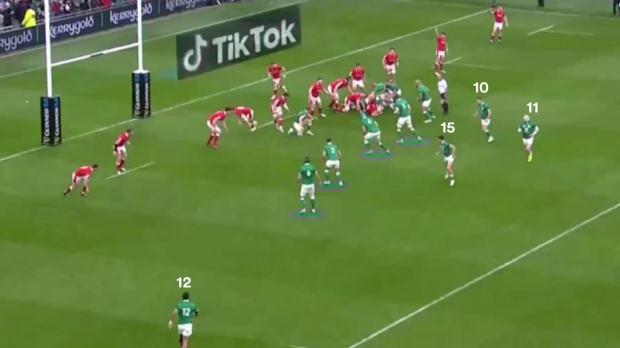 There isn't any really semblance of a set play on hand, with a line of four forwards while the three backs – Sexton, Keenan, and Hansen – are floating out the back seemingly late into position.
The play is set, however: a two-man pod offering a pullback pass to Sexton, who then ran a screen with the last forward Caelen Doris (6), who stayed back despite being lined up with the forwards.
The beauty in this sequence is that despite the flat setup beforehand, they still run multi-levelled plays with plenty of depth.
In the first disguised strike play, Sexton was aligned next to Ringrose on the same level, but, through the motion of both players, ended up being the second level option out the back.
There doesn't appear to be an opportunity to play out the back at first, but that comes to fruition on the run in a cascading fashion, as planned.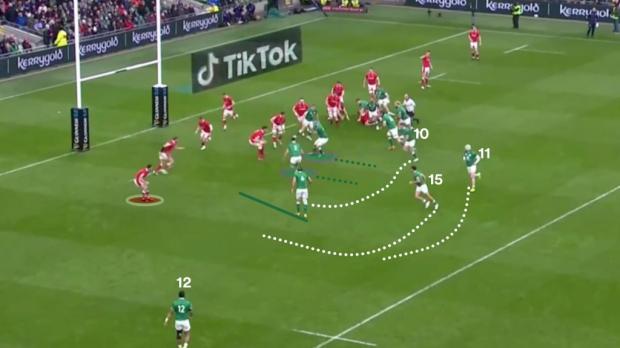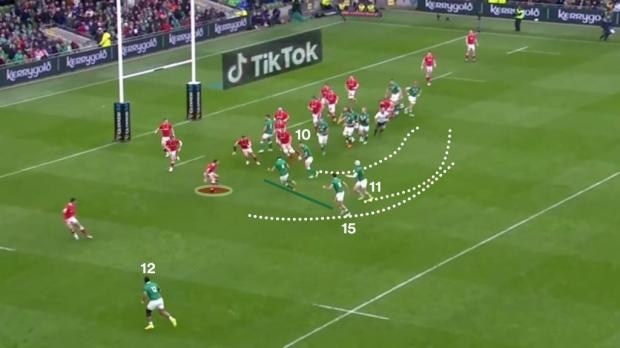 Sexton's options were plentiful, with Doris his short option and two outside backs floating around the edge. Once the Welsh defender, Tomos Williams, sat down on Doris' line (circled), Sexton pulled the trigger on his faster men coming around the corner out the back.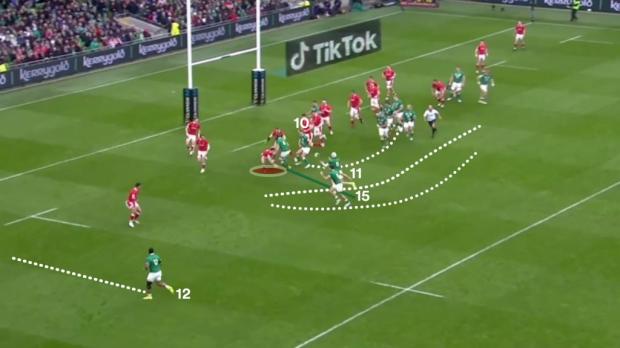 Hansen (11) took no time to throw the pass over the top to a wide-open Aki (12) who strolled over in the corner for the first try.
Ireland are very good at running a double screen pass in the same phase and disguising it. With the Irish attack, it's all about what's coming second or even sometimes third in the same movement.
Below Sexton commands the first pod of three forwards while his outside backs set up rather flat on the second level behind on this midfield possession.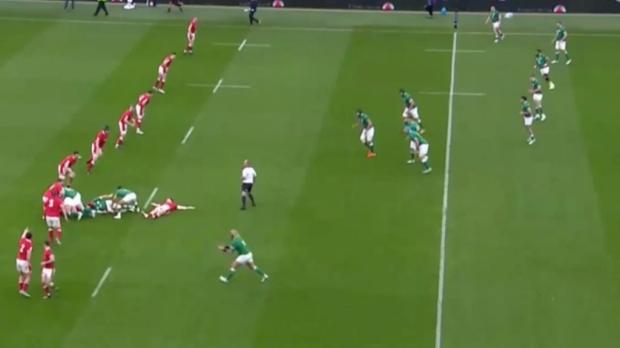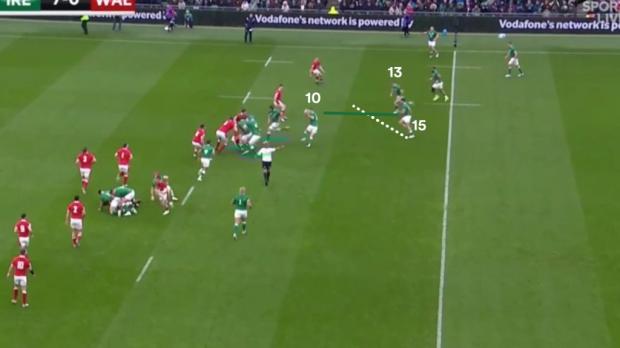 Once Sexton has the ball out the back on a pullback pass, it's the second screen which creates the opportunity with isolated Welsh numbers on the edge. The timing of Ringrose's (13) run is perfectly in sync with Sexton.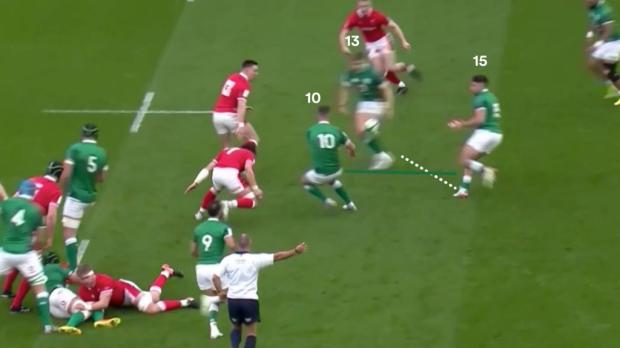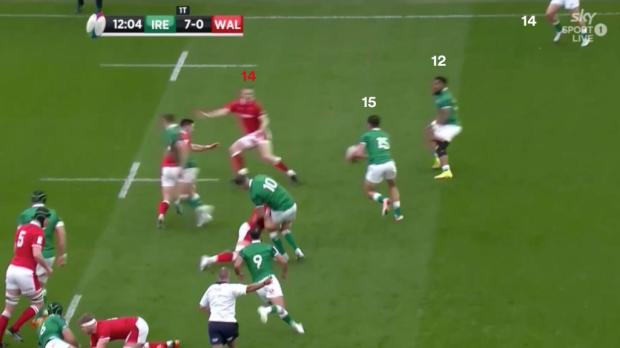 Keenan (15) ended up with a three-on-two after McNicholl (14) committed to Ringrose and left himself in no-man's land.
Ireland are the best team in the world at manufacturing space out wide, and it comes from executing small details with near absolute precision.
The Irish attacking system is the result of years and years of work with largely the same players who have built combinations at national or club level, but the players who have recently been added have fit in seamlessly.
On debut, Hansen was everywhere, popping up on planned sweep lines away from his wing to help Ireland overload weak Welsh edges.
After a second quarter where Ireland didn't execute all that well, the game was put away in the third to open the second half.
After Josh Adams was yellow carded, Ireland put together their best attacking set of the game where Hansen helped execute a brilliant launch play to land a blow that would put Ireland up 24-0.
With Adams in the sin bin, Ireland immediately called a strike play to attack outside the 13 channel where Wales were missing a man. They moved Gibson-Park (9) out to first receiver and used the hooker Ronan Kelleher (2) at scrumhalf to create extra width.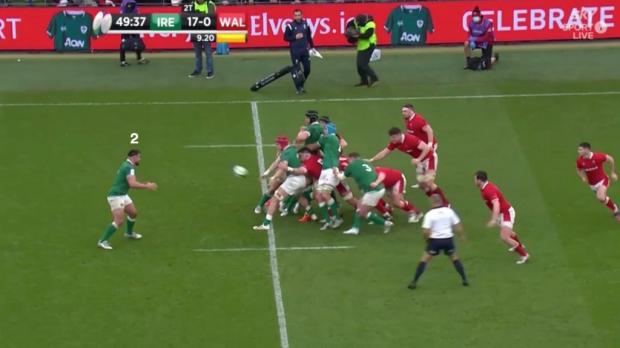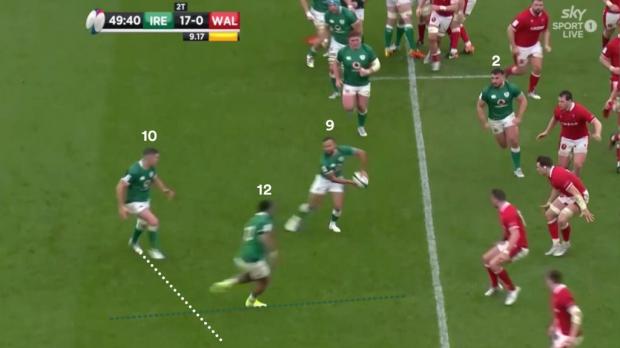 The first concept of the play is a screen pass out the back to Sexton (10) behind a line from Aki (12). This part of the play is the classic Sexton loop but with a disguised trail line by Hansen (11).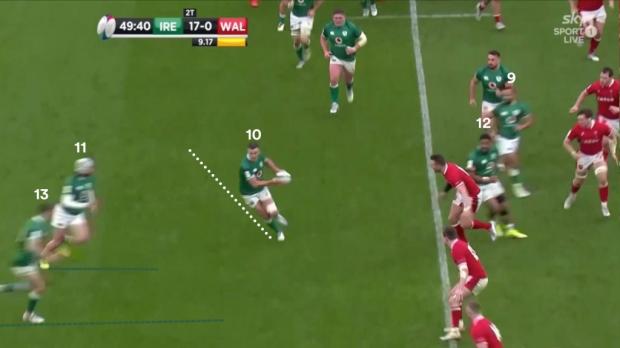 Hansen (11) originally looked to be a short option outside Sexton along with Ringrose (13), but he takes a sharp turn to break underneath and join his flyhalf on a sweep line out to the edge.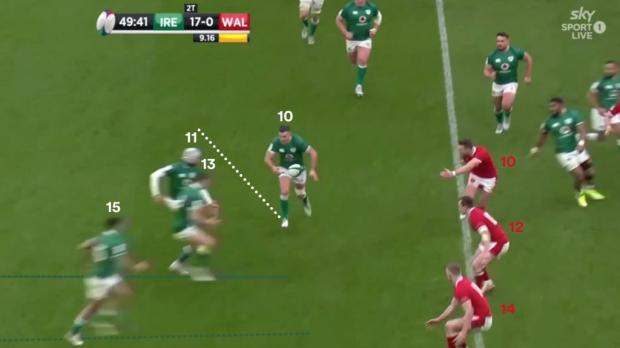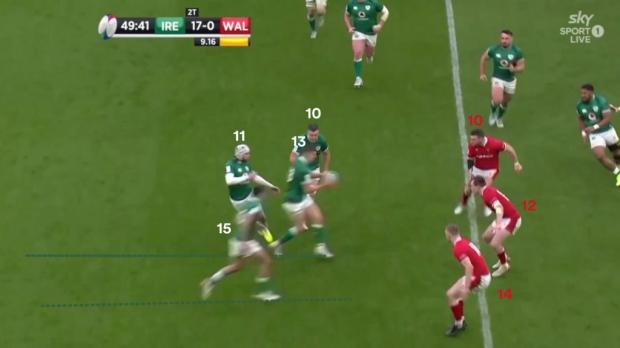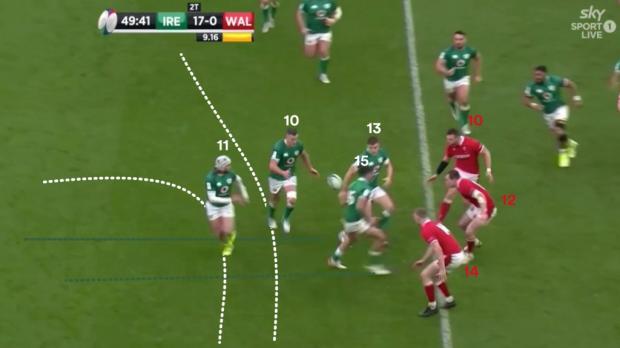 The timing at pace from all involved in such a tight space is immaculate.
Wales, already down their outside centre, play their drift/passive defence system that attempts to keep inside support alive, but the lines of Ringrose (13) and Keenan (15) create an inevitable traffic jam.
Ireland isolate McNicholl (14) on the edge and Sexton expertly played a double-pump of the ball to keep him from sliding out.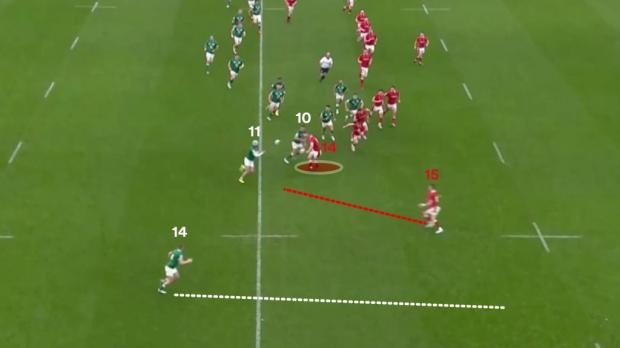 With a two-on-one on the edge, Hansen found the free man Conway (14) and Ireland went 20 metres upfield on the first phase to start the sequence. Seven phases and 50 metres later, Conway scored his second try in the corner.
Although Schmidt has moved on, many of the players he coached are still there, with the most prominent of those being Sexton.
The 36-year-old flyhalf is still on top of his game and has the pieces around him to continue to operate the best system in international rugby.
That is partly because Sexton is the system, having honed many of these plays for almost a decade.
The midfield of Aki and Ringrose have years of experience playing alongside Sexton in international rugby, while the likes of Gibson-Park and Keenan have worked alongside him at Leinster.
The forwards also have been clinical in laying down the platform in most of their phase play, performing their roles to a high standard.
Staying square, taking on the line and adding speed to the ball – many of Ireland's forwards have mastered the art of ball-playing.
The level of cohesion within the squad is very high, and Sexton's experience is quite frankly irreplaceable. If there was a player/coach in today's age, it would be Sexton, who you would think is essentially running the attacking plans.
If you enjoy beautiful rugby, Ireland are the team to watch.
The caveat here is Wales' defence is not what it was under Warren Gatland and Shaun Edwards. They also run a passive system from set-piece that invites teams downfield.
New Zealand is very similar in that they do not run a dominant defence. The All Blacks were able to resist for long periods in November but eventually the dam broke and the points came.
The real test of their mettle awaits this week in Paris. France, under Edwards, are notoriously disruptive, competing for every ball at every breakdown as Wales used to, and they go after a team in attack with punishing hits.
If Ireland can run their attack well and defeat France, it will be worth more recognition than their win over the All Blacks and put their side on the path to their first Six Nations title since their 2018 Grand Slam.