Back
By Jamie Lyall
Factory to phenomenon: Melani Nanai's emotional voyage
Melani Nanai buries his face in his t-shirt and weeps. He is thinking about the day he made his first Blues XV, about the phone call he placed from Bloemfontein to his parents' home in Auckland.
The memory grips him so powerfully, even six years on, that his great, Samoan shoulders shake and tears of pride trickle down his cheeks.
Sir John Kirwan had flown his young, long-striding back-three rapier to South Africa as injury cover, then stunned the room of first-teamers by naming him in the starting line-up.
"I'm getting emotional just thinking about it now… sorry… sorry," says the Worcester Warrior, as he is transported back in time.
"My dad just said how proud he was. Dad doesn't really give much away. He doesn't say much. And if he doesn't say much, you know you're doing something right."
To understand this visceral outpouring of emotion, you must go back to a South Auckland park, transformed by father and son into a field of dreams. The man, rekindling his love for the game; the boy, hoping to follow in his old fellow's boot-prints.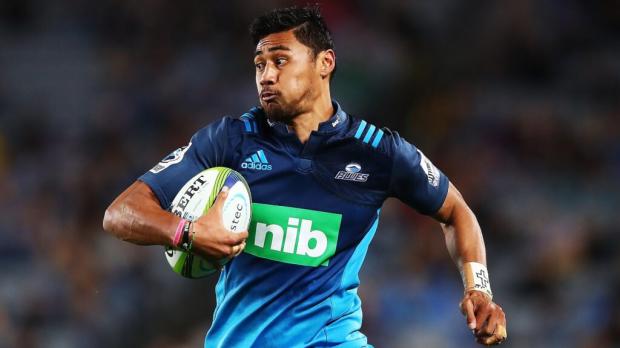 Kitiona Nanai won three caps for Samoa between 1987 and 1989. He was the Nanai clan's undisputed patriarch. No English was spoken under his roof. Family, faith and sport were the pillars of the household. In his day job, Kitiona dealt with prisoners. After work, he took young Melani for one-on-one training sessions that seemed to last longer than most Test matches.
"My dad taught me everything I know," Nanai, who was six when his family left Samoa for New Zealand, tells The XV.
"He was a security guard; he used to transfer prisoners from court to prison or from prison to prison. When he came home, we'd go training in the park, just me and my dad. He'd teach me a lot.
"It's hard when you're tired from school and your dad is just on about rugby, training, trying to get better. If I didn't do something right, he'd make me run laps around the field.
"Samoan parents are strict. I wasn't really allowed to go out much. We used to have curfews. But I wouldn't change anything – it made me what I am and the player I am.
"Phoning them that day, thinking about all the hard work we put in, all those times he used to make me run, going through the grind, how it all paid off in that moment."
I told my parents I'd go back to New Zealand to work and help the family, pay school fees and stuff like that. I lived with my uncle and he got me a job at a factory.
Nanai's tale is one of sacrifice and steel. He was a burgeoning teenage player when Kitiona moved the family again, this time to American Samoa, where he would study to become a minister.
After finishing school, Nanai returned to New Zealand – not in search of sporting honours, but a job that would help his parents and four siblings put food on their table and pay their bills. He forewent personal ambition to earn what they badly needed.
"My dad is very religious," Nanai says. "He wanted me to stay with aunties and uncles in New Zealand so I could carry on with rugby, but in the end, he decided he didn't want to have us apart, he wanted the whole family together in American Samoa.
"He went to theological college, which takes four years. When you go to theological college, you have to pay fees, but you don't really earn money. You depend on family to help you out.
"I told my parents I'd go back to New Zealand to work and help the family, pay school fees and stuff like that. I lived with my uncle and he got me a job at a factory. But those two years being away from New Zealand, and not having played rugby for that time, I wasn't thinking about rugby anymore. I wanted to help my parents.
"I didn't really have a dream. I didn't know how I was going to do back in rugby. I didn't know what I wanted to do with it. But my uncle, he had a friend who was coaching the Under-21s at Otahuhu Rugby Club, and he told me to go and casually play for them. That's how I started again. It wasn't chasing a dream of becoming a professional or Super Rugby player."
Frank Bunce spotted this hulking, 6ft 4ins winger marauding around club paddocks and a lightbulb went off in his head. The great All Black brought Nanai to Manukau Rovers and took him under his wing. He nurtured and polished and believed in the kid until the Blues hoisted him upwards. Life changed profoundly.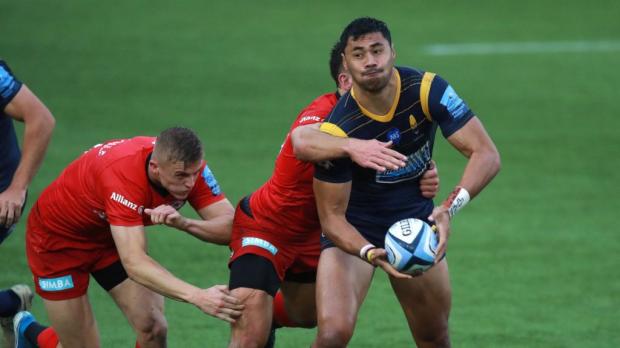 "Hearing from someone who has been there and done it, that's what made me realise I could take rugby to a whole other level," Nanai reflects. "It was pretty much the starting point of my career, playing under Frank Bunce, having a guy like him teach you how to play rugby and evolve your game.
"Bloemfontein was the first team I got picked for in Super Rugby, and I just really wanted to show what I could do. The most important thing was working hard, showing my dad what he put me through had paid off. I enjoyed every moment in the Blues jersey."
And boy, were there some dazzling moments. Nanai is a game-breaker, his attacking play so wonderfully YouTube-friendly.
Why, then, would a Super Rugby behemoth, on the fringes of All Blacks squads and named player of the year in his final Blues season, choose Worcester? It's a fine club, no doubt, but not exactly prominent in glossy brochures for the discerning southern hemisphere star.
Nanai's wife, Bridie, is English and after years in New Zealand, the pair were keen for her to be closer to family. But with the arrival of first daughter Eden – the Nanais now have two more infant children, Phoebe and Zeke – memories of home and the factory stirred.
Even now I'm still helping out my parents with everything they need to do. I don't want my kids to have that pressure or feel they need to help. A lot of players don't say it, but money is a big part of the reason I came here.
"Growing up was quite hard, having to help parents financially," he says. "I didn't want my kids to have to go through what I went through. I want to secure their lives for them, so they don't have to work hard or help us.
"Even now I'm still helping out my parents with everything they need to do. I don't want my kids to have that pressure or feel they need to help.
"A lot of players don't say it, but money is a big part of the reason I came here. Obviously, I want to show what I can do on this side of the world."
These past few years have been grim for Worcester, staving off relegation before embarking on a brutal run of 21 defeats. They are a club in the midst of a mammoth transition – painful for the moment but, the hope is, a platform for greater, sustained success will be lain.
Alan Solomons, their wily director of rugby, is eager to renovate the place, with home-grown talent at its core. He has assembled a highly-rated coaching staff, headed up by Jonathan Thomas, and this year, recruited heavily from the upper echelons of British rugby. The revolution has gathered pace this week with the appointment of Steve Diamond as lead rugby consultant.
Out went 21 players. In came two Lions, Duhan van der Merwe and Rory Sutherland, from Edinburgh. Scott Baldwin moved north from Harlequins a Premiership champion. Willi Heinz replaced Francois Hougaard as an international scrum-half.
The Premiership, though, is a ruthless battleground. Especially this Premiership. Results indicate Worcester have a long and fraught journey ahead. And Nanai remains a deeply frustrated spectator. He required shoulder surgery in his first season, then a hamstring operation in his second. Three games into the new campaign, he suffered another knock from which he is only now poised to return.
"The start of my career, I never really had injuries," he says. "I've been over here two years now and I've had two surgeries. I came back from the hamstring injury but against Gloucester (on 2nd October), I got another injury, got a scan on the Monday and they said I'm out another eight weeks. That's frustrating.
"Especially this year, it was my first time of doing pre-season with Worcester, the first season I've started off the right way, I wanted to really make my mark. Recruitment-wise, ever since JT (Thomas) has come in, they've changed things up, started to bring in the new culture, get a DNA of Worcester being a top team, and we want to make that the benchmark and change the way people see Worcester.
"I just like where the club is heading and I'm frustrated by the injuries. The players they're starting to get in, a lot of players left after last season and a lot of big signing came in, I just thought this way the year we were going to try for that top-six spot.
"Everyone has their reasons why they play. Mine is my family. Every time stuff happens, I tend to think about the reasons why, to keep me motivated. With the three kids, I just want to do the best I can to help our family. A big thing for me is knowing my kids depend on me. That's what drives me and keeps me pushing forward."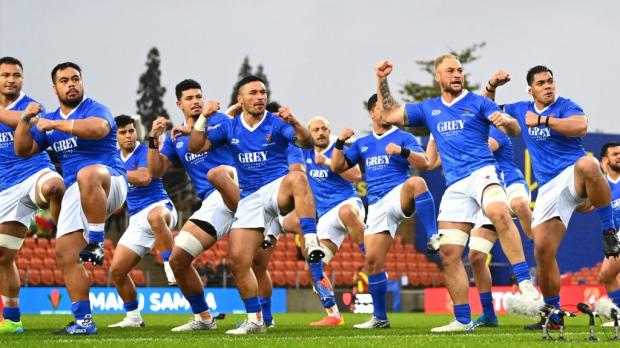 The pull of Samoa is strong, too. How Nanai longs to follow in Kitiona's footsteps. But it is an ugly reality of the elite game that players are still forced to choose between club and country, still yanked in too many directions largely because of rugby's inability to produce an aligned calendar.
Save the out-of-window Test against the Barbarians on Saturday, Samoa's autumn tour was cancelled due to the island nation's Covid-19 protocols. Nanai cannot say whether he would have played had it gone ahead. He wants to be loyal to Worcester, who have been without their injured marquee man for so long. He wants to continue safeguarding his family and frequent international excursions could harm his earning potential and attractiveness to suitors. Yet he yearns to represent his people and his family and his nation. It is one of rugby's most unedifying problems in microcosm.
"With my dad wearing the blue jersey, I want to do the same," Nanai says. "But with injuries, it's been hard. And we keep talking about it, but money is a big part of it. Having to leave clubs to go play internationally is a bit hard. Especially me coming over here and having quite a few injuries, that decision becomes hard to make. I wanted to play in the 2019 World Cup, but things didn't go as planned.
"I have to make decisions around the club as well. Having been injured, I want to prove myself for Worcester, and I need to play games for Worcester. There is a lot to juggle.
"Teams look at that as well: 'what country does he play for? Is he going to be available for us the majority of the time?' You have to think about family. It's hard for me to travel away and leave my wife with three kids.
"Playing for Samoa is a massive goal of mine and something I look forward to if I do get the chance. I want to play in big tournaments.
"A lot of factors play a part in the decision. My family comes first and I've got to make the right decision for them. If that means I have to delay playing for my country, that's something I'm going to have to choose."
If – hopefully when – Nanai dons the colours of his island people, those tears of pride will surely flow again.