Back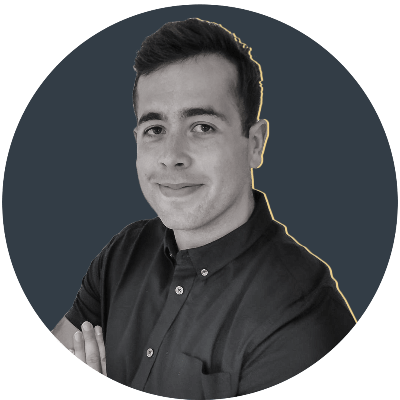 By Jamie Lyall
England's future is in safe hands with Steward
As Freddie Steward strode down the Twickenham tunnel and on to the vast carpet of fabled grass, the magnitude of what he was about to achieve struck him like a cannonball.
Still just 20 years old, the Leicester Tigers full-back was hours from his England debut, a milestone earned through a colossal season with the rejuvenated East Midlands juggernaut. He thought about his parents, Ben and Jane, their unyielding role in getting him this far, and how they would be among the 10,000 taking their seats to watch a callow England side take on the USA. He thought of the club and youth coaches who had propelled his ascent to the elite game, furnishing him with wisdom and motivation. He thought of his frank and onerous grounding in the Tigers academy and how it shaped him to play professionally. He thought of all that had gone before, preparing him for this very moment, with the rose on his breast and a cap to his name.
"When I got off the bus, after our meeting I went straight out on to the pitch for five minutes, just walked around, looked around and tried to take it all in that I was about to play for my country," Steward tells The XV.
"To get off the bus and see the fans, wow, it was emotional. To think about the journey, how it had all happened and I had loads of family there that day as well. I just gave myself a few minutes to soak in the atmosphere and then concentrate on the job in hand."
I've been to Twickenham to watch England play as a 14-, 15-year-old and watched Henry Slade play. You're then in camp and having a chat with him in the dining room.

Freddie Steward
Unbeknown to Steward, his former coach at Holt Rugby Club, Mark Jaggard, was among the spectators, nestled in beside Ben and Jane. They are the three most influential people in his sporting journey.
"He had me from Under-9s to Under-15s," Steward says. "Mum and dad got him there but didn't tell me. That was emotional after the game because I hadn't seen him in a couple of years, I got to give him a big hug and that was a really special moment. There were tears in his eyes and definitely a tear in mine.
"Mum and dad, what they sacrificed to get me where I am now. I was reliant on them to ferry me everywhere for games on Sundays and to school training. I lived in Norfolk so it was actually quite a long way to Leicester, a really big commitment for them. I don't think I'd be anywhere near where I am if it wasn't for that."
The match itself was a personal triumph, if not a collective tour de force. England were unflustered winners, but conceded 26 second-half points to the ravenous Americans. Steward looked assured, as though he belongs in this rarefied habitat. He soared to boss the aerial skirmishes, kicked well and lolloped in to the attacking line to bring his 6ft 5in, near-17st frame to bear.
"It was very surreal," he says. "Even going into camp, I've been to Twickenham to watch England play as a 14-, 15-year-old and watched Henry Slade play. You're then in camp and having a chat with him in the dining room.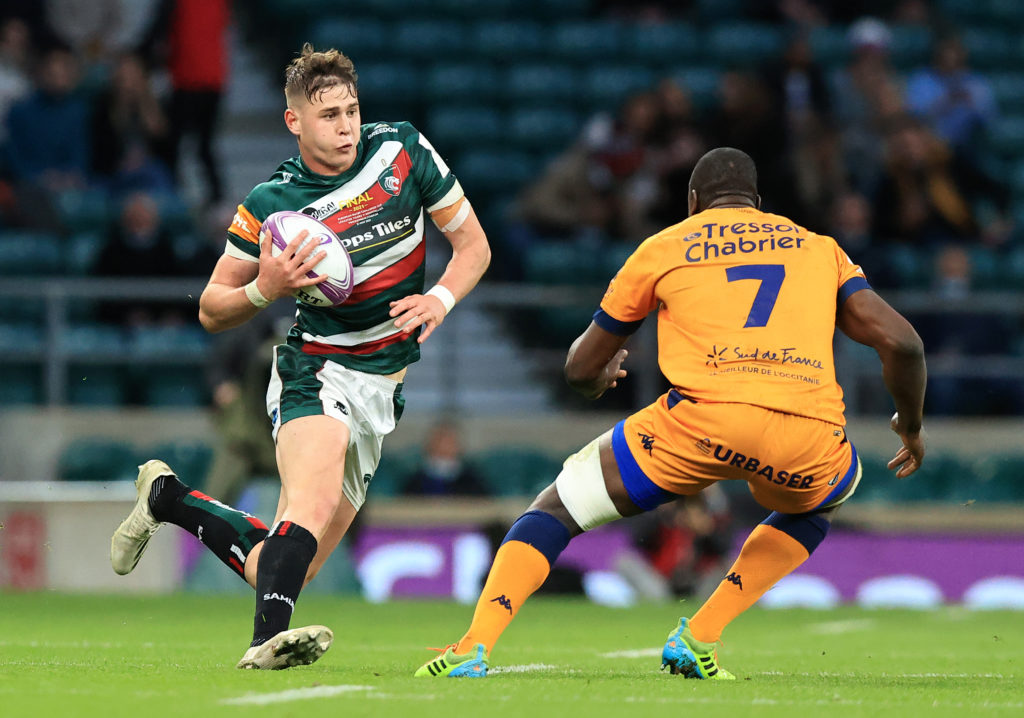 "The whole experience of meeting these guys who I'd watched and played against was really weird, a really special experience.
"The speed was the biggest difference, that really took me by surprise. Even in training, when you're with the best players in the country, everything is executed so much quicker and with such accuracy. It was a big step-up but a brilliant experience playing with your Marcus Smiths and Harry Randalls, who you watch and admire.
"How crazy it has been, considering last season I wasn't really involved with any first-team rugby, to be sitting here now having had two caps, it has been a pretty unbelievable season."
Since returning from camp, having helped England eviscerate Canada 70-14, Steward has been able to relax and reflect on a monster season stretching back to August with scant pause for breath.
He is sporting a new look too. The Paul Gascoigne-esque blond buzzcut is neither a homage to England's Euro 2020 finalists nor a profound fashion statement, but the unfortunate product of a lost bet with Gabriel Oghre. Foolish, indeed, to wager against a hooker in an axe-throwing contest.
Tom Youngs spoke to us before a derby about how much it meant to him and people at the club and he just captivated me. That history is very rich and it's now our duty to get the club back to where they need to be.

Freddie Steward
"There was this little bullseye we had to throw the axes in to and he'd hit it with three of his axes," Steward says. "There was no way he was getting the fourth in. I said to him, 'Look, if you get the fourth axe in, I'll go buzz-and-blond' and somehow, he just, calm as ever, slotted it in. Unbelievable bit of skill, to be fair. My dad laughed and saw the funny side; mum on the other hand was not best pleased."
To understand Steward's compelling introduction to the Test arena, you have to look back into his past. He has been groomed for international rugby for an age, at the prestigious Norwich School and then at Leicester itself.
The storied beast of English rugby is a notoriously tough nursery that breeds notoriously capable young players. Standards are sky high and expectations exacting. Steward was in the same precocious clutch as George Martin, capped last year, Joe Heyes, alongside whom he made his England debut, and national age-grade captain Jack van Poortvliet, who was named Under-20 Six Nations player of the tournament after leading England to a Grand Slam.
In Steward's two years as an academy player, armed with all of this emerging brilliance, Leicester won back-to-back league titles without losing a game.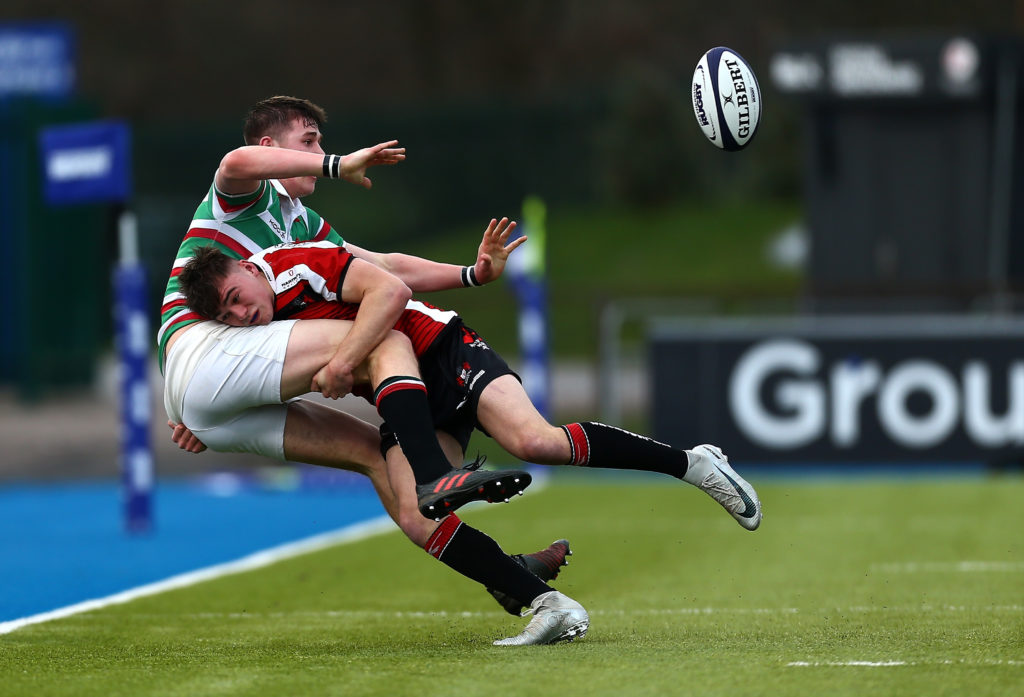 "The biggest thing about the academy was the values of Leicester Tigers and what they expected in their players was instilled very early on. Everyone was taking it very seriously, we really wanted to achieve something special. It almost felt like a professional environment even though it was the academy. That led to the success," Steward says.
"Tom Youngs actually came in and spoke to us academy boys a few times. Once was before we played Northampton Saints in the derby. He spoke to us about how much it meant to him and how much it meant to people at the club and he just captivated me. When he talked about the derby specifically, he talked about how much the game meant, not just to the lads playing but to all the people who have pulled on the shirt in the past. That history is very rich and it's now our duty to get the club back to where they need to be."
Quite the burden for a brood of pups, even one so prolifically successful. Two years without defeat, pitched in to a first team in a wretched state, foundering near the foot of the league and tasked with sparking a revival. At the time of Steward's debut in January 2019, Steve Borthwick had yet to be appointed head coach and begin his revolution, and the great oil tanker that is Leicester Tigers was not so much being turned as steaming for the cliffs.
Steve Borthwick is a guy that everyone wants to work hard for. He has instilled a belief in us that we can achieve something at this club. We want to get the club back.

Freddie Steward
"The lads that graduated that year really embraced that challenge," Steward says. "It was exciting, there were opportunities to get selected and I wanted to be part of the rebuilding of the club. That has been the biggest highlight – being part of our rebuilding and our move back to the top half of the table.
"The biggest thing I struggled with initially was the psychological stuff. You go from an academy game where there are 100 people watching then suddenly you run out at Welford Road in front of 20,000-25,000. I really struggled to cope with that to start with."
Last season was transformative for Leicester and a coming of age for their towering full-back. Steward played in 23 games and was named young player of the season. Borthwick has assembled a potent squad and recaptured the bruising, uncompromising snarl of old in their play. The Tigers made the Challenge Cup final, where Montpellier had their number, but a sixth-place Premiership finish ensures they will dine at Europe's top table this term for the first time in three years.
"Steve is a guy that everyone wants to work hard for," Steward says. "He has instilled a belief in us that we can achieve something at this club. We want to get the club back. We believe in ourselves and each other and we just want to work.
"At times it's not pretty but that's part of it – in fact, the lads actually enjoy that. He has brought that will to work to the Tigers."
The success of the past campaign, and the first morsel of international rugby, has only whetted Steward's appetite for more. So advanced at such a tender age, his potential is frightening. More enticing still is the opportunity to make England's 15 jersey his own, with the versatile Elliot Daly struggling to nail it down. The 2023 World Cup is a huge and realistic target.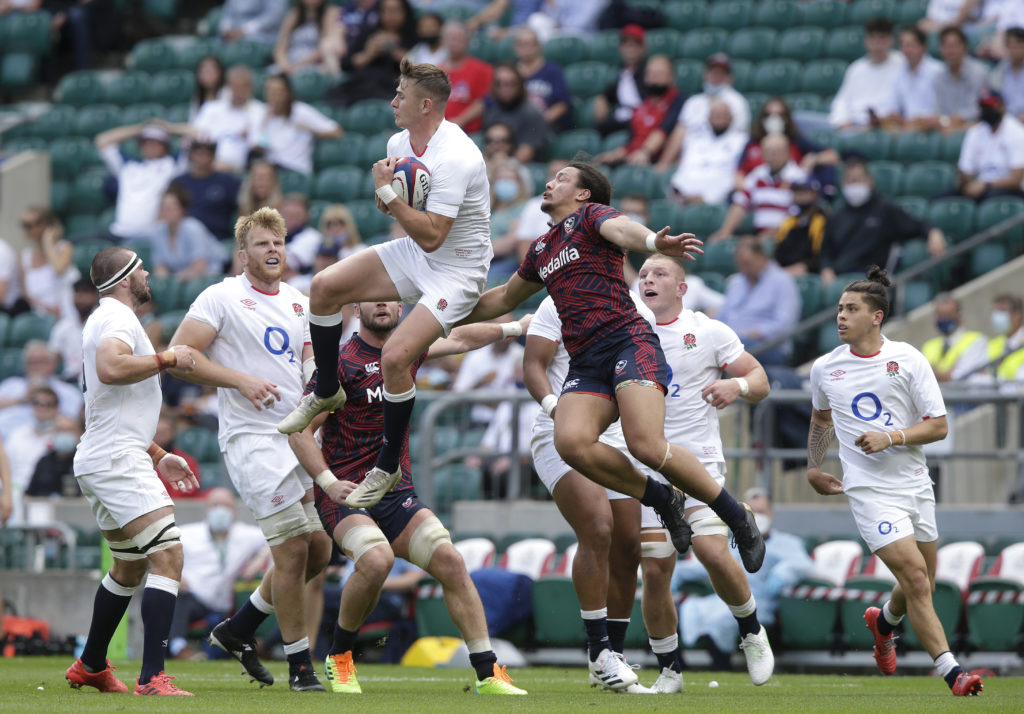 "Absolutely, I'd be silly to sit here and say I wasn't looking at the World Cup or not wanting to get picked," Steward says. "I'm sure almost every player in the Premiership is looking at that.
"But the focus has got to be on this new season at the Tigers and trying to play the best rugby I can.
"We feel the best is still to come and we're only part way along that journey. We've had to make changes and work really hard, but everyone is on board and believes we are on this journey to get the club back to winning."
More stories from Jamie Lyall
If you've enjoyed this article, please share it with friends or on social media. We rely solely on new subscribers to fund high-quality journalism and appreciate you sharing this so we can continue to grow, produce more quality content and support our writers.