Back
By Owain Jones
Depleted Wales feel the force of majestic All Blacks
The All Blacks rolled into Cardiff as the crowds returned in their droves to bring a Test Match rugby back to the Principality Stadium. A weakened Wales showed admirable resolve for three quarters of the game before 'falling off a cliff', as Wayne Pivac described not troubling the scoreboard as New Zealand racked up 24 points, as Wales ran out of steam and able-bodies to offer up a stern resistance to the three-time world champions. Here are some of the game's talking points…
Wales must plan for a future without its bedrocks
When Alun Wyn Jones grimaced, after a robust tackle on Jordie Barrett, holding the same arm that buckled in the pre-match game against Japan for the Lions, exuberant Welsh fans went quiet. When they realised their talismanic leader could no longer continue some rose to their feet and many more clapped off the man who became the world's most capped player in one single Test jersey, surpassing Richie McCaw's 148 appearances. Not one for lip-reading, but words to the effect of 'clucking bell' were mouthed in unison.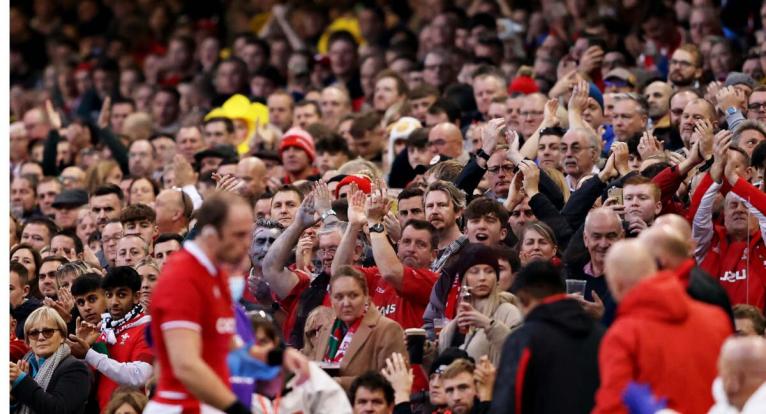 In truth, the week hadn't started well. In the lead-up to the game, Ken Owens was named in the team before being abruptly withdrawn due to a back complaint that would need to be managed. For the avoidance of doubt, the feted duo are Wales' beating heart, their emotional bellwether but they are not impervious to ageing. Owens will be 35 in January and Jones turned 36 last month. Whether they can be nursed towards the 2023 World Cup will be down to luck and careful management, but there can be no guarantees. Jonathan Davies took the armband but he too will be 34 in the spring and cannot be assured of his place as France looms nearer.
Leadership is an intangible but you notice when it's not there. One of Wales' leaders was Cory Hill, but he has bolted for Japan under a cloud. One must hope that Ellis Jenkins, long earmarked as a captain of Wales, can return to the fore emboldened, otherwise, a clutch of Wales' fledglings will need to find their voices and carry Wales forward.
Dragons trio offer solace after heavy loss
If there is to be a positive that can be drawn from the 32nd consecutive loss to New Zealand then it must be the performances of the Welsh backrow.
Taine Basham, at 21, has proved that he can joust with the world's best and it was affirming that the great grandson of former European boxing champ Johnny Basham was ready to mix it when Ross Moriarty was questionably upended by a few All Blacks heavies. Basham is not a large backrow by modern standards, but he is explosive in the Hamish Watson-mould, and found weak shoulders with his lines of running. After a mixed summer campaign, his anticipation at the breakdown has improved in the early rounds of the United Rugby Championship and he's giving away fewer penalties, which point to a maturing game. The fact he was namechecked by Wayne Pivac, confirms he should be a constant in Wales' future plans.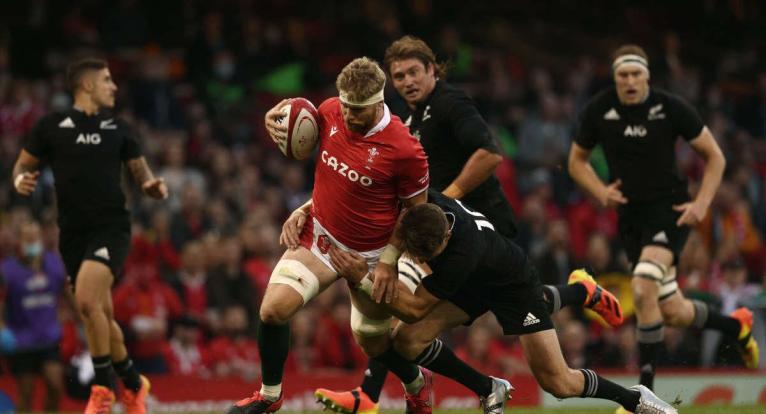 Aaron Wainwright was another to enhance his reputation. His break from the backfield that left Rieko Ioane flat-footed lifted thousands of bums from seats, and a deft kick behind the All Blacks defence showed the former footballer's softer skills. He hit hard in defence and ran hard from the base of the scrum. Indeed, he was part of everything good about Wales' performance.
Finally we come to Moriarty. Even though he left the field after a dubious double-hit from Ethan Blackadder and Nepo Laulala, by 38 minutes, he had already made 12 tackles and carried with venom and allowed the duo to shine. In essence, it was the perfect blindside's performance and you wish him a speedy recovery.
Money doesn't grow on trees for cash-strapped WRU
In some ways you have to acknowledge Wales and New Zealand's candour. They have not tried to dress up this fixture as some sort of romantic throwback. Nope, they have put their hands up and said they need the moolah, and fast, in the wake of a financially ruinous pandemic.
The New Zealand Rugby Union had to cut back on half its staff during 2020, but if you look first at the WRU, they have had a shortfall of over £40m from pre-pandemic levels (in 2019, they recorded £90.5m annual revenue, which dropped to £79.9m in 2020 £58.8m in 2021). Unless you're Elon Musk, or the new owners of Newcastle United, that's an amount that is going to cause some pain to the game's infrastructure – just ask the regions, who have been brought to their knees.
Admittedly, the circumstances for the game were far from ideal; Wales were deprived of a glut of players, including Dan Biggar and Louis Rees-Zammit given the fixture was played outside the agreed Test window and their lack of depth was highlighted by lock Seb Davies traipsing on wide-eyed to pack down at blindside – for the avoidance of doubt, this would not have been in Wayne Pivac's black book of 'ideal scenarios', but for 60-odd minutes Wales just about competed. There were smiles on faces in the crowd and a semblance of normality reigned after a joyless 20 months.
Now, this writer is no entrepreneur but cannot see an obvious way to plump up the coffers of a game that has contracted rather than grown in recent times due to circumstances outside its control. If the money is in invested in the cash-starved community game to re-employ community officers, the improving of pitches and facilities, and in the elite game to add coaches, administrative staff and players, then the pain of a mismatch will subside in time and the benefit for the union will be apparent in the longer term. Call me a pragmatist, but the professional – yes, the clue is in the word – game will not grow on goodwill and the romanticism of its Corinthian past. Hard cash is the only currency that matters when the cold winds of professionalism bite.
The Welsh lineout stutters…again
Those who have been following Wales long enough will recognise the pain. Wales, after a spiriting passage of play, either through muscular forays from their forwards, or cunning elan from their fleet-footed backs have carried themselves within metres of the opposition line and have fashioned a lineout with which to ram home their temporary territorial superiority. With both sets of forwards jostling, a pre-planned move is called. The hooker feints, once or twice to outwit the opposition jumpers and the ball takes flight. A second later, the ball sails beyond the Welsh jumper and into the gleeful hands of the defending team to clear the danger. Cue, groans from the crowd.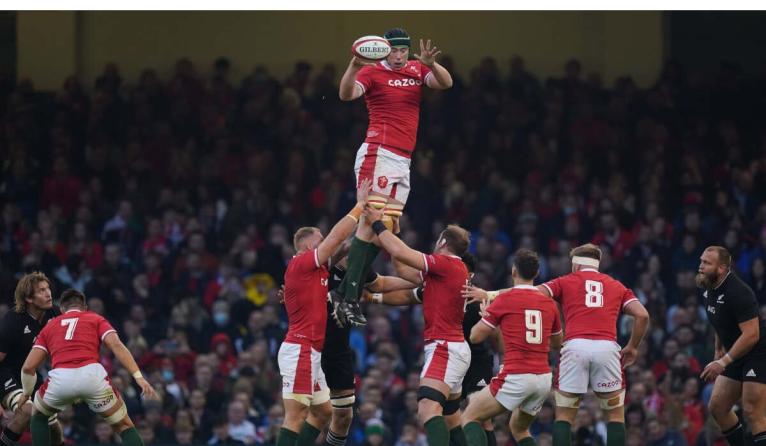 This happened on three occasions to Wales in eight minutes before half-time. Whether you can point to Ryan Elias' naivety, a lack of understanding with Will Rowlands, Adam Beard or Adam Wainwright jumping at the tail, or the technical expertise of Brodie Retallick and Sam Whitelock, what is beyond doubt is that it hurt Wales badly and halted momentum they had built.
Unless the Welsh management team can solve this particular component of the set-piece, it could be another frustrating day out against the less-than-charitable Eben Etzebeth and Franco Mostert next weekend.
Beauden Barrett puts smiles on faces
You would have to be a world-class curmudgeon not to raise a glass to the silver-booted Beauden Barrett on winning his 100th cap against Wales. While many still regale a certain Dan Carter as the finest 10 New Zealand has ever seen, Barrett at 30, can certainly be listed as one of the greats, and the final chapters of his All Blacks career have yet to be written.
His point of difference is his try-scoring ability, which was again showcased against Wales with a brace of tries after Welsh charity from, ironically, two Welsh players born in New Zealand; Gareth Anscombe and Johnny McNicholl. No matter, they were Barrett's 38th and 39th tries for the All Blacks. In doing do, he surpassed greats Jonah Lomu, Joost van der Westhuizen and Serge Blanco.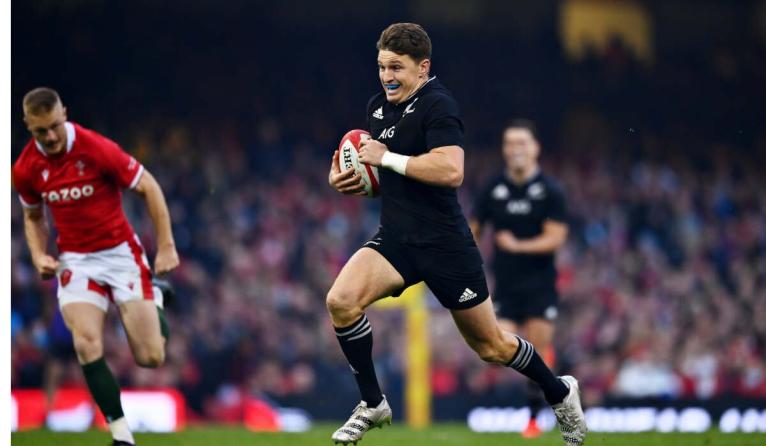 What makes his achievement particularly notable is that he's done it largely from fly-half. Compare his try-scoring feats to his contemporaries with similar caps. Johnny Sexton has 15 tries, Owen Farrell has 10 tries and Dan Biggar, seven. Again, he's operating in a different class. His anticipation, acceleration and finishing prowess point to a player of the highest calibre and what's more, he is a clean-cut role model youngsters can look up to. Reason to celebrate, whatever your nationality.
Well played, Beaudie.