Back
By Ben Kay
Ben Kay: "I'd take Ford, Farrell and Smith to the World Cup"
The esteemed sports psychologist Steve Peters, of British Cycling fame and author of The Chimp Paradox, told the England RWC 2007 squad at the beginning of our pre-World Cup training camp that we were 'The Kings'; everything else to do with the organisation was simply there to enhance us as players and our quest to operate as an elite performer; we were the Formula 1 car that every other member of the support team was working with to make their component faster. In essence, Test players are the sun around which planets orbit. As I see it, that's Eddie Jones' approach to his squad. All the support staff are there to give everything they can to the players until Eddie, or the staff member has had enough.
Eddie is good at ignoring all the white noise around him and there's a good reason for it because every single coach worth their salt, wants to win the next game, and win the next tournament. That's all that matters to him. Eddie is the same as every other coach of a Tier 1 nation in that he doesn't care how he does it. If the All Blacks didn't think the way they played was the best way to win, they wouldn't play that way. Simple. It was no different for the Springboks during the Lions Series.
It's funny, some people think players listen to the media much more than they actually do. In my experience, yes, they're aware when they're under pressure and they're losing, but when they're winning, honestly, they couldn't give a shit.
South Africa are case-in-point. Outside the bubble, everyone says they're boring, but they couldn't care less. Rassie Erasmus has won them trophies and they still hero worship him. I know it's not the romantic ideal we all yearn for but it's not the coach's job to entertain, it's World Rugby's job to make sure that the best way to win a game is by playing entertaining rugby.
In fairness to our governing body, they're addressing that, partly due to player welfare but partly because they know they'd have to make the product more palatable spectacle for a wider audience.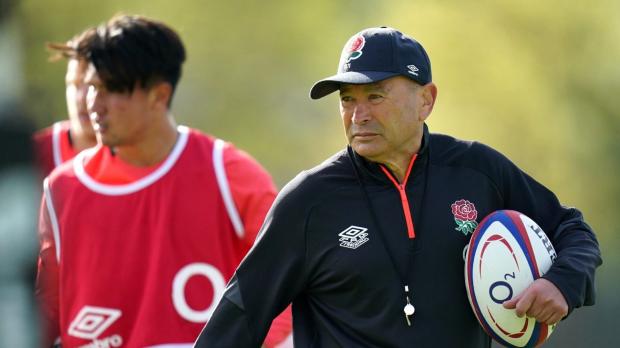 You have to be thick-skinned as a coach, and Eddie has had his fair share of flak. Personally, I don't think he's too bothered what other people think about him. If it all goes pear shaped with England, He knows he can go back to Australia, or get another job in an instant.
Selection is usually where Eddie gets most opprobrium. This is especially contentious for an England coach simply because the player pool is so big. There are always a few players pulling up trees in the Premiership in a position, where one or two or his Test selections are enduring turbulence on the field.
This is where the likes of Wales have an advantage. Fans will point to their modest player pool and the amount of success they've had – six Six Nations titles and four Grand Slams in 16 years – but it's because they've created a 'club culture'. There's not quite the white-hot competition for places, so after every game there's a public clamour for change. Jamie Roberts said as much this week in his new book, when he said Wales was a 'club' he felt more loyalty to than any other.
Marcus would be the first to admit he has been helped in looking like a rugby rockstar because under Nick Evans he's given a licence to play. Now the challenge is to transfer it onto the Test stage.
The big selection conundrum right now is at 10 where there's been something of a changing of the guard. The 10 is your quarterback, the guy who has to implement the game plan. The rugby world is littered with talented 10s who never made it at Test level and their star only flickered momentarily, even though they'd been earmarked as the 'next big thing'.
Why did Freddie Burns or Carlos Spencer never quite make the jersey their own? All of the names mentioned are unbelievable talents but did they have that elite decision-making ability? I aliken it to a sniper and knowing when to pull the trigger. People will say you want to pull the trigger in case you miss your chance, but on the flipside, more important is in a split-second knowing when it's not on and not pulling the trigger to give away their position without getting the kill.
That's why Marcus Smith is really exciting. He could get there because of his ability to execute the game plan, and his ability to light up a stadium with his individual brilliance. Marcus would be the first to admit he has been helped in looking like a rugby rockstar because under Nick Evans he's given a licence to play. Now the challenge is to transfer it onto the Test stage.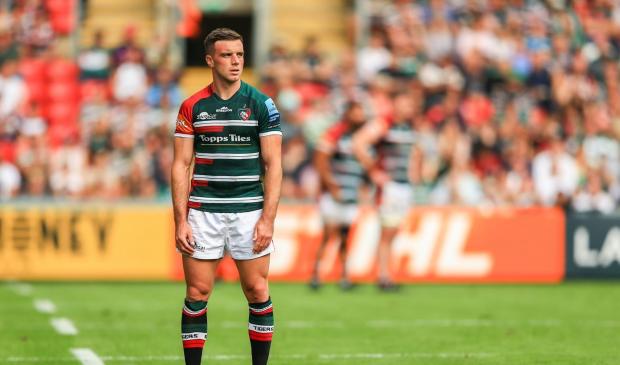 This brings us onto the fall guy, George Ford. The exclusion of Ford has brought a volte-face in the eyes of the public. People are now lauding him after he's left the England camp. As Smith's star rose, they forgot Ford was playing behind an England pack that wasn't doing particularly well and operating behind a Leicester pack finding its feet in the past year or so. I know without Ford's game management, Leicester would have been completely buggered when they went through their rough patch. The reason he gets such loyalty from coaches because he plays the way they need him to play. He sticks to the script.
Farrell is the same, he'll follow Mark McCall's game plan to the letter and that's why they're trusted and loved by their coaches.
The point of difference Farrell has is his leadership. I still don't think there's enough leaders in that England team.
People are now even mentioning whether Farrell is the odd man out, but for me, he offers something different to the other two. If you put me on the spot now, I'd say I want all three involved in the World Cup squad for France.
In 2019, Eddie only took two out and out 10s but he took a couple of players who could cover as 10 but were centres first. He could quite easily take George and Marcus as your 10s, and use Owen in that Piers Francis role, as 10 cover.
The point of difference Farrell has is his leadership. I still don't think there's enough leaders in that England team. There are a few coming through, Ellis Genge has done well at Leicester but harking back, in Sir Clive's team, if Johnno was out, you had about five other players who could step in, because we had about five club captains in the team. Guys like Phil Vickery, Martin Corry, Lawrence Dallaglio, and it was the same was at the 2007 World Cup.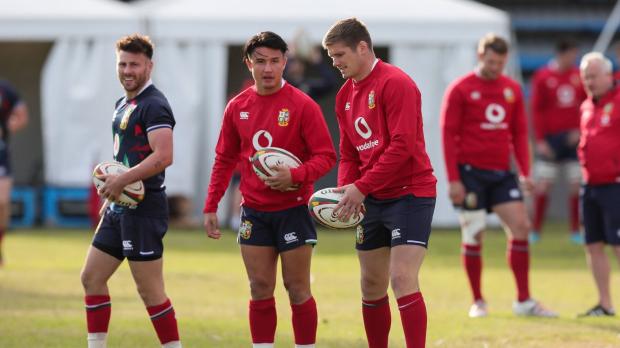 Right now, you're scratching your head a bit to think who will lead England and last week out of the lucky dip came Courtney Lawes, who was excellent.
Farrell has an aura around him. He is one of those players hated by every other team because of the way he plays, but inside the bubble I'm sure he is absolutely loved. In a way, he's similar to Dan Biggar. You couldn't meet a lovelier bloke, but most opposition fans will say, 'look at him throwing his hands in the air, he's on at the referee, he's a nightmare', but it's because it means so much to him. Sexton is similar. For England, Mike Brown was cut from the same cloth. They drive the environment. They keep everyone honest.
Take Farrell out of the squad and you haven't really got anyone else like that. He's a Roy Keane character. I hated him as a Liverpool fan, but boy would I have loved him if I was United fan.
I see Owen has been working on the paddock with Marcus and I don't think he will stifle Marcus against Australia at all. Marcus is similar to George in that he has an F1 brain, he can see stuff and compute it very quickly to make the right decision.
Finally, I do get why he hasn't picked George for this batch of games. He has 77 Tests behind him, Eddie knows what he can do, so he'll be assessing how Marcus carries himself, how he operates without the spectre of George being around, which is no reflection on George. Like everyone else, I can't wait to see how he goes against the Wallabies.