Back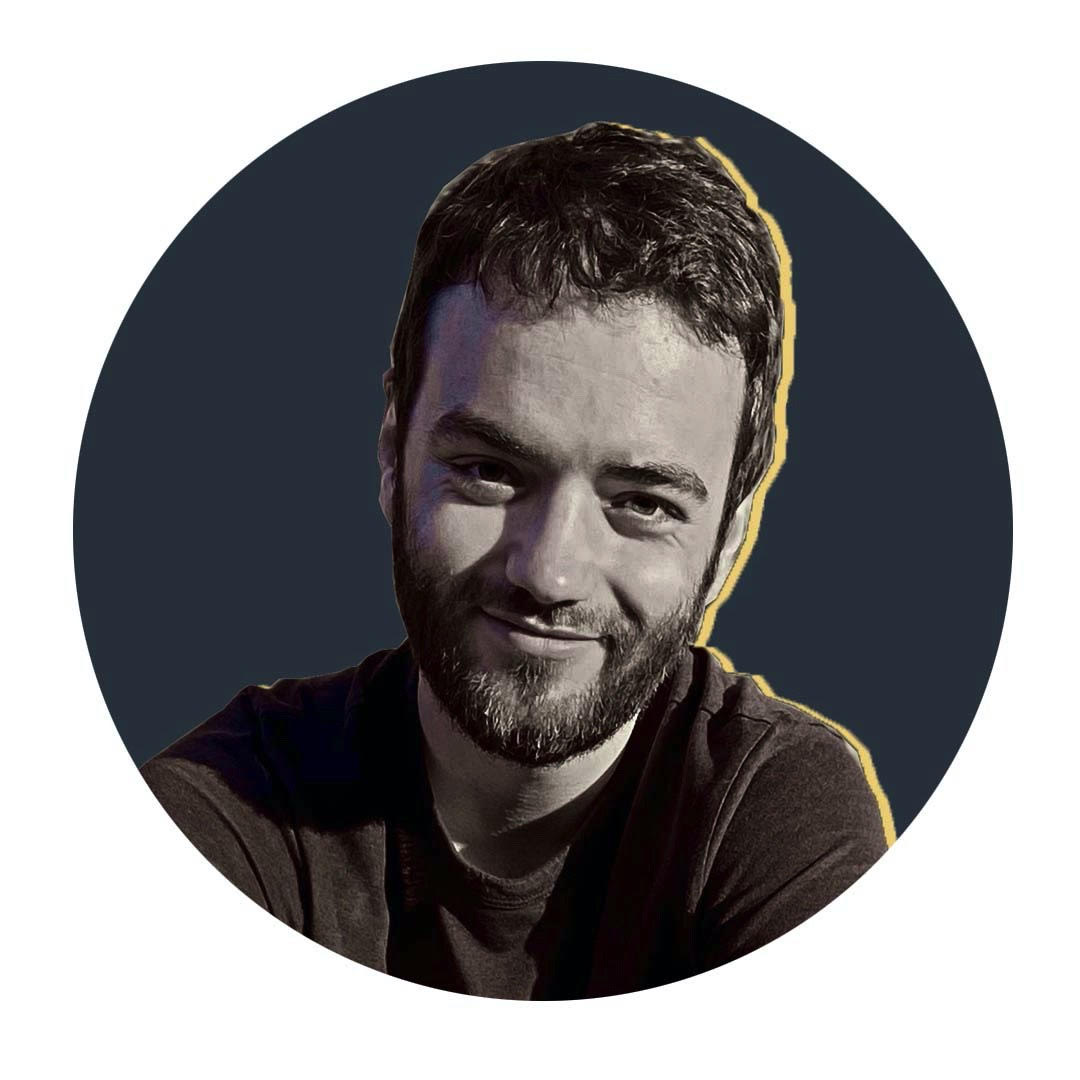 By Will Owen
How Malcolm Marx became King of the breakdown
One thing the entire Springbok squad have in common is an understanding of their unique, individual roles. Their locks are custom-designed to be set-piece brutes, their fullbacks are built to distribute and their scrum-halves born to hoof the ball into the skies.
One of the most famous decisions from Jacques Neinaber is that of deploying world-class hooker Malcolm Marx to lead the "bomb squad" into battle. Marx is arguably the number one hooker in the men's game, and undoubtedly in the top three, but Neinaber's decision to regularly introduce him from the bench is inspired. He is the perfect man to punish tired oppositions from the back of mauls and the bottom of rucks.
His 50th cap, however, came in a starting jersey. It wouldn't be controversial to say Marx was the best player on the pitch in South Africa's 26-10 win over the not-so-mighty All Blacks. While Marx will be content as an impact sub in Neinaber's system, you have to question whether you can limit performances like that to a mere 35 minutes. Marx was exceptional from the start.
Let's have a look at a few of the world class things Marx did to break the All Blacks' resolve, and break them down. The first clip we will examine is a turnover which came in the 17th minute of the first half.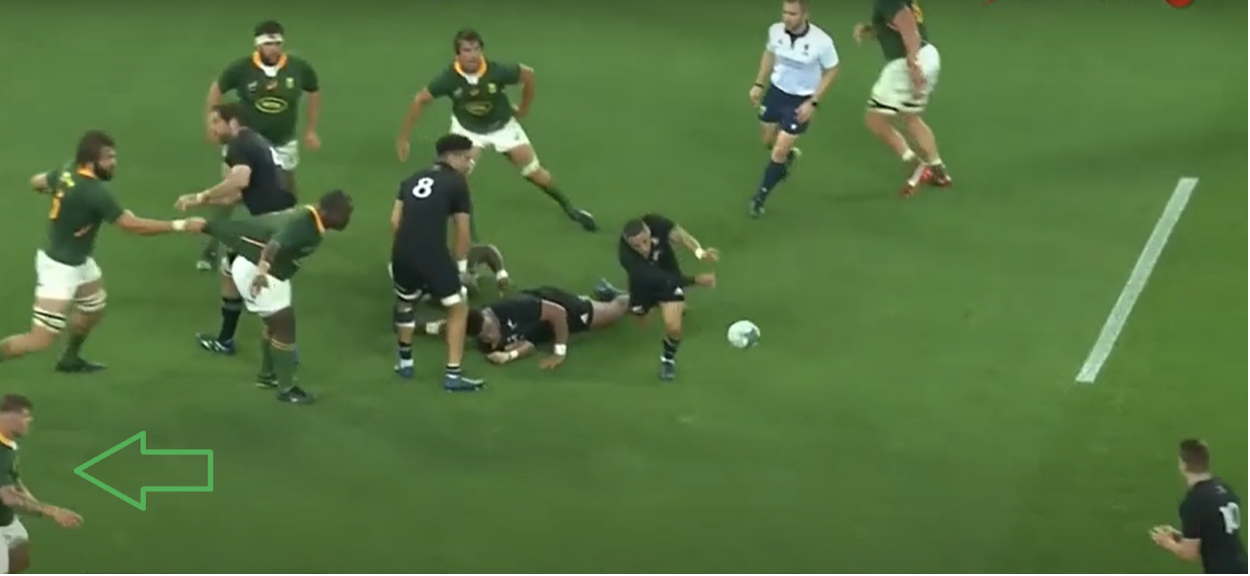 Here, Marx is on the far left, directly marking fly-half Beauden Barrett. With Trevor Nyakane on his inside, Marx defends on Barrett's inside shoulder, knowing his running threat. Marx is ready to get a two-man shot on Barrett if necessary.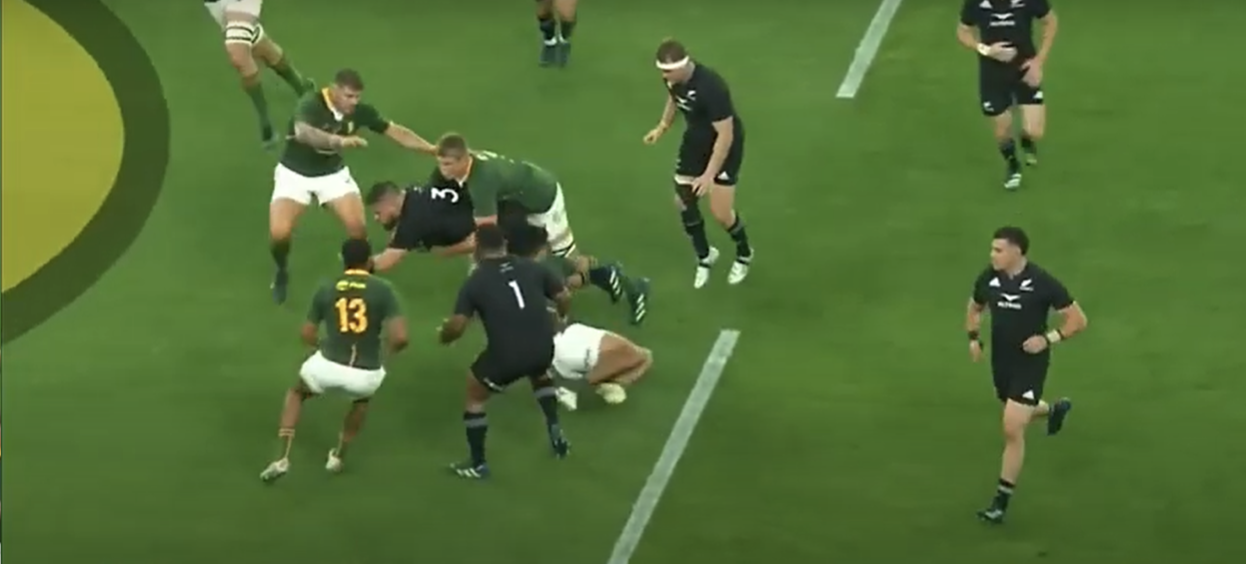 New Zealand, however, play off 10, hitting Angus Ta'avao in midfield. Damian De Allende and Pieter-Steph Du Toit double-team Ta'avao, and Lukhanyo Am gives prop George Bower a small bump to down his entry to the ruck. At this stage, instead of folding, Marx sniffs a turnover opportunity.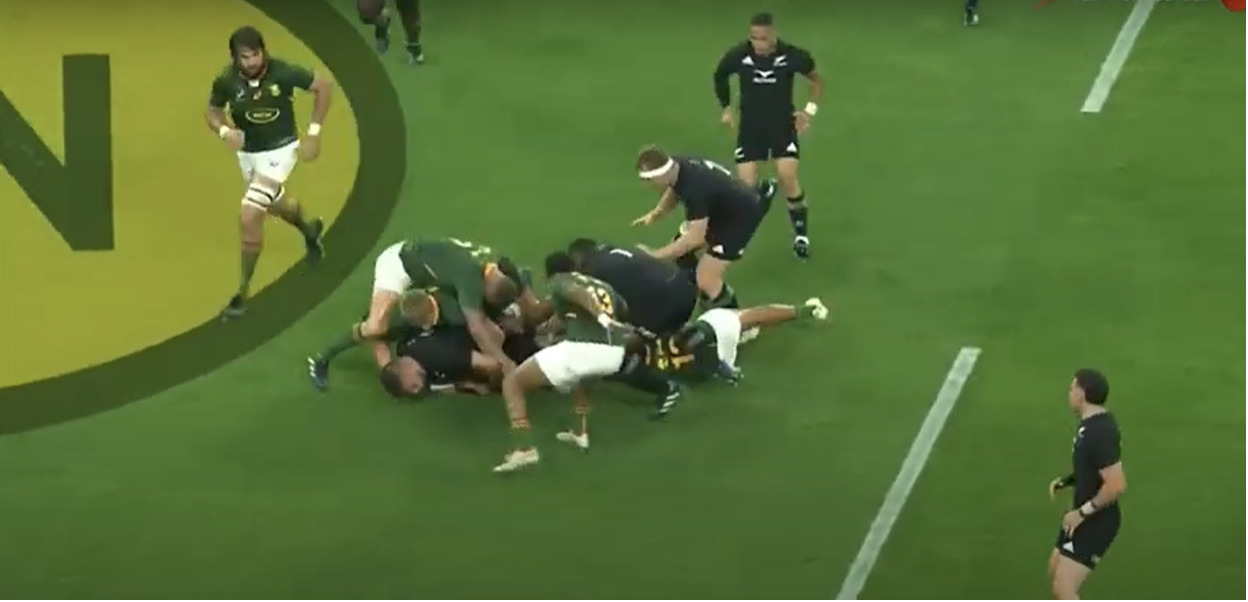 Du Toit lands on top of Ta'avao, and runs the risk of getting penalised for not rolling away. Marx, however, uses this to his advantage. He rolls Du Toit's body into his path to the ball. No referee is looking at this as a penalty – their priority is to single out any players who are lying in between the tackled player and the scrum-half.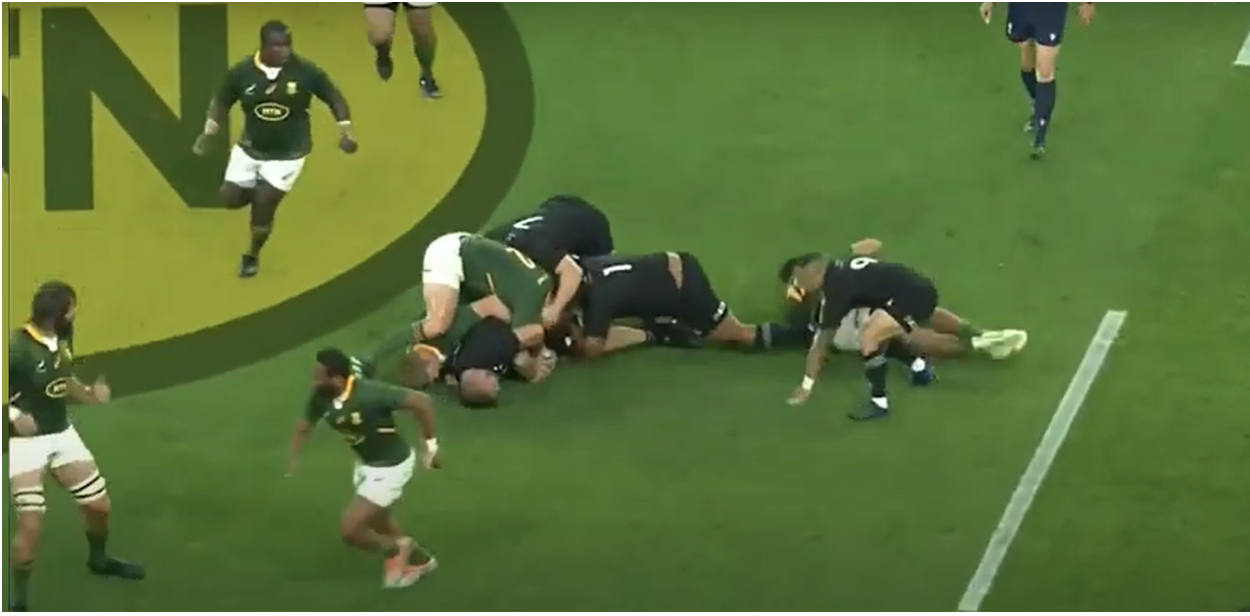 With 120kgs of South African beef on his back, Ta'avao lands on the ball himself, meaning as far as the referee is concerned, he's the one trapping the ball. Marx has technically put Du Toit in a legal position and used it to his advantage. With Bower and Sam Cane slow to clear out, Marx's hefty mitts grapple onto the ball and South Africa win the penalty for not releasing. Brilliant by both Marx and Am.
Now, let's have a look at another breakdown turnover. After all, it's one of Marx's many specialities. This one comes in the 29th minute, in slightly different circumstances.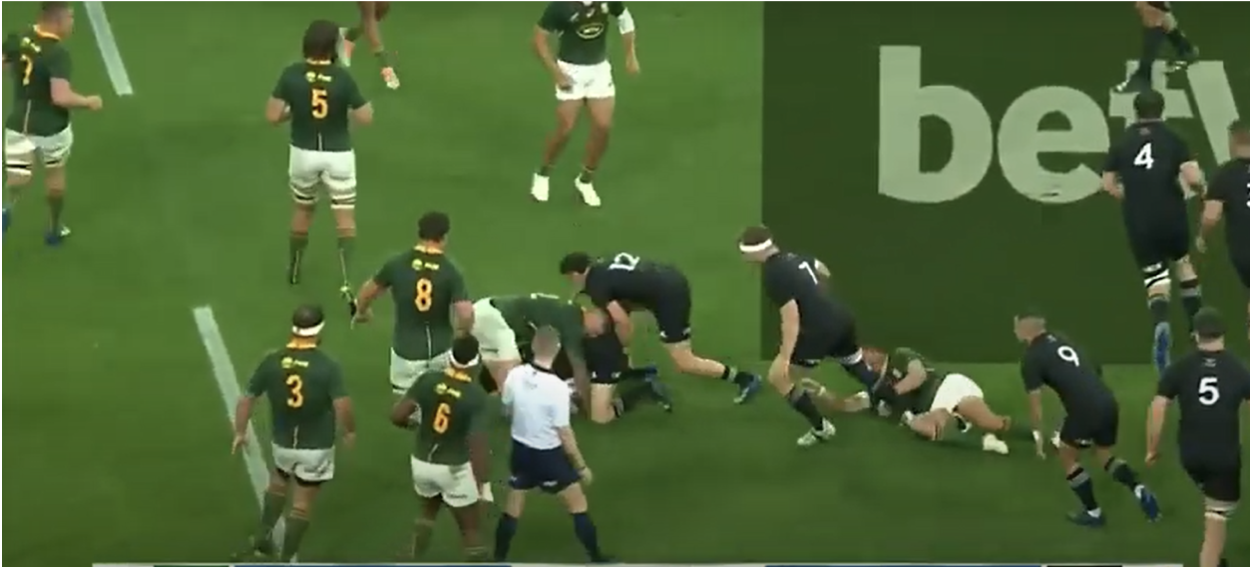 As Beauden Barrett falls into contact, Marx immediately wraps him up on the floor, with each arm tightly wrapped around Barrett's waist.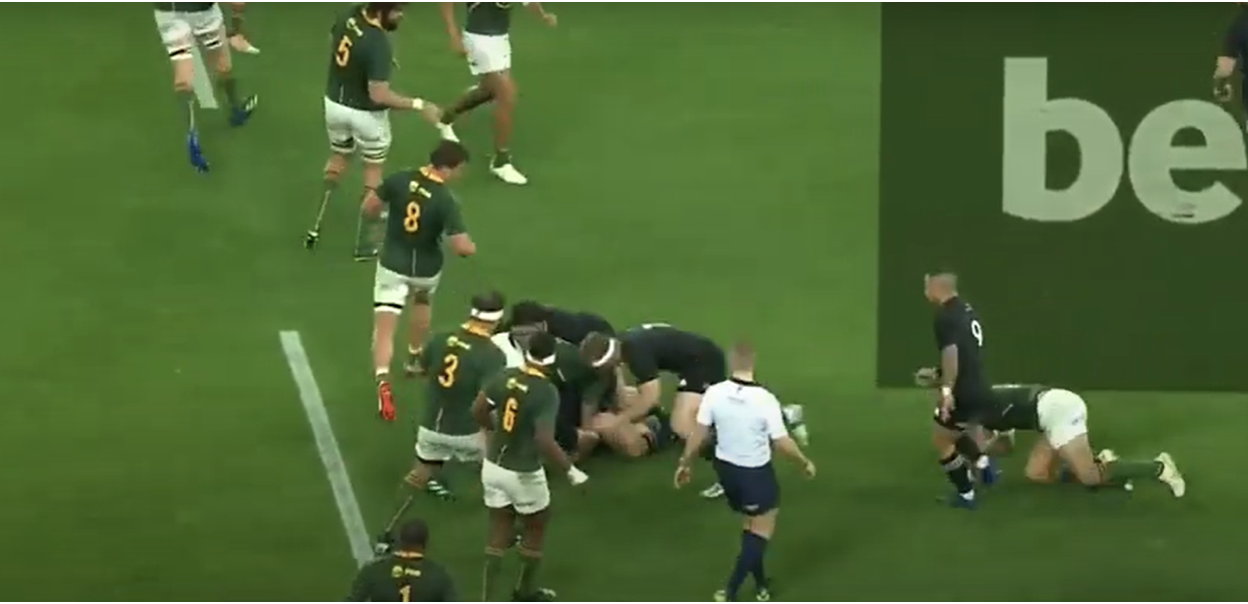 Before any New Zealand support arrives, Marx lifts Barrett's body and moves it, to show he's making an active effort to steal the ball. This means the referee is more likely to reward him, rather than telling him to move for being on the body and not the ball.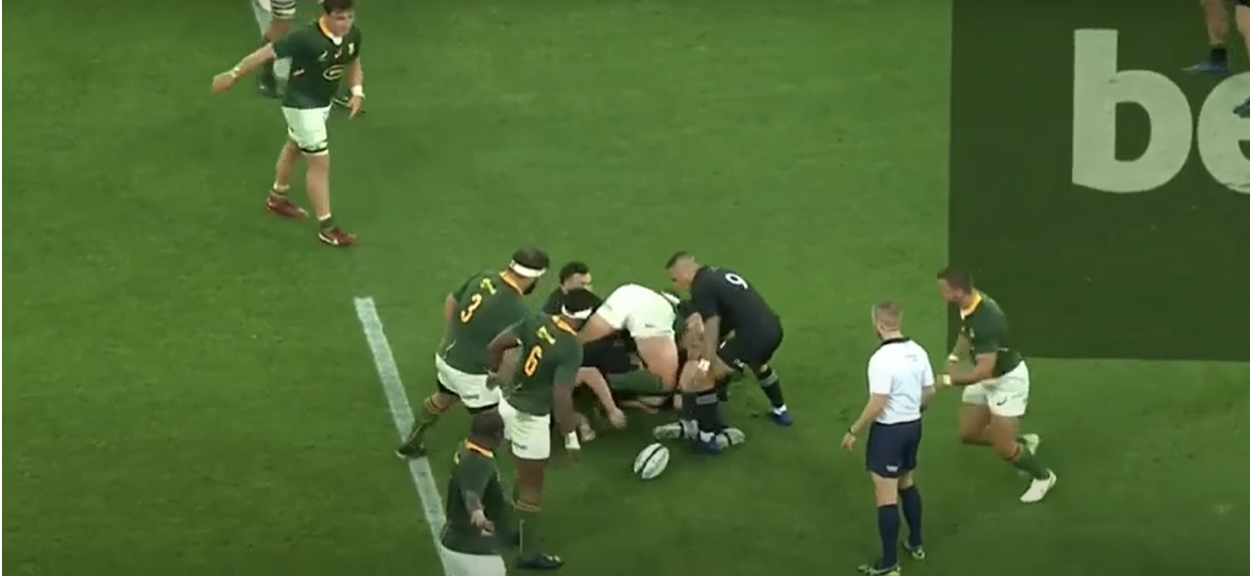 At the risk of conceding a penalty, Barrett then has to make an active effort to release the ball. He uses his hands to free it up for Aaron Smith, but has difficulty working it around Marx's adamantine frame. The ball then spills out of the ruck for Siya Kolisi to steal. Barrett makes the correct call to concede a turnover rather than a full penalty, as Marx's body position was strong enough to win his team a lineout 25m up the field.
This final example is frankly ridiculous, and much harder to muster an explanation to. Let's look at one more freakish turnover, why don't we?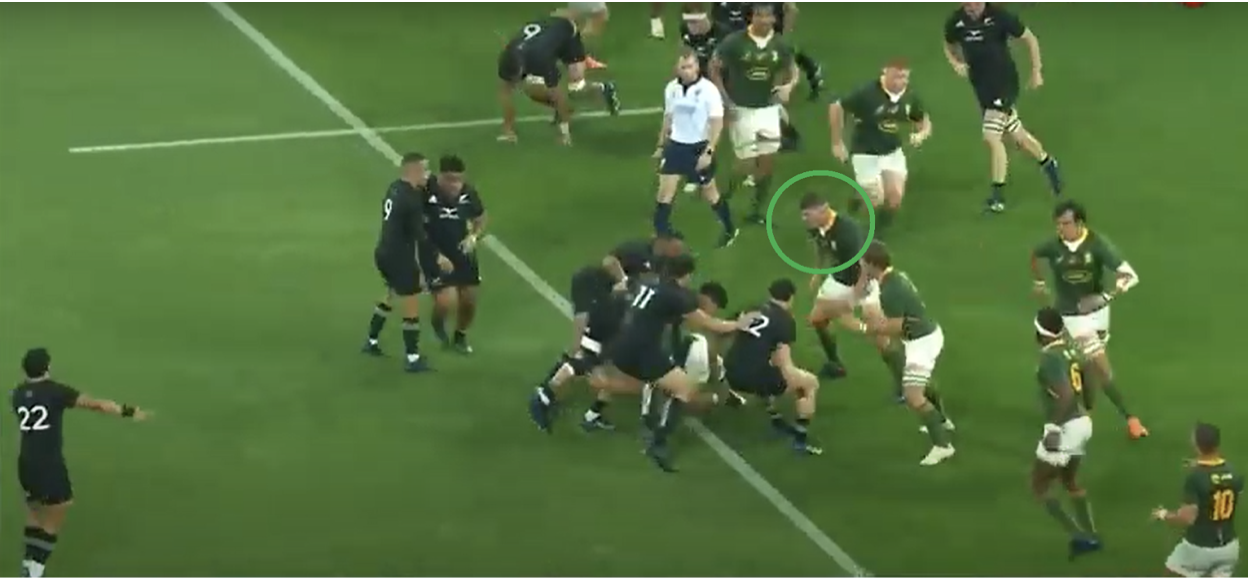 Ball carrier Ardie Savea originally bounces off tackler Jasper Wiese, but Wiese chops him on the second attempt. As Savea drops to the floor, Marx doesn't immediately contest, and it overlooked by David Havili clearing out on the right-hand side.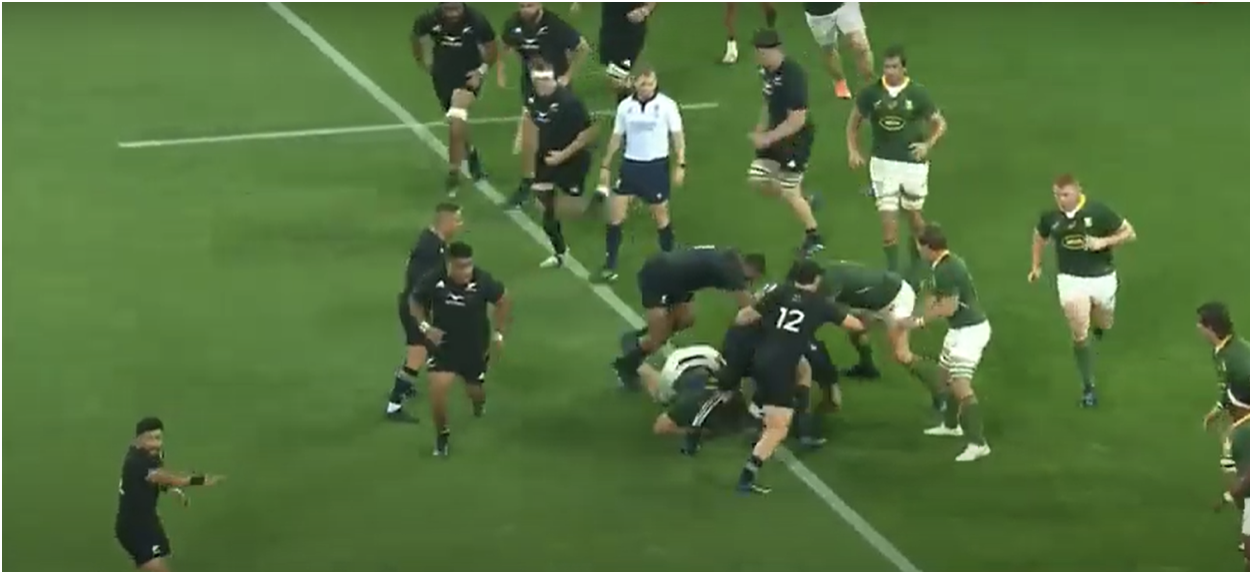 With Bower slow to the breakdown once more, Marx latches onto Savea as he is his teammate. Given Savea is still working his way to the floor, Marx can manipulate where he falls and, more importantly, how he presents the ball. Given he has latched into the gap between Savea and Bower, Marx is in control of this breakdown.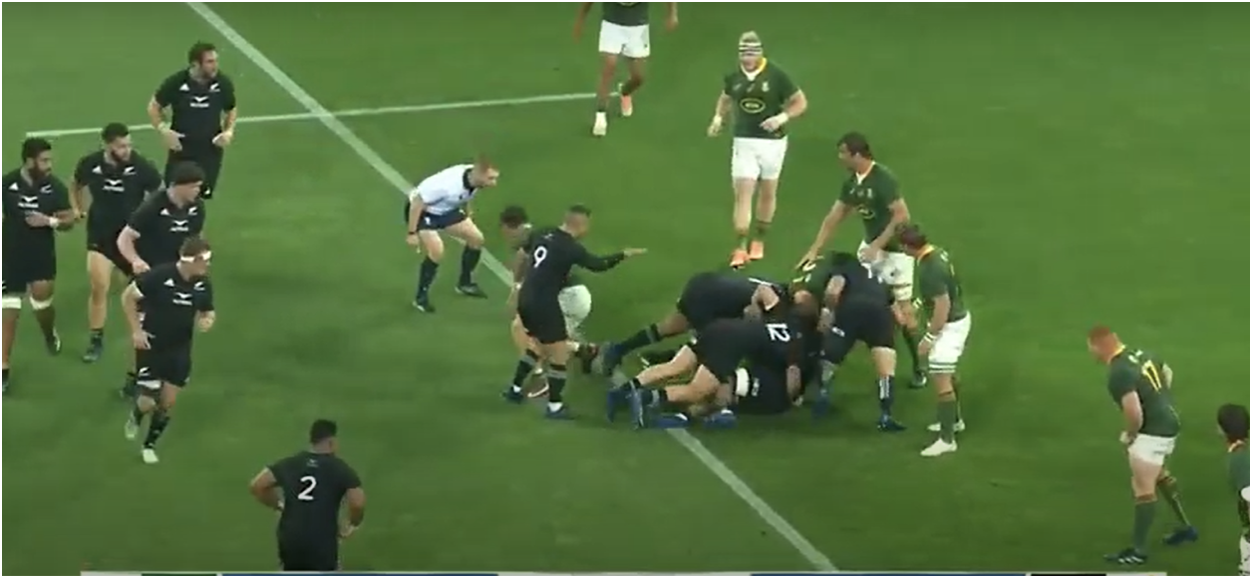 Marx rags Savea's body around on the floor and survives the efforts of Bower and Havili to clear him out. Savea can't present the ball cleanly, so just does whatever he can to present it back. As it happens, Marx's hands are in position once again to steal it. His upper body strength is one thing, but his reaction times are next level.
This turnover came in the 52nd minute when the Boks were 13-3 up. If the All Blacks scored from that position, they certainly would have been back in contention. A timely turnover by the hooker!
The crazy thing about analysing Marx in this way is the fact we've only covered a small percentage of his performance in one game. We haven't even mentioned his accurate ball carrying, his excellence at maul time, or his set-piece dominance. Not to mention he made plenty more turnovers than just these!
South Africa are blessed to have two world-class hookers in Marx and Bongi Mbonambi. It's an excellent problem to have, not knowing whether to leave this physical freak to suffocate tired legs in the second half or let him catch his prey from the off. Whichever role he is given, Marx is going to have a huge impact. Saturday's test against the All Blacks certainly didn't harm any claims that Marx might just be the best hooker in the world.