Back

By Ross Harries
Alex Cuthbert: 'We're going there to win'
"Aren't you the guy who used to play for Wales?"
The question came from a lunchtime drinker, lurching out of the pub in the Vale of Glamorgan. It prompted a wry smile, and a nod of assent. That wasn't the end of it though. The drinker wasn't ready to leave until he'd combed the recesses of his brain for the player's identity. Several clues later, he triumphantly sputtered "Cuthbert!", evidently very pleased with himself.
The use of the past tense wasn't lost on Cuthbert who a year earlier would have also assumed his test career was fast receding in the rear-view mirror. But despite our daytime drinker's faux pas, Cuthbert has not just a past in the Wales jersey, but a present and a future as well. At 32, he's aware that he's very much into his third act, but is cautiously optimistic that the best may be yet to come.
While there are plenty queueing up to declaim Wales' tour of South Africa as a fool's errand, Cuthbert, with the steely-eyed determination of a professional athlete, has other ideas.
"We're going there to win", he says, with conviction. "I'm thinking that, and people like Biggs (Dan Biggar) will be pushing that too. We're not going there for a holiday, we'll be working hard, and it's a great opportunity to be the first Welsh team to win in South Africa. I should have had that privilege in 2014, which was up there with one of my better games for Wales. We didn't take that chance, but hopefully we will this time."
That opportunity came in Nelspruit, and still stings eight years later. Wales had raced into an entirely unexpected 17-0 lead through tries from Cuthbert and Jamie Roberts, before two yellow cards allowed the Springboks back in. A renewed onslaught in the second half saw Wales build a seemingly unassailable lead with eight minutes remaining, but a heart-breaking finale saw them concede two late tries, the second of which was deemed a penalty try, meaning the conversion was from directly in front of the posts, as opposed to on the right hand touchline.
"Their ten (Morne Steyn) hadn't kicked anything all day, so we thought 'if it's a try, he's never going to get the kick and we're still going to win.' But then the ref awarded the penalty try, and we were like 'oh my god'." As the Welsh players were clustered behind the posts awaiting the outcome of the TMO referral, there was little in the way of sympathy from the rabid South African fans. "They were just abusing us relentlessly" remembers Cuthbert with a wide grin, "shouting 'Cuthbert, Cuthbert, you're fucking shit mate'. It was wild. We'd just played 80 minutes, a brilliant game and lost it at the death, and they didn't care. We should have put the game away, but those cards and that penalty try killed us. They just always seem to find a way."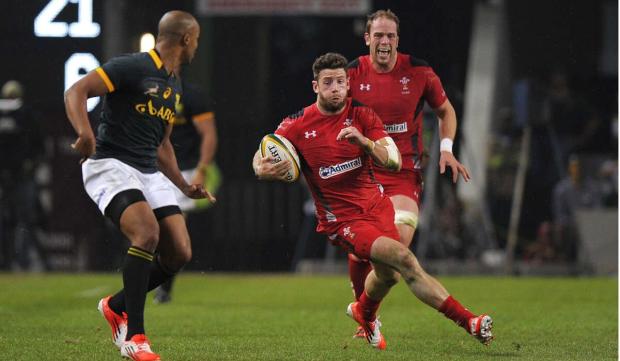 That heartbreak lies in the past. This summer, despite the doom-mongers predicting a massacre, the Ospreys flyer refuses to consider such an outcome. This conviction is borne of a new-found maturity. The 32-year old father-of-two cuts a relaxed figure these days; laid back, and comfortable in his own skin. It wasn't always this way. Before he moved to the Exeter Chiefs in 2018, Cuthbert's career had appeared to be on the slide. A dip in form had led to a loss of confidence, and the social media trolls sniffed blood. The criticism that flowed – usually anonymously – was difficult to dismiss by someone naturally inclined to pessimism.
"I don't know whether it's a Welsh trait, that we always remember the worst thing that happens" he muses, "but Southern Hemisphere players don't even bring up things like that. I'm very good mates with Gareth Anscombe, who was brought up in New Zealand, and stuff like that wouldn't even cross his mind. It's always positive. He never really looks back, whereas I always remember mistakes in games, and never really celebrate the good things. When I go and see my Mum and Dad after a game, they'll talk about the negative things straight away – 'why did you drop that pass or that high ball?' They'll come at me straight away, and I'll think 'fair enough, I thought I had a good game!' It's a mentality that we always go to the negative straight away."
I remember going into a Wales game thinking 'please don't make a mistake', and when you're running out in front of 80,000 supporters, that's the worst mentality to have.
That tendency to fixate on the negative had an inhibiting effect, meaning he approached games with the completely wrong mindset. Rather than striding forth with his chest puffed out, eager to express himself, he'd be consumed by mental demons, worried about what might go wrong. "I remember going into a Wales game thinking 'please don't make a mistake', and when you're running out in front of 80,000 supporters, that's the worst mentality to have. You just don't enjoy it, or even think about the game. You just worry about individual things, you don't see a bigger picture. You're very narrow minded."
There are few things in life that fundamentally alter a person's perspective than becoming a parent, and Cuthbert acknowledges that having children has had a profound effect on his outlook. Both his son, Harrison, and daughter, Coco were born during the pandemic. "When I didn't have kids, all I thought about was the game, and training. Now I feel like I know what I'm doing and all that is secondary. It doesn't mean I'm not working as hard, if anything I feel like I work harder, but I have a bit more freedom when I play now, and I definitely enjoy it more."
When Cuthbert moved to Devon he'd won 48 Wales caps making him ineligible for Wales under the 60-cap rule. While he was playing for one of Europe's top sides, and helping them win trophies, he was effectively out of sight, out of mind. So it came as an enormous surprise when Wayne Pivac called before he'd even laced up his boots for the Ospreys. The conversation was a positive one. The Wales coach believed he still had what it took, and was bearing him in mind for the autumn series. Cuthbert had played in the Premiership final against Harlequins on June 26th, and been rested for the first few games at the Ospreys after picking up a hamstring niggle. If he was to force his way into the test reckoning, he had two games to prove himself. He played against Benetton and Leinster, and was duly summoned to Wales HQ. The first match against New Zealand was an out-of-window test, meaning Cuthbert could well have been thrust back into the searing cauldron of international rugby against the world's most fearsome opponent a full five years since he'd seemingly bowed out. That didn't come to pass, but he did pull on that coveted red jersey in the third match against Fiji.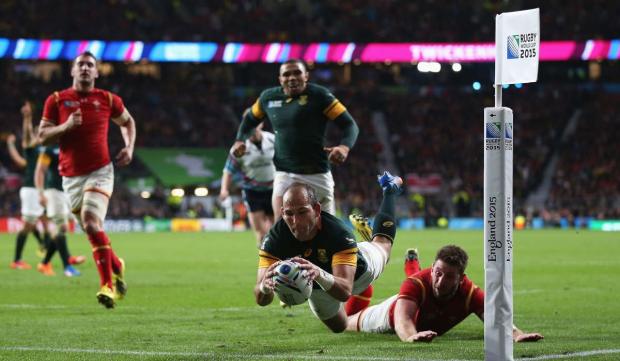 "It was pretty much like having my first cap again. That game was my first since 2017. Watching the boys win the Grand Slam in 2019, and then nearly win it again (in 2021) was hard. I missed the World Cup because obviously I left the year before, so it felt like a completely new experience. I'd heard how it was a completely different environment, but I'd played with Steve (Jones) and Gethin (Jenkins), so I felt really comfortable going in."
Cuthbert had his fair share of injury lay-offs at Exeter, and learned that as you enter you thirties, the bones start to creak a little more, and the muscles become a little more tender. "The autumn was more to prove that my body could still cope, and last a full campaign" he explains, "because it's an entirely different level from club rugby, not just physically but mentally as well. I knew I could still play international rugby, it was just whether I could still cope with the training and the load."
It's eleven years since Cuthbert first burst onto the international scene, replacing arguably Wales's greatest ever winger, Shane Williams, and winning the Grand Slam at his first attempt. He chuckles as he remembers his circumstances at the time, "living with seven other boys in a student house in Roath (Cardiff)" and drawing an academy salary from the Blues. He was cut from an entirely different mould to Williams, and at 6'6 and 16 ½ stone, he was considered a giant. "It was me and George (North) on the wings, and I don't think there were two bigger wingers anywhere in the world. Maybe Julian Savea was the only other? Our backline when we played Ireland in 2012 had an average weight of over 100 kilos. Halfers (Leigh Halfpenny) was the only light one, but he was still powerful as hell. I've changed a lot body wise since then. I'm actually a lot heavier now, and luckily I don't need to do as many weight sessions as I used to, to keep the same strength."
I don't think I've enjoyed a game as much as that, other than the fact we lost. It's shame we started so slowly, because we should have won.

Cuthbert on his brilliant performance against England
If the autumn campaign was proof he had the durability to last a gruelling campaign, the Six Nations would offer a chance to fight for a starting spot. Standing in his way was Wales' new wunderkind, Louis Rees-Zammit, whose try-scoring exploits in the previous campaign had turned him into an internet sensation. Those grumbling fans who thought Cuthbert's inclusion was a backward step would need compelling evidence to the contrary. When he was picked ahead of Rees-Zammit for the England game, social media went into meltdown. It was certainly a bold call, but what followed was nothing short of a renaissance. Wales lost narrowly, but Cuthbert delivered – statistically at least – his finest ever performance in the Welsh jersey. He was at his dynamic, explosive best, thundering into contact one minute, weaving mesmerising running lines the next. The English defence was constantly being rocked back on its heels or left clutching thin air. At times it was like watching a computer game on cheat mode. In total, Cuthbert made 14 carries for a remarkable 176 metres, beating seven defenders and making two clean breaks.
"I don't think I've enjoyed a game as much as that" he says, "other than the fact we lost. It's shame we started so slowly, because we should have won. I enjoyed it more because a lot of the boys I was playing against were mates I'd been playing with for three or four years. I picked Sladey (Henry Slade) out a few times, and ran down his channel. It was good to have a little battle with Nowellsey (Jack Nowell). He had a few turnovers against me, and I ran round him a few times, so there was a bit of back and forth. It's always good fun when you play against people you know, because you go that bit harder at them. It was enjoyable from that point of view, and obviously I'd had my baby."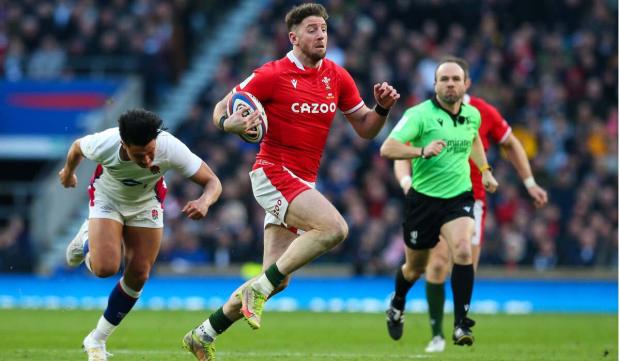 Ah yes, the baby. If preparing for your 50th cap, against your biggest rivals at rugby's HQ wasn't enough, the emotional tumult was considerably increased by the imminent arrival of his second child. It was a scheduled caesarean at midday on the Wednesday before the match. They arrived at 9am. Thirteen hours later, they were still in hospital after a string of emergencies had bumped Cuthbert's partner, Sarah, down the queue.
"We were lucky to have the baby that day" he says. "She eventually came at 11 o' clock at night, I got home at 1am, trained in the morning and then travelled straight to London. My missus stayed in hospital until the Saturday, and then Gareth Anscombe's partner picked her up and took her back to their place. She had been due on the day of the game, but the hospital managed to fit us in on the Wednesday, as that was my day off! I was sat in one of those bolt upright hospital chairs for about six hours and my back was in bits! After about six hours, I was like 'Sarah, get off the bed, I need a lie down!' It was mad, really."
While far from ideal preparation, Cuthbert relished the experience, certainly when compared to the arrival of his first born, Harrison, in April of 2020. "Back then, covid had just hit, and I wasn't allowed in the hospital, so I was sat in the car park for days just waiting for a phone call. It was an emergency c-section, so I ran in, got all masked and gowned up, watched the baby pop out, and within minutes, they were like 'right you've got to leave'. So this time it was nice to have a good couple of hours, but it was just a crazy week, actually unbelievable. 50th cap, baby, playing England."
When he got dropped, or told he wasn't playing in the England game, I went and spoke to him, and said 'mate, trust me, I was in exactly the same situation'

Cuthbert on offering Louis Rees-Zammit advice
Ironically, Cuthbert suggests that the extreme nature of the build-up might actually have worked in his favour. Rather than be consumed by the emotion of the game, he was blissfully removed from the maelstrom, in both mind and body. "In Wales, that game, the build-up the whole week is just insane, and over the years we've not been in a (covid) bubble, so we'd leave the Vale and interact with people. I lived in Pontcanna, so you can imagine, wherever I went, everyone was like 'oh England, big week…' it was just constant. But that week, we were in the bubble and I was in hospital for two days, so we didn't have any of that interference."
Given everything Cuthbert has been through in a Wales jersey, including the abuse he's suffered, it comes as no surprise that he was eager to console Rees-Zammit after taking his shirt. With more than a decade between them in age, Cuthbert considers himself a mentor as much as he does a rival. "I guess it was probably a bit of a shock to him. He was a guaranteed starter for Wales, then along comes Cuthy, this 32 year-old. When he got dropped, or told he wasn't playing in the England game, I went and spoke to him, and said 'mate, trust me, I was in exactly the same situation.'" He was referring specifically to the Lions tour in 2012 when Warren Gatland told him – despite a try-scoring performance in a victorious first test – that he wouldn't be playing in the second. "I didn't take it well at all, and that was probably my downfall for about a year or so after. I didn't have a tantrum as such, I just took it really personally. It's a team sport, and Tommy (Bowe) and his experience is probably what we needed in that second test."
Cuthbert goes on to explain how it helped him to empathise with those who aren't always in the starting 15. "I was so used to playing every single game. Since the start of my career, whatever sport I was playing, I was always starting, and always winning. My mum and dad pushed me to that point where winning was everything, so when I was dropped at the age of 23, I didn't take it well at all. I learned a lot from that, in terms of realising how others felt. At the end of the day, we all want the same thing, so it's about trying to get that across to the younger boys. Because sometimes you do take things personally, it's human nature, but none of it's personal, it's all about trying to win. Obviously we all want to play but we're all the same squad, it's not just the fifteen who are picked, and that's something I didn't used to get. Zammit took that on well to be fair to him. He went back to Gloucester, played pretty well, and ended up being on the bench for the next game."
A lot of the kids after the game, they're on Twitter straight away scrolling through, finding out what people are saying. I was like that for a year or two, but it's the end of you.
Despite the resilience shown by Rees-Zammit, Cuthbert is concerned that in the ultra-competitive world of pro sport, mental health can often be overlooked. "There needs to be more education for the youngsters around social media, because that's all they care about. People like Zammit, I know he's quite 'social media', but it doesn't seem to affect him, he's got a good mentality, but a lot of the kids after the game, they're on Twitter straight away scrolling through, finding out what people are saying. I was like that for a year or two, but it's the end of you. You can't get out of it, you literally just spiral down and you can't let go. I had to go away to escape all that. I had that time out of the goldfish bowl, I reflected, and it was the best thing I've ever done career wise, and for me mentally. I guess you need all these setbacks to mature and learn from, and it's worked out perfectly for me."
Cuthbert retained his place for the next fixture against France – another agonising, one-score defeat – but was rested for the final fixture against Italy, a game that still prompts a shudder when it's mentioned. He offers no excuses for what was widely considered a catastrophe, but baulks at the suggestion Wales didn't give their all. "The suggestion that we turned up half-arsed, or didn't care about the result is absolute bollocks. People don't see what we go through in the week. We try our best in every game, but sometimes it just doesn't happen. Whether it's the game plan, or errors, sometimes it just doesn't happen. We are quite lucky in how well we do as a nation in terms of how big we are. People are referring to this Six Nations as the worst ever, but we were minutes away from beating England, we should have beaten France, and we should have beaten Italy which would have been four wins. It's such small margins, an error here or there, it can change a game so quickly. It's a results-based game don't get me wrong, but it's never for lack of trying I can guarantee you that. We lost to Italy and everyone thinks it's the end of the world, but the bigger picture is the World Cup. Italy had to win a game in the Six Nations somewhere. 36 games on the trot without a win. It just happened to be Wales."
Cuthbert is unsure whether the Italian game will be pored over in any real detail when they return to camp, or whether it'll be confined to the drawer marked "video nasties". Either way, he doesn't see it negatively affecting their preparations for South Africa. "Probably half my caps have come against South Africa and Australia" he reflects, "and I've got a pretty good record against them, as have Wales have over the last few years. We came close again in the autumn, and it was only in the last few minutes when they unloaded their bench that they wore us down a bit."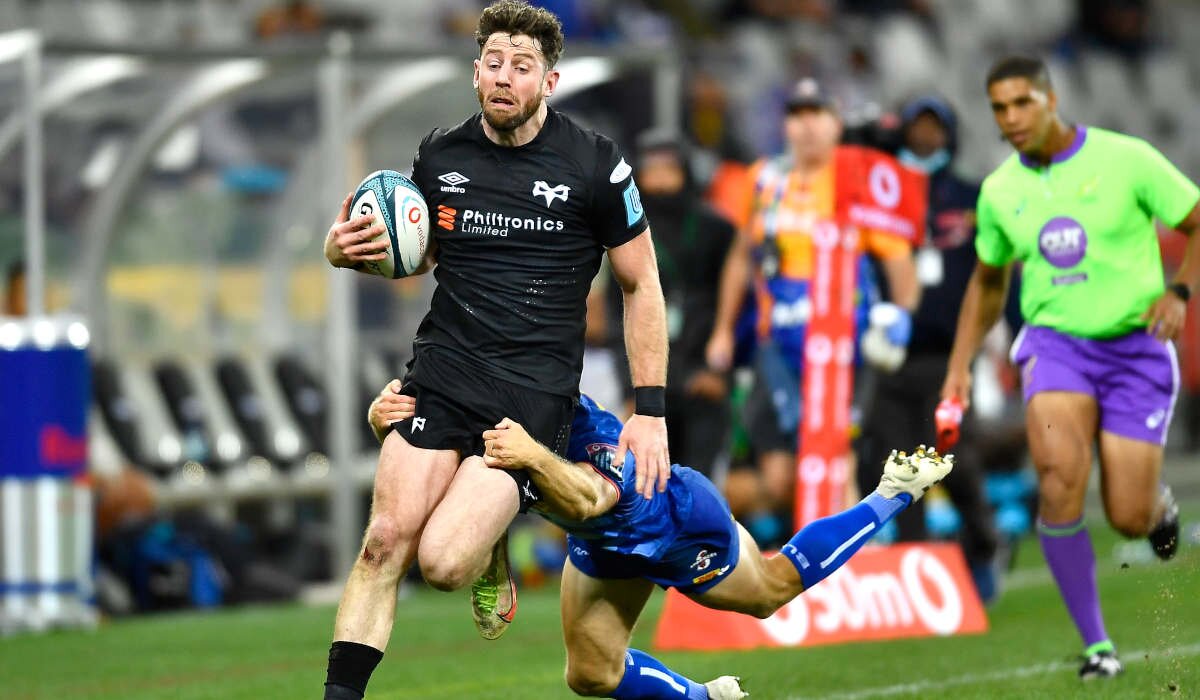 That recent good record against the Springboks, coupled with that fact their four big franchises now play in the URC, means Wales are not as over-awed as they might have been when facing South Africa in the past. Though their presence in the same domestic tournament won't necessarily provide any clues as to what to expect on the high veld come July. "Every team I've played against this season play nothing like South Africa play" Cuthbert declares. "They play completely different rugby. Their offloads, the way they swing it around. South Africa don't play like that. We know exactly what South Africa do. You just have to get up for it physically and mentally whereas teams like Australia and New Zealand throw a lot of things at you that you've got to defend, there are a lot more threats."
Domestically speaking, Cuthbert's optimism extends to the fortunes of his own side, the Ospreys. After a covid-disrupted season in which no Welsh side reached the URC play-offs, and the sword of Damocles continued to hang over the Welsh regions, the Ospreys managed to finish on a relative high. After a campaign in which nuggety, obdurate performances were the norm, they suddenly took flight, romping to high-scoring victories over their closest rivals during a cluster of Welsh derbies. With attack coach Brock James having departed, and Gareth Anscombe surging back to his best form, their trajectory appears to be curving upwards. "During the last couple of months, we've ended up having our full squad (to choose from), but don't get me wrong, we could still work a bit more on our attack in terms of getting the ball to boys like myself a bit more and linking up with the forwards better."
No one really remembers how many caps you have, but they'll always remember a certain moment in your career, and I've been privileged enough to have been involved in a few iconic moments
A fully fit Ospreys backline now looks tastier than a smoking South African braai. Rhys Webb, Gareth Anscombe, Owen Watkin, George North, Cuthbert, Mat Protheroe, and Keelan Giles are all the types of player that get supporters up off their seats, and as Cuthbert observes: "the pack is the front five for Wales isn't it really? Gar Thom, Dewi Lake, Franny, Beardy and Alun Wyn. We've got some great players. Next season, we're going to take the Champions Cup a bit more seriously. Hopefully we'll get a kinder group and we'll see how we go. We've won a lot of games this year, I know we've shipped a few too many points in the games we have lost, but I've enjoyed it there. Being at Cardiff for ten years, I never thought I'd play for the Ospreys. We used to love playing against them for the Blues. They always seemed to have all the players, and we loved beating them."
That's next season. Before this one draws to a close, Cuthbert and his Welsh teammates will board a plane to the home of the world champions. If covid restrictions are eased as anticipated, the likes of Loftus Versfeld, Newlands and the Free State Stadium will welcome capacity crowds for the first time in more than two years. The glass half-empty brigade are already talking of damage limitation, but Cuthbert wants another tick on his already impressive CV. "No one really remembers how many caps you have, but they'll always remember a certain moment or particular game in your career, and I've been privileged enough to have been involved in a few iconic moments. The Grand Slam, that England game in 2013. People still come up to me now and talk about it. Someone actually asked me in the pub recently if my son was called "30-3" which was a bit weird, but I want to be able to say I've beaten the world champions in their back yard. We've got three shots at it. Everyone's going to write us off aren't they? They think we're going to get hammered, and that's probably the best way to be, especially with the Welsh team."