Why does it always rain All Blacks test debuts when the Pumas are involved?
Blooding newcomers to the test rugby scene is not an easy task.
Although there are some players who take to international rugby like fish to water, most take a little bit of time to find their feet.
For every Rieko Ioane there's a Francis Saili. For every Lima Sopoaga there's an Aaron Cruden.
Since Steve Hansen ascended to head coach of the All Blacks, he's almost rolled out almost 70 new caps. Brodie Retallick, Aaron Smith and Julian Savea all debuted together back in 2012, whilst Sevu Reece will become the latest when he runs out onto José Amalfitani Stadium this weekend.
Given that players aren't always on the top of their game when they make their first appearances in black, it's no surprise that Hansen and his fellow selectors have typically opted to blood newcomers against relatively weaker opposition.
New year, new blood
When Reece takes the field, he will become the 10th player to be capped by Steve Hansen's All Blacks against Argentina.
Assuming that the bench quartet of Atu Moli, Luke Jacobson, Josh Ioane and Braydon Ennor all get to run on at some point, the total number of players capped against Argentina under Hansen's reign will reach 14.
Until late last year, Argentina had been Hansen's team of choice to give newbies their first test cap, but Japan then jumped to the top of the table when a hugely inexperienced All Blacks team was rolled out to deal to the Brave Blossoms.
Made famous in Japan
Japan are not a country that the All Blacks face often, but when the two sides do tee off it's become common for New Zealand to run out a makeshift team full of debutants.
Last year, Mitchell Drummond, Dillon Hunt, Dalton Papalii, Matt Proctor, George Bridge, Gareth Evans, Tyrel Lomax and Brett Cameron all earned their first test cap against the Brave Blossoms. Back in 2013, it was Dominic Bird, Frank Halai, Luke Whitelock and Jeffery Toomaga-Allen that ran out against Japan for their test debuts.
Unless something especially unusual happens, the 12 players blooded against Japan will be surpassed on Sunday morning.
Keeping reading below…
Tellingly, however, very few of the players who do earn their stripes against Japan have gone on to forge great international careers.
The four who debuted in 2013 have amassed just 10 caps between them (with 7 of those being Whitelock's). All four are signed with foreign sides for 2020 so won't be eligible for the All Blacks.
It's obviously too early to write off last year's crop, but Hunt and Cameron seemed to fall down the pecking order at their Super Rugby franchises while Gareth Evans has a number of younger loose forward ahead of him around the country. Matt Proctor will be playing in England next year. There's still plenty of time for the likes of Papalii, Bridge and Lomax to forge successful international careers.
Argentina debutants, on the other hand, have so far proven to be quite successful under Hansen's current tenure.
Long-term success from Puma debuts
Charlie Faumuina, Nathan Harris and Waisake Naholo all featured at the last World Cup after debuting against the Pumas whilst Codie Taylor and Damian McKenzie have been regular selections since they earned their first caps. Angus Ta'avao has probably already exceeded many people's expectations and will start another test this weekend and Te Toiroa Tahuriorangi could still see plenty of game time in the future.
David Havili was probably unlucky to miss out on selection in this year's All Blacks squad, leaving just Francis Saili as the sole 'disappointment'. Saili could well have spent a number of years in the team, however, if he didn't decide to head overseas early in his career.
Argentina is evidently just the right level of difficulty to blood newcomers – not a walkover, but a frequent enough opponent that New Zealand has never really been too surprised by what the Argentinians have thrown out on the field.
Wales, Ireland and France, who have all toured New Zealand in the June tests since Hansen took over, have also faced a number of newcomers. France, in particular, have been on hand to blood 10 debutants, courtesy of two tours. Given that these European sides tend to be the first teams that New Zealand faces in a calendar year, it's not a surprise at all.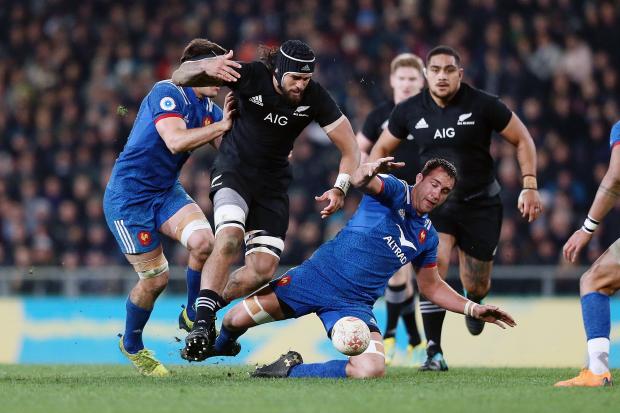 It is a bit peculiar that so many players have debuted against Argentina given that the All Blacks don't tend to face the Pumas until four matches into the year at the earliest. Obviously, the six potential debutants this year will contribute a significant amount to the figure, but this is the only team where the All Blacks have really let loose with the newbies in one fixture. Typically, just one or two players will get their first cap against the Pumas – though that seems to happen like clockwork. The fact that the two nations square off twice every year (World Cup years excluded) obviously plays a big role.
No lambs to the slaughter against Boks
Whilst Argentina help NZ blood the most players, it's the All Blacks' number one foes who rarely get to face newbies.
Only two players have made their debuts for the All Blacks against the Springboks in the last eight years: Lima Sopoaga and James Broadhurst. To make for an even tougher baptism, that 2015 match was played at Ellis Park, one of the toughest grounds to travel to.
South Africa have traditionally been one New Zealand's toughest opponents, so it's not unusual that few players have to find their feet against the Springboks. Games against South Africa also tend to come a bit later in the season, once the June tests and the first couple of Rugby Championship games are out of the way, so it would be unusual for many uncapped players to still be included in an All Blacks squad by that point in the year.
If the potential debutants all run out this weekend then every player in the current 39-man All Blacks squad will have at least one international match to their name. Whilst it's not impossible, we're unlikely to see any further uncapped players join up with the All Blacks this year, meaning this Argentina fixture will be the sole game in which new players are blooded.
Given that the World Cup is just two months away, it shouldn't come as a surprise that Hansen has tried to get the test debuts out of the way early in the year. Some of these newbies are fighting it out for just a few spare spaces in the squad, so they don't have the luxury of taking their time to find their feet on the international stage that other players have had in previous years.
Argentina may not be the toughest opponents in the world, but five new All Blacks look will find out this weekend that international rugby is a major step up from the matches they've become accustomed to.
Comments
Join free and tell us what you really think!
Join Free