'When the Russian anthem was played, you couldn't hear a note. That's how hostile the crowd was.'
We've heard all about the Test rugby haves this weekend. Glamour Six Nations fixtures. Bumper attendances. Massive global TV audiences. Top-class entertainment by excellent players who are household names.
But spare a thought for Europe's have-nots, the tier two countries who begin their own B level tournament next weekend dwarfed as ever by rugby's greatest championship.
These minnows – Georgia, Russia, Germany, Spain, Belgium and Romania – exist firmly in the shadows. Low profile games. Mostly meagre crowds. Limited TV appeal. A lesser standard of rugby featuring players whose names mostly aren't recognisable.
Few will notice their opening round exploits compared to the publicity the round two Six Nations matches in Edinburgh, Rome and London will generate. But Dubliner Mark McDermott isn't complaining. Currently on a 10-day camp in Alicante before heading to Madrid to take on Spain next Sunday, the Russia head coach knows spring-time anonymity will eventually give way to unprecedented September exposure.
Russia are slated to open the World Cup against host nation Japan and they are intent on making it a success, their confidence inflated by a narrow 27-32 defeat at Gloucester a week after much of the same Cherry Blossoms XV gave England quite a Twickenham scare.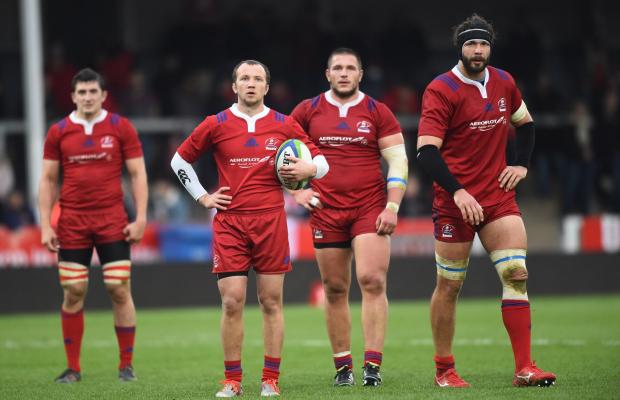 'Japan took that game reasonably serious so it brings a huge degree of optimism that come opening day, with the amount of work that will be done in the interim, that September 20 game can be competitive.
'The world is going to be watching Russia and for a country that is trying hard, it's a great pick-me-up to have that opportunity. It's magnificent way to raise the Russian rugby profile.'
A magnificent way, too, to raise McDermott's reputation as their third finals match is against Ireland, his native country. He spent around 13 years working at the IRFU, coaching the Irish under-21s to a 2004 World Cup final appearance versus New Zealand.
Continue reading below…
'Playing your own home country should be exciting. But from a results perspective, let's call a spade a spade – there is dreamers and there is reality. Ireland are No2 and Russia are No19. You don't have to be Einstein's reincarnation to work out why.'
McDermott is an accidental Russian. He was working outside rugby in Trinidad & Tobago when a call first came from the federation asking to help as forwards consultant. He'd been recommended by Conor O'Shea and Steve Aboud, the Irish pair now heading up Italian rugby, but he initially declined.
However, after five months back in Ireland in a commercial role, curiosity got the better of him. He put in a call, learned the position was still vacant and quickly spent 10 days in a country he'd never previously been to. That was August 2016 and he is still there two-and-a-half years later, commuting from his Dublin home.
The experience has been an eye-opener. 'You can travel to an awful lot of places in Europe and if you don't have the language you can still get by. In Russia, there is very little English spoken so that is a bit of a barrier.
'I'd been travelling over and back to Russia for two years prior to the football World Cup and had never gone on the Moscow metro on my own. Nothing was in English so I wouldn't have known where I was going, but football and its travelling supporters made the place far more accessible.'
McDermott's instructions are translated by Russian skipper Vasily Artemyev, who came through the ranks at Dublin's Blackrock College. 'He's 100 per cent articulate in English. Words don't naturally translate from English into Russian and vice-versa, so you can have players who can have a sprinkling of English but things still get lost in translation. Vasily is the lifeline to any foreign coach here.'
#RURAwards: A true ambassador for Russian Rugby, our Men's XV captain and, since November, our new Union all-time leading try-scorer with 32! Our's Men's XV Player of the Year is Mr. Vasily @VA_rugby Artemyev! pic.twitter.com/xMpyRPsCPb

— Rugby Union Russia (@russiarugby) December 17, 2018
Building the squad hasn't been a smooth process, managerial upheaval and travel taking their toll. Alexander Pervukhin was sacked as boss following an opening round loss last year to Spain, resulting in McDermott learning via congratulatory messages on WhatsApp from players that he was taking charge on in interim basis. Lyn Jones, the former Ospreys Celtic League winner, has since been appointed.
'If you were to go to Russia and think you were going to change the world in one year you're probably going to one out of a job in one month. You have to embrace the culture, try and seed in ideas that are more high performance related than the level of the domestic competition.
'It's a logistical nightmare running domestic competition in Russia, not to talk about international rugby. All players are professional – six clubs operate out of three cities, Krasnoyarsk, Moscow and Krasnodar – but it's not comparable to anywhere.
'The game went open in the world in 1996 and it took many countries and professional clubs in top tier countries a number of years to get professional structures, but those organisations have now grown to where they are at.
'In comparison, Russia is probably maybe in year five to when the game went professional in the world. It really is backroom resources. There is only 12 to 15 matches a season and you have a fairly restricted player base. The top sides would maybe have Georgians, Moldovans, Ukrainians, Latvians, Lithuanians and Tongans playing which doesn't necessarily stand well for the development plan and progress of domestic players into the international set-up.
'There are many challenges within Russian rugby. The biggest challenge is we are isolated in some way from the rest of the rugby world when you factor in the language, the size of the country, the climate and so forth. But with qualification for the World Cup and a change in governance at the Russian Federation, things are going in an upward curve.'
Climate is the reason Russia will base themselves at Antalya in Turkey for the second phase of a Six Nations B tournament rocked by a 2018 player ineligibility crisis. Romania, Spain and Belgium were all punished, leaving Russia qualifying for the World Cup despite winning just four of eight matches.
This Rugby Europe controversy highlighted how difficult it is to run tier two rugby. Russia's average home attendance the past two years was only 5,000. Yet while McDermott is at a loss on how make the competition financially thrive, he recommends every rugby fan making a pilgrimage to Tbilisi to catch a Georgia-Russia match.
'I don't know how you really grow that tier two competition without having considerable commercial and TV input. Maybe if some games were played in other countries as curtain raisers to other internationals, that might expose it.
'But one of my everlasting memories will be Russia against Georgia in Tbilisi in 2017 at a 60,000 capacity football stadium that was near full capacity. Politically there are conflicted relationships between Russia and Georgia and that carried into the stadium.
'Not in a violent nature but we talk about atmospheres of Ireland v England, Scotland v Wales. I would recommend that anyone in their lifetime, if they are a true rugby supporter, go and watch Russia v Georgia in Tbilisi.
'It's an unbelievable experience. You won't have seen the likes of it before. From all my days in Thomond Park (with Munster) I have never witnessed anything like it. Swear to God. It's a state of the art stadium, modern PA and all that but when the Russian national anthem was played you couldn't hear a note through the PA system. That's how hostile the crowd was.'
The World Cup finals will likely end McDermott's Russian adventure, though. All the coaching staff have been offered a two-year extension, but a job in Irish sport is his preference.
'Between my stint in Trinidad & Tobago and Russia, I have been on the road for five years so I could be coming close to the end because of the travelling. But I'd like to stay in rugby, stay in sport. That would be the intention.'
RUGBY EUROPE CHAMPIONSHIP 2019
ROUND ONE Saturday, Feb 9: Romania v Georgia (Cluj), Belgium v Germany (Brussels); Sunday, Feb 10: Spain v Russia (Madrid).
ROUND TWO Feb 16: Russia v Belgium (Sochi), Romania v Germany (Botosani); Feb 17: Georgia v Spain, Tbilisi.
Comments
Join free and tell us what you really think!
Join Free