'This is it for me... every journey has its end and every curtain has its call'
Saracens and England winger David Strettle will retire from professional rugby at the end of the current season following a 17-year career.
The 35-year-old has made over 325 appearances at club level for the North Londoners, Rotherham, Harlequins and Clermont, as well as earning 14 caps on the international stage.
Strettle said: "I spoke to my wife and we decided now is the time to say goodbye to rugby. There are some more adventures for me elsewhere. I'm lucky enough to be able to look back, be very proud and privileged to have done some of the things I've done.
"There was a time when I was at Clermont I thought I'd retire so everything from that point has been an unbelievable bonus for me and to come back to Saracens has been incredible. When I first joined the club there was a saying called 'ELE' – Everyone Loves Everyone – it's very true. There are no prima-donnas, no one is treated better than the others.
"Saracens will always have a special place in my heart and I have some amazing memories to take forward. I'm looking forward to the last couple of months before creating further memories outside of rugby."
A 17-year career that has seen him play for @RotherhamRugby, @Harlequins, @Saracens, @ASMOfficiel and @EnglandRugby will end at Allianz Park. ?@David_Strettle has announced he will retire at the end of the season. ??

— Saracens Rugby Club (@Saracens) April 23, 2019
Saracens boss Mark McCall added: "To watch Strets play is to forget you are a coach and to be a fan of rugby. 
"Competitive in the air, graceful on the run, intelligent in defence, he has produced some of the most memorable moments of skill ever seen in a Saracens jersey; often in big games, often under the greatest pressure. That is the mark of a truly great player. 
"Off the field, he is a dedicated team mate and family man. Saracens have been fortunate to have David for two spells at the club and he leaves having made Saracens a better place. We wish him and his family every success in the future."
OPEN LETTER FROM DAVID STRETTLE
Death, taxes and rugby players' retirement statements on social media… all certainties of life in this day and age. 
So, this is it for me. Every journey has its end and every curtain has its call, and I'm now having to admit that I can't play rugby forever. There's always that nagging doubt in the back of your mind as a rugby player, that nudges you to say, 'go on…one more year!'. Sometimes you listen to it, but sometimes you take a step back and realise that now is time. This can come into sharp focus when you're sharing a changing room with lads who were just a glint in their dad's eye when Gazza missed that cross against Germany at Wembley by an inch of his studs! 
But as the old adage goes, it's better to have loved and lost than to have never loved at all. Speaking to some players who have retired recently their advice is to embrace it. Like any fork in the road, retirement is just another opportunity to grasp and I am of the belief that there's still so much to look forward to in life after rugby. 
Yet, I won't gloss over the fact I am leaving a sport and a way of life, that has given me so much opportunity, and in turn, has provided me a wealth of memories, friendships, and life lessons since I first laced up my boots as a snotty-nosed kid in Warrington.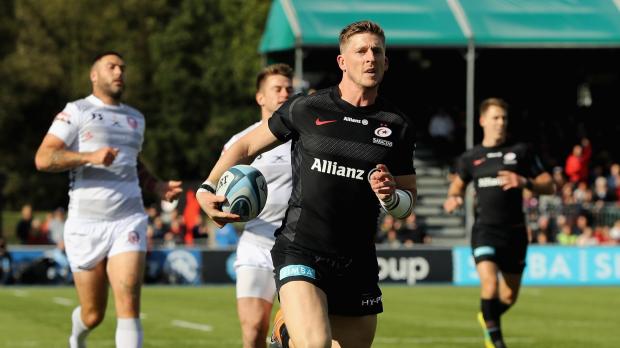 From finding so much enjoyment in playing the game at my local club Lymm RFC, to learning the ropes at Rotherham Titans – then being lucky enough to play at three of the elite clubs our game can boast in Harlequins, ASM Clermont Auvergne and Saracens, I have been incredibly lucky throughout my career.
To play for my country is something that I will look back on with immense pride, on both the Sevens circuit and then for the England national side. I still sometimes have to pinch myself to think I've enjoyed the opportunities I've enjoyed. 
I'd also like to thank Saracens, who provided me and my family with the opportunity to return to Allianz Park for one more season. I feel incredibly lucky to come back to this club, and a massive thank you must go to Nigel Wray and Mark McCall, all the coaching and backroom staff, past and present for their support and encouragement, and my teammates, for sharing so many experiences and memories with along the way. 
The wise head of @David_Strettle notched two more #Heineken #ChampionsCup scores in the QFs ?

That took his overall totoal to 19 over the years ??

Will the @Saracens winger help them reach the final? pic.twitter.com/LJcFKdTPk5

— Heineken Champions Cup (@ChampionsCup) April 2, 2019
My final thanks go to my family. To my mum and dad, for doing what every good parent does by believing in me and providing me with the support and dedication to make the world my oyster. 
Latterly in my life, to my wife, Phoebe, and my two little munchkins, Isla and Leo, for giving me the perfect reason to play rugby, to make them proud.
So… from me, thank you. Thanks for all your support, thanks for all the memories, and here's to making one or two more before I become another one of those grumpy old timers who charge modest sums to speak at your local rugby club to trot out the tired old clichés! 
Ta, Strets!
WATCH: Part two of The Academy, the RugbyPass documentary-series on Leicester Tigers

Comments
Join free and tell us what you really think!
Join Free