'There was a bit of bitchiness in camp, it was a pretty bad place to be' - Callum Sheedy on Bristol before Lam
It's been quite a profitable routine at Bristol. Haul Callum Sheedy, the starting out-half, off around the hour mark and then watch replacement Ian Madigan bank all the glory with a late intervention off the kicking tee.
Three times in the last eight weeks it has happened, the Irish play-maker delivering in the closing moments in the Gallagher Premiership. He clipped Saracens' wings a fortnight ago, his penalty bagging a 23-21 win, and during March, his touchline conversion secured a 26-24 success at Northampton eight days after his penalty sealed the 28-24 derby triumph against Gloucester.
It's the sort of headline grabbing contribution that could make Sheedy jealous, but not a jot. Anything that helps the team succeed is more than welcome. "Mads is one of my best mates at the club," Sheedy told RugbyPass. "He's brilliant and I will take that all day. If I can do okay for 60 minutes and then he comes on and wins the game, I'm more than happy with that. No worries about that.
"It would be easy to sort of pretend you are matey with your opposite number. At the end of the day you're competing for the same jersey and you want to start. I want to be No10. Mads wants to be No10. Don't get me wrong, there is big competition, but at the end of the day we are really good friends off the pitch and on the pitch that is what is making us both play so well this season.
"If Mads gets the chance, I have no doubt he will have an outstanding game and it will put the pressure on. If I get the chance to play 10, I want to do my best to put Mads under pressure. Having that competition in the squad – and it's pretty much in every position from one to 15 – if you have that pressure on yourself to keep the shirt you're only going to improve. If you don't improve then the guy behind you is going to take your place. It's special what we have got now as the squad."
(Continue reading below…)

It wasn't always the case at a yo-yo club that endured some turbulent times before Pat Lam arrived with his vision to turn Bristol into a powerhouse capable of consistently competing in the Premiership. Now 23, Sheedy is thrilled with the transformation.
"I've been at the club five years," he said, embarking on an interesting then and now comparison. "My first season, Andy Robinson was in charge and it was the year we lost to Worcester in the Championship play-off final. That was pretty dark times.
"Andy Robinson was a great man. I enjoyed working under him, but we probably just didn't have that cohesion as a team, we were quite cliquey. It was little groups here and there, probably not as harmonious as we are now.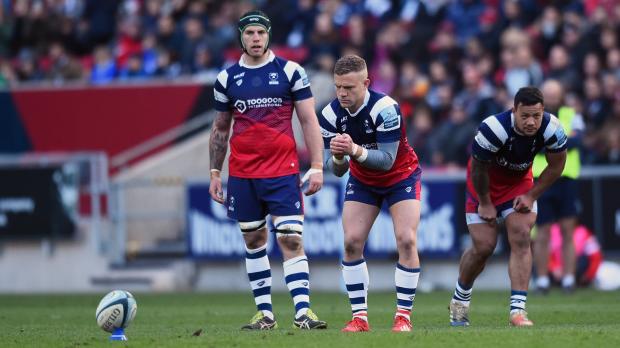 "The next season we managed to get promoted, happy days. Then the year after was the Premiership season where we won I think two games the whole year and it was pretty dark. Everyone was wondering who was going to play, no-one knew who was first and second choice. There was a bit of bitchiness in camp, it was a pretty bad place to be.
"Then Pat came in and stripped everything down. It was like, 'This is my vision, you're either on the bus or off the bus'. Pat had no problem if players wanted to be off the bus. He only wants players on the bus who are fully committed to the cause.
"It's a cliched thing to say, but at the moment the camp we have is literally like going to work with your 40 best mates. You turn up for work and you genuinely enjoy it. Pat makes it a really enjoyable environment and you can tell by a few of our results, beating Saracens with six or seven injuries. It's just a really good place to be and everyone is really exited by how we are going."
The stark choice of being on or off the Lam bus was put to Sheedy not long after the Samoan breezed in the door at Ashton Gate. He'd just come off a season where he'd even been loaned out to Jersey. Now, nearly two years later, he hasn't forgotten the jolting message delivered in that career-shaping conversation.
"We did a one-on-one when he first came in and I'd just come back from a lengthy injury with my hamstring and was probably nowhere near as good as I am now. I was pretty average. My skillset was average, I wasn't working hard enough.
"He said to me you have a raw talent. If you want to put the work in, then you can become something, but if you want to become lazy – and I was pretty lazy at the time – then you're not going to get much further.
"He really pushes extra skills so on a day off, he will put skills on optionally. He's really keen on boys if they're not 100 per cent confident in their pass, their kick, you put the hours in, you put the work in and you will reap the benefits.
"He was the one that taught me to go out and get the extra work in because when I was young I was lacking. I thought, 'Oh, I'm decent enough'. But to go to next level you have really got to put the hours in. He taught me that."
Sheedy's lineage is an example of how the Bears are a cosmopolitan melting pot during the Lam era. He appeared for both Wales and Ireland at underage levels (his mum's Welsh, his dad Irish), while he is currently English qualified through residency. "It's an odd one, isn't it?" he said about his international status, but he is very much settled in Bristol where the rugby club is increasingly becoming a respected part of the wider community.
Take a look at last week's @BristolBears #TrainWithYourHeroes session at @Cheddar_Rugby. The U10s were coached by #GallagherPrem stars @ljmorahan, @Sheedy95 and @hazrandall9 ? pic.twitter.com/RfDMJ1jxeR

— Gallagher UK (@GallagherUK) April 26, 2019
"The last couple of years we have been getting out a lot more, getting a lot more community stuff done. Even players who probably wouldn't play a hell of a lot of first-team games, people still recognise them and that has been brilliant.
"You go down to the shops and people are stopping you and talking about the games. It feels like we're really cohesive with the fans and have got a really good bond. The social media team is really linked to the fans – the fans almost feel the are like part of the squad and that's a real special feeling," continued Sheedy, one of the Bears who delivered a Gallagher Insurance Train with your Heroes session to the Cheddar RFC under-10s.
He understands the importance of these relationships, reflecting on his own youthful encounter with some Cardiff Blues players. "When I was 10 or 11 and we had a few Blues players come down. They were only with us for 20 minutes and they didn't do a hell of of a lot, but just seeing them there, it was 'I want to be that guy'. It really gave you a little boost and made you just want to play the best you can and enjoy it even more.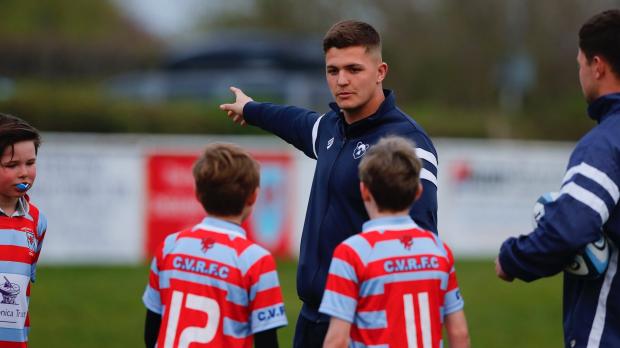 "Pat's vision is to inspire the community through rugby success and the first part of that is us as rugby players getting out and seeing the young kids. Their faces light up when they see us and there is no better feeling. Pat's real keen on us getting out and about and it helps when we're winning games.
"Two years ago you'd turn up to our Premiership game and it was like, 'Are we going to get a 50-pointer (beating) today' whereas now you turn up for the Saracens game and people are genuinely expecting you to beat the champions.
"The fact that we have given the fans that hope and that expectation, it puts a bit more pressure on us but we love it. It's brilliant for the fans. They're incredible. We'd 14,500 again the other week and we're averaging over 13,000. It's such a special place."
?| Is there a better sight than one of the biggest legends in rugby leading our victory song? ?

UP THE BEARS! ? pic.twitter.com/xuhC3xRwu6

— Bristol Bears (@BristolBears) April 20, 2019
This weekend, though, they must succeed on the road if they are to keep alive ambitions of the top six finish that will secure Champions Cup qualification. That won't be easy given their own inconsistencies away from Ashton Gate and Leicester's dire need to quell the threat of relegation.
"We want to get 15 points from the last three games and if that is enough to get in the top six, fantastic. If it's not we will have done all we can in the last three games. We have dropped a few points away from home in games we could have won, but that is all part of the learning process.
"Welford Road is a real tough place to go and win. Leicester have had a difficult season but they had a good win at Newcastle, so they're on the up. It's going to be a huge task but we have a young group mixed with experience and we'll be buzzing going up there."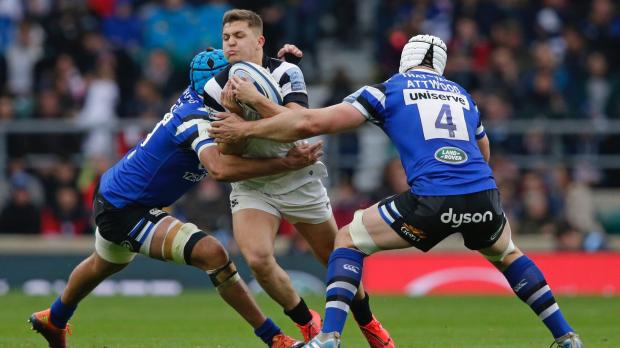 Comments
Join free and tell us what you really think!
Join Free