ANALYSIS: There are just four more rounds left in the regular season of Super Rugby. For some players, that means only four more rounds to stake their claim for a spot in the All Blacks.
The selectors will now have a reasonable idea as to their loose forward composition for the upcoming year. Kieran Read, Ardie Savea and Sam Cane will all be in the squad. All three players can cover at least two different positions in the loose forwards. That leaves room for maybe two more bona fide loosies – probably in the form of two blindside flankers.
Liam Squire is yet to make an appearance in 2019. He will likely be favoured for the squad as the incumbent no. 6 but will be in desperate need of game time before the All Blacks' big matches. In all likelihood, he will be left out of the squad that travels to Argentina and may instead be tested in the Maori All Blacks' two matches against Fiji. A call up to the main All Blacks squad for their remaining Rugby Championship tests against South Africa and Australia would cap off his return to top level rugby.
Vaea Fifita and Shannon Frizell, with nine and four caps respectively, are the senior All Blacks blindside options operating in Super Rugby this year. Fifita made his debut for New Zealand in 2017 – one year before Frizell – but lost ground to the Highlanders loosie in 2018.
Luke Jacobson and Tom Robinson have been touted as players for the future but have been turning enough heads in Super Rugby to suggest that they could be close to a call up too. Jacobson has certainly made a big difference for the Chiefs since his return from injury and it's simply a case of when not if for the big Waikato flanker.
Statistically speaking, Frizell and Jacobson have stood out above their competition.
On attack, Frizell has been the most industrious in the tournament to date. With 59 metres gained for every full match played, Frizell is chewing through more ground than any of the other options. That's courtesy of making more runs and linebreaks per game.
Frizell is also well ahead of the chasing pack in tackle busts, averaging almost four every game. Jacobson, who's next closest, is breaking half as many tackles.
In recent years the All Blacks selectors have preferred players who aren't afraid to do some of the less glorious work on attack. Jerome Kaino was a good link-man when necessary, but with a number 8 like Read on the field, it was more important for Kaino to hit the ball up in close contact to make space for his teammates.
Perhaps where Frizell stands out the most on attack, then, is in the grunt work. With over three pick and drives to his name per game, Frizell is again ahead of the other three contenders. None of the other options are even averaging one per match.
Jacobson is the other player to put his hand up for creating havoc for opposition teams – best seen in his superlative performance against the Highlanders. Jacobson is making more offloads and creating more linebreaks per game than the other blindside flankers. Jacobson's ambitious offence, however, has led to him conceding the most turnovers and making the most handling errors per game.
The All Blacks have never been afraid to select players who are willing to chance their arm – there's such a thing as a positive mistake. They'll certainly have high hopes for how a player like Jacobson could potentially add to their attack, but maybe as a backup to Read who has a greater license to roam than the blindside flanker of the day.
Defensively, Jacobson is also performing to a high standard. Robinson has made the most tackles (111) of the contenders, but he's also played 200 minutes more than Jacobson, who's made only 9 fewer tackles. At over 14 tackles a game, Jacobson is comfortably the busiest on defence. Jacobson's tackles are also more dominant than the other players' and he's been very successful at cutting down opposing runners' momentum.
The biggest downside to selecting a player like Jacobson is his size. Jacobson is both shorter and lighter than all three other options, with Robinson at 110kg and 198cm and Fifita at 111kg and 196cm topping the log. This is no better illustrated than in the setpiece, where Fifita, Frizell and Robinson have all been used as genuine lineout options for their Super teams.
Having a blindside flanker on the field who can also be used in the lineouts is a huge boon for any international team and something the All Blacks selectors have always strived for. This factor certainly pushes Jacobson down the queue – the other players can, to some extent, up-skill in the areas that Jacobson excels, but Jacobson will never be the best physical fit for a world class blindsider.
There is one other area, however, where Jacobson has shown himself to be handier than the other candidates, and that's in winning possession for his team during general play. Jacobson is forcing more penalties than the other three players combined – courtesy of his dominant tackles. Perhaps Jacobson's size and prowess means openside is his more natural position.
There's still time for players to make a statement in Super Rugby – especially with the finals series only a month away. Steve Hansen and his fellow All Blacks selectors will be particularly interested in how the possible blindside options perform in knockout matches, which will be more similar environments to test matches. At present, you'd have to expect to see Frizell and Squire selected in the All Blacks squad – but perhaps there's still some wiggle room that the other candidates will be hoping to exploit.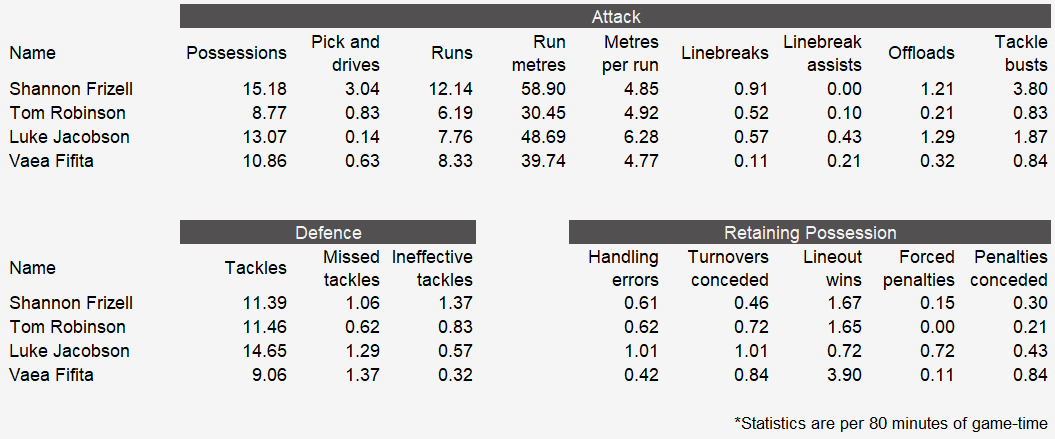 Mailing List
Sign up to our mailing list for a weekly digest from the wide world of rugby.
Sign Up Now