Recap: South Africa v Argentina LIVE | Rugby Championship
Follow all the action from the World Cup warm-up match live on RugbyPass as South Africa host Argentina at Loftus Versfeld in Pretoria.
Keep up to date with the latest score, stats and join the conversation anywhere in the world from in our Live Match Centre (click here).
Here, Paul Dobson of rugby365.com sets the scene, first asking is this friendly really a Test match?
Without wanting to be negative, it is a question that should be asked as we look ahead to Pretoria and some 35 000 people who have bought tickets. Look at the two teams. Of the 30 players who started last Saturday's Test, there are two still in their positions.
Of the Springboks, nobody who started last week will start again this week. Of the Pumas, Ramiro Moyano and Pablo Matera are back again and three have shifted their positions – Jerónimo de la Fuente, Javier Ortega Desio and Marcos Kremer.
South Africa name their side to face Los Pumas next Saturday in Pretoriahttps://t.co/zS7fQYfn69

— RugbyPass (@RugbyPass) August 14, 2019
That's five out of 30 – 17 per cent. Somewhere, somehow, it does not seem best versus best. It is understandable in this World Cup year that there is experimenting to be done. It is understandable that squad members need to get game time.
But why call it a Test? It could have more honestly been South Africa A versus Argentina A, leaving a Test to be a nation's best versus a nation's best. Point made.
We still have a rugby match to look forward to, to be played by outstanding players. All of the Springbok starters have Test caps – from Siya Kolisi and Jesse Kriel, who are into the 40s, to Rynhardt Elstadt, who has just started. 
The Pumas have two new caps in Lucas Mensa and Santiago Carreras. The rest are all capped Pumas and include strong Pablo Matera. A lot will depend on how the players find each other when the battle becomes intense, and the Pumas are likely to want intensity and collision in the game.
Players to watch
Amongst the Springboks, there are clever Warrick Gelant, speedy Sibusiso Nkosi, intuitive Dillyn Leyds and Cobus Reinach, who was excellent when he came off the bench against the Wallabies in Johannesburg. 
Among the forwards, there is surprisingly skilful Rudolph Snyman, who seems not to need a rest, and his lock partner Lodewyk de Jager, who may well need the match to be on the trip to Japan after a wobbly time with injury.
Of the Pumas, one would especially like to see their wings, Sebastián Cancelliere and Ramiro Moyano in action as they both have the speed and talent to be world-class wings. Then there is clever Jerónimo de la Fuente. 
In the forwards, they have several strong, battle-hardened men. The pack could well lay the foundation of a Puma victory, and to lead them is Pablo Matera, the silent assassin.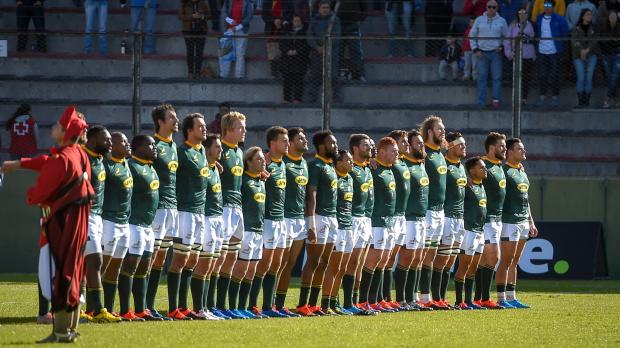 Head-to-head
Pack versus pack could be the contest that decides the match. Unless there has been a miracle, the Springboks will dominate the scrums. There are not many scrums in a match but each one has the ability to influence morale and so the direction of the match. 
Last week, there were 10 scrums in which the Pumas were penalised six times – surely a record of some kind for a Test match. 
Hardman versus hardman – Pablo Matera versus Rynhardt Elstadt. Matera is three years younger than Elstadt but has over 50 caps more. He has great international experience, but Elstadt may just be the most fearless rugby player in the world. There could be a clash of strength here. 
Locks versus locks could be a great contest, especially in the lineouts – Lodewyk de Jager and Rudolph Snyman versus Tomás Lavanini and Guido Petti. The Puma pair will not blink in the contest. The battle for the loose ball could be interesting as neither side has a robber chief but expect Marcell Coetzee to be prominent.
SOUTH AFRICA: 15. Warrick Gelant (6 caps), 14. Sbu Nkosi (7), 13. Jesse Kriel (43), 12. André Esterhuizen (7), 11. Dillyn Leyds (9), 10. Elton Jantjies (34), 9. Cobus Reinach (11), 8. Marcell Coetzee (29), 7. Rynhardt Elstadt (1), 6. Siya Kolisi (41), 5. Lood de Jager (39), 4. RG Snyman (14), 3. Vincent Koch (14), 2. Schalk Brits – captain (12), 1. Thomas du Toit (9). Reps: 16. Scarra Ntubeni (uncapped), 17. Lizo Gqoboka (1), 18. Wilco Louw (12), 19. Marvin Orie (2), 20. Marco van Staden (2), 21. Kwagga Smith (3), 22. Faf de Klerk (23), 23. Frans Steyn (59).
ARGENTINA: 15. Joaquin Tuculet, 14. Sebastian Cancelliere, 13. Jeronimo de la Fuente, 12. Lucas Mensa, 11. Ramiro Moyano, 10. Joaquin Diaz Bonilla, 9. Felipe Ezcurra, 8. Javier Ortega Desio, 7. Marcos Kremer, 6. Pablo Matera – captain, 5. Tomas Lavanini, 4. Guido Petti, 3. Santiago Medrano, 2. Julian Montoya, 1. Mayco Vivas. Reps: 16. Agustin Creevy, 17. Nahuel Tetaz Chaparro, 18. Juan Figallo, 19. Matias Alemanno, 20. Tomas Lezana, 21. Gonzalo Bertanou, 22. Ben Urdapilleta, 23. Santiago Carreras.
WATCH: Springbok coach Rassie Erasmus on his team to face Los Pumas
Comments
Join free and tell us what you really think!
Join Free