Scotty Stevenson's Ten Takeaways from Highlanders v Reds
1. If you're going to win in Dunedin, don't kick the ball to Ben Smith.
Desperate times call for desperate measures and for much of Friday night's game at Forsyth Barr, the Reds just needed a way to get out of their own 22. There are many ways to do this, and none of them should ever involve kicking the ball shallow to the Highlanders' fullback. Ben Smith's ability to attack the line and free up a team mate with a well-timed pass is almost invariably the catalyst for a scoring drive. Smith finished the game with a team-high 71 metres, most earned on kick counter.
2. Jordan Petaia is the most exciting back in Australia.
The 18-year old ran for more metres than anyone else in this game but, crucially, augmented his attack stats with some excellent defensive work. The more experienced Samu Kerevi may have made the bigger hits, but it was Petaia who made the biggest impact. Fast, agile and blessed with excellent game sense, Petaia was ocassionally caught short on the rush, but wouldn't have to cop all the blame for that.
3. Luke Whitelock is better than you think he is.
Big brother Sam gets plenty of plaudits for his quiet aggression as captain of the Crusaders, but Luke deserves admiration for his cool-headed  eadership of the Highlanders. Fallling behind in the final quarter, the Highlanders could have gone full chaos mode but instead settled for (mostly) grafting away at an inexperienced Reds bench. It was excellent leadership from Whitelock who's efforts at the ruck before Dillon Hunt's match-winning try illustrated how crucial his tireless efforts are to the team.
4. Every ground needs a Zoo.
Let's look at the ways the Zoo is amazing:
1. A DJ playing songs your Grandparents smoked weed to.
2. Every single person singing the words.
3. Spontaneous Waisake Naholo chanting.
4. Everyone having a great time.
5. Consensual frottage.
6. Actually full.
7. People also watching some rugby.
5. Liam Coltman wants you to know he is still there.
Putting aside the lineouts for a second (The Highlanders' lineout operated at 71%, the Reds' at 62%) and the fact the Reds scored two of their tries from lineout turnovers, and let's focus on Coltman's other work for the night, because you can't lay all the blame on his darts. To be blunt, the man ran a greater support role than a Wonderbra, never once shirking a carry – even after getting melted in his first hit up of the game – and was Hore-like over the ball on defensive ruck duty, helping nullify more than one promising Reds attack.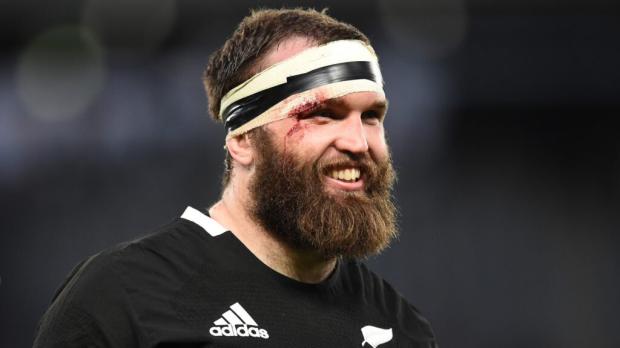 6. The Reds have more hitmen than the mob.
Head Coach Brad Thorn made a two-code living out of smashing the will to live out of opponents, and at least some of the big man's gift for inflicting pain is rubbing off on the Reds. Samu Kerevi, Chris Feauai-Sautia, Sefanaia Naivalu and Jordan Petaia may be the hardest hitting backline foursome in the game at the moment. Add to this a looseforward trio that also knows how to drop a bloke on his ass and you have a team with the ability to damage a few egos and ribcages. Chris Feauai-Sautia's shot on Teihorangi Walden should have been a game-ender for the latter but his HIA replacement, Marty Banks, ran one too many Beaver Donald show-and-goes and so Aaron Mauger had to put Walden back on.
7. If Taniela Tupou played in any other country he would be your favourite player.
The kid's still as green as a bud in early spring but do yourself a favour and watch how fast he gets around the park. Tupou looks as at home standing at first receiver as he does guarding the ruck. In fact, in the lead up to Chris Feauai-Sautia's first half try the 'backline' consisted of both props and the winger. Most people would assume that at this point the whole enterprise would fall over faster than a two legged table but Tupou simply through a beautiful left-right ball to the aforementioned Feauai-Sautia who skinned Tevita Li to score. This was just one example. Tupou is best enjoyed live at the ground.
8. Aaron Smith has found a new friend.
The joy of the Aaron Smith-Lima Sopoaga combination was an innate understanding of eachother's talents. Sopoaga was happy to let Smith find the right target with both pass and kick and often came into his own on second or third phase ball when Smith needed a different set up. Watching the Smith-Ioane combination in this match showed how hard the pair have worked to fit into eachother's game. There were moments of genuine clarity from Ioane who, at just 23, has been given the full backing of Aaron Mauger. Smith, it seems, also trusts him. That is great news for Highlanders fans. Oh, and Aaron Smith is a one-man Cirque du Soliel. Do yourself a favour and re-watch some of his ball-handling skills in this match.
9. Shannon Frizell will see you now.
A mere ennumeration of Frizell's efforts in this match probably doesn't do him justice, but neither does any horseshit I can write so here we go:
1. Scored two tries.
2. Ran 56 metres – more than any other forward.
3. Beat 6 defenders – one less than game topping Jordan Petaia.
4. Won two turnovers.
5. Made 11 tackles – second behind Dillon Hunt for the Highlanders.
This was Frizell's most complete performance yet for the Highlanders. The timing could not be better.
10. Something is happening in Australian rugby.
Let's not kid ourselves: Australian rugby is still in all sorts when it comes to performance, but the Reds make up for their lack of game management with an exciting and brutal brand of rugby that will – if they refine and evolve – ensure they win their share of matches this year. They fell into the same trap as so many teams that visit Dunedin: confusing running rugby with winning rugby. That said, it probably doesn't help that the Hegarty-Stewart dilemna still needs a resoluton, or that the average age of the team is a tick over 22. Regardless of results over the coming weeks, this team is one to get behind – and that renaissance, one feels, seems to be spreading across the lucky country.
Rugby World Cup City Guides – Kumamoto:

Comments
Join free and tell us what you really think!
Join Free