Premiership U18s Finals Day preview: The players to watch out for as the top 6 sides in England collide
The annual Premiership U18 Finals Day sees the top six sides in the country come together to duke it out for finals standings in the competition, with all involved eager to impress and earn a professional contract for the next season.
Allianz Park hosts the event this Sunday, where the top three sides from the southern conference and their equivalents from the northern conference will playoff with one another to decide the final top six.
Harlequins take on Sale Sharks in the 5th/6th playoff, a rematch from the 2018 season, whilst Bath will contest with Wasps for the 3rd/4th playoff, with the West Country side making their first appearance at Finals Day for a number of years. Finally, Leicester Tigers, the reigning champions at this level, will face Gloucester for top spot, another rematch from the 2018 season.
Harlequins vs Sale Sharks
Halfway through the season, it looked as if Quins were on a path to be playing in the final on Sunday, but a crazy finish to the end of their game with Gloucester, which saw them concede three tries in six minutes, and a narrow loss at home to Bath mean that they are kicking off earlier in the day. It's a strong group, though, and their desire to keep the ball in hand and stretch the opposition should make for an entertaining contest with the similarly-minded Sale. The return of Hayden Hyde and the reforming of his midfield partnership with Lennox Anyanwu certainly won't hurt their chances.
Sale also have just cause to feel disappointed to not be battling it out for a higher spot, with their home game against Newcastle Falcons being postponed due to snow and recorded as a draw, a game they would have fancied their chances of taking at least four points from. They will get plenty of impetus out of their half-back combination of Raffie Quirke and Tom Curtis, both of whom will flourish if the Sale pack can generate front-foot ball for them.
Results don't mean too much at this level, but both sides' repeated recent appearances at Finals Day has been indicative of the strong work being done in their junior academies. Both clubs have pathways that have been working well, with strong homegrown cores being moulded to take them forward, and there are a number of players involved on Sunday who will only add to that in the coming years.
Players to Watch
Sam Riley, Harlequins
A dynamic hooker who is adept across the board. Riley is a strong set-piece front rower, whilst offering plenty in the loose, too, with his ability to win the contact and offload key to the tempo and ambition that Quins play with at this level. If it were not for Alfie Barbeary up at Wasps drawing so much praise and buzz this season, there would be a lot more excitement about Riley. Both he and Quins will probably be content to pass along under the radar for now.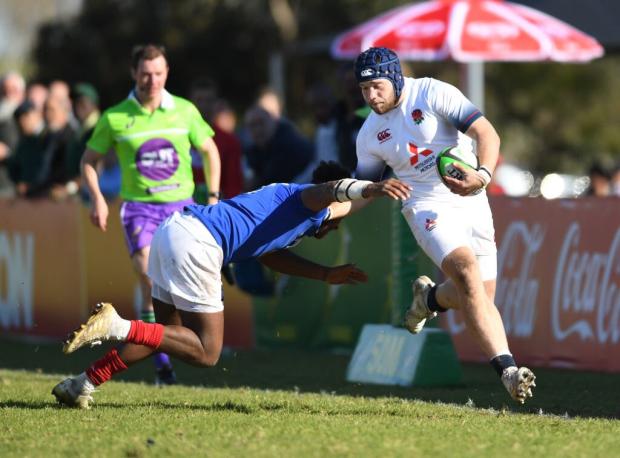 Tom Curtis, Sale Sharks
A versatile playmaker, Curtis is the latest in what looks to be becoming a production line of creative ball-players in the north-west. With Kieran Wilkinson and Cam Redpath in the group last year, Curtis often found himself used on the wing or in the midfield, but he is now consistently pulling the back line's strings from 10. It will be interesting to see where Sale view Curtis fitting into the team in the long-term, with a spot at full-back not out of the question, either, given his impressive skill set.
Harlequins: Louis Lynagh, Oscar Beard, Hayden Hyde, Lennox Anyanwu, Tom Allen; Luc Smith, Mikel Davies; Jon Benz-Salomon, Sam Riley, Finlay Baxter; Elliott Powell, Enzo Croy; Harry Dugmore, Jack Reid, Will Trenholm.
Replacements: Dylan Thomas, Theo Bevacqua, Aristot Benz-Salomon, Jack Ryder, Ted Johnson, Jake Williams, Jack Potter, James Bourton.
Sale Sharks: Cal Grieve, Tom Roebuck, Dan Kelly, Elliot Gourlay, Oli Melville; Tom Curtis, Raffie Quirke; Harry Harding, Ethan Caine, James Harper; Ollie Leatherbarrow, Ewan Murphy; Joe Johnson, John Bailey, Josh Hadland.
Replacements: Ben Patchett, Tom Clarke, Corey Bowker, Ciaran Sutcliffe, Sam Higginson, Will Davies, Jacob Ainscough, Cam Melville.
Bath vs Wasps
Without a doubt, this is one of the more impressive Bath sides in recent years. They have arguably punched below their weight at this level in recent seasons and maybe only pushed through one or two players who have gone on to have success – so far – at the senior club level. With several players already inked to professional contracts for the coming summer and the group having narrowly missed out on a spot in the final against Leicester, the future looks promising for Andy Rock's side.
As for Wasps, they started the season slowly, with heavy defeats to Sale and Leicester, but their form in the second half of the campaign has been excellent. They really found their feet in the final three games of the season, averaging 54 points scored in those contests and they take plenty of momentum into their match-up with Bath. Their pack is littered with effective carriers that will seek to get them on the front-foot, some of whom will fancy their chances of playing time next season. The back row contest of Alfred Mawdsley, Dan Eckersley and James Tunney versus Will Hendy, Xavier Hastings and Nahum Merigan is particularly intriguing.
Whilst the junior academies have produced talent in recent years, the pathways to the senior squads at both clubs have been relatively quiet. Bath have pushed through Zach Mercer and Darren Atkins, whilst Wasps have leant heavily on Jack Willis, but neither club will have been as productive transitioning those junior prospects into senior contributors as they would have liked. In these two squads, they have players capable of complementing their senior academies and improving those track records in the seasons to come, as long as there is the buy-in from the senior coaches.
Players to Watch
Max Ojomoh, Bath
English rugby, after having gone heavily down the dual-playmaker route, is seeing a resurgence in ball-carrying inside centres and Ojomoh certainly ticks this box. He has a good passing game and can keep phases alive with an array of offloads, but it's as a carrier where he's separated himself this season, capable of puncturing holes in defences and displaying deceptive power, due to the speed and footwork he possesses. All of those attributes, coupled with his low centre of gravity, are not too dissimilar to those of Ollie Lawrence when he played at this level last season, and if Ojomoh can enjoy the same transition to the seniors as the Worcester centre, he'll be in a good place moving forward.
Alfie Barbeary, Wasps
An obvious call here that even rugby fans who take no interest in the age-grades will have begun to hear of. The hooker has been regularly involved in Wasps' Premiership Shield side and captained both Wasps and England U18s last season as an U17. He's extremely powerful in the contact, allowing him to break tackles, as well as win collisions and get offloads away with equal abandon. He leads from the front, delivers at the set-piece and seems to have the confidence to make that leap to senior level as seamlessly as possible. Wasps have a gem in the young front rower.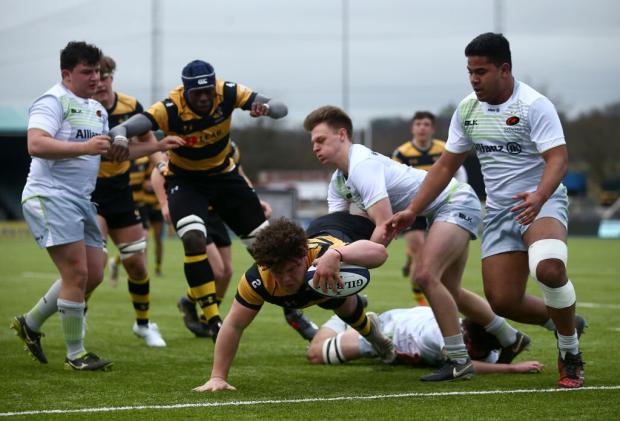 Bath: George Worboys, Gabriel Hamer-Webb, Ruben Moxham, Max Ojomoh, Felix Connolly; Orlando Bailey, Will Cook; Jamie Guest, Bradley Law, Archie Griffin; Ewan Richards, Ethan Staddon; Will Hendy, Xavier Hastings, Nahum Merigan.
Replacements: John Stewart, Archie Alexander, Jack Bertinet, Frankie Read, Ed Wallrock, Ayden Chenoweth, Tom Carr-Smith, Nat Arnold.
Wasps: Tom Bacon, Simone Panella, Toby Baldwin, Ricky Ma'asi, Jude Williams; Charlie Atkinson, Henry Mortimer; Zac Nearchou, Alfie Barbeary, Jordan Cordice; Anjo Ademuwagun, Mario Pichardie; Alfred Mawdsley, Dan Eckersley, James Tunney.
Replacements: Alex Pleasants, James Coombs, Alex Sabin, Nik Jakobsen, Greg Fisilau, Ollie Monye, Evan Mitchell, Tane Dunn.
Continue reading below…
You may also like: Philippe Saint-André speaks to The Rugby Pod on France's woes

Gloucester vs Leicester Tigers
Aside from a loss away to London Irish earlier this month, Gloucester had a clean sweep of wins this season, with perhaps their most impressive coming in the narrow home victories over both Bath and Harlequins. The high-tempo and width they like to play with are a trademark of any Richard Whiffin-coached side and it is no mean feat for them to be back in the final this season, after having lost many of the title-contending group from last year, plenty of whom were given professional contracts at the club.
There is no denying that Leicester are currently the dominant force in English age-grade rugby, with the side dismantling Gloucester in last year's final and having not let up at all this season. In fact, they haven't tasted defeat at U18 level since February of 2017 and again, whilst emphasising that results are not the primary importance at this level, the quality and quantity of player coming out of the set-up is looking very positive for Tigers moving forward.
If Gloucester want to avoid the one-sided contest that last year's final against Leicester proved to be, they will need to find a way to consistently break the gain-line and therefore get their faster style catching Tigers flat-footed. As for Leicester, if they can slow Gloucester down at the contact area and exert the same kind of physicality that they have all season long, it could prove an arduous 70 minutes for the young Cherry and Whites, whilst the dual-playmaker axis of Harry Glynn and current Wales U20 fly-half Sam Costelow will keep Gloucester on their toes defensively.
Players to Watch
Jack Clement, Gloucester
In regard to Gloucester's attempt to breach the Leicester defence, Clement could and should prove key. The mobile number eight, albeit deployed on the blindside this weekend, is a weapon with the ball in his hand and he is going to have to pick up a lot of the slack against a Leicester side that are used to physically dominating opponents. It'll be interesting to watch Clement's development in the seniors, particularly whether Gloucester try and turn him into an elusive number eight, such as Zach Mercer or Sam Simmonds, or whether they see his future on the flank, where he packs down on Sunday. Either way, it looks bright.
Freddie Steward, Leicester Tigers
One way Gloucester can try to take Leicester's physicality out of the contest is by moving them around and turning them with a clever kicking game. The only issue with this approach is it likely plays into Steward's hands, with the full-back more than capable of hurting Gloucester on the counter-attack. He's quick, tall and good in the air, allowing him to deal with the pragmatics of being a full-back, whilst his eye for a gap and an effective short kicking game mean he is far from a one-trick pony. Keeping the ball out of his hands will be a priority for Gloucester.
Gloucester: Brooke Turner, Louis Hillman-Cooper, Isaac Marsh, Tommy Mathews, Louis Rees-Zammit; George Barton, Stephen Varney; Harry Fry, Ethan Hunt, Jenson Boughton; Archie Benson, Joe Howard; Jack Clement, Josh Gray, Harry Taylor.
Replacements: Leyton Chambers, Marcus Reading, Harry Daynes, Freddie Thomas, Seb Blake, Matty Jones, Oli Parmar, Max Fletcher.
Leicester Tigers: Freddie Steward, Leo Gilliland, Ronnie du Randt, Sam Costelow, Joe Browning; Harry Glynn, Jack van Poortvliet; James Whitcombe, Archie Vanes, Rob Hardwick; George Martin, Tom Manz; Emeka Ilione, Samuel Eveleigh, Ollie Ashworth.
Replacements: Shaun Allsopp, Alex Maxwell, Jack Rowntree, Will Backhouse, Kit Smith, Jonny Law, Matt Potts, Ollie Smith.
Watch: Prince Harry meets past and present England rugby players

Comments
Join free and tell us what you really think!
Join Free