'It's to the neck, with force' - Why referee Luke Pearce felt compelled to red card Zack Holmes
Toulouse's thrilling 22-21 Champions Cup quarter-final win at Racing 92 on Sunday was made all the more remarkable as they had to play just short of an hour of the compelling match with 14 players after Zack Holmes was red-carded on 22 minutes. 
Just a single yellow card – given to Munster's Tadhg Beirne – had been see during Saturday's three excellent quarter-finals.
However, the cards were out in force in Paris with Luke Pearce on the whistle, the English referee showing yellow cards to Racing pair Teddy Thomas and Juan Imhoff after he had earlier made the massive call to red card Toulouse's Australian play-maker.
The Toulouse out-half had initially appeared to have got away scot-free for his intervention near the half-way line on Racing winger Imhoff, the referee at first stating: "There has not been foul play on the tackle, so we can play on, correct? Okay."
However, with the partisan Parisian crowd incensed after a video was shown on the La Defense stadium screen, Pearce changed his mind, called time off and opted to properly review the incident that BT Sport's commentators didn't see as more than a yellow card foul.
Zack Holmes sees red for Toulouse ?

His tackle is deemed high and he has to go.

What are your thoughts on the decision? pic.twitter.com/uN1NlfJUd1

— Rugby on BT Sport (@btsportrugby) March 31, 2019
"It's one of those that maybe we need to see in slow motion rather than the other way around," chipped in Brian O'Driscoll before Pearce's review began. "That's a high shot, that is going to be a yellow card minimum. I don't think it is more than that because of where it initiates."
Lawrence Dallaglio added: "I agree with you Brian. It starts at the shoulder, but it does go up to the neck. On that basis you have got to give a card, but it is only a yellow card."
It was then that the Pearse assessment unfolded and the referee's red card conversation with his TMO Rowan Kitt is outlined below. 
LP: You can totally understand why I want to have one more look at it. Okay, we are in no rush.
RK: I am going to show you a high tackle. I want you to look at his right arm. 
LP: Ok, there is no worries. Put it on the screen for me please.
RK: Yeah, it's coming now.
LP: So Kitty, for me we definitely have foul play first to begin with.
RK: Yeah.
LP: So now we need to decipher because on the screen this looks bad, so I need to decipher if the Racing guy is falling to ground which would make it not a red card if he is not dipping. From what I am seeing on the screen it's a shoulder to the neck of the Racing player.
RK: Yeah, I agree with that.
LP: So can we have one more look at that just to make sure the guy is not dipping to ground which might bring it down? Let's have a look, let's just slow it down. So the point of contact by 10, I am not seeing anything mitigating. 
RK: It's his right arm hitting first but there is shoulder into neck as well. 
LP: So listen, I am not seeing enough to mitigate this down to anything other than a red card. Is anyone else seeing anything different here? To the neck, with force, it's a red card. Kitty, are we in agreement here? Anything to add?
Not a red card IMO, Zach Holmes is in almost optimal position for a dominant tackle. Imhoff dips at the last minute. No intention to go that high at all.
I can see why Luke Pearce has given a red though.

— Jim Hamilton ? (@jimhamilton4) March 31, 2019
Pearce then moved back towards the players, holding a meeting with Holmes that also had Toulouse skipper Jerome Kaino and Racing captain Dimitri Szarzewski in attendance. 
LP: Okay, so No10 please. Just let me explain. We had another look on the screen, you have tackled him high, there aren't any mitigating factors and your shoulder has gone straight into his neck. That's a red card.  
It was Holmes' first red card in his career and there was sympathy as he walked towards the touchline, the Toulouse No10 receiving a couple of sympathetic handshakes from Racing players including the high-tackled Imhoff.
The distraught Australian ultimately had the last laugh, though, his team rallying to find a way to still win despite being a man down.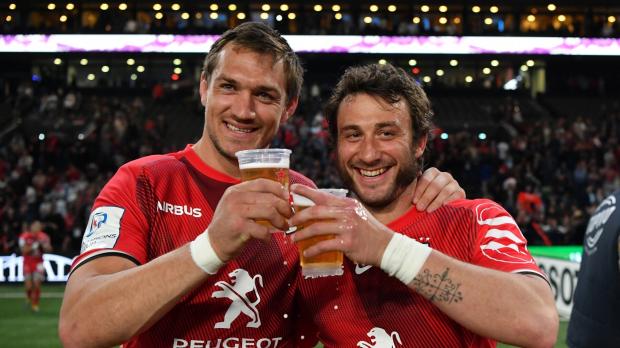 Comments
Join free and tell us what you really think!
Join Free