'It was one of those situations I didn't want to be involved in... but we weren't willing to just let it slide'
Siale Piutau is still pinching himself that his Bristol adventure has worked out swimmingly. When he strode in the door in January 2017 from Japan two months after Andy Robinson had been sacked, the club was in a right old mess. There was bitchiness in the dressing room, performances were poor and the results even worse.
Relegation was the depressing outcome yet fast forward to November 2020 and Piutau is set to start the fourth season under Pat Lam with a smile as broad as the River Avon creased across the 35-year-old's face.
Last month was epic. Qualification for a first Premiership semi-final since 2007 and European Challenge Cup success, the first elite-level trophy seen at the club since the amateur era yesteryear of 1983.
That's a considerable breakthrough not lost on an ambitious squad that sets out this Sunday aspiring to do even better in a Premiership campaign that opens at Wasps and will be followed by Heineken Champions Cup participation next month.
The old saying is success breeds success and Piutau can't wait to discover if the Bears can go on and become serial trophy winners – something unthinkable when they were miserably relegated 42 months ago.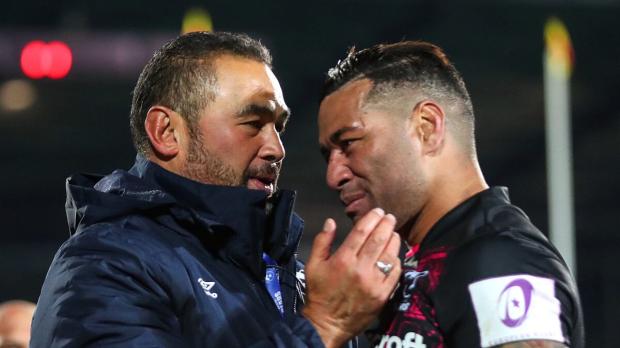 "It was tough," said Piutau to RugbyPass, recalling that not so long ago day when the axe fell and Bristol were ignominiously packed off to the English second-tier. "When you have that mindset of just trying to survive, it's a lot different. You're more worried about all the things that could go wrong as compared to the mindset and the shift in the way we are now playing.
"We have a lot more guys that believe in the system and the way we are playing you go out with that sense of confidence. You know that mistakes are going to happen but the ability to move on to the next job and continue to do what is best for the team, that has been the massive growth within this team. We have come closer as team members, as family, and that is beginning to show. Our culture is starting to show in the way we play.
"Winning a trophy is massive. It's the feeling of knowing that all the hard work has paid off to get to that moment, but at the same time it is one of those things where the expectation levels have risen. I know everything that we have done last season, yes it was great, yes we ticked those boxes off and we achieved some great things, but now we will set our ambitions higher and expectations have also risen.
"It comes down to quite a lot of us players having that self-awareness to get better every day and not just settle on what we did last season. We want to keep growing and you can see all the big clubs around Europe, the likes of Exeter, Leinster, they have been able to continue that on year in, year out. That is something we want to do. We want to try and build a legacy that once we are gone we can look back and say we were part of something special."
Their Premiership semi-final appearance at Wasps, the club they visit again on Sunday to start their 2021/21 Premiership campaign, was painful, Bristol comfortably beaten 47-24 due to what Piutau explained was "giving Wasps a bit too much respect in terms of focusing on them and not on ourselves – we didn't get to fire any shot really".
However, they took that anguish out on Toulon in Aix-en-Provence, winning silverware that seemed far-fetched for a business that had treaded water for quite some time. "Pat turned up with a vision for this club but if you looked at the history of where they were ten years before (in the early stages of a seven-season spell in the Championship), I found it quite hard to believe all of this was going to be possible, to be in the Challenge Cup final, to win it, to set these goals.
"The thing I love about Pat is he is a man of vision. He had a five-year plan but we have put a lot of work into it and what it has done for the club is there is a sense of belief there and it just raises everyone's sense of purpose and the ambition to know that whenever we set our goals these things are now possible.
"Winning the Challenge Cup has definitely set that hunger level to achieve more things. It has created a buzz around the community, around the schools. We have a lot more supporters than we did two years ago. A few supporters were a bit anxious about us changing the name, changing to the Bears, but that has long been forgotten and everyone has jumped on board backing and supporting the team in what we have been going through."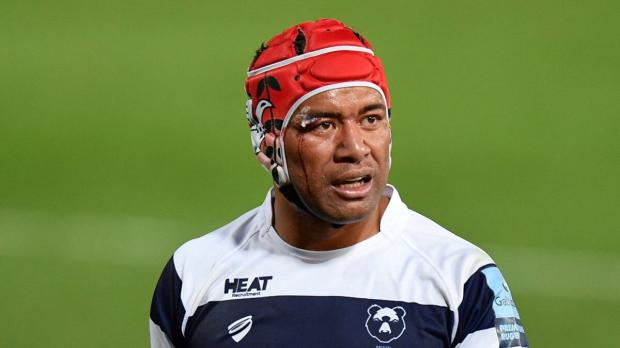 That included the messy early September situation that was Piutau getting cited for his involvement in the incident that saw Worcester's Andrew Kitchener red-carded for a hot-tempered bust-up at Sixways. Piutau was cited and banned for three games, a decision the club fought by being outspoken in the media and appealing the suspension. It wasn't successful but it felt good leaving it all out there rather than suffering in silence.
"We have got great ownership with Steve Lansdown right through to Chris Booy and Pat. They were backing me through that whole situation in terms of what happened at Worcester. It was one of those situations I didn't want to be involved in but for the betterment not only of our team but for the betterment of the game, we weren't willing to just let it slide.
"It was something we truly felt that we had to push. As a player to have the backing of not just Pat but also the owners and the club goes to show we have grown not only as a team but you can definitely say as a family, as a Bristol Bears family. We are out here to look after each other.
"The whole preface of going through with the situation was just to gain experience in terms of how the process works. It was great that we managed to sit down with the RFU and have a bit of insight into the way these situations are dealt with.
"Hopefully in this situation, it can bring a positive change in terms of what can happen, what is needed to make our game safer, that if anyone is put in that situation again we know a better way how to handle that, so we see it as a positive going forward."
View this post on Instagram
Lockdown second time around hasn't been as punishing. Pre-season wasn't your normal training block, more of a continuation of what Bristol had been doing to see out the delayed end to 2019/20, while there is some level of family life normality compared to last spring.
"It hasn't been too bad because we have been able to attend training with Covid testing and whatnot, better restrictions on what we can do. Coming into the second lockdown kids are still in school. That was probably a bit tougher in the first lockdown, trying to do kids homework, doing everything online, trying to help kids cope mentally through not seeing their friends and change of habits.
"What is happening is we are living through unprecedented times. I just love that everyone has been helpful and is helping each other. Especially our neighbours here, there are all checking in daily and we are just trying to help each other through these times," he said, adding that he can't wait for the day when his family can safely return to stadiums and see himself and his brother Charles play.
"If you asked a lot of players the reasons why they love playing rugby, yes you have these friendships as players but it comes to a lot of boys being driven by their families, their loved ones, that helps them get through not only good times but the bad times. Not having them on the sideline at games is one other thing that is tough.
"Players are slowly adjusting. What it has done is it probably has had a positive effect in terms of boys relying on each other a bit more. When you are facing adversity on the park you are really putting it out there for each other and then even after the game back in the changing rooms we have only got each other. It has grown the team culture in a way. We rely on each other a bit more, but I know a lot of boys are looking forward to having their loved ones and also having the fans back filling up the stadiums."
Piutau's 43-cap Test career with Tonga culminated in a retirement win over the USA at last year's World Cup in Japan. It was an emotional time for his family, his sister Ema having tragically passed away six months earlier, and thoughts of the Pacific Island his parents emigrated from to New Zealand in the 1970s were foremost in his mind this week with the launch of Oceans Apart: Greed, Betrayal and Pacific Island Rugby.
Dan Leo's documentary exposed how rugby is shabbily treated in Tonga, Samoa and Fiji by its local administrators and by World Rugby. It was compelling viewing for Piutau, especially the cameo featuring Charles, the ex-All Black who would love to wear the Tongan red just as Siale did but needs a rule change to happen so that capped players can switch Test sides.
"I sat down and watched it the first night it was available. Although I'm retired from Tonga I look back at my time and can definitely say I went to international with Tonga naively thinking I could go in there and bring change, but I have realised that in my eight, nine years with the team that there are stronger powers there that make it difficult to bring change.
OUT NOW! Oceans Apart: Greed, Betrayal & Pacific Rugby?

Thanks in advance to everyone who watches, shares & gets alongside Pacific rugby as we strive for positive change.

#OceansApartFilm by Tusitala Films:@vimeo: https://t.co/Hjm3mFPYDY@Amazon: https://t.co/XJ2hJUq98V pic.twitter.com/slMhyMSIVZ

— Daniel Leo (@danleo82) November 16, 2020
"It's great what Dan Leo has done will bring awareness to what is actually happening back in the islands and the challenges that we face as Pacific Islanders, as organisations back there that you know it is tough. There was great insight. I have had a few boys in the Bristol team say it was a great insight for them, they didn't realise some of the issues and the challenges we face as Pacific Island teams. I just hope it raises more awareness about our game.
"Some of the stories we share – some players not having gear, not having rugby balls, sometimes not having a room to go back to in the hotel, being locked out of the hotel – puts life into perspective, puts rugby into perspective. But at the same time for a lot of us who have played for Samoa, Tonga, Fiji, playing is just a way of us trying to give back to the islands and hopefully trying to inspire some young island kids running around on the island to take rugby as a career path.
"I do hope Charles gets to play. He has always had a desire to get back and it will be great for the game. To see the likes of Charles and a lot of other players who could play would not only bring a buzz around our Pacific Island teams but could inspire some young kid around the world. I've seen it happen with the Tonga rugby league (where dual capped nationality was introduced). I have no doubts that the same impact would happen with rugby union."
Embarking on his 15th year as a professional player, Piutau is signed until the end of the 2020/21 season. Plans for the future are not set in stone. He would like to bring his young family home to be raised in New Zealand but he has one thing to scratch before he ever does leave the UK – retracing his steps with them in Huddersfield where he spent a gap year and did a lot of growing up as a student.
?? ????? ?? ??? ???? ??#WASvBRI | #BristolBears pic.twitter.com/oDtaxM57EZ

— Bristol Bears (@BristolBears) November 20, 2020
"I had it all booked to go with the family when we were to play Sale but then we had the Covid restrictions and we haven't been able to pop up there. But the next chance we come out of lockdown and have a bit of a break or any games up there, I would love to take the family up and show them around Huddersfield and some of the places I used to go back then.
"It was just one of the connections at the school I had, Wesley College. John Henderson had a connection with one of the rugby clubs, the Huddersfield YM, and there was an opportunity they had given to two students each year from Wesley College to come up and experience.
"The biggest one for me was being independent. Going from a boarding school, coming from an island family, things are done for you. At boarding school you had your food cooked for you, had your washing done, but to come out of school and go to a place where you have got to learn how to work the washing machine, something as simple as that, struggle to cook, struggle to clean.
"It's one of those life lessons that to be able to do it and stand on your own two feet has held me in good trust all these years later now that we have got our children, I'd love them to learn those principles and values of being independent.
"All I have known is rugby. I'm going into my 15th season and would love to stay connected with rugby in some way. I have got a passion for coaching and love seeing young kids coming through. For myself growing up in New Zealand, it wasn't the flashest place but I would love to start something where I'm connecting stars to local clubs and schools whether it is rugby players or whatever sport, get out them there talking and inspiring young kids.
"It's something I would love to do in the future. If I could start it up here (in England) that would be a great opportunity but New Zealand is home for me. I'm one of ten and most of my family is back there and I know my kids are starting to get a bit older now. It would be nice for them growing up with their cousins. That time is coming closer but I have got my focus set on achieving all the goals with Bristol here. I have no doubt about the team that we are going to achieve those goals."
Comments
Join free and tell us what you really think!
Join Free