'I went in early one morning, packed up all my stuff and left'
By early evening, after a few sangrias, and with the sun setting, Devin Toner may gift himself a few precious moments to reflect. A glorious 17-year career, in which he won a Grand Slam, three Six Nations titles, four European Cup and seven Pro 14 titles will come to a close.
It was a career where he confounded critics who thought he didn't have the athletic abilities to play at the highest level. A career where he has been the personification of loyalty, finally passing Gordon D'Arcy's long-held Leinster appearance record, and consistency, where he did not miss a game through injury for 13 seasons.
To see Toner smiling and laughing in Gijon, Spain, with the Barbarians is to see a man, just days shy of his 36th birthday, who is happy with his lot. "If Carlsberg did career endings, it would have been on the sun lounger, having a few beers with the boys", he smiles. "Seriously, the BaaBaas has always been on my bucket list, so to get the call has been absolutely brilliant. It's been a bit of an old-school tour. Meeting the local kids and the like, but to be honest, I'm more nervous to be pulling on a BaaBaas shirt because I've only ever played for Leinster and Ireland."
Getting out of Dublin and shooting the breeze along the Asturian coast was probably the perfect pick-me-up to shake off the frustrations of his final month as a professional rugby player. Leinster, feted around Europe for their excellence, borne through the lauded schools system, coaching perfection and a culture of winning, fell flat in the Champions Cup semi-final, losing to eventual winners La Rochelle, and perhaps more surprisingly, the Bulls, at the RDS in the URC. Both results were by a solitary point and suggest that the Leinster machine may need a quick tyre change, rather than a new engine.
For Toner, who lets out a sigh, he acknowledges it's no longer his problem. "I think I'm stating the obvious by saying I would have liked to have finished my career with Leinster in a different way but look, I had unbelievable memories there. You can't win every game, or indeed play in every game, but I'm happy enough with what I've won over the years."
Toner admits that Irish lads are rarely seen at end-of-season Barbarians games because they're usually involved at the business end of the season domestically, or preparing for a summer tour. It's one silver-lining after rare disappointment. "I had thought about lining up against England last weekend, but thought I'd maybe be needed for the URC final but that didn't happen. Having a beer with Welsh lads and guys like Rob Harley, at Glasgow, when we're usually knocking ten bells out of each other has been class."
After an entire working life with one employer, Toner's final days in blue were low-key. No birds chirping, no camera crew tracking his final steps or bouquets lining the road. "It was very subdued. Mainly because we'd lost the semi-final to the Bulls, we went out on the piss. The following week, all the boys were in Irish camp, from Monday to Wednesday, so we had a team social for a few of the leavers. I went in early one morning, packed up all my stuff and left." He didn't look back with any regrets.
Now preparing for a life on civvy street, Toner will have to become accustomed to being released from the cossetted professional set-up and doesn't know when he'll return. "I've left the inner-sanctum. The What's App groups and the like, but I left on very good terms. I was never one for watching rugby anyway but I'll be keen to go back with my boy, who will be five in September. I want to see the young lads kicking on. Academy boys like Joe McCarthy, who was doing really well at the tail end of the season."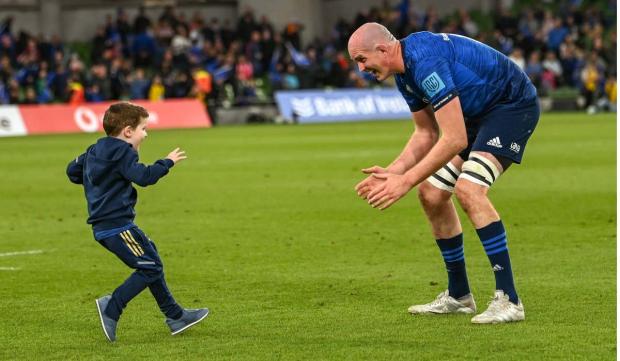 Toner will unlace his monstrous size 22 boots for the 351st and final time in a matter of hours, so beyond the remarkable list of silverware he's picked up, what has been the motivation to haul his imposing 6ft 11in, near 20st frame across the turf, smashing rucks, being lifted into the skies at the set-piece and making last ditch tap tackles deep into injury time? "My personal motivation for the last 18-19 years? It's hard to put a finger on it. I suppose I was being lucky to be in two set-ups that had a lot of success. You do it once and you want to do it again. It's about looking forward. Next, next, next. We talked back in 2008-09 about driving the legacy and 14 years later, I think we've done that as a collective."
A son of County Meath, who came through Castleknock School and UCD (University College Dublin), some would say there was an element of luck over being part of such a golden generation, but Toner has proved that it's one thing to start with a winning group, quite another to stay and thrive for a record 280 occasions.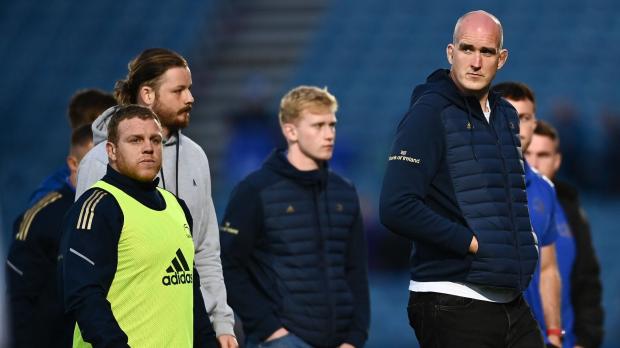 "I would say I am a lucky man who got his timing right. The players that I came through with, I played with at school. Guys like Johnny Sexton, Sean O'Brien, Rob Kearney, Fergus McFadden and Sean Cronin. We were all of a similar age and had that familiarity when we made the first team. The old brigade of Drico (Brian O'Driscoll), Darce (Gordon D'Arcy) and Shaggy (Shane Horgan) started it and we were lucky to be able to learn off them. In my position, Leo Cullen was right up there. I can assure you, there's been a lot of hard work along the way. It hasn't just happened."
Legacy is important to Toner. He knows there is an expectation to pass on his experience, much as it was passed onto him as a young strapling starting out. The likes of James Ryan and Ryan Baird, will no doubt have appreciated a comforting word here, or a stern word there from Big Dev along the way, to keep them in check. "I know how I became a good player. It was by learning off the likes of Mal O'Kelly, Leo, Brad Thorn and Nathan Hines and I haven't forgotten that. I'm hoping that these young lads learnt as much from me as I learnt from them."
Leinster are seen, quite rightly, as the benchmark in Europe, and despite those two stinging losses, Toner doesn't think Cullen and Stuart Lancaster need to tear up the coaching manual just yet. "I'm not sure how Leo and Stuart will bounce back. They were very narrow losses. Some will say, sign a few big boys, but  c'mon, they were one-point losses and every team has to lose a game. They will find a way."
After years of dominating, however, the Irish province knows they now have serious competition with the introduction of four power-packed South African franchises. Far from feeling it a threat, Toner thinks it's a positive for a league maligned in certain quarters. "Having played against the South African sides, I do think they will improve the standards in the URC no end. It will make the competition better and better. Next year I expect them to make an impact in the Champions Cup, too."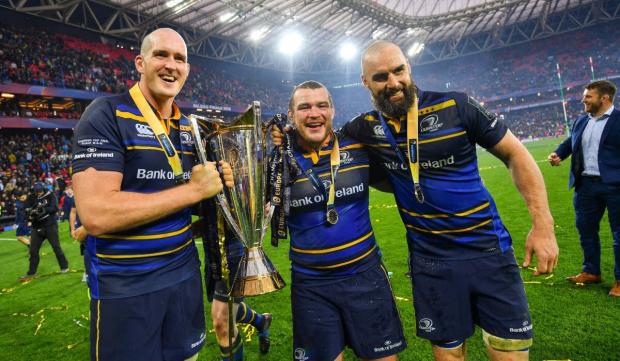 So what have they brought to the league? "Teams will need to learn to play a different way. The sheer size of them is ridiculous. They are brilliant poachers, too. You have to reduce the amount heavy carrying and rucks and find space out wide. Otherwise, you're just running into a brick wall. Repeatedly. You have to be a bit more deceptive, maybe more mauling. It's a new technical challenge for coaches."
Speaking of replenishing coaching reserves, the appointment of Sean O'Brien as Leinster contact skills coach brought a smile to Toner's face. "Ah, Stuart Lancaster loved Seanie, so I wasn't surprised to see him coming back. Even when he left for London Irish, Stuart would talk about him, and what he could do. Seanie has always been into his coaching. He was coaching back in Tullow when he was with Leinster and he was always good with the young lads. I think he kept his hand in over in London. He has the family farm back in Tullow, too, so I don't think he'll be twiddling his thumbs."
While some professionals take time to get notices, Toner always stood out, whether he liked it, or not. He is still the tallest man ever to play for Ireland and over the years, he has learnt to embrace his classic ectomorph physique that would have seen him shooting hoops, not taking lineout ball, were he born Stateside. His remarkable physique is something he has grown to accept. "I used to hate my height. Around that 14, 15, 16 age I hated crowds. I hated walking down Grafton Street, with everyone looking at me. Hated it all but now I embrace it. I've had to learn to love it because I had no other choice."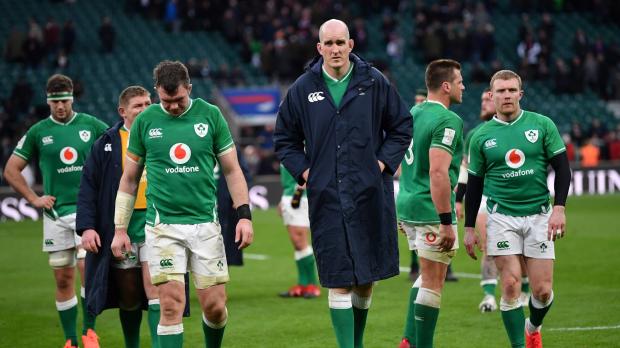 Toner will spend the summer, 'giving back', to the unstinting support given by his wife Mary, playing daddy day-care to young Max, who is ready for big school in September. One of the upsides of the early mornings with his son, will be the three-Test Series in New Zealand. As someone who has been on two winning sides against the All Blacks, and doesn't have the baggage of that fateful day in Hamilton, where they had a record 60-0 defeat in 2012 – the last time Ireland played in the Land of the Long White Cloud – Toner is relishing the match-up. "They are going to be very, very tough games, but if you don't believe you can win, there's no point turning up. I think Ireland can take confidence from previous results. We've never won out there, so even if we lose the Series 2-1, I think a single win will be deemed a success. It's at the end of a long, long season for the boys, but when it comes down to the last 80 minutes, that will all be forgotten."
One man, who is a year older than Toner, and still fundamental to the Ireland set-up is Johnny Sexton. Toner knows how important it is to keep their playmaker fit in New Zealand. "For the environment, he's huge. Everything runs through him. Everyone wants to do well when they're playing with him. He makes everyone tick. It's hard to know what to say that hasn't already been said. He's just been an incredible servant to Leinster and Ireland."
When he returns from Spain, it will be time to do some swatting for some final QFA (qualified financial advisor) exams, ahead of a job in finance, starting in September. First Toner will be heading to Sardinia for a breather. While his feet may dangle over the sun lounger, he will contemplate all that he has achieved before a second life starts in earnest.
While Leinster's second-row reserves are well-stocked, the towering presence of Toner around the squad will be sorely missed. Well played, 'Big Dev'.
Comments
Join free and tell us what you really think!
Join Free