It's crazy how it has all worked out so successfully for Mike Prendergast in France. When the ex-Munster scrum-half took the plunge in 2013, quitting a grassroots level coaching role in Ireland to try and earn his spurs at the age of 36 with an overseas pro team, he never envisaged still being away and going so strong nine years later.
He had to duck and dive to be granted an audience in the first instance, putting feelers out all over the place to see what might materialise somewhere, anywhere. Then when it did, he had to haggle before packing his bags as the original Grenoble offer was just for three months, a length too risky for him to go all in.
In the end, hands were shaken on a year-long skills coaching tie-up and the Irishman has since become the textbook on how an ex-player who isn't a household name can go about building an enviable career CV. A variety of experiences have been mined at four different French clubs, Prendergast incrementally jumping up the pecking order – from Grenoble to Oyonnax and then Stade Francais – to eventually become a valued member at big-budget Racing.
Now, though, comes the parting of the ways. He had another year to go in France but timing is everything in sport so when Graham Rowntree signalled he wanted a chat over the spring, the suggestion of a three-year deal to come home to Munster was simply too good to ignore.
It's been a life-affirming adventure and not just because of the rugby. When he emigrated from Ireland his only daughter was eight. Now she's coming home as a 17-year-old with two French-born sisters in tow – one born in Grenoble, the other in Paris during the lockdown – and a dad whose pidgin French from his year playing at Bourgoin in 2006/07 has now transformed into a reputable fluency.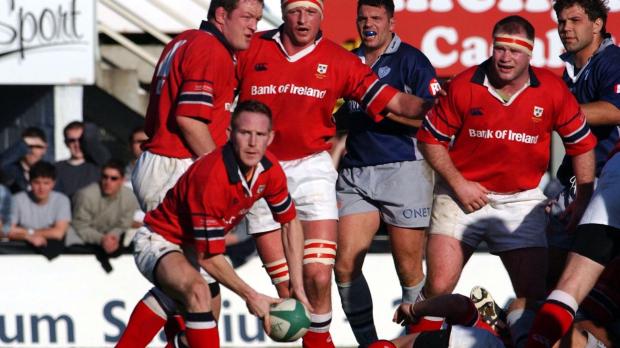 "It changed my life and my family's life," said Prendergast to RugbyPass. "We initially thought we were going to come for two, three years maybe and go home. Nine years and we are still here and I was a player away for two years (Bourgoin and Gloucester), so eleven years living abroad is quite a long stint. Two of my daughters were born here, so we are very much attached to France. My two older girls both speak fluent French and my wife has been incredibly happy here as well, so we have a huge attachment and always will to this country. It's a place that has given me and my family good opportunities."
Looking back, Prendergast has Bernard Jackman to thank. Long before Zoom became a thing, the ex-Ireland hooker had blagged his way into a consultancy role at Grenoble, striking up a long-distance relationship in 2011 with their boss Fabrice Landreau. He became full-time in France for 2012/13 and ended that season acting as a go-between, putting in a good word for Prendergast and forcing the door ajar for his fellow countryman.
"At home, there are just four professional teams so it is very, very hard to break through," explained Prendergast, jogging his memory back nine years to when he was in charge at amateur club Young Munster and wondering how to catch a break and get involved with a pro team. "I did up a CV and contacted literally every coach I had been coached by and any player I had played with that was involved in the game.
"I literally contacted everyone and Paul O'Connell and Alan Quinlan would have known Bernard quite well. He was over, they got me in contact with him and it just materialised from that. I will always be very grateful to him for opening the door for me to get into professional rugby.
"Grenoble were looking for a skills coach on a part-time basis for three months during the summer to see how it went. I went over and met them. I said I was still with Young Munsters and couldn't walk away basically for just three months, it would have to be a season. They agreed, so they gave me a year's contract as a skills coach and it took off from there.
"It was a nice position to go into, especially in a French club where I didn't really have the language because as a skills coach you're not in the firing line, I wasn't presenting videos. I was able to go in, see how it operated and most importantly improve my language because the most important thing when you're coaching is getting your message across and not having the language can hurt that small bit.
"It gave me that year to build up my language, see how the club ran, see how the whole system ran over here. I swallowed up as much French as I could and that helped me in building relationships with players. I always say the biggest thing about working in French coaching is the number of different nationalities. Each club has ten to twelve and you learn a huge amount from these guys.
"I'd be the type of coach who'd be quite open – I like having conversations with people and building relationships whether it is stuff outside of rugby or within rugby. When you're talking rugby to the guys from New Zealand, Australia, Fiji, France, Scotland, wherever, some of them look at the game differently in certain aspects. When I was coming through I would be the type of coach that would have held on to the parts of the game I felt would suit me as a coach. That is what I have done and that's what my philosophy is now."
Lovely to catch up with one of the best attacks coaches in the game this morning @racing92 . Great facility and really open environment. Mike hasn't forgot his roots either ?? pic.twitter.com/ZjK8vzeFkx

— Bernard Jackman (@bernardjackman) September 29, 2021
He was four years at Grenoble taking on a myriad of roles, switching from skills to backs and then two years as attack coach. A year at Oyonnax followed, as did another at Stade Francais under Heyneke Meyer in tandem with his old Limerick pal O'Connell. Then came another leap of faith. "I was actually on my way down to Toulon after that with Patrice Collazo and just at the last minute, Racing's attack coach Laurent Labit was going to France.
"It was decided quite late he was going in with Fabien Galthie so Racing contacted me to see would I be interested and I was. I met with them and they offered a four-year contract which was great security in coaching, something that doesn't come around too often. Everything appealed to me that it was the right thing to do."
The Racing attack and backs coach never bought a property in France. Renting is the thing when you have a nomadic lifestyle. "I never ended up buying here. We moved a good bit, so the club would rent a place for you and you go with that. You live in Paris, you live the Parisian life, a city that has got so much going on. In Grenoble, which is a beautiful part of the world by the mountains, skiing is at your front door. There were two very different, very interesting ways of living."
What about the contrast between the various rugby set-ups, those with limited budgets and others with bulging wallets? "With teams like Grenoble and Oyonnax, two great clubs, when you're just promoted from Pro D2 to Top 14, it's very, very tough because you're up late, do your recruitment quite late and don't have the budgets the bigger teams have.
"You're battling to win every week and you're probably losing 70, 80 per cent of your games. That is a tough station because you're going in on a Monday trying to be some bit positive after your losses but then after your wins, you really celebrate them, enjoy them and whatnot.
.@mikeprendergas3 debriefe la première mi-temps avec les trois-quarts #FCG #COFCG pic.twitter.com/QtQW7zIpLE

— FC Grenoble Rugby #AllezFCG (@FCGrugby) October 24, 2015
"With Grenoble and Oyonnax, the pressure you're under is in terms of staying up, staying afloat. You're battling on all fronts and every point is massively important for you. And then I saw the other side of it, when I came to Racing it's a different type of pressure, a pressure to win competitions, to be making playoffs, you're in semi-finals, you're in a Champions Cup final and losing and there is heartbreak… they are the big rugby experiences for me.
"I challenged myself a lot more than I would have envisaged, put myself into awkward places and awkward positions to try and progress and from that point of view I'm more resilient than I would have been before I left Ireland. There was a core of Irish at Grenoble and Paul O'Connell was at Stade, so to go into a club like Oyonnax that I didn't know a huge amount about was an interesting one.
"They had put in a new 4G pitch and wanted to change how they played. Previously they would have been very much a forward-orientated team with a big kicking game, but they wanted to change how they played, change their style and philosophy. It was a big challenge to be invited to do and it stood out.
"You were going in trying to change habits because the majority of that squad would have been there for a number of years. I remember beginning in the 2-4-2 system there and it was very new to the boys but fortunately, they bought into it and they adapted to it very well."
The names of the players he enjoyed coaching most in France roll off the tongue, from the likes of Gio Aplon and Charl McLeod at Grenoble and on to the stellar cast at Racing, performers such as Juan Imhoff, Gael Fickou, Virimi Vakatawa, Finn Russell, Kurtley Beale and Donnacha Ryan, who has since become part of the La Rochelle coaching set-up that last month humbled the Parisians in the Champions Cup semi-finals.
It's a derby victory for Racing! ??

And they sealed it in style with this Olivier Klemenczak try ? pic.twitter.com/kahQ97uNjs

— Premier Sports (@PremierSportsTV) September 4, 2021
Along the way, he has seen French rugby transformed in its thinking. "For years, I remember talking to players who were on the fringes of the French team and if they got into the squad they got in and if they didn't it wasn't going to hurt them that much, there wasn't that big drive to get in there. Now there is a drive.
"Any team that is successful everyone wants to be a part of it and the younger generation coming through have really pushed that. They have seen the Irish and the English dominate the Six Nations and gone, 'Hold on a second, we're athletically good it not better than any of these teams in the Six Nations and if not worldwide. How come they are ahead of us?'
"French players now want detail, especially the younger generation. They are quite challenging, which is a real positive because you try and find solutions, and the way the game is played has also changed. Traditionally it would have been a slower type of game but they have brought in a lot of new hybrid pitches, 4G pitches, so the ball in play is longer, there is probably less kicking and it's a quicker game in general.
"The coaching has got better at the clubs and the biggest thing is just the alignment between the clubs and the federation. Bernard Laporte went in as president, brought in Fabien Galthie, got the right men into the right positions. For years, the FFR and the clubs weren't aligned and that became a struggle with your conditioning and your rugby coaches unable to communicate and align with each other and make sure everyone was doing it similarly.
"They have managed over the last few years to align it so it is all geared towards World Cup 2023. A lot of stuff fell into place at the right time and it is falling nicely. You look at the playing population over here, it's huge, and it is only going to get bigger with success. I think 10.6million watched the last Six Nations game which for rugby was huge. It's on a real upwards curve and they have all this young talent coming through as well which is frightening."
?? ??????? ?? ??????

Avec @randstad_france découvrez les 23 Racingmen qui défendront les couleurs Ciel & Blanc demain face aux Bordelais ?#UBBR92 #RacingFamily @GroupRandstadFR pic.twitter.com/pivpT6Gw9l

— Racing 92 (@racing92) June 11, 2022
Prendergast now wants to sign off as a winner at Racing. They play their barrage game on Sunday night at Bordeaux knowing three wins would crown them Top 14 champions. "I'd just love to finish the season well with a trophy and you can head back then to Ireland quite happy. I still had another year here and there were talks to maybe stay on.
"But nine years on the road coaching is a long time, I just thought the timing was right. When you look at Munster this year and the players they have got coming through and the established players, they have a nice balance in terms of the profile of their players and that did excite me talking with Graham Rowntree. I knew a few people that would know him.
"I didn't personally know him previously until we got chatting and everyone speaks so highly of him. When I spoke to him I gathered why straight away, you could tell he is a good person and a massively experienced guy as well. When you look over the years at what he has done and achieved as a player and a coach, that appealed to me. Look, you come away for nine years, you learn a lot and you can bring back all those learnings to do hopefully something special at home."
Comments
Join free and tell us what you really think!
Join Free