Parra and Lopez are the latest to be sacrificed on Brunel's bloody altar
At the start of the 2019 Six Nations, there was no doubt who would be France coach Jacques Brunel's first-choice halfbacks.
Morgan Parra and Camille Lopez made perfect sense. Despite having only played one international together – back in 2015 – the Clermont pair were and still are, by some considerable margin, the most experienced hinge in the France squad, with a combined 92 international caps.
A combination of the vagaries of French coaches past and, more recently, injuries had kept them apart.
This week – a fallow weekend for the international tournament – they, along with team-mate Wesley Fofana and four others squad members, have been released back to their clubs. They could play some part in Saturday's Top 14 match against Grenoble at Stade Marcel Michelin.
Theirs has been a rapid fall from grace. Prior to the opening game of the Six Nations, Brunel had only praise for his pivot players. He told anyone willing to listen he was looking forward to finally being able to pick both together for the first time. He praised their consistency with Clermont. And he was delighted at the prospect of – finally – a settled French halfback duo.
As was pretty much any rugby fan. Parra/Lopez were the ninth different starting 9/10 duo for France in two years. No other starting pair had survived more than two games together. But it looked, at last, like it was relatively (in French rugby terms) plain sailing up to the World Cup in Japan.
Things didn't go as planned. Like so many before them, Parra-Lopez got stuck on two outings – the defeat-from-the-jaws-of-victory Six Nations opener against Wales, and the embarrassment at Twickenham.
Then, after the 44-8 loss to England, came the comments – and rumours of a full-on player mutiny.
Lopez, immediately after the game, told France Télévisions' pitchside reporter Cécile Grès: "We are the first to blame, the players, since we are on the field, but I think it's not just us, and we're not alone in this sinking [ship].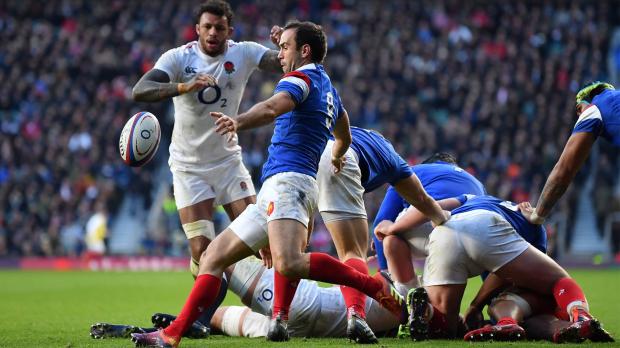 And Parra told reporters: "We are able to do what the English do, but do we work on it in training? I think we don't work on it enough, if at all."
The two weeks between that game and the Scotland match featured a period of high Laporte-visibility at French rugby's Marcoussis training complex, a series of player meetings, a major media relations crackdown, and the public unveiling of a leadership group that had been in place for some time.
And the matchday squad for Scotland, released early following a request from the players notably did not feature either Parra or Lopez. They had been replaced by Antoine Dupont and Romain N'Tamack, who had 13 caps between them – 11 of which belonged to the former. Baptiste Serin and Anthony Belleau were on the bench.
The rugby press in France, starved of the ease of access that it had previously enjoyed under Brunel, went into speculation overdrive. Those post-England comments were scrutinised and subjected to analysis after analysis. The common conclusion? That they were leading actors in the reported player mutiny.
Brunel insisted dropping 92 caps worth of experience for just 13 was entirely a sporting decision. "Given our performance [against England], we needed to change things," he said at a press conference after announcing the squad, adding the Parra-Lopez partnership "did not perform as well as expected in the two games".
He dismissed repeated suggestions the Clermont players were ditched for their criticism of the France staff and training methods: "What can I say to that? I can't tell you anything more. Ask them, you'll see what they tell you."
It's true. There were legitimate sporting reasons for Brunel's decision. Parra-Lopez had not worked. France needed to do something. And there are legitimate sporting reasons for them – Fofana, too – to play this weekend, otherwise they will have gone three weeks without playing a competitive match.
It's also true that there is no doubt, fitness permitting, both Parra and Lopez will be in the mix for seats on the plane to Japan.
But it's equally true that they have dropped to the back of the national coaching team's thinking for the Ireland game on March 10. So far back, in fact, that – like fellow released players Uini Atonio, Pierre Bourgarit, Geoffrey Doumayrou, and Yacouba Camara – it's highly unlikely they will be considered for the trip to Dublin.
And it's just as true that – with FFR vice-president Serge Simon paying very close attention – they will tell the media exactly nothing about what actually happened between the England and Scotland games at the 2019 Six Nations.
Comments
Join free and tell us what you really think!
Join Free