Eddie Jones brands latest Mike Brown comments 'disrespectful'
Head coach Eddie Jones has branded former England fullback Mike Brown's comments about the Wales team prior to Saturday's Guinness Six Nations game in Twickenham 'disrespectful'.
England ran out 23 – 19 windows after a far closer match than most English pundits had predicted – with Sir Clive Woodward's prediction of a 30 point victory made to look foolish.
Brown, for his part, had written that "Based on what I've seen of Wales in the opening two rounds, they don't have a single player who would get into the England XV right now."
Brown has since rowed back on those comments, saying he was 'happy to eat' humble pie after the performance of Alex Cuthbert, Tomas Williams and Taulupe Faletau suggested they'd have at last strong arguments to be included in a combined fifteen.
Jones was quizzed on Brown's comments by WalesOnline about Wales and found himself in the role of an unlikely defender of the Wales team.
"I don't look at it that way," he told WalesOnline. "These ex-players, they become so clever when they start talking in the media and they haven't answered everything.
"I think that's quite disrespectful.
"I don't look at teams like that. You have a certain amount of players to pick, and we have a certain amount of players to pick and we try and pick the best players to play for each country.
"So I wouldn't engage in that conversation."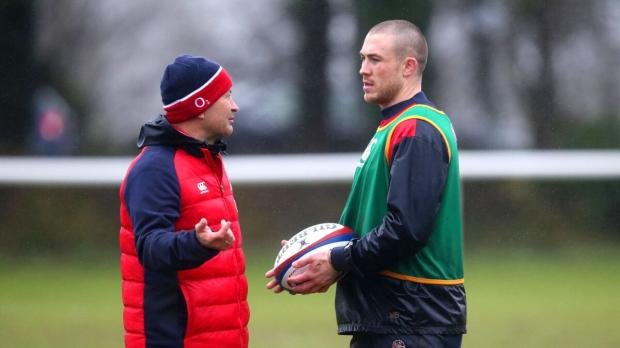 It isn't the first time Brown and Jones have exchanged words in the press. Nearly exactly a year ago Brown publically criticized Jones' regime in his Daily Mail column.
"It seems to me that, for a good while, the players have accepted whatever game plan Eddie puts forward. In that kind of environment, it's easier to do what he says and keep your head down," wrote Brown at the time. "Eddie has a sharp tongue and he's not afraid to use it. One minute he'll be playing cricket with the guys, then the next he's like a scary headmaster.
"Everyone has heard the scare stories and you don't want to get on the wrong side of him.
"I challenged Eddie once and he blew up. Before the 2019 Japan World Cup camp, he went around all the clubs to do one-on-ones with players.
"During our meeting, he said: 'You're a defensive full-back and I need to work out whether we will take a defensive full-back to the World Cup.'"
"He didn't like that I contested what he said.
"I'd had one of my best seasons for Quins with really good attacking stats, but Eddie had pigeon-holed me as a defensive full-back. At the end of this meeting, he asked if I had anything I wanted to say.
"I challenged his comments that I was just a defensive full-back, saying I thought I had been adding value to the attack, with examples and stats from my season, before saying I would take away all of his points and that I would do everything I could to get into the World Cup squad.
"He did not like that I had contested what he said and went mad. He shouted: 'Well you lost the f****** ball in contact on Saturday, didn't you? That's f****** not good enough. You're not f****** doing everything you can.'
This lead to Jones batting back at Brown, whose comments surprised the Australian.
"How do you know they have not been challenging me? It was a surprising comment by Mike. We have a shared responsibility here. There is a forum for players to speak up," said Jones. "It would be hard for me to say we have a dictatorial situation, which is what Mike Brown is alluding to. He is entitled to his opinion."
Theirs is clearly not the warmest of relationships.
Comments
Join free and tell us what you really think!
Join Free