Back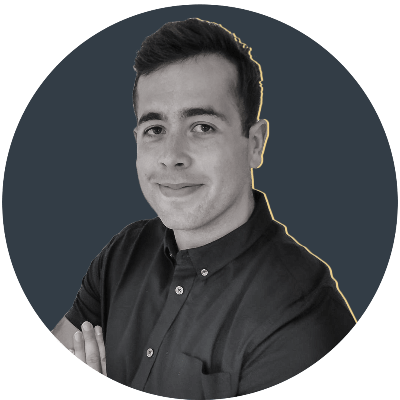 By Jamie Lyall
Thrill seekers
There may have been a break in the Six Nations but there is no such thing as a down week in rugby. This city never sleeps. Northampton have learned how to win again, Ireland's provinces swept the board again and yet their one winger who knows how to score couldn't make it into Andy Farrell's squad. Read his remarkable comeback story and also how the Welsh continue to struggle at club level but thrive on the international stage.
Great entertainers
Away from the red cards – and there doesn't seem to be a passing day when these are not being debated as rugby goes through its teething pains – sides have largely come to put on a show. Indeed Sunday's glorious off-the-ropes effort by Irish to go toe-to-toe with the league's great entertainers, Bristol, and come within a rogue pass of beating them was a classic of the genre. It had everything.
Daft tip-tackles – Sam Bedlow was a lucky boy until this afternoon's citing, two intercept tries, one from Piers O'Conor and one from Ratu Naulago, a 'worldie' of a second try from Naulago, at 31-6 it should have been lights out for London Irish, but they had other ideas. Still 31-13 down after 67 minutes, it took a Mitch Eadie yellow-card for the wheels to fully come off Bristol's hitherto peerless start to the Premiership campaign.
Three tries in nine minutes, through Brophy Clewes, Phipps and Parton saw the sides tied at 34 apiece, before a breathless final passage in which Nick Phipps dropped a pass with the try-line in sight on 81 minutes. Whether this devil-may-care attitude has been allowed to ambition because sides don't have to deal with the jeopardy of the drop is for another day, but for the neutral it is glorious to watch.
Welsh enigma
In every other country, a good club player is often a mediocre international. In Wales, the opposite is true. The nation that won grand slams in 2019, 2012, 2008 and 2005 has never delivered a Champions Cup winning side.
Worse still, since 2011, they haven't got close, Welsh clubs managing just three Champions Cup knock-out appearances in this period whereas Ireland's provinces, across the same timeframe, have made it to the last eight on 22 occasions.
We could go on. Since the formation of the Celtic League in 2001, Ireland's four provinces have won or finished runners-up in the competition 24 times; 14 more than the Welsh regions have managed. In Europe, it's seven Champions Cup triumphs to Ireland, none to Wales.
And yet, at international level it's Wales who've made it to two of the last three World Cup semi-finals, Wales who've won four grand slams to Ireland's two this century.
This season the pattern is even starker. Leinster and Ulster sit atop Conference A; Munster and Connacht, Conference B in the Pro14. The four provinces swept the board again this weekend, Connacht beating Cardiff, Leinster doing the same to Dragons, Ulster to Glasgow, Munster to Edinburgh. In 18 matches between Irish and Welsh sides this season, the Irish provinces have won 15, the Welsh regions just three.
But guess who won the Six Nations clash in Cardiff, though? Of course it was the Welsh. "They're Clark Kent with their clubs," wrote Donncha O'Callaghan in 2019, before waltzing their way to another Grand Slam, "then Superman for their country."
Sinners to Saints
Northampton racked up a fourth-straight Premiership win on Saturday, conquering the champion Chiefs at Sandy Park. Chris Boyd favours a swashbuckling style, but this was a win built on rugged ferocity in the collision, and handling Exeter's array of carrying brutes.
Saints endured a grim start to the season, poor form compounded by coronavirus-enforced postponements, but they have been blisteringly good since Christmas time. Worcester, Gloucester, Wasps and now Exeter have been vanquished, and it is particularly telling that three of the quartet of triumphs were earned on the road.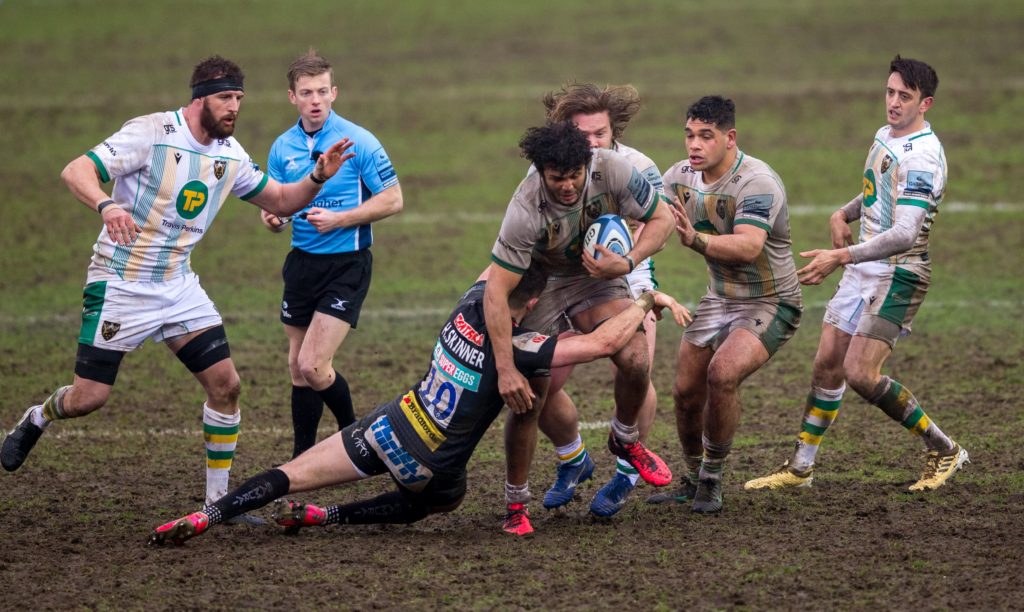 Kicking controversy
Exeter, of course, could have stolen it a death. With the clock red, Joe Simmonds lined up a conversion to win the game from wide on the right. Before Simmonds got anywhere near the ball, he was swamped by the cascading Northampton chasers, who claimed the Chiefs pivot had started his run-up.
There has been much rancour and debate on the incident, and whether Christophe Ridley was right to deem Saints' charge legal. What does World Rugby say?
According to Law 8.14, "all opposing players retire to their goal line and do not overstep that line until the kicker begins the approach to kick. When the kicker does this, they may charge or jump to prevent a goal…"
BT Sport's footage showed Simmonds take the merest step to his left. In his post-match interview, the ever-impressive Rob Baxter said he thought that "Simmo moved". Ridley got it right, and as a collective, Exeter got it badly wrong on the day.
Holland the hero
Every team needs a Billy Holland, a relentless, standard-setting, rip-roaring beast to drive the culture and run the show when the internationals are away.
On Saturday night, Holland drew level with Ronan O'Gara on 240 Munster appearances, the second-highest tally in province history. He marked the fabulous achievement with a man-of-the-match display against Edinburgh.
Holland epitomised Munster's ruthlessness at Murrayfield, their 22-10 victory preserving a handsome lead at the Pro14 Conference B summit. The big lock was a pest in the line-out and at the breakdown, and thundered around making a number of influential carries. A captain's performance from one of the ultimate modern-day Munstermen.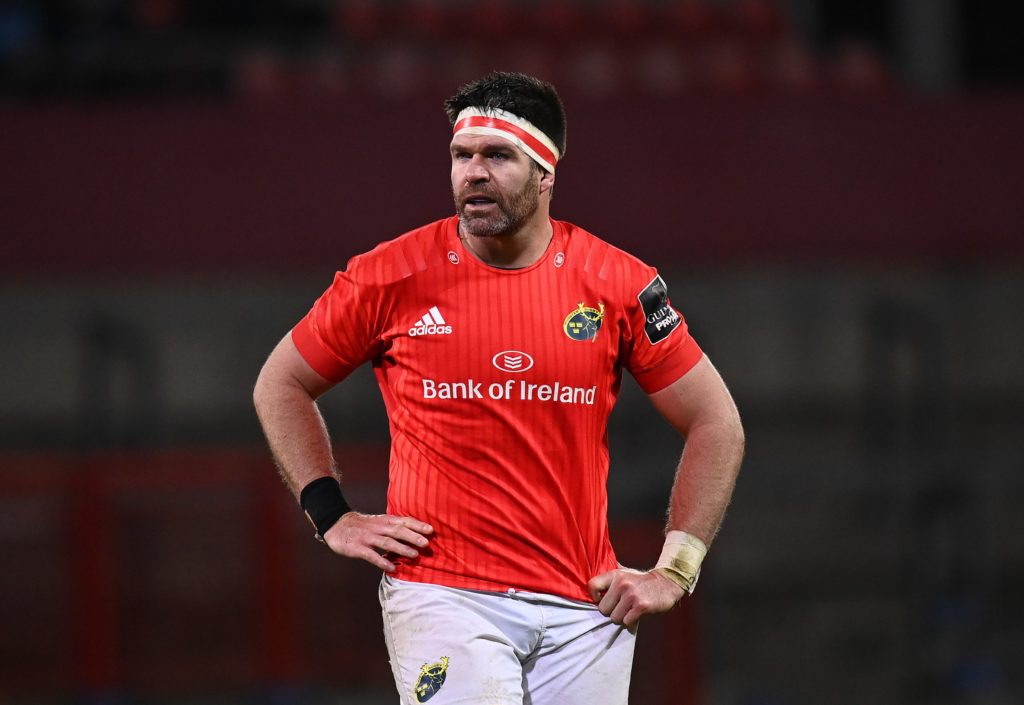 Redemption Man
Nice player, Alex Wootton. Nice story, too. When we first came across him in December 2017, he was at that midway point between prodigy and star. Life was full of new discoveries, learning what it was like to hear the words Alex Wootton read out by the Munster head coach on team selection day. Times were good. He became only the second player in Munster history to score four tries in a game and came to view the months of November, February and March as windows of opportunity, those moments when the eyes of the world are on international rugby, but when the Pro14 show goes on and up-and-comers get their shot.
Knowing how unforgiving the industry was, how the November and February boys often got put back in storage, not to be heard of until the next injury crisis came around, he made a vow to himself to skip the queue. "The back three alone has four internationals battling away for a starting slot," he told us. "That's tough but then again where else would you rather be? You don't want to be in a club where it is easy. If it was like that, you wouldn't improve."
And that was the thing. Wootton desperately wanted to be at Munster. Born in Prestbury, one third of the "Golden Triangle" outside Manchester where Michael Carrick, Robbie Savage and Andrew Flintoff, among others live, he decided at 17 to move from the academy at Northampton Saints to sign for Munster, having been schooled at Sedbergh, Will Carling's alma mater.
By now, he was an Irish under-age international, eligible through his father's Co Down roots, keen to further his academic and rugby education in Limerick. He joked about how he could measure his career trajectory through the quality of homes he was renting. "Initially, when I first came over to Ireland, I was in student accommodation. Then when things started going a bit better, rugby-wise, I got my own flat."
I just love his speed, his reading of the game, his confidence, his eye for the tryline.

Andy Friend
Now he is living in Galway, by virtue of the fact that he went from next-big-thing to the half-forgotten one at Munster. From being their top try scorer in the 2017/18 season, he featured just twice in last year's injury ravaged campaign. Connacht called, offering more than mere sympathy. Their coach Andy Friend rated him highly. "I just love his speed, his reading of the game, his confidence, his eye for the tryline," he said after Saturday's two-try salvo against Cardiff brought him to the top of the Pro14's tryscoring charts.
Standing next to him, Wootton smiled sheepishly. "I wouldn't be here if it wasn't for Andy," he said. "I owe him so much." A friend in need is a friend indeed.
The loan move from Munster to Connacht is one he wants to extend from a courtship into a marriage. And at the heart of that desire to commit is an underlying desire to play for Ireland. Way back in 2017, Joe Schmidt no less, mentioned him in despatches, at a time when he had just 17 Munster caps to his name. "International rugby is where I want to be," he said at the time. "I have gone from watching Ireland games on TV as fan to feeling a bit gutted not to be involved."
It looked like it would come. From slicing through Pro14 defences, he made the next step, making his Champions Cup debut against Leicester. Munster progressed out of their pool; Wootton thriving rather than merely surviving. He was there when they beat Toulon on an unforgettable day in March 2018, controversially selected ahead of Simon Zebo against Racing in that year's Champions Cup semis.
It was a painful experience.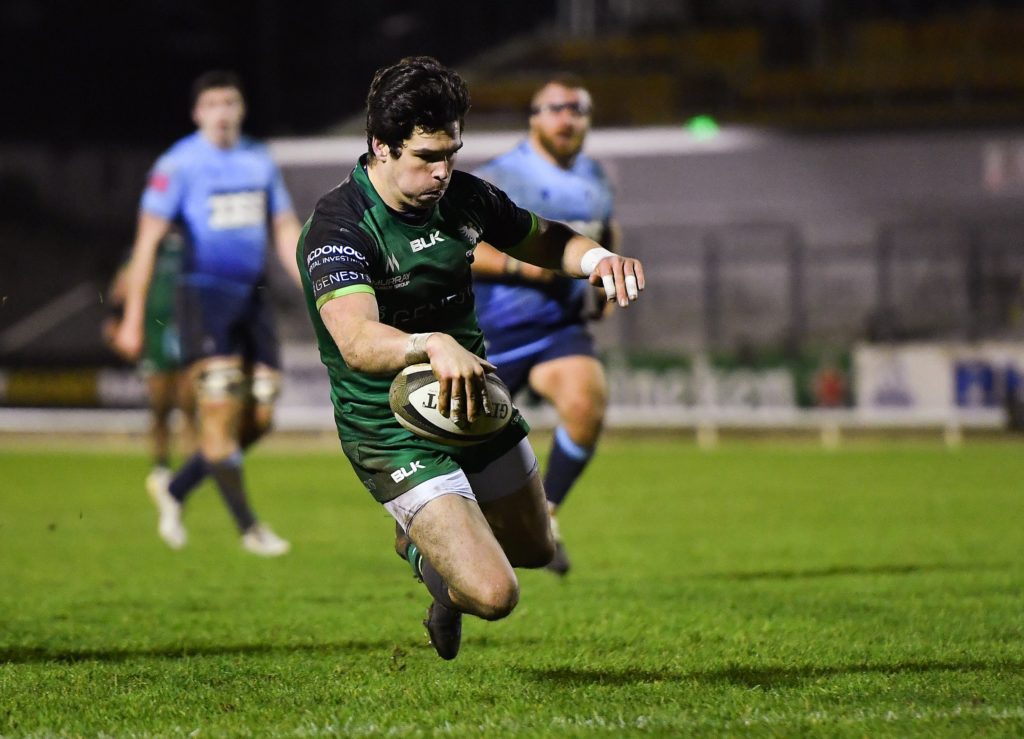 Not as painful, though, as what came next, the injuries, the selection heartache. From scoring nine tries in 2017/18, his tally dipped to two a year later. Last season he managed just two appearances. "Look back to where I was a year ago," Wootton said on Saturday, as he cradled his man of the match award. "And look where I am now." He's on the cusp. Ireland didn't call yesterday but they soon will. Ten tries in 13 games – more than any other Irishman has scored this season – are persuasive statistics but not as convincing as the manner with which Wootton spoke afterwards, his reference to a missed tackle which ultimately cost Connacht seven points, and quite possibly cost Wootton his place in Andy Farrell's squad. More than that, though, there was a moment that summed up his latest step in the maturation process. As the post-match interview drew to a close, Wootton asked for a final word, asking his inquisitors to deflect attention away from him and share the praise with others at the club. Nice touch. We've seen a few of those recently.
Cullen is damned if he does, damned if he doesn't
It is far from a foregone conclusion but Leinster appear primed to appear in yet another Pro14 final next month, their tenth in 12 years, the decider pencilled in for March 27, the week after Ireland's Six Nations campaign ends. Before then they have a de-facto semi-final against Conference rivals, Ulster, on March 6, a down week in the Six Nations.
So what does Leo Cullen do then? Big matches call for big-time players and Johnny Sexton, James Ryan and James Lowe certainly fit into that category and that's before we mention Tadhg Furlong or Cian Healy, Garry Ringrose or Jordan Larmour.
If it would be unfair to punish players whose absence stemmed from answering their country's call, then bear in mind how those left behind from Irish duty feel? Half the players in Andy Farrell's 36-man Ireland squad are Leinster ones but while they've been away, the shop has continued to be stocked, Dragons the latest side to be beaten by what essentially is Leinster's B team.
So far in this Pro14 season, Furlong has played just 40 minutes rugby, Sexton just 182, which is more than Lowe, incidentally. Healy, Ryan and Larmour have appeared in just four of Leinster's 12 matches, Henshaw and Ringrose in only three. So what does Cullen do against Ulster or if Leinster make it to the decider? Stick with the ones who got them there or accept that only A-Listers look comfortable on the red carpet? Either way he's damned if he does and damned if he doesn't.
The comeback kid
There have been some injury horror stories in recent years, it comes with the territory in a highly-attritional game. Think Manu Tuilagi, Jonny Wilkinson, Dan Leavy, Gareth Anscombe – all players who went through and are still going through the pain barrier in a battle to resume playing. Ellis Jenkins is firmly in that unfortunate band of long-termers.
Since getting caught in a ruck against South Africa, the talented backrow spent 812 days away from the game, with numerous set-backs. He made his long-awaited comeback last week against the Ospreys in a friendly, scoring a try, but his first competitive start came against Connacht. He was part of a losing side, but his performance, after so long out, drew widespread acclaim.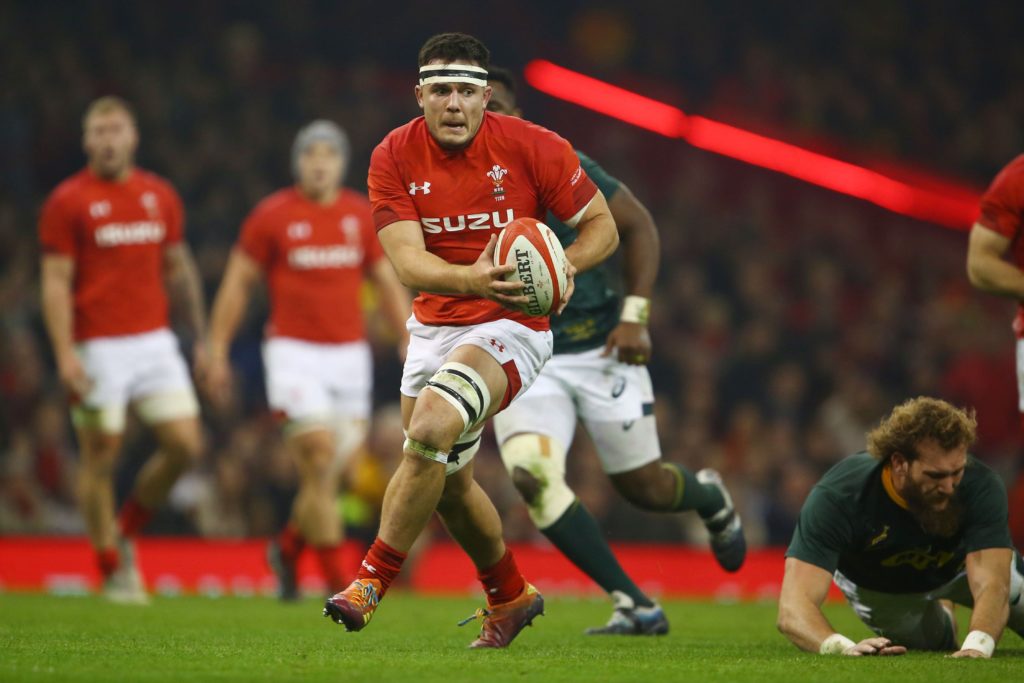 The number crunchers at OPTA worked out that he'd made 15 tackles, trundled for eight carries, stole two turnovers and 22 metres gained, in a 70-minute all-action display. It would take a cold heart not to wish the popular Cardiff Blues captain lashings of good luck in the coming months. With a good wind, a Wales call-up no longer looks fanciful.