Back

By Ben Smith
Unlocking Marcus Smith's game in the Six Nations
Marcus Smith has established himself already as one the game's most exciting prospects and following England's Autumn campaign appears now to be the first choice starting option at 10 for Eddie Jones ahead of the Six Nations.
With captain Owen Farrell ruled out of the tournament, Smith won't have the chance to build a 10-12 combination with Farrell like George Ford has over his career.
While many were unsure why Farrell retained his place originally instead of the in-form Ford, this was not a like-for-like decision. The 30-year-old England captain has crafted his career as a flyhalf-turned-playmaking option at 12 to accommodate Ford, and as such offers cover at two positions.
The initial decision for Eddie Jones would have been a trade-off between Smith for Ford, two out-an-out flyhalves, and then, following that, potentially finding an apprentice option to build more depth.
Despite Ford's brilliant form in the Premiership, he is a known quantity at this stage of his career. He does not need any development time in international rugby, and once injury struck, could always be trusted to come in and perform. With Farrell out, he has that opportunity but Smith will likely still be the starter.
Smith's footwork and sharp agility adds another dimension that neither Farrell nor Ford have, and that can open up surprising running lanes for England.
With Smith a relatively new player in the environment, the chemistry and understanding with all of the other backs still needs to be developed as illustrated in November against the Springboks.
Less than three minutes into the game against South Africa, Smith had his first opportunity to take on the line as England mapped right-to-left through the phases on the edge of the opposition 22.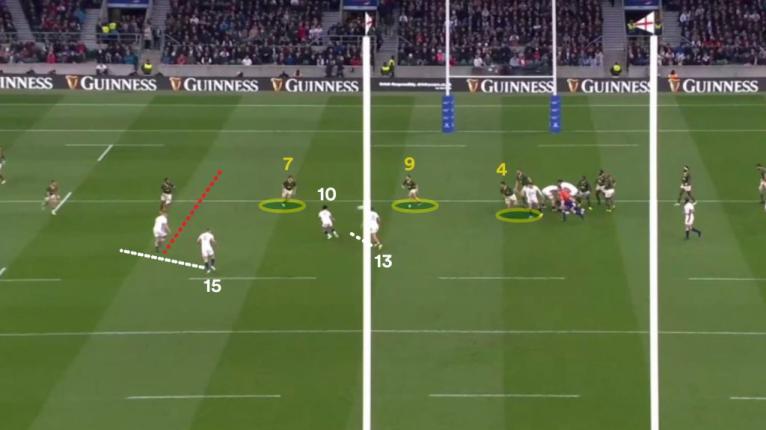 Smith was positioned at first receiver with a overs-unders line combination on the outside, with Bevan Rodd and fullback Freddie Steward (15). Henry Slade (13) was a tight inside option on Smith's inside hip.
Slade doesn't anticipate just how elusive Smith can be, staying too tight, and misses the running lane that opened up by taking the same gap as Smith.
Smith almost needs another inside option coming from the other side of the ruck as his ability to bounce out or back across multiple defenders is vast. We see Smith draw up to three defenders into contact in this example.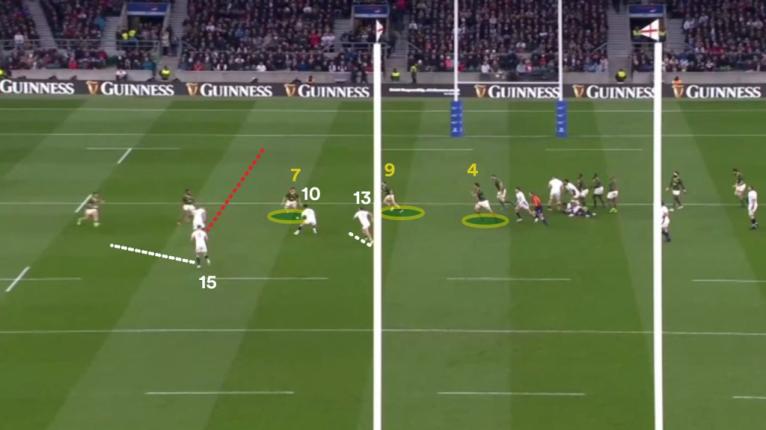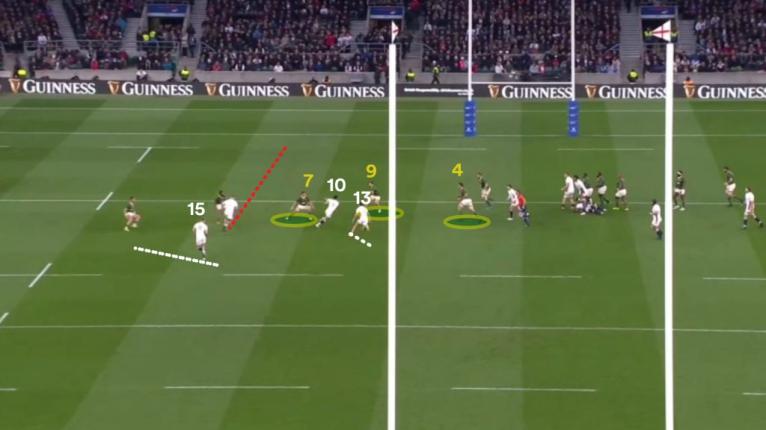 Smith's sharp left foot cut beats the first man Kwagga Smith (7) easily and Slade anticipates running his line between the next defenders, Cobus Reinach (9) and the closing Eben Etzebeth (4).
But Smith also wanted the same gap and they end up all colliding. England's flyhalf was able to get to the inside shoulder of Reinach where Slade wanted to run.
As Smith was able to bounce back inside three defenders to draw Etzebeth, the pressure was on the Springbok front row to fold from the other side of the ruck and they were all stationary. Duane Vermeulen (8) was hunting for a steal and as such wasn't well-positioned as inside cover defence.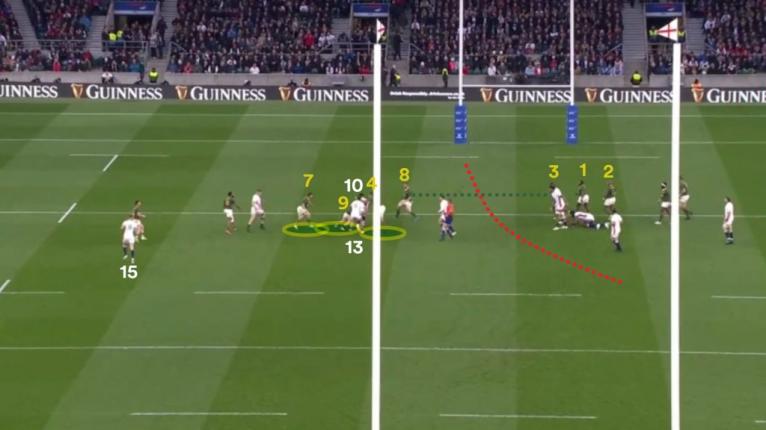 Although it would have been a difficult pass back inside to make for Smith, the running lane there is an open highway for another England back to score untouched under the posts coming from across the ruck matched up on three front-rowers.
Such is the ability of Smith to change the direction of play with his feet and force the line to really work hard to stay connected, opportunities open up playing off Smith that just don't appear from Ford or Farrell who might on occasion get to the second outside defender at best.
Smith can work his way to the third or even fourth, meaning the supporting lines for players like Slade need to be adjusted with more starting width, or extra wider options need to be alive around the flyhalf.
This can also add more disguise to intended targets as they can hide further away from the ball runner at the beginning of the phase.
It's not just his running game that defences need to account for, he can adequately offer sound distribution and make the right decisions when he is able to get involved.
England's first try of the game to Manu Tuilagi came from a well-constructed set-piece launch in the attacking 22 which used wide-to-wide movement to really stretch the visitors on the fringes.
The key takeaway from this successful attacking sequence was getting their playmaker the ball multiple times during the movement.
The first phase following the collapsed lineout was a crash ball to inside centre Manu Tuilagi.
England immediately look to go wide on the next phase using a flush pod with two flat forwards and slinging the ball out the back to Marcus Smith (10). The flyhalf looks to quickly link up with his outside men with early ball to Steward (15).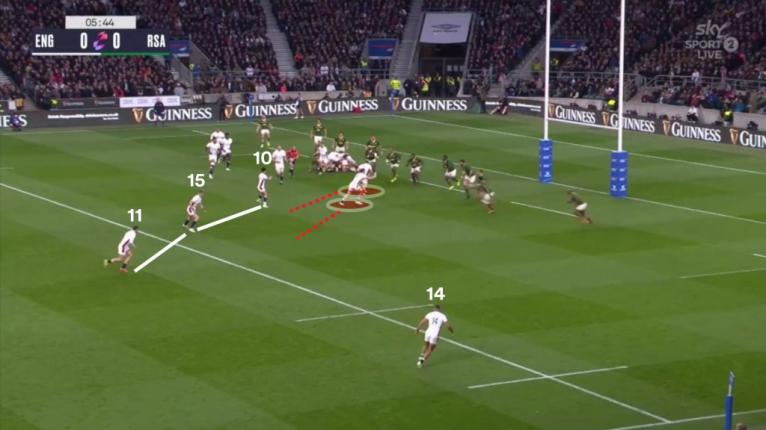 The timing between Steward (15) and May (11) is off, with the left wing mistiming his run and having to stop-start to avoid overrunning the fullback.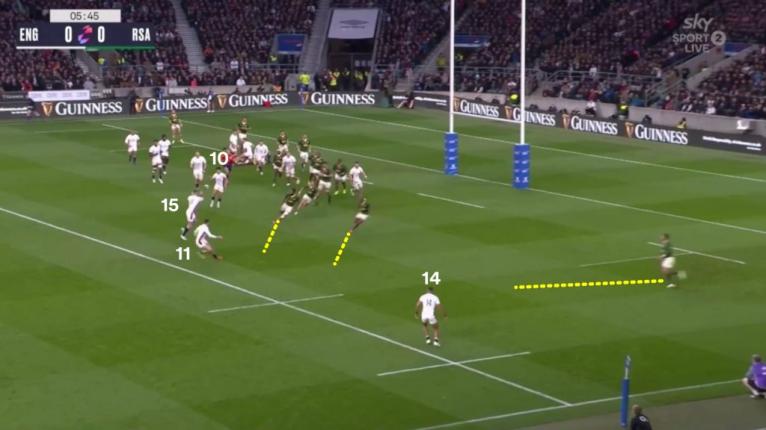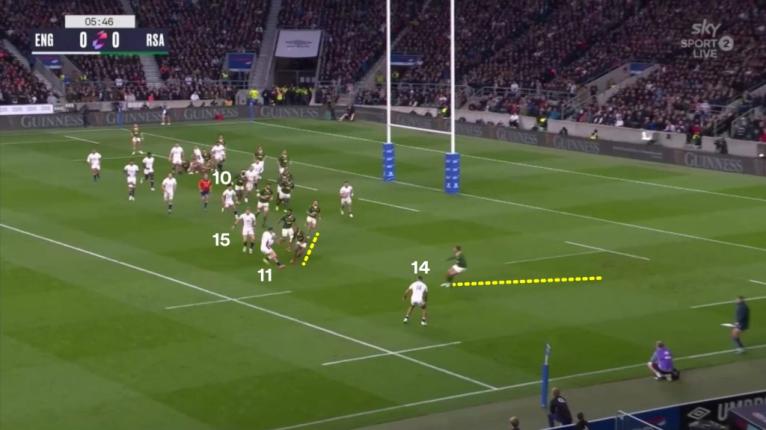 There was little on offer for May after the hesitation, but he was able to cut back upfield and managed to rescue the situation from being a negative gain line play. His strong carry set up England nearly inside the five with good front-foot ball.
Smith sensed the opportunity to play the same way but Youngs' flat pass is taken by lock Charlie Ewels for a hard carry. It would have been a walk-in try for Smith had an offload been forthcoming, but the lock misses the opportunity to find the space.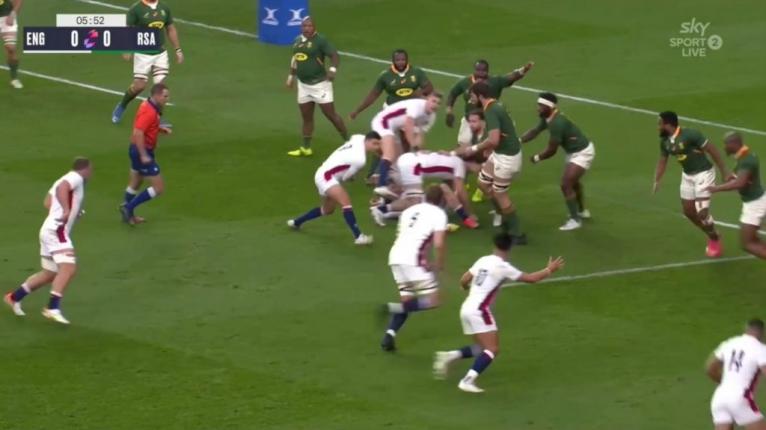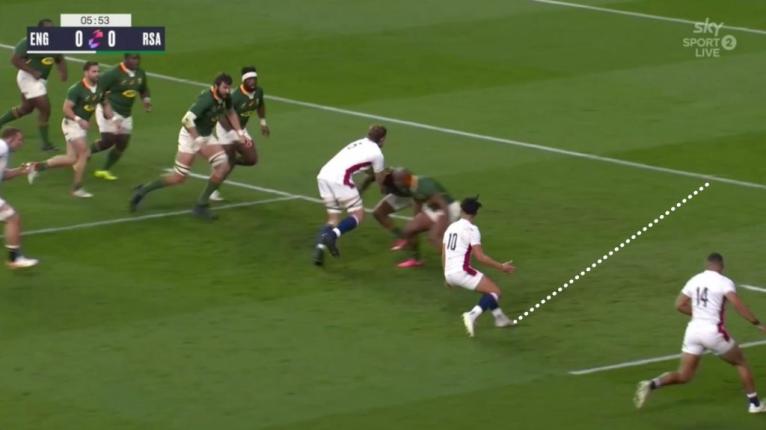 However, the first wide movement did create a try-scoring opportunity on the far edge so England quickly go about setting up another wide raid back to the left using the same pattern to try the other side.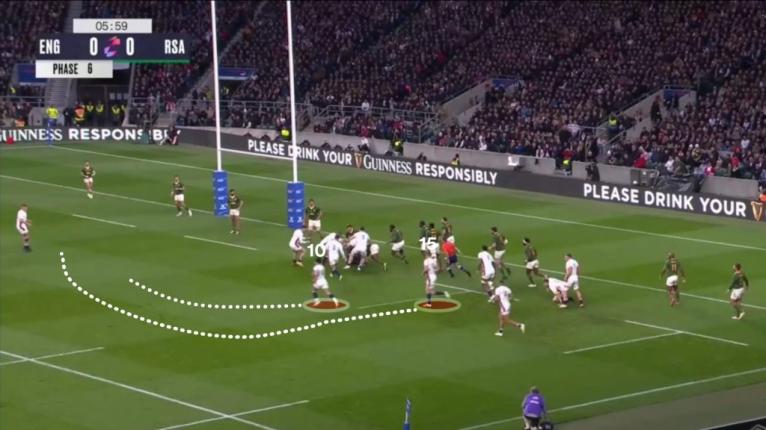 The first phase back left is a carry off Youngs by Maro Itoje while Smith (10) and Steward (15) hustled back to get in a position to organise another wide shift out the back.
After a pick-and-go, England are ready to release again on the third phase back with the same shape.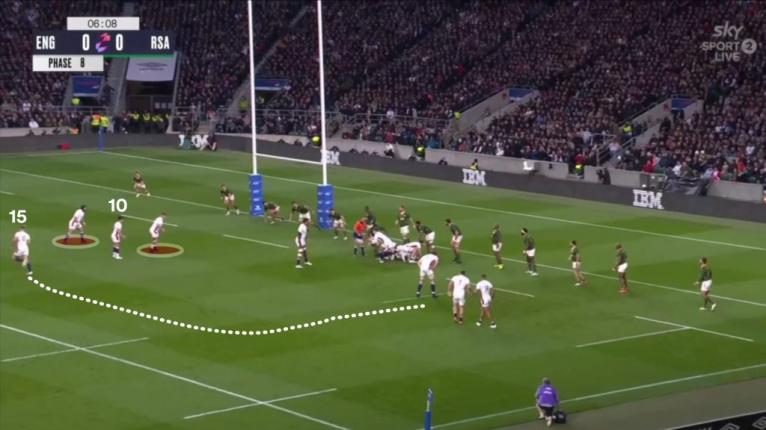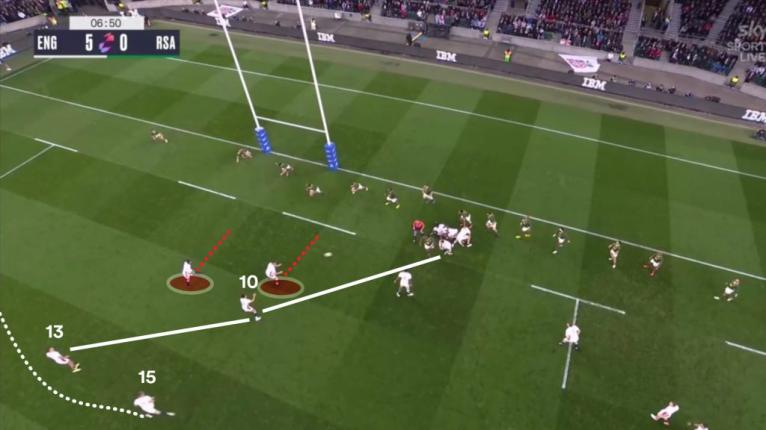 England played Smith out the back of the same two forward pod for the release to the left edge.
Smith's fast distribution found Slade (13) early enough and Jesse Kriel (14) can't close fast enough to prevent the ball from getting to the open man on the wing, Manu Tuilagi (12). Steward is another option for Slade but isn't needed as Tuilagi crashes over in the corner.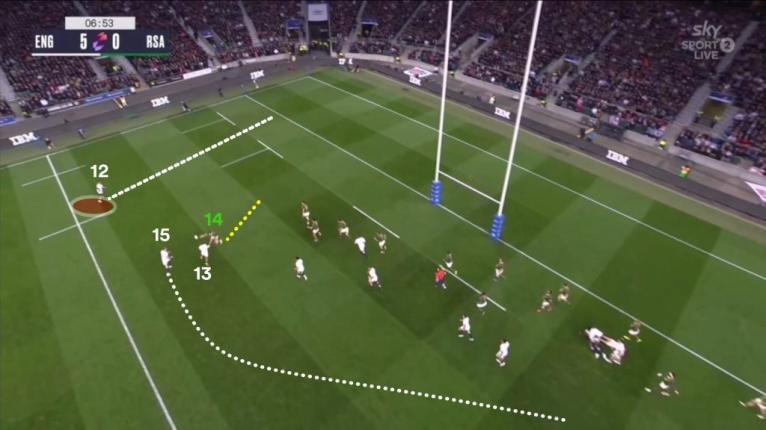 It's not an overly complicated wide-wide scheme, but it worked due to England's backs working extra hard off the ball and Smith moving the ball quickly to where the space was.
Late in the first half with a 17-12 lead, England have another opportunity from a similar position inside the 22 with six minutes remaining in the half. This time from the lineout launch, they played exclusively off Ben Youngs, and fail to get Marcus Smith involved at all in the launch pattern.
Despite breaking South Africa on the edge for the first try, this time they try to attack the middle and kept play off 9 with carries within the forwards. Not surprisingly, they end up turning the ball over on the fourth phase, losing a breakdown penalty after a dominant Springbok hit.
It's bad play calling and a poor application of strategy all round. Having already found the weakness, they proceeded to attack the opposite place, the middle, and also failed to give their best attacking player the chance to have the ball in the best field position.
Right on halftime they turned down three points for another lineout launch inside the 22. On the first phase carry off 9 they lose the ball again at the breakdown after Tom Curry is driven backwards.
These two failures highlight the need for England to understand who their best attacking weapon is, and try their best to use him accordingly.
Whilst the wide-wide strategy worked against South Africa, it doesn't mean that it will against their Six Nations opponents. What is crucial is that launch plays are constructed around given Marcus Smith the ball with a strike play.
Having Owen Farrell in the line-up at 12 would have been great for Smith to get the ball floating out the back from Farrell's pullback pass on a number of planned strikes. Either on first, second or third phase going the same way would have freed up Smith's running game and allowed the 10 to get the ball on the move with more space.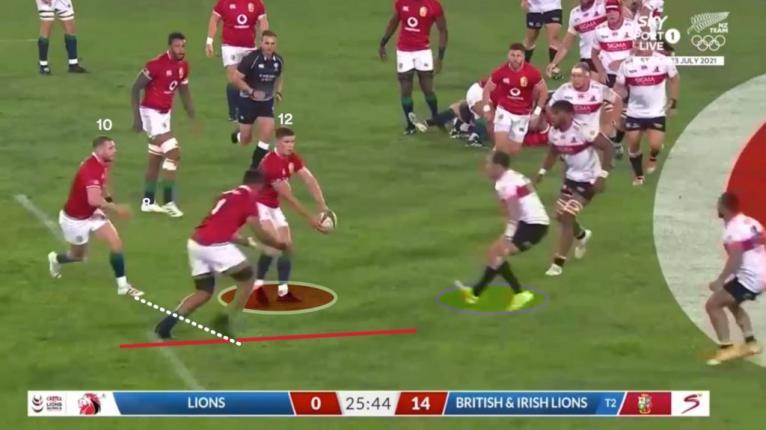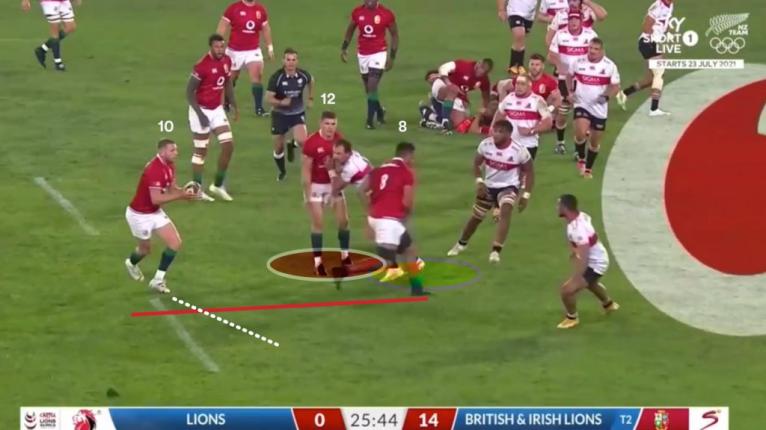 Throughout his international career with England and the British & Irish Lions playing as a 12, Farrell has shown he can complement and work in tandem with world class 10s such as Johnny Sexton, Finn Russell and of course, George Ford.
Marcus Smith would have been no different. Farrell will be a big loss but if there is a player in the England squad who could perform a similar role, it is Henry Slade, who's ball-playing skills are very polished having played nearly everywhere along the backline.
Slade played at 12 once Manu Tuilagi was injured against South Africa, moving inside one spot while wing Joe Marchant moved to outside centre.
It is a move that Eddie Jones has suggested as a solution to Farrell's injury, despite having some strong ball-running midfielders in Mark Atkinson and Luke Northmore in the squad.
England ran a sweep play around Slade as first receiver in the lead up to their second try against South Africa, which illustrates his ability to play the inside centre role. This is the same kind of play you would see Farrell run as a 12.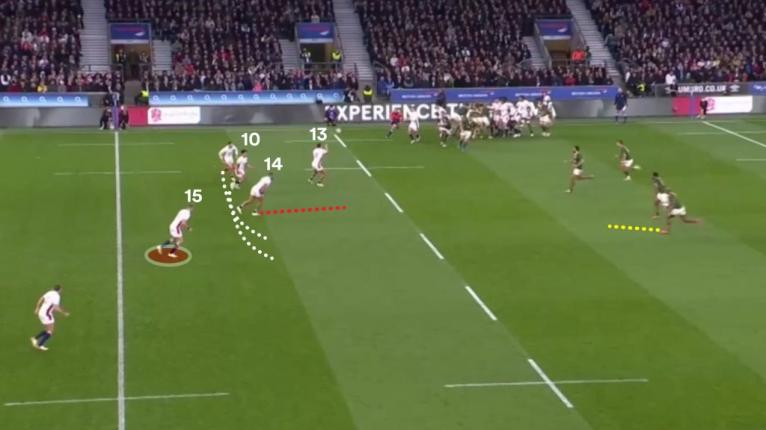 Smith is floating out the back on a sweep line with Jonny May, while Marchant runs the short option from the outside centre position.
England had the perfect play to take advantage of the Springboks' aggressive outside-in rush, using a wide cutout from Slade direct to fullback Freddie Steward (15).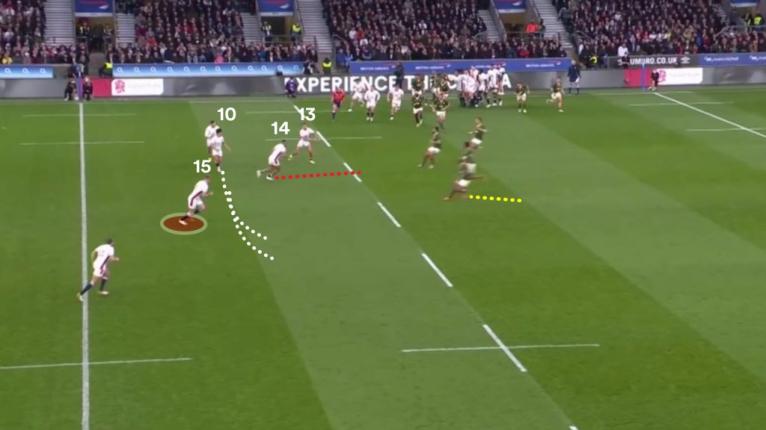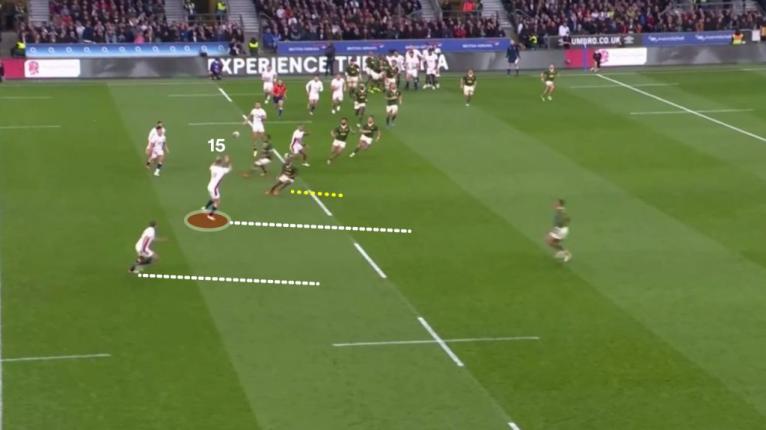 South Africa fail to contain the outside break and England use the two-on-one to get downfield inside the opposition 22. A phase later Steward crashes over from short range.
Having Slade at 12 will allow England to run a variety of sweep plays to use Smith in different ways, getting their flyhalf in motion out the back.
Smith will need both types of midfielders at various points in the tournament, depending on the opposition and the matchups that they want to exploit, but Slade is an experienced operator with diverse skills to build an attack around.
If England need a powerful 12 who can run great crash lines to create go-forward, then Atkinson will likely be in contention for the role as one of the Premiership's best in that capacity.
The blistering start to Marcus Smith's international career makes it seem he has been around for much longer. He ignited the Premiership as a teenager, but it's easy to forget that he is in the embryonic stages as an international.
This shapes as his first Six Nations with a lot of pressure resting on his shoulders as a starter in such a vital position. He is certainly capable of delivering greatness as demonstrated against South Africa, but there will be obstacles to overcome and inevitable rough times ahead as he finds his feet.
This should not deter England from backing his ability. They should put him in the positions to make the game-defining plays knowing that he is going to get it wrong at some point.
Because when he gets it right, there are few that can stop him.