Back

By Claire Thomas
Tongan heart, English soul, Rekeiti Ma'asi-White aims for Test stardom
Rekeiti Ma'asi-White. As the sporting cliche goes, 'remember the name'. Nicknamed, 'Ricky', the midfielder has been a shining light in a hitherto promising England U20s Six Nations campaign set to come to a climax against the all-conquering Irish in Cork.
At 6ft 1ins and 100kg, the centre manages to be thunderous on both sides of the ball and boasts a sumptuous skillset with which to create. Indeed, he is just as capable of dancing past a defender with his electric footwork as simply flattening anyone in his way, although his preference seems to be operating as a cerebral playmaker. Opposition bewitched, drawn, and thwarted, with Josh Hathaway or Tobias Elliott the grateful recipients. For those invested in this year's tournament, after any try the Sale Academy newcomer's trademark celebration is performed – a triumphant finger pointed skyward, akin to Alan Shearer in his pomp.
When RugbyPass+ caught up with Ma'asi White, he was 'just chilling' in the house he lives in with three other Sharks youngsters – and we mean that in the most literal sense. Wasps' sad demise meant a move to Manchester in November, where the Truro-born rising star found himself succumbing to the Northern chill, 'freezing… Oh my god. I had to wear hoodies to bed.'
Technically, his ascent to the summit of Test rugby started in the altogether milder climes of Cornwall, but it's somewhere even further from the Baltic state of Sale where Ma'asi White's gene-pool originates. His father, Vili, represented Tonga 36 times – including at the 2003 World Cup – and the Pacific Islander culture is very much part of his children's lives, even whilst they pull on jerseys featuring red roses, rather than the iconic red couped cross.
'It's a small island, and Tongans all seem to know each other over here, too. Family is the most important thing to our heritage. Mum is my number one supporter, and my dad always talks about the game. When it comes to rugby, he definitely pushes me, but he loves a joke when it's about anything else. If I had to put him into words, it'd be those: "family guy".'
Vili, a former Cornish Pirate, London Welsh and latterly Ampthill club captain who only hung up his boots at 41 – is 'crazy' and the family WhatsApp group is frequently treated to the timelapses he likes to film of his home workouts – 10km row, anyone? – and that drive and physical prowess has clearly trickled down to his sons: Sonny, Suva, and 'Ricky'. All three have played professionally: Rekeiti's with the Sharks, Suva for Coventry in the Championship, and Sonny received U20s honours whilst representing Northampton Saints, before being forced to retire at just 21 after a kidney transplant.
'It was gutting. He was so promising. Hearing that Sonny wouldn't play again made me realise, though, that now it's over to me: I could be the next one to break through in the family, so need to put my foot on the gas and reach the highest levels. To do it for him.'
It was a rambunctious childhood for three brothers, mainly spent knocking lumps out each other with an oval ball as fans of league and union, whilst Vili was at Leeds Carnegie, before his signing for London Welsh brought a journey down South. 'It's quite neat that I'm at Sale now, actually,' Ma'asi White muses. 'I am back up North again.'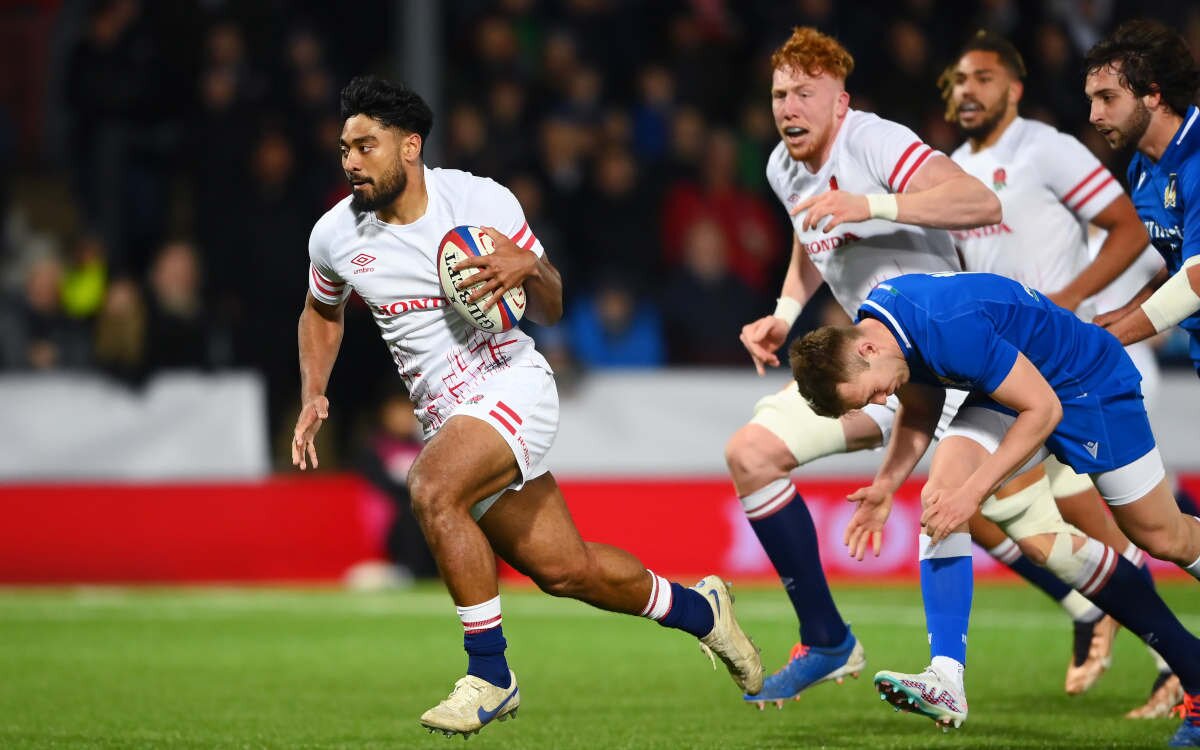 As he grew up, there were new heroes to imitate in the garden. Ma'a Nonu was, and still is, a favourite. 'I love the way he plays… he could do everything. And Manu as well. I was a Leicester supporter growing up, and my uncle gave me a Tigers shirt with 'Tuilagi' on the back of it for my 12th birthday.'
It's a dream come true suddenly being in the same set-up as England's most lauded purveyor of the 'Samoan sidestep', but not the first time he's trained with an explosive Islander. 'Malakai Fekitoa helped me a lot when we were at Wasps together, and that motivated me massively. I always wanted to learn from the best, and then he signed and was right there. I was lucky enough to get a few tips.'
The best one? 'Do your basics well: pass, kick, and defend. If you nail those – you're in a good place. Those plus work-rate are your non-negotiables. Nothing beats hard work, and you should never lose that.'
I point out that he's picked a trio with physiques as formidable as his own – Nonu, Tuilagi, and Fekitoa haven't skipped a leg day between them in their lives – and he deadpans: 'I don't really do legs, you know… I was gifted these… I'm kidding!'
'I was quicker than him in my first year, you know, but then he just hit a different level… I don't know what happened: he just keeps getting bigger and faster.'

Ma'asi White on Henry Arundell
Fallow weeks have presented yet more opportunities to rub shoulders with the best in the business. A select few of Alan Dickens' youngsters have spent time with Borthwick's senior squad, which has clearly made an impression. 'Training was surreal. You see them all on TV, of course, but playing alongside them was pretty unbelievable.'
Who was most formidable in the flesh? 'Probably Owen [Farrell]. You don't see it on screen, but – when you're right there with him – the way he controls the game is so impressive. It's his leadership, too. Obviously, everyone's heard about his inspirational team talks, but he just got me so motivated. It was only a huddle after training, but I've never felt so revved up: I thought we were off to play an actual test match…'
Role models aplenty, but old friends, too. The centre played inside Henry Arundell in Harrow School's 1st XV, and they remain close – despite how competitive they are. 'I was quicker than him in my first year, you know, but then he just hit a different level… I don't know what happened: he just keeps getting bigger and faster. It was nice to catch up about life in general, and to ask what it's like playing for England. He talked about how proud it makes him, and how special the moments are that he shares with his dad – who taught at Harrow, and has always been there watching. I'm super-stoked for the boy: I've nothing but love for him, and he's doing really well.'
They overlapped in the U20s last year for all of 16 minutes against Wales, but the dream is to – eventually – start alongside one another at senior level. 'When he first put on that jersey, it just spurred me on. I was like "if he can do it – I can." He's tearing it up right now, and I'd love to tear it up with him.'
Until then, there's a campaign to complete. A final clash in Cork – against a terrifyingly physical and efficient Irish outfit, who demolished Scotland 82-7 in Glasgow on Friday, and are on for an unprecedented double Grand Slam. England were also on course for a perfect campaign, but – in what proved quite the weekend for Les Bleus of all ages – were derailed 7-42 by France that same evening.
'That was a tough day. The scoreline didn't really reflect how the match went, but we played their game – instead of sticking to our own processes – and they capitalised on our mistakes. That one's done now, though: we've got to move onto the next game – which is our biggest yet. We have full confidence ahead of Ireland: we've just got to trust what we have.'
This group is so tight. 'Togetherness' is one of our key strengths, and we celebrate everything – even the small wins. We've had to work on it, but we've come to back one another entirely.
The side might have faltered in round four, but the centre's contribution throughout has been pronounced. Only full-back Sam Harris has made more metres in an England jersey, whilst Ma'asi White's has completed all but one of his 23 tackles, bagged two tries, and dished out four assists – topping that particular chart for the entire competition. He's been at the heart of a fifth of England's scores, epitomised by the amount of time he's spent thundering towards celebrations – finger aloft. 'I love all of it – whether it's scoring, assisting, making tackles, or getting stuck in around the field. I just try to always be in the right place at the right time.'
Their strength as a squad, he reckons, is in their unity. 'This group is so tight. 'Togetherness' is one of our key strengths, and we celebrate everything – even the small wins. We've had to work on it, but we've come to back one another entirely, and it's a real advantage. You've got to have that mindset – otherwise you won't get anywhere.'
Sunday's a tall order – dismantling a Sam Prendergast-steered green battalion at a sold-out Musgrave Park – and, even if they get the job done, they're relying on a winless Wales to cause the upset of all upsets by vanquishing France in Oyonnax. Whatever the outcome, it'll be a brilliant game: a pair of hulking but mobile packs, and two sets of hive-minded flyers capable of magic.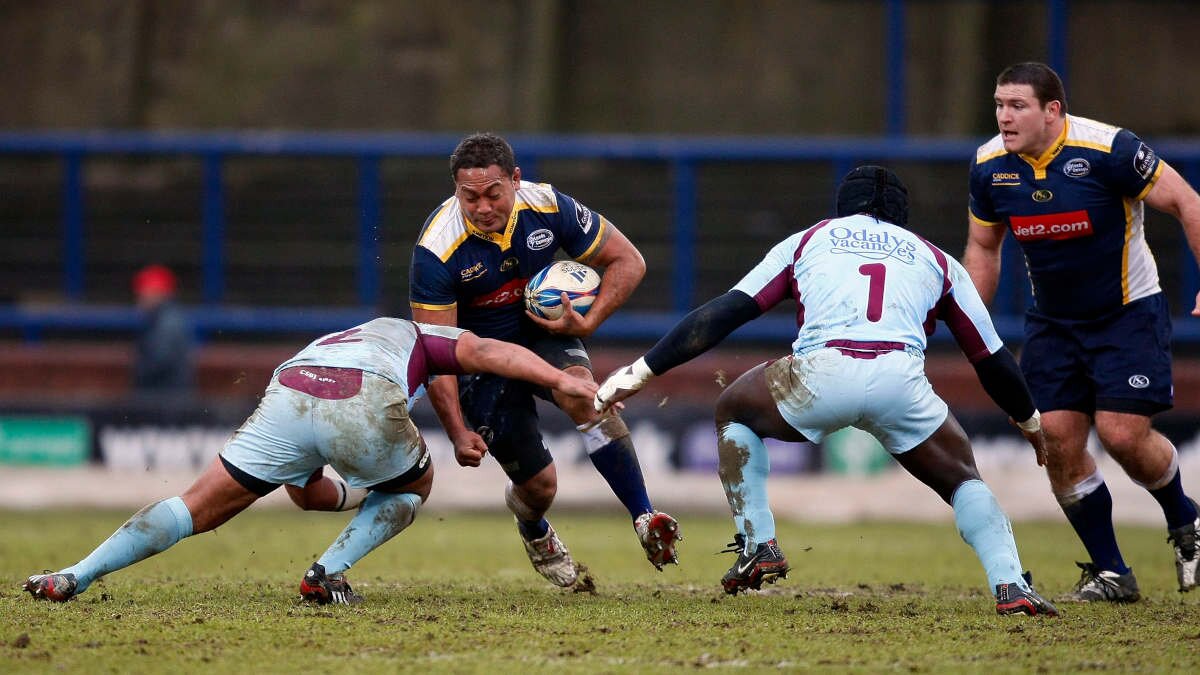 Personally, what's at stake? 'Last year, I was hardly involved, and we didn't make the cut for the title – but it would be awesome to be a big part of things this time. Individually – I've been consistent, so I want to maintain that whilst getting better. Hopefully that then shows Sale more than glimpses: I'm capable of a lot more, and of playing week-in, week-out in the Premiership.'
The influence of his family, and particularly his dad is still immeasurable. Vili tends to phone his son on the bus en route to matches, 'with notes and work-ons, which I always try to take on board. After games – he's always positive, but also firm with what needs to improve on.'
Whilst his father's a perfectionist, the rest of the family are just ecstatic to see Rekeiti's ascent. If most of the mid-week WhatsApp group content is Vili on the rower, match days are all about celebrating his son's eye-catching exploits on the field. The chat 'goes off' after big occasions – an outpouring of 'weird emojis which make no sense', along with 'loads of congratulations and love. It puts such smile on my face. They're my motivation: they've always been my motivation.'
You can expect more Ma'asi White get-togethers in the years to come, because their highly-rated son could join his friend Henry Arundell sooner than later.
Five U20 stars set to shine
Ireland: Brian Gleeson
This Irish outfit is overflowing with talent, with a smattering of players backed to make their way to full honours. Picking just one of them is a fool's errand but their No 8 Brian Gleeson is some player. The Tipperary hurler switched his attention to rugby when at Rockwell College – making his debut at prop, and then working his way towards the back row, where he's proving the real deal. Player of the Match in round one, tries against France and Italy, and then a faultless shift as his side put 82 points on a shellshocked Scotland. In a multi-talented team, out-half Sam Prendergast also deserves a mention.
France: Emilien Gailleton
The Pau centre might have made just two appearances so far – at inside centre against Ireland and England – but that's because he's a man in demand. Having captained this side in last year's competition, he's since been named in senior squads by Fabien Galthié – and running riot in the Top 14, where he's the leading try-scorer. Returning to U20s level last week, he sparkled, with a series of cute, defence-ensnaring moves. It was Gailleton who unleashed Leo Drouet at 35 minutes for the opening try, before scoring their second himself after the interval. The floodgates had opened, and Les Bleus were on their way to an emphatic victory.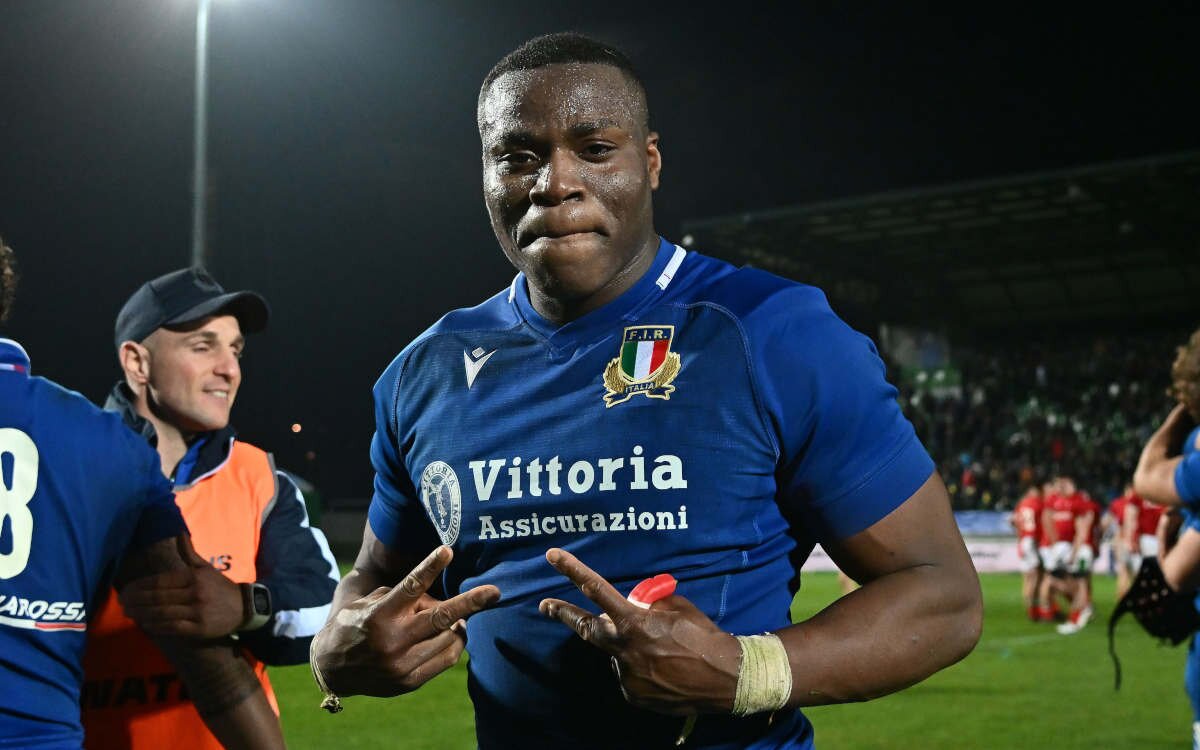 Italy: David Odiase
We all fell in love with beaming bowling ball Marcos Gallorini last week, but it's hard to overlook the most dominant tackler in the tournament. Everything David Odiase does is dominant, in fact, and he's talismanic within the Azzurrini. The openside's not missed a minute, and has completed 59 of his 62 attempted tackles – whilst carrying further than all but one of his teammates. If you need any further convincing – go and check out his post-match speech after Italy's heart-breaking last-gasp defeat to France in the opening round. Just don't watch it anywhere near a brick wall, though: you'll find yourself running through one for him.
Scotland: Rudi Brown
Rudi Brown is a Brillo pad in a rugby jersey. Yes, the flanker is towards the top of every metric, statistically, but it's his abrasiveness which sets him apart. His energy is ferocious, and translates into a destructive dynamism, ball-in-hand and in defence. He's scored against England, Wales, and France this year, and hurled himself at an imperious Ireland in round four – making 21 tackles over eighty minutes.
Wales: Morgan Morse
This is hardly a hot take, in that the back rower was handed his first U20s start last summer (at just 17) to noteworthy fanfare, but the fact remains that he's incredibly exciting prospect. Morse has started twice this tournament – breaking seven tackles, making 29 of his own, scoring against Scotland, and giving an impressive account of himself in the face of a pack of Italian behemoths last week. Coaches wax lyrical about the Swansea youngster's attitude, as well as his talents, and – with another two years of U20s eligibility remaining – the best is yet to come.