Tigers continue to bare their teeth
The Tigers continued their superlative start to the season as they downed Harlequins, while Bath continue to flounder at the foot of the table, in a Premiership that is increasingly attracting the neutral fan with its devil-may-care attitude. Elsewhere, Cardiff Rugby, Scarlets and Munster scrambled to field teams in Europe, and Luke Pearce lays down the law to strike a blow at referee backchat…
Tigers success draws back the crowds
It was Ray Kinsella (Kevin Costner) who whispered: "Build it and they will come." Well, it would be a stretch to say Kinsella, in the critically-acclaimed 1989 film Field of Dreams, was a Tigers fan, but the principle remains the same. If you build firm fortifications and a winning brand of rugby, the fans will indeed come back and pile through the turnstiles in their masses.
This season's success story is undoubtedly Leicester Tigers – and CEO Andrea Pinchen could be forgiven for wearing a smile like a Cheshire cat when she saw more than 24,000 fans pile into Welford Road to tackle last season's great entertainers, Harlequins. The Tigers battled it out for a nail-biting 16-14 win to leave punters with a warm Ready Brek-style glow as they departed on the dark, sodden streets around the stadium.
The crowds certainly fell away as Leicester endured one of their worst spells in the professional era during the 2019-20 season, but one of marketing's oldest maxims rings true, 'Success breeds success' and with nine wins from nine fixtures, their best return in more than two decades, the club are bouncing.
It's hard not to like the club who, like a curmudgeonly uncle, have revealed a soft, sentimental centre. This has been enhanced by having Kevin Sinfield, one of the country's most inspirational sportsmen, sitting next to Steve Borthwick, prising out defensive performances full of bite, while raising near £5million for Motor Neurone Disease in his spare time. Less high-profile but no less inspiring has been Will Findlay, part of the Tigers S&C team, who has taken it on himself to run a half-marathon every day for a month with his sole aim to raise money for Tom Youngs, who has stepped away from the club while his wife Tiffany battles ill-health.
The feelgood factor around the club is genuine, not contrived, and with a young core of talent like Freddie Steward, Dan Kelly, Tommy Reffell and George Martin, the sell-out crowds look set to continue.
Land of hype and glory
Way back in 2006, just before Munster played Leicester in a Heineken Cup match, Ronan O'Gara gave a particularly blunt interview to The Guardian about the state of the English Premiership. "I watch some of it," O'Gara told the writer Donald McRae, "and I have to switch off the sound because I wonder if I'm seeing the same game. Their commentators are enthusing about the quality and excitement and I'm just like, 'Oh My God!'"
After talking the talk, O'Gara walked the walk a few days later, slotting over a last-minute penalty at Welford Road to secure a famous Munster victory.
It didn't stop the debate, though. Barely a month has gone by since without someone, somewhere, lauding the virtues of Premiership rugby over its Celtic and Gallic cousins. It has more depth, they say. Anyone scanning a URC fixture list and seeing Zebre's name pop up would struggle to challenge that opinion.
Across the Irish Sea, the best defence we could come up with for the much-maligned URC (artist formerly known as the Pro14) was to point to its leading teams in Europe. Leinster, particularly, but also Munster, delivered a consistency in performance that suggested the best of ours could match the best of theirs.
Again, the naysayers weren't shy in their putdown, referencing the absence of relegation in the Pro14, which thereby stripped away an edge to many fixtures. At times the debate was interesting. More often it reminded you of Arsene Wenger's response to Sir Alex Ferguson's claim that his Manchester United team were a better side: "Everyone thinks they have the prettiest wife at home."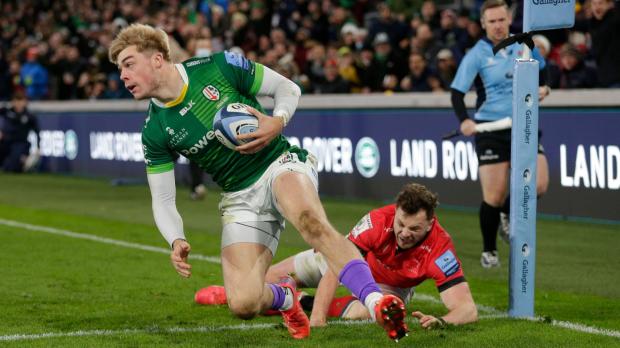 Showing love for the URC is a tricky business essentially because it's so hard to love. The frequent name changes, the complicated structure, the fact it is spread across both hemispheres and five countries. But does the simple fact it possesses so many quirks make it a vastly inferior product to the Gallagher Premiership?
Up until 12 months ago, we'd have confidently said no. We'd have asserted that anyone with skin in the game, whose livelihood depends on the league they coach, play and report in, lack perspective. O'Gara wasn't the first or last Irish person to switch off the sound when watching the Premiership.
Lately, though, we have been leaving the volume button alone on our remote controls. Anyone watching Ospreys against Ulster, screened simultaneously with Exeter against Saracens on Saturday, would have cringed. The contrast in standard was huge.
And anyone who has seen London Irish, Bristol, Harlequins – especially Harlequins – across the past year has been left scratching their heads. Did that really happen? Is that really them? Sports evolve, coaching methods change and tactical trends emerge. Right now, the way Quins play is en vogue. It helps, of course, to have someone like Marcus Smith to execute such a thrillingly attractive game plan.
But they aren't alone. Right across the Premiership, you have brilliantly entertaining teams producing exciting games – all seemingly prospering without fear of relegation. Everyone, those inside the Premiership tent, those of us outside it, have been consistently impressed. At long last, it is a league living up to the hype.
Got a pair of boots? Give Munster a call
First there was the scramble to get out of Africa; now there is the scramble to get a team. To get you up to speed, Munster play Wasps this Sunday in the Champions Cup. Thirty-three members of their squad are unable to train for that game because of Irish government laws that require them to remain in quarantin following their recent stay in South Africa.
That leaves them in trouble for Sunday. Finding a fit, experienced and available player has reminded you of the kids in Charlie and the Chocolate Factory scrabbling around for a golden ticket. They're out there. You just have to search hard enough.
Munster have. When their travelling party headed to South Africa for the aborted URC games against the Bulls and the Lions, a number of key internationals remained at home, following their exertions for Ireland in the November series.
It's just as well. On the back of that decision, Munster now have nine key players – forwards Dave Kilcoyne, Tadhg Beirne and Peter O'Mahony and backs Conor Murray, Joey Carbery, Damian de Allende, Keith Earls and Andrew Conway. That's one World Cup winner, two men who have briefly captained the Lions, the second highest tryscorer in Irish international history and a further four internationals.
As of last Thursday, four became five. Chris Farrell, their half-forgotten outside-centre, announced his comeback after a six-month period out with injury. All of a sudden, the mission impossible soundtrack seemed a little premature. Hasn't Wasps' form been iffy this season? Aren't Munster the originator of miracle matches? Is a third chapter about to be written to their tale?
It could be. Day by day, things have started to look a little brighter. First, there was the confirmation that the Irish government would allow quarantining players fly to England on the day of the game, as their 10-day requirement to stay in isolation would have elapsed by then.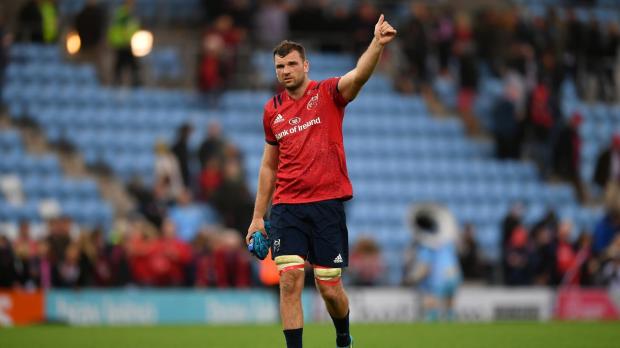 While questions about those players' conditioning remain high on anyone's agenda, it's an undoubted plus. Munster need as many options as possible. As each day passes, more are emerging, nobodies who have the chance to become somebodies.
Roman Salanoa is the most exciting possibility of them all. A 24-year-old Hawaiian prop, he potentially has it all: strength, skill, pace, technical excellence. Well, when we say he has it all, he currently has a knee injury. By Wednesday, we'll know if he can travel to Coventry.
If so, Munster have a chance. They also have a number of prodigies in pivotal positions, untried full-back Jonathan Wren, who is returning from a leg injury. He, along with Patrick Campbell from their academy, or wing Conor Phillips – an Ireland Sevens international – could be in line for the biggest day of their lives.
The same is to be said of hookers Declan Moore and Scott Buckley. Indeed, Buckley has even trained in the back row this week where Daniel Okeke, an incredibly gifted No8, is waiting to be unleashed alongside the Munster captain O'Mahony.
Should Salanoa make it back, then there will be less pressure on youngsters Mark Donnelly and James French in the front row, while another academy graduate, Eoin O'Connor, has a chance to play at lock alongside Beirne.
It's an eclectic mix, this combination of club legends, Hawaiian props and untested rookies. The odds suggest a calamity. Munster folklore reminds you to ignore such trivialities.
Bradbury hits 100
Magnus Bradbury marked his 100th Edinburgh appearance – a fairly perfunctory win over Benetton – with a man-of-the-match display, a barnstorming performance on a special evening for the hefty back row.
Bradbury has played well since the URC returned. Very well, in fact. Across two games, he has carried 30 times for 131metres, beaten three defenders, won three turnovers and made 19 tackles without missing a shot.
Granted, these stats were posted against two of the championship's weaker teams – the Dragons and Friday's Italian visitors. And granted, they are only two matches in a long and undulating season.
But in Scotland, there is still a nagging sense Bradbury can provide something precious and different as a No8 on the international stage. At 26, he has been in and out of Scotland squads since making his debut in 2016, his most recent cap coming nearly two years ago now, in March 2020.
The national coaches left the ball firmly in Bradbury's court this autumn, calling up Josh Bayliss to rival Matt Fagerson for the No8 position. For the moment, Gregor Townsend is settled on these two. Fagerson, especially, has taken his chances and established himself as top dog with dynamism, footwork and industry.
Though weighing almost the same as Fagerson, Bradbury's carrying prowess is his point of difference. Scotland have seldom wielded a hulking steamroller of a No8 with any regularity, but Bradbury has shown in fleeting glimpses he could become that man.
Consistency has always been his undoing. He has been accused of flitting in and out of games, losing form for too long and too often. Dominating the Dragons and Benetton will not win Townsend over, but doing it against Saracens and Glasgow, where he may face Fagerson directly, would be compelling. Bradbury has much to offer.
'Tis the season not to be jolly
It is no secret that the Welsh regions are hardly flush with cash. The pandemic has left them scratching behind the sofa for spare change so, in the wake of recent events, it is not hard to sympathise with the Cardiff Rugby squad who are currently residing at one of Gatwick's many quarantine hotels after a 13-day trip to South Africa that most travel operators would file under, 'holiday from hell'.
The early optimism of winter warmth on their faces was replaced with desolation as the squad realised over the course of a bonding meal that South Africa had been placed on the red list and they faced a losing battle to depart the country before the bureaucratic doors slammed shut.
At one point they even made it to the airport before being turned back, facing an anxious wait to see if they could re-commandeer their hotel. Seeing Munster depart before them was a crushing blow and there were suggestions certain players were mentally struggling with the uncertainty and isolation. The entire squad was starting to creak. Every day became an arduous battle to become repatriated and some openly expressed their emotions, with full-back Matthew Morgan firing off a broadside voicing his displeasure at events with a heavily pregnant partner at home. Indeed, the term 'emotional roller-coaster' was apt. It seemed every day a worst-case scenario became a reality.
With those players now back in Wales and mostly testing negative, the earliest they can return home is December 14, three days after European champions Toulouse hit town.
Now the club facing a different challenge; finding a squad that can face the likes of Antoine Dupont and Romain Ntamack.
Rumours that there inter-regional loaning out of players appear wide of the mark. Player registration and paper-thin squads rule that out. Wags will point out that Ben Blair and Xavier Rush could be coaxed out of retirement but that, alas, is fanciful from fans who appreciate gallows humour. The reality is mix of players from the Academy, Cardiff Met and the Welsh Premiership will be given an unlikely chance to lock shoulders with five or six first-teamers.
The silver lining? There doesn't appear to be one as the bill slides upwards at an alarming rate, with rough estimates suggesting £500,000 could be in sight when the accounts are totted up.
An upturn in fortune is surely required for 2022.
Laying down the law
In a time when players are wont to proffer officials an array of advice and proclamations, it was encouraging to see Luke Pearce accept no such dissent from Billy Vunipola.
Pearce, one of the world's leading referees, marched the giant Saracen back 10m, then another 10m, for two ill-advised remarks in Exeter Chiefs' tight victory on Saturday.
In the heat of battle, a frustrated player can lose control of his tongue just as easily as fumble a pass, but it is right they are held to high standards.
And while we do not want our officials to become intolerant automatons when it comes to interacting with players, nor should they take any nonsense. On a rugby field, the referee is the sole judge of fact.