The Barbarians put on a show to embarrass England
The domestic season drew to a close this weekend with some truly jaw-dropping drama. In South Africa, the Bulls battled but couldn't stop the Stormers winning in what is their inaugural URC season, while at Twickenham, there were tries galore as the Barbarians, yet again, left Eddie Jones embarrassed with a comfortable win. Now attention will turn to preparation for three weekends of Test rugby before the season draws to a close and a World Cup year will loom into focus…
The BaaBaas put on a show to humiliate England
Eddie Jones wore a familiar smile in the aftermath of the Barbarians eight-try haul. "It's not England, it's an England select team, mate." Some would beg to differ. Indeed, there was no dressing up that the 52-21 shellacking Fabien Galthie and Shaun Edwards doled out in front of the Twickenham crowd was embarrassing.
Behind the jokey façade, Jones' mind would have been racing. It was the second time his team of fresh faces and experienced old-heads had succumbed to a chastening loss to the storied invitational team. In 2018, Chris Ashton had scored a hat-trick in the 63-45 drubbing, meaning the England coach must be loathe to fulfil the fixture at the end of an arduous season.
Jones will counter that 15 months later, his England side were contesting a World Cup final, and that the masterplan is one course but this time it feels different. England have had three poor Six Nations tournaments and are yet to show any form that merits going into a World Cup as favourites. Correspondingly, their counterparts, France, are brimming over with confidence. Of the Barbarians squad 23, 14 players wear the Tricolor and their joie de vivre and derring-do simply flummoxed an England side who played with little cohesion. Jones talked about a lack of cohesion and the lack of time to work on the set-piece, but didn't need to be reminded that the Barbarians were in exactly the same position.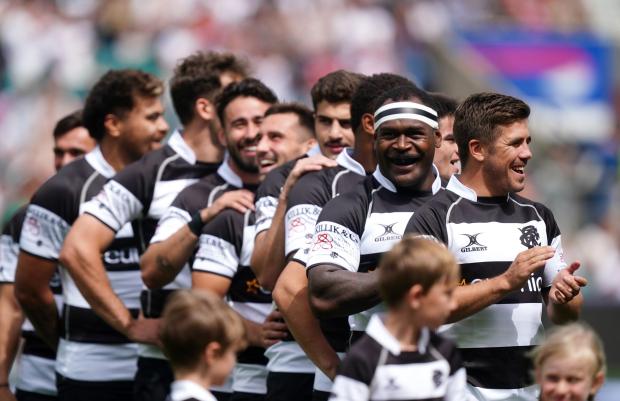 In the years to come, no one will quite believe George Kruis, who played his final game in union, outscored Marcus Smith for kickable points, with one audacious backheeled conversion reminding rugby's nauses of maverick Mark Ring in the Eighties.
The Barbarians, themselves, needed that entertaining win. A game postponed against New Zealand due to Covid breaches, and a last-minute postponement against Samoa, due to Covid issue, meant they needed to refind their va-va-voom as regular crowd-pleasers, and Damien Penaud, Max Spring, Charles Ollivon and Niniashvili clearly got the memo, as the BaaBaas ran rings round England, in a fitting tribute to one of the greatest Barbarians, Phil Bennett. The players formed a number 10 in honour of the late icon and Shaun Edwards revealed his players had watched some clips of the maestro to get the juices flowing. It certainly worked a treat.
Eddie Jones continues to mystify with squad selections
Back in 2016, Eddie Jones was a novelty. He had just led England to a first Grand Slam since 2003, and he waltzed back to Australia where he walloped the Wallabies 3-0 in a first Test Series clean-sweep to put ratchet up the pressure on Michael Cheika. When he'd won the Series, he told anyone who would listen that he was going for the whitewash and he duly delivered.
Six years on and Jones' novelty factor has worn off, somewhat. Every squad announcement is met by befuddlement, both for the players included and omitted. Of course, you could say it 'twas ever thus with selection, but Jones omitting Alex Mitchell for Jack Van Poortvliet seems nonsensical seeing as the former has had the season of his life and stats to back it up, and the latter couldn't even make the bench for Leicester's Premiership final winning foray at the weekend.
Another player who will have cause to jab pins into the voodoo of Jones will be Ben Earl. The Premiership Player of the season has been in superlative form all season, even scoring a hat-trick in a Premiership semi-final just nine days ago but he too has been ignored, while his buddy, Max Malins may have cause for frustration after topping the scoring charts. Players such as Mark Atkinson – who didn't have his best game against the Barbarians – and Adam Radwan, seem to have fallen out of favour, like so many, at the wrong time.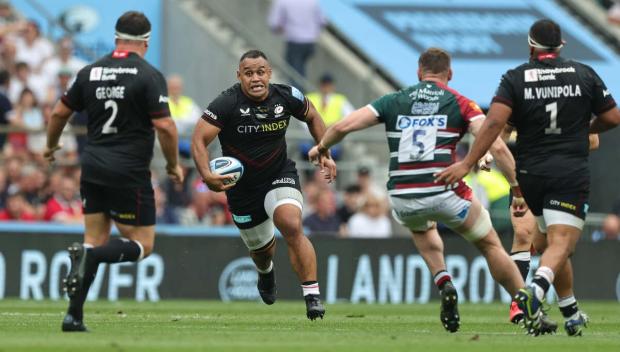 On the flip-side, there is redemption for Billy Vunipola, who has done everything required of him to show Jones he still has the hunger for a tilt of the World Cup. Granted it was due to Alex Dombrandt's untimely knee injury, but Billy V was majestic in the Premiership final comfortably taking the numerous deep kicks by Tigers, but also galloping 100 metres, stepping six defenders and proving a nuisance at the breakdown. The Wallabies will be less than enamoured to see his name on the squad list.
Someone who knows all about Australia, is Guy Porter, who graduated from Sydney University and was picked up by Leicester Tigers from the ACT Brumbies. Coveted by Dave Rennie, Porter is another strapping athlete primed to plug the gap for a midfield-cum-wing option.
Other notable picks in the pack include Jack Walker, Nick Isiekwe and Ollie Chessum, who are all young enough to force themselves into Jones' plans for France. Six years on, you could say the pressure is on Jones to replicate that Series win, or calls for further scrutiny will intensify.
Watch out Europe – these South Africans mean business
 The Champions Cup lost its shine during Covid. All those postponements, not to mention the hateful restructuring of the pool stages, did nothing for the tournament's image. As a spectacle, it was in danger of sliding into terminal decline.
Well, a panacea has arrived. It's called the URC.
Not so long ago, the Pro14 was the ugly duckling of world rugby, a league without relegation and thus, to many outside eyes, one without consequence.
But all of a sudden, it has a purpose. The four South African franchises has breathed fresh life into it, two of them contesting Saturday's final in Cape Town.
Next, it's Europe. If the French and English still snobbishly look down at their URC cousins, they soon won't. This season, remember, Ireland's four provinces qualified for the Champions Cup knock-out stages; Leinster/Ulster/Munster winning seven games out of seven in the pool stages; Leinster hammering Top14 finalist, Montpellier, by 82 points; Munster beating Castres, the other Top14 finalist, both home and away; Connacht destroying Stade Francais at home; Ulster doing a home and away double over both Saints and Clermont.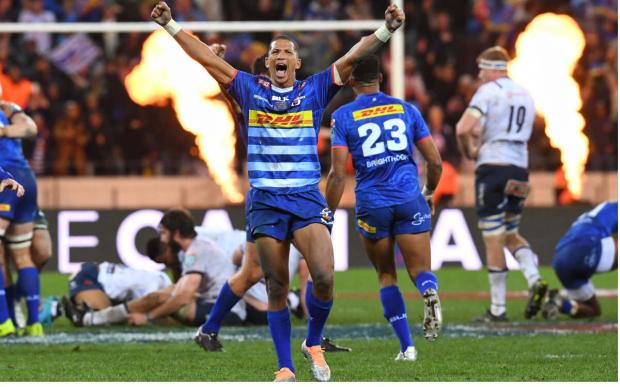 But Connacht haven't even made it into next season's Champions Cup, the arrival of the Bulls, Stormers and Sharks adding depth to a competition that desperately needed it.
Now the rest of Europe is about to see what they're made of, especially when they venture south of the equator for an away day in Pretoria, Durban or Cape Town. In the 24 URC games played between South African and European sides on South African soil this season, 22 ended in victory for the hosts.
Contrast those results with those posted by Welsh sides in this year's Champions Cup. In the eight games involving Cardiff, Scarlets and Ospreys that survived postponement, the Welsh sides lost the lot. Only one of those sides, Ospreys, along with just one Scottish representative, will be in next season's Champions Cup, a competition that – in the stroke of an administrator's pen – has just become a lot harder to win.
No perspective please – we're Irish
Before we discuss the 'crisis' Irish rugby is in right now, let's jump in a time machine and head back to 1998. This young bloke called Warren Gatland has just become Ireland's fourth head coach in four years yet he is unable to prevent his adopted country finishing in the bottom two of the Five Nations, just as they had in each of the previous nine years.
Success is a stranger. You have to go back to 1972 for the last away win over France, to 1965 for the last win anywhere over South Africa, to '79 for a victory against Australia, while the record books haven't evidence of any victory over the All Blacks.
Provincial wise, it isn't much better. This new tournament, the Heineken Cup, has taken off, but it's only the French, English and Welsh who are taking it seriously. No Irish team has made it to a final yet, let alone win one. In fact the teams have taken some hammerings, Ulster losing 46-6 to Cardiff; Munster 60-19 to Toulouse; Leinster shipping 38 points to Toulouse, 47 to Leicester, a defeat to Milan the meat in that sorry-looking sandwich.
Tell any Irish rugby fan then that they'd be moaning nearly a quarter of a century later about a trophyless season and they'd laugh.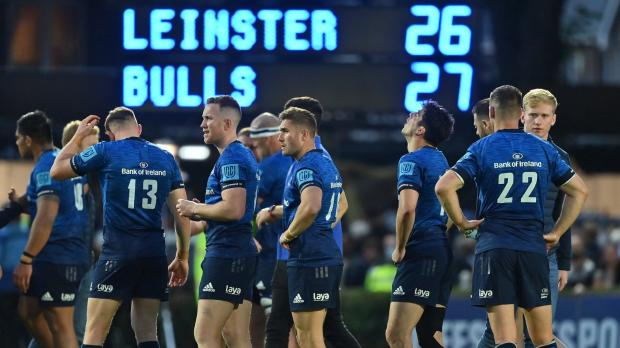 Tell them that this supposedly disastrous year included Leinster beating the English Premiership champions as well as the defending European champions; that they and Munster were unbeaten in three games against the two Top 14 finalists, Montpellier and Castres; that Munster eliminated the 2020 champions from the European Cup; that Ulster and Leinster lost their respective URC semi-finals by an aggregate total of three points; that Leinster's 'humiliating' Champions Cup final defeat was by a margin of three points, well, they'd probably say they'd dream of such a horrific outcome.
But that's where we are right now. A season is defined as a good or a bad one depending on whether there was a trophy at the end of it; defeats are over analysed and a sense of panic is never far away. In reality, calmness is required. Munster exited Europe on a penalty shoot-out against the defending champions, a week after Ulster lost to the same team by a point. It took a last gasp try for Leinster's Champions Cup trophy to be taken away from them, a last-minute try by the eventual champions for Ulster's URC season to end.
All these things doesn't equate to a terrible year. If you want to know what one of those looks like, jump in a time machine and go back to the 90s.
Sink or swim – now is the time to find out
Andy Farrell named 40 players to go on Ireland's five-game tour to New Zealand. A quarter of those named can't be considered first-choice with their clubs. Indeed some, Harry Byrne and Jeremy Loughman, are often back-ups to the back-ups.
Yet there is logic to the inclusion of so many young, unproven talents. Years from now, no one will remember the minute details of a summer tour but World Cup results are tattooed onto every fan's conscience.
So, if Ireland are to progress beyond a World Cup quarter-final for the first time in its history, Farrell knows he needs to build depth. That's the thinking behind throwing Loughman, Byrne, Tom O'Toole, Ciaran Frawley, Craig Casey, into the deep end now, rather than in 16 months-time.
If they sink without trace, you move on. But if they can survive the hostile waters of a New Zealand winter then you know you've someone you can trust.