Back
By Nick Bishop
The All Blacks have found their No 12 - and must stick with him
Back in 1849, French author Jean-Baptiste Alphonse Karr memorably wrote  in his journal Les Guêpes, "Plus ça change, plus c'est la même chose". The phrase translates as, 'The more things change, the more they stay the same'.
Nowhere is this more true than in the game of rugby. Early in the 2022 Super Rugby Pacific season, there was a huge media push, led by ex-All Blacks wing and Blues coach Sir John Kirwan, to drive league convert Roger Tuivasa-Sheck straight into the national side so that he could gain the necessary experience in the pivotal second five-eighth role ahead of the 2023 World Cup.
Like most League players who arrive to great fanfare in the sister code, RTS has an outstanding skill-set without having any obvious position in a union backline. He has been dropped into the number 12 jersey, for no other reason than it was the position of greatest need for the national team – and the one where the Blues didn't have an obvious starter.
That path of accelerated development always seemed like a long shot, but it only became obvious after Jordie Barrett was given a chance to show his wares at Test level in the final round of the Rugby Championship. It may only have happened because of misfortune to others, but at least the horrible leg injury suffered by Quinn Tupaea had one silver lining.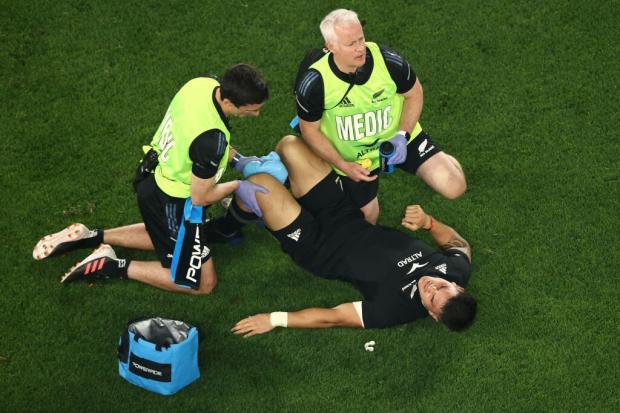 After Eden Park, a queue of All Black greats were jostling to sing Barrett's praises. The chorus was orchestrated by none other than Kirwan himself, on Sky Sport's The Breakdown:
"Jordie was on fire. Yes, he should be our 12 moving forward. Yes, you should play him there on the northern tour, because if Richie Mo'unga is going to stay at 10 and Beaudy [Barrett] at fullback, I think Richie would love to have someone like Jordie outside him, so he can do a bit of dancing – but if it's not on he can unload it to Jordie.
"I loved his subtle angles, running at the man and then hitting his inside shoulder. Those tough lines are not easy to run to get over the advantage line. He got [the All Blacks] going forward and [that] made a big difference to our attack."
Regular readers will know that I have been campaigning for Jordie Barrett's move to 12 since earlier in the year.
There has never been much doubt that the youngest of the rugby-playing Barrett brothers has been chafing at the bit for an opportunity to start in midfield.
I previously explored the background to Ma'a Nonu's shift to the same spot after the debacle in the 2007 World Cup quarter-final against France:
"Nonu had played most of his rugby at centre or on the wing, but 'the three wise men' [Sir Graham Henry, Sir Steve Hansen and coaching 'Yoda' Wayne Smith] foresaw the dim outline of an outstanding second five-eighth lurking within Nonu's hulking frame. Nonu had the size and power, at six feet tall and 110 kilos, to interest defenders in the straight-ahead run. It was left to Wayne Smith to develop his long passing, his kicking game and ability to function as a second set of 'eyes' for Dan Carter."
There are other precedents for the change of role at international level. Jamie Roberts started life as a fullback-cum-wing in both the Welsh age group and senior sides before Warren Gatland converted him to Wales' midfield bulwark for the best part of ten years back in 2008. Roberts went on to win 94 caps and played Tests on two Lions' tours in a stellar career. He possessed exactly the same kind of physical dimensions as Jordie, at 6'5" and over 105 kilos. Plus ça change.
There has never been much doubt that the youngest of the rugby-playing Barrett brothers has been chafing at the bit for an opportunity to start in midfield:
"I'd be lying if I said I hadn't spent a few hours in this quarantine hotel thinking about my transition into 12 – something I might do at some stage, whether it's this year or next year, or further down the track.
"I was a 12 growing up, [it was where I played] most of my footy. I feel like my skill-set suits that.
"Who knows? I guess I've got the next month-and-a-half to figure out which avenue I'll go down, but, look, I'm happy with the way I'm going at 15, but got a serious eye to playing 12 at some stage so probably not a matter of if, it's a matter of when."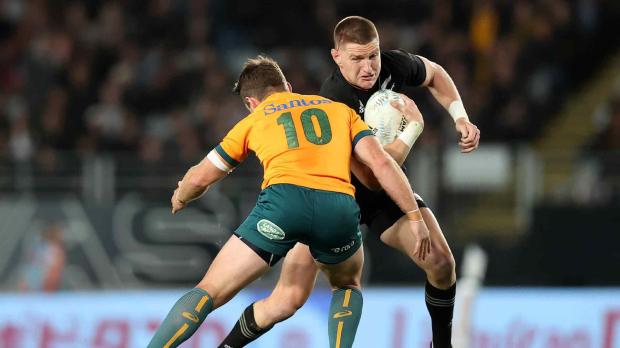 When he eventually got his chance against Australia at Eden Park, Jordie Barrett ensured he made the most of it. His raw stats were a revelation:
17 carries for 81 metres (over half of which were yards-after-contact)
7 tackle breaks
5 offloads
One line-break assist
3 kicks for a 137-metre total
8 tackles with no misses and one forced fumble
Heck, Jordie even won a lineout! It was that kind of career-defining game for the Wellington man. He literally ran riot in the citadel of New Zealand rugby.
As I pointed out in the earlier article, the requisites for a modern number 12 in an attack-minded team like the All Blacks are long passing, kicking and the ability to function as a second set of 'eyes' for the number 10. All are subsidiary to the primary need to be able to take the ball into contact hard and often.
Jordie was able to take the pressure of Richie Mo'unga in exit situations with his booming kicking game:
The Crusaders' man can ship the ball on comfortably, knowing that the big boot outside him will cover the distance between one 22 and the other. The outcome is very nearly a 50/22, which would have led to a Kiwi turnover throw into the next lineout.
One excellent measure of the success of a number 12 with ball in hand is the tackle rate of the openside flanker and number 10 opposite. Most of a second five-eighth's early-phase runs will be slanted towards the 10 channel, or into the space between the number 10 and the number 7.
In this respect, Jordie Barrett made the lives of Pete Samu and Bernard Foley an utter misery. Between them, Samu and Foley completed only 13 of 23 tackle attempts at a 56 per cent success ratio, and Foley in particular only managed to make two of his seven attempts stick:
Here, Barrett rides straight over the top of Foley without even the courtesy of a check or a stumble, and that means another easy exit for Mo'unga on the following phase.
Once you have established that you can run your number 12 through the 10 channel successfully, it sends out positive ripples into the attacking phases which follow.
Barrett runs straight over Foley again and pulls two more defenders into the first ruck, then the All Blacks build power on power with the second-phase run by Caleb Clarke. That is 20 metres gained on the back of three risk-free passes:
"The second arm of power in the New Zealand back-line for most of that period [2003-2015] was left wing Julian Savea. At six foot four inches tall and weighing in at a listed 103 kilos, Savea (along with Nonu) offered the direct threat that enabled the All Blacks to first transfix their opponents, then go around them." [from the earlier article]
Ma'a Nonu and Julian Savea, or Jordie Barrett and Caleb Clarke? Plus ça change, plus la même chose.
The ripples of power sent out at first phase turned into a gusher which broke the Wallaby dam just after half-time: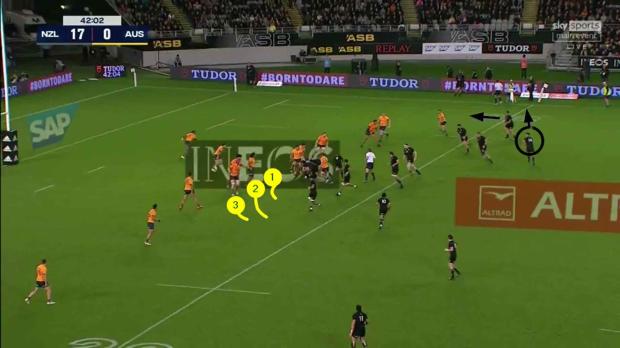 On this occasion, Barrett's initial surge persuades all three Wallaby back-rowers to wrap around the ruck, leaving Will Jordan and Codie Taylor to exploit an inviting matchup against tight forwards on the next phase. Sam Whitelock scored a try shortly afterwards, which quashed all hopes of an Australian comeback.
Australian No 7 Pete Samu, who won plenty of plaudits for his work in attack over the course of the Bledisloe Cup double-header, was no more successful than Foley at dealing with Barrett on defence:
Barrett skips straight past Samu twice, and in the second instance it opens up an advantage in numbers out wide.
Jordie Barrett also flashed a Nonu-like ability to pass wide off either hand to complement his strength on the run:
The circle of Jordie Barrett's domination of Samu and Foley was completed on defence:
In the first example, Barrett's command of the air on a kick-off receipt draws a penalty from Samu after the ball goes to ground and the openside flanker collapses on top. In the second, Foley goes to run past Barrett and is stripped in the tackle for his trouble.
One short week before in Melbourne, Bernard Foley and Pete Samu had been Australia's two most dangerous attacking players. Eden Park was an object lesson in how the most threatening attackers can be first neutralised, then turned into a weakness, by forcing them to do what they least enjoy. Neither Samu nor Foley could tackle Jordie Barrett and that gave New Zealand a decisive 'in' to the game on offence.
Fortuitous or not, it seems like the lessons of history are being heeded, and that New Zealand may at long last have found a worthy successor to Ma'a Nonu at number 12. Plus ça change, plus la même chose.