Back
By Owain Jones
Taking the next step
The small village of Ash is nestled in the Surrey stockbroker belt, and houses one of England's most promising sons.
On any given day, residents will see a large young man with blond hair and a gentle disposition taking in scenic walks in the surrounding countryside. He's never alone, however. Lost in his thoughts, he has a female companion to guide him along the bucolic, winding paths, while he plays over in his mind the vagaries of his chosen sport.
Petite, with an adoring gaze and scrunched-up features, this faithful canine's ears stand to attention when her master speaks. She is a conduit to this athlete's inner-most thoughts, which is just how one of England's most exciting rugby players likes it.
The object of Alex Dombrandt's affections is Peanut, an eight-month-old French bulldog, who has the strapping Harlequins No8 wrapped round her little paws.
"Well, Peanut doesn't give me any backchat," he says with a smile.
Speaking to the quietly-spoken South Londoner at the club's Guildford training ground, any remnants of his hell-raising university years in Cardiff appear to have been left behind for a more sedate lifestyle of country walks and coffees with team-mates.
So much so that Dombrandt was apologetic about the rearranged time for the chat due to doing 'extras'.
The 'University Rig', bestowed on him by Paul Gustard, is nowhere to be seen. Tanned and looking shredded, the recently turned 24-year-old had been easing out the stiffness from the spellbinding game against Wasps while shedding the calories on the watt bike.
It would be easy to surmise he is doing a more than passable impression of a player ticking every box for a call-up to England's summer games against the USA and Canada.
The evidence for Dombrandt's elevation is compelling. In his three seasons of Premiership rugby, he has scored 33 tries in 71 appearances for Quins. He is no one-season wonder.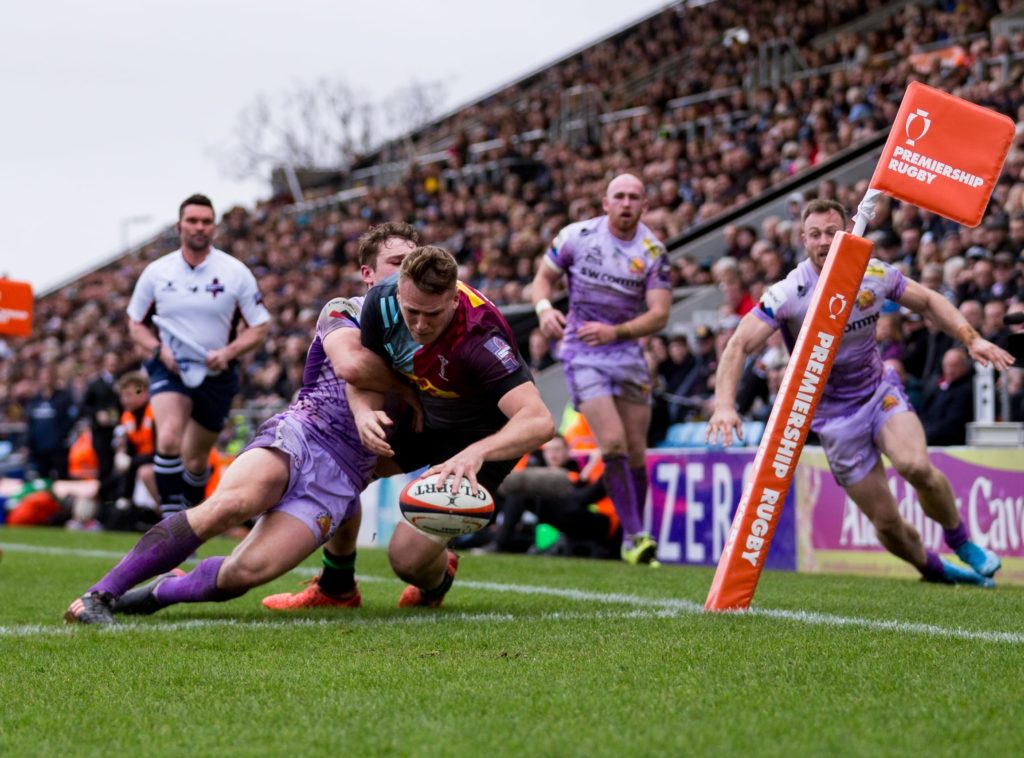 In this most condensed of seasons, he has excelled. If we are to adopt the 'stats don't lie' maxim, then Eddie Jones should have the back row on speed dial. He lies third in the Premiership for metres carried, a nose ahead of British & Irish Lion Sam Simmonds, and lies joint-second for tries.
The attacking side of his game has never been in doubt, but it is in the areas for which he is unheralded where the improvements are abundantly clear. According to OPTA, he is in the top 10 for turnovers and even more pleasingly, ninth in the list of tacklers, with 164, just four behind Simmonds.
As these figures are thrown at Dombrandt, he shrugs and raises his eyebrows, 'I'll take it'.
It's clearly reassuring that the hard graft is paying dividends. "Defence is an area I've been working on since I arrived at Quins three seasons ago," he says. "I definitely feel I'm improving. I'm trying to learn off some of the more experienced boys. The way I see it is the tackle is made up of a number of different components. Take my ball-carrying. When I carry I use my entire 118kg, so when I'm tackling, I need to be using all of my weight. I'm a big guy, so I want to be dominant in the tackle area. It's about getting your feet close, your body height right and the extras I'm doing are helping with that."
Sonny Bill Williams was a big inspiration. I know he's not an 8 but the way he carried the ball and freed his hands to offload was awesome. I liked the way he approached the game.

Alex Dombrandt
What has always set Dombrandt apart is his handling, which wouldn't look out of place underneath the coconut palms of Fiji. The flicks of the hand and ability to offload out of contact means he is a creator as well as a try-scorer and, as a fervent Crystal Palace fan, he has even been known to put boot to ball on occasion. It's another sport that he credits for his dexterity and pianist's hands. "I think my handling comes from cricket. It's a smaller ball and I used to love taking catches in the field," he says. "That hand-eye co-ordination was transferable to rugby. I don't work on the offloads too much but I work on my grip strength in training and I've got pretty big hands, which helps."
Another telling influence growing up was not Kieran Read, the classy All Black No8, but someone famed for his soft hands in contact. "Sonny Bill Williams was a big inspiration. I know he's not an 8 but the way he carried the ball and freed his hands to offload was awesome," he says. "He knew how to suck in defenders to free up space for others. I liked the way he approached the game."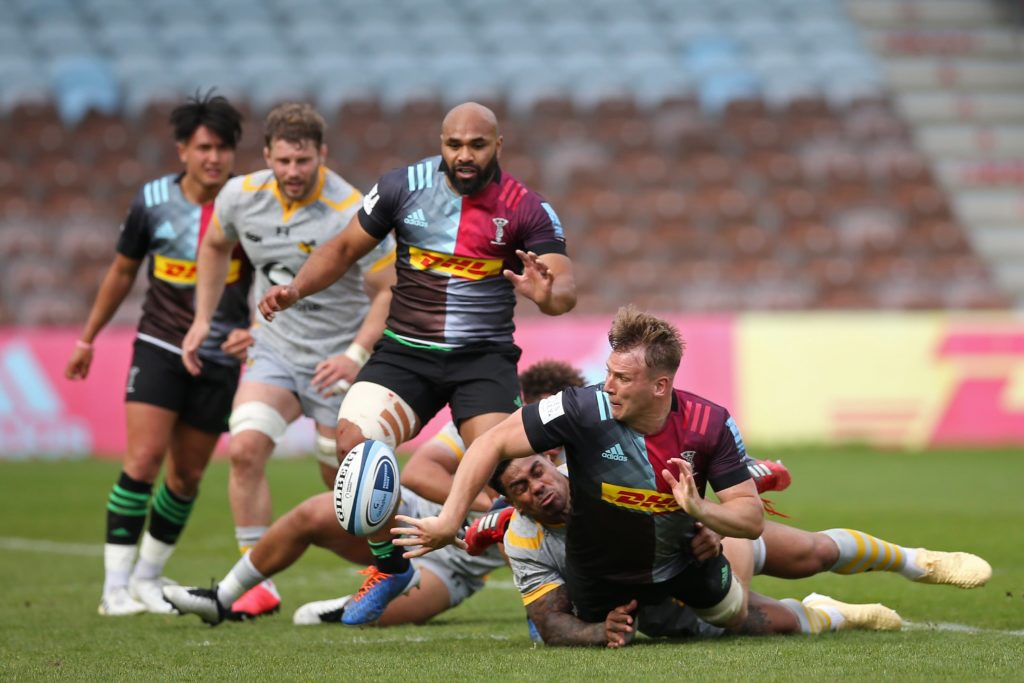 For Dombrandt, the route to professional rugby was circuitous. After picking up a ball as a mini as Warlingham RFC and playing any sport he possibly could – "I'd get out of the pool and put my shin-pads on and go to football training" – he was not picked up by any professional sides, after attending John Fisher school in Purley. The gifted sportsman instead headed for South Wales with the idea of playing rugby and cricket while reading Sports Science at Cardiff Met.
It was a well-travelled path for an English back row after first Ben Morgan and then Sam Underhill had profitable stints at the Scarlets and Ospreys. After a few pre-season training sessions, the cricket was promptly put in the pavilion and rugby took centre stage. "My first season went better than I expected and by my second year, I'd talked to a few Welsh clubs after being sounded out," he says. "I thought, 'If I carry this on for another year, something could happen'. I guess until then I'd gone under the radar a bit. BUCS Super Rugby league had only just got going and now more and more university players are getting looked at after missing the earlier academy route into pro rugby."
The carefree life and bright lights of the Welsh capital saw Dombrandt engrossed in sport and socialising. As his weight crept up to 130kg, his natural talent saw his progress unchecked. "I lived in halls in the first year and just off Albany Road in Roath in a flat-share with five lads the next. By our third year, there were just four of us because we realised we need to do a little bit of work."
I made friends for life in Cardiff but those two incidents were bad, I wouldn't wish them on my worst enemy. Sadly, things like that happen in that league far too often.

Alex Dombrandt
His time in Cardiff was largely happy, with an appearance for Wales' Under-20 side, but two pretty unsavoury incidents tainted his stay in Wales. On two occasions his jaw was broken in unprovoked attacks that ended up in court. The mental and physical trauma from those assaults have lingered.
"I look back on my time at university with fond memories. I made friends for life in Cardiff but those two incidents were bad and I wouldn't wish them on my worst enemy," he says. "Sadly, things like that happen in that league far too often. It was something you had to accept. The first time was just pure shock, and the second just the horror of having to go through the same recovery again. I had to have surgery on both occasions. On top of that, I had to go down to Swansea for the court case to give evidence, which dragged out. All the stuff that you may not think about from the outside does take its toll. I was on a liquid diet for five weeks."
The anguish incurred made him seriously question his future in the sport.
"The second time the metal plates in my face got infected so I had to have weekly check-ups," he says. "You think, 'If I go back to rugby, is it going to happen again, and if it does, can I put myself through it?' The university were really supportive and my coaches were brilliant but they felt guilty because they played the same side from before but I told them not to worry. You can never legislate for something to happen a first time, let alone a second time."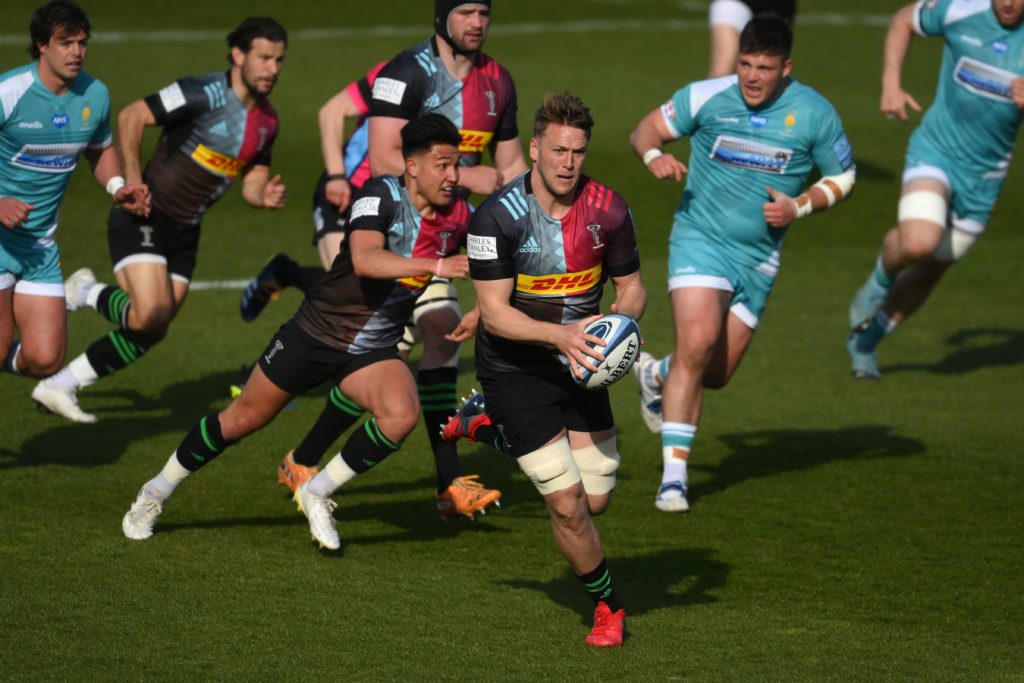 It begs the question, was this large, blond, talented Englishman singled out for some rough treatment?
"Without being big-headed, I think I was. I remember the second game. I was playing well. Just before it happened, I'd made a line-break and offloaded for our player to score. Just as I was getting up from that tackle, that's when it happened. They all knew who I was," he says.
"I definitely feel there's an understanding between myself, DC and Marcus (Smith). We read each other really well. I love playing with those two.

Alex Dombrandt
Despite living with the scars of that shameful episode – he still has three metal plates in his jaw – the mental scars are subsiding and the bonds he formed over the Bridge remain. "Some great people have supported me along the way and I still speak to my university coaches like Chris Davey. Danny Melton and Alun Williams," he says.
Three years on, Dombrandt's stellar form for a resurgent Quins side is putting smiles on faces after a tumultuous few months at The Stoop. "After Gussy left, we all came together as a group and collectively said we haven't been good enough. Unfortunately the responsibility fell on one man's head but all of us as players weren't performing to the level we should," he says. "There was a resolve to stick to how we wanted to play but, most importantly, to start enjoying it. You can now see the smiles on our faces. We have a great group of boys who want to play for each other. Hopefully we can have something special to show for it at the end of the season."
Very much part of that renaissance is the 8, 9, 10 axis which has yielded 26 tries this season and led for calls for Marcus Smith to be thrust into England contention sooner rather than later, and for Danny Care, the veteran scrum-half, to be included in the recent Lions squad. The third member of the trio concurs that they have a good thing going. "I definitely feel there's an understanding between myself, DC and Marcus (Smith). We read each other really well. You can see that from the interplay between the three of us. I love playing with those two. Danny and Marcus have got a special relationship as half-backs. They set tempo of how we want to play as a team," he says.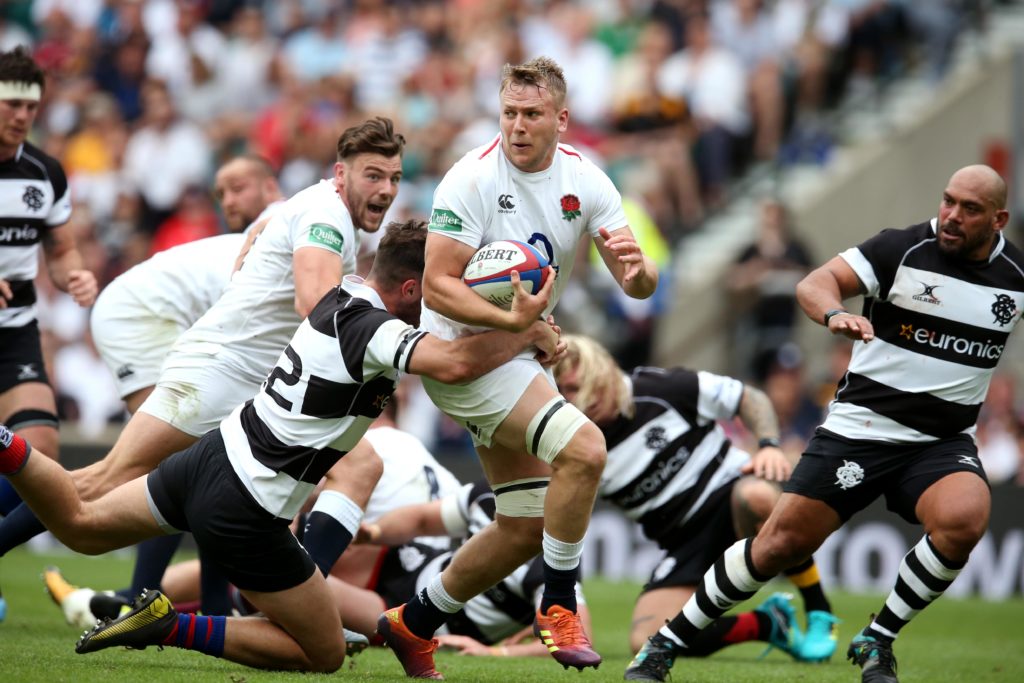 The younger duo are very much poster boys for Quins' future, with Smith recently signing a deal despite overtures from other clubs desperate for the coveted fly-half's signature. The news was music to Dombrandt's ears, with the returning Stoop ultras sure to profit in the 'bums off seats' stakes. "I like to pick off lines in the middle and float around Marcus and try to get those inside balls but, if you look at the likes of Taulupe Faletau and Read, I also like to get in the wide channels and have a bit of space. To create something out in the tramlines. Sometimes you have to play what's in front of you," he says.
"I definitely want to be involved with England this summer. It's what I've been working towards. I want to be a part of it but at the end of the day it's one man's decision whether you're in or not.

Alex Dombrandt
With a fair wind, what's in front of Dombrandt should be the opportunity to swap the celebrated quarters for the red rose of England this summer, after a fleeting cameo in the summer of 2019 against the Barbarians.
"I definitely want to be involved with England. It's what I've been working towards but at the end of the day it's one man's decision whether you're in or not," he says. "I can say John Mitchell has been in touch to see how I am, so fingers crossed. What will be, will be."
With a handful of games left and a potential Premiership final on the horizon, expect those future walks with Peanut to be at an intense pace as the drums beat ever louder for this Mighty Quin. It can only be a matter of time before Dombrandt is thundering across the turf over the A316 at Twickenham.
More stories from Owain Jones
If you've enjoyed this article, please share it with friends or on social media. We rely solely on new subscribers to fund high-quality journalism and appreciate you sharing this so we can continue to grow, produce more quality content and support our writers.