Back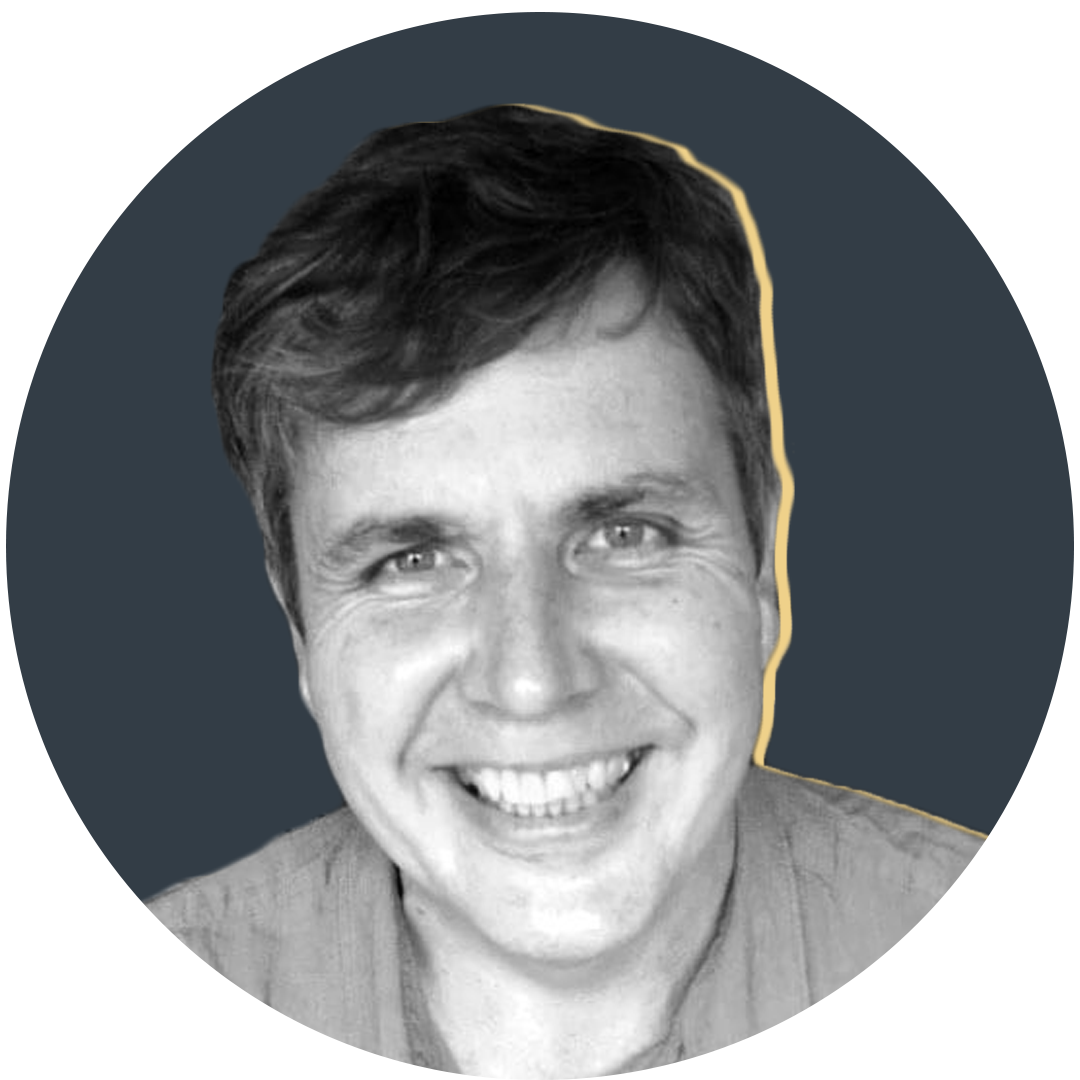 By Nick Bishop
Spoilers of old helping Irish provinces set the pace in Europe
When the English Premiership and French Top 14 clubs wrested control of the rights to administrate and market the Heineken Cup from the unions in 2013, it seemed like the game was up for the professional regions in Ireland, Wales and Scotland. England and France were clearly expecting to clean house, and make the competition their own in every way possible.
By and large, that is the way it has turned out. Where English or French clubs won 13 of the 19 tournaments prior to that high watermark in 2014 (68%), they have won 6 of 7 (86%) since. Over the last seven seasons since takeover, only one other club outside England and France has appeared in a Champions Cup final, and that is Leinster, who won the competition in 2017-18 and were runners-up the following year.
It is Ireland who are resolutely flying the flag for everyone outside the two Northern Hemisphere powerhouses at club or provincial level. The Welsh and Scottish regions have all tended to go out with more of a whimper than a bang at the pointy end of the tournament, and you have to wind the clock back 27 years to find a finalist from one of the two nations – Cardiff losing to Toulouse in the inaugural final in 1995-96.
The four Irish provinces had a lively spring in their step in the first round of this year's competition, sweeping all four games against opponents from England or France. Leinster beat Bath 45-20 in Dublin while Connacht put away lofty Parisian opponents, Stade Français at the Sportsground in Galway, by 36 points to 9.
The two away performances were even more emphatic considering their background in the Covid pandemic. Munster beat Wasps at the Ricoh stadium in Coventry in the absence of 34 senior players quarantined after an ill-fated URC trip to South Africa.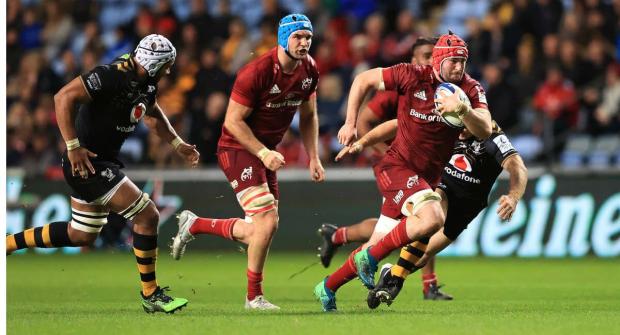 Ulster rose magnificently to the daunting challenge of playing ASM Clermont in their home fortress, the Stade Marcel-Michelin buried deep in the Auvergne. They came away with a 29-23 victory despite the absence of nailed-on matchday participants like Iain Henderson, Bradley Roberts and Marty Moore in the tight five, Jordi Murphy in the back-row and Jacob Stockdale and Will Addison in the backs.
As their head coach Dan McFarland commented afterwards:
"There was a litany of things that were difficult to deal with. I'm so proud of the lads and what they've done today, that's really a victory we should be proud of.
"The last time we came here we played really well in the first half and then the game slipped away from us in that just-before-half-time, just-after-half-time period.
"Good teams are able to squeeze you at that period if they're a little behind. Today they did squeeze us just before half-time in that third quarter. We got a number of things wrong like our smart kicking game, it wasn't as effective as it was in the first half.
"We allowed them to break out on a number of occasions and brought pressure back onto ourselves but ultimately we were able to get back into the game with some really good play and some huge individual plays as well."
Ulster have toiled under a reputation as a gritty, tenacious defensive side more comfortable at spoiling the opposition than creating opportunities themselves, but the view has changed. Against Clermont, they produced most of the cohesion with ball in hand. They built more rucks, shaded the battle of gain-line domination, and carried more ball for more metres than their illustrious opponents.
None did better than their two youthful 23-year-old backs, outside centre James Hume and diminutive fullback Michael Lowry. They provided most of the "huge individual plays" McFarland referenced; in terms of both yardage (169 metres between the pair) and linebreaks – grabbing four of the province's five clean breaks on the day.
The pair announced early on that they were not going to be cowed by either the setting or the quality of the opposition:
That is James Hume's sharp footwork, creating one of the Ulster linebreaks in a straight one-on-one contest, with accurate offloading to follow from both the outside centre and Lowry (in the white cap) taking play all the way up to the Clermont goal-line.
A developing feature of Ulster's back play, and their new feeling for risk-reward balance, is their willingness to chance their arm by attacking from their own last third of the field:
This was Hume's second break of the first half, and as in the first instance it does not occur with any advantage in numbers: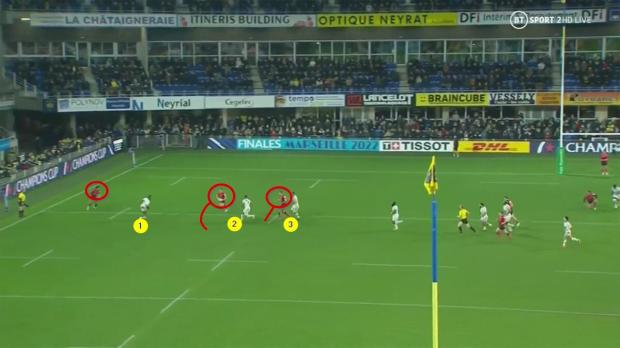 It is three attackers versus three defenders, but the Ulster number 13 has made his read and seen that he and his partner Stuart McCloskey are opposed by Clermont forwards in the line. That means they can link quicker than the two defenders can react, and again it is Hume's footwork that makes the difference.
It was the desire of Hume and Michael Lowry to exploit the space in the defensive 13 channel which created most of the northern province's momentum in the first period:
It is first phase from a scrum deep in Ulster's own third, but they are confident in Lowry's ability to outrun Clermont's number 13 Jean-Pascal Barraque in a foot race, even with equal numbers.
Michael Lowry is fast following in the footsteps of other notable 'scatbacks' like Shane Williams for Wales and latterly, Cheslin Kolbe for Toulouse and South Africa – the small man (Lowry only stands 5'7" and tips the scales at under 80 kilos) with wiry strength and outstanding footwork in traffic:
As long as Ulster could play Hume and Lowry and that 13 channel into the game, they were on top. But a 19-7 lead at half-time dwindled away as they gave up the first 13 points in the second period to trail 19-20. It needed another spark from their numbers 13 and 15 to re-establish their grip on the match:
Hume cuts a nice line on to the short ball from McCloskey initially, and Lowry is there to fan the flames a couple of phases later. On review, Clermont full-back Cheikh Tiberghien was adjudged to have knocked the ball on deliberately by referee Wayne Barnes, and the try stood.
In recent seasons, Clermont have made a living from delivering the ball to their huge, lethal Fijian-born wing Alivereti Raka – all 6'2 and 103 kilos of him – in space. Who can forget the way he cut Saracens to pieces in late 2017?
It was vital for Ulster to neutralize the threat that Raka presented:
In both cases, Michael Lowry is giving up more than 20 kilos and a lot of momentum as the last line of defence, but in both instances, he gets the job done and stops Raka in his tracks.
Hume was as canny in his defence of the 13 channel as he was exploiting it on attack: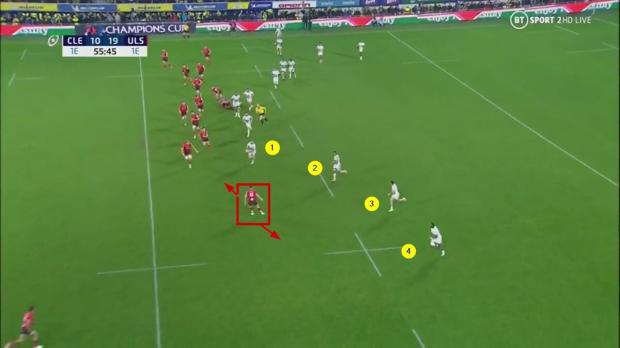 With equal numbers he is pressing up and looking for the interception, with Ulster short-handed in the second example he sagging off, and looking to reconnect effectively with the players inside and outside.
With English and French clubs looking to monopolise the competition on the field that they first held to ransom off it in 2013-2014, it has been left to Ireland to provide the only serious voice of dissent. At both national and provincial level, they are squeezing every last drop of juice out of the talent available, and in all positions.
Nowhere is this maximising of resources as evident as in the improvement made by Ulster, under the stewardship of Dan McFarland. They have developed from a team who could spoil and get under the opponent's skin, to a side comfortable on both sides of the ball; willing to blood youngsters in the most forbidding, hothouse European environments, willing to use the width of the field and play from their own end. Happy to embrace the risk-reward balance and play a bit of football on their own terms, and challenge the Anglo-French monopoly. It is only right to stand back, and applaud that effort.