Back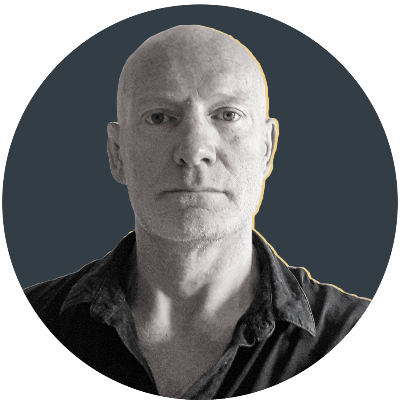 By Gavin Mortimer
Speed of light
I first interviewed Cheslin Kolbe in October 2017. He and his young family had just arrived in Toulouse and already the then 24-year-old had taken the city by storm. With four tries in his first six league matches for the aristocrats of French rugby, Kolbe had convinced some of the club's more misty-eyed fans that perhaps, just perhaps, here was the genius a bedraggled Toulouse so desperately needed.
The previous season the four-times European champions had had a serious flirtation with the Top 14 relegation zone, eventually finishing 12th, their worst position in the professional era. Crowds were down, so was commercial revenue and the morale of the squad was also at rock bottom. So what on earth possessed Kolbe to sign for Toulouse?
The challenge of playing in a different league, he told me, and experiencing a new culture. So far, so predictable, but there was more. The failure to breakthrough into the Springboks team had, in Kolbe's own words, left him "sad". Selected by Allister Coetzee for the tour of England, Italy and Wales in November 2016, Kolbe had failed to break sweat in anger, even against the Barbarians, with the coach preferring the power of Ruan Combrinck and Jamba Ulengo to the searing pace of Kolbe. "I think it has counted against me," Kolbe told me, when I asked if his 5ft 7in and 80kg frame had swayed Coetzee's selection. "They [the selectors] look for players who are much bigger, but it motivates me as a player to prove myself. Personally, I don't believe size matters. Every player has two arms and two legs."
Fast-forward two years to a November night in Tokyo, and Kolbe takes a pass from Pieter-Steph du Toit wide out on the right-hand flank just inside the England half. Five men in white shirts are scrambling to tackle the winger into touch. He stands up Joe Marler, powers through the flailing tackle of Owen Farrell and puts on the after-burners to power past Billy Vunipola to score the try that clinched South Africa the Rugby World Cup. It was a try to rival any scored in a final, a work of art by a player who proved Coetzee and all of his doubters over the years wrong – size really doesn't matter.
Personally, I don't believe size matters. Every player has two arms and two legs
"Since I started in professional rugby, I've always been criticised and received negative feedback, getting told I was too small and I would never make it," says Kolbe when we met up for a long-overdue rendezvous this month.
Most of the nay-sayers were on social media; faceless, gutless armchair critics who poison Twitter with their vitriol. "Getting that at a young age of 18 and 19, it was difficult to read those things, but it never took me off my task in what I wanted to achieve," he said. "I remembered the words of my dad who told me 'listen, there will be people who want you to fail, people who don't want you to succeed'. So I just made sure I did the best I could in terms of training as hard as I could."
Kolbe's wife and young child were in Tokyo to watch him rip through England's defence but his parents were back in South Africa. The first call he made after the final was to them. "My dad was really excited, really happy for me in accomplishing so much," explains Kolbe. "He isn't someone who gets really emotional but when I called him after the final he just burst into tears. Words can't describe my feelings; it's just awesome to have wonderful parents who have supported me since I was a kid."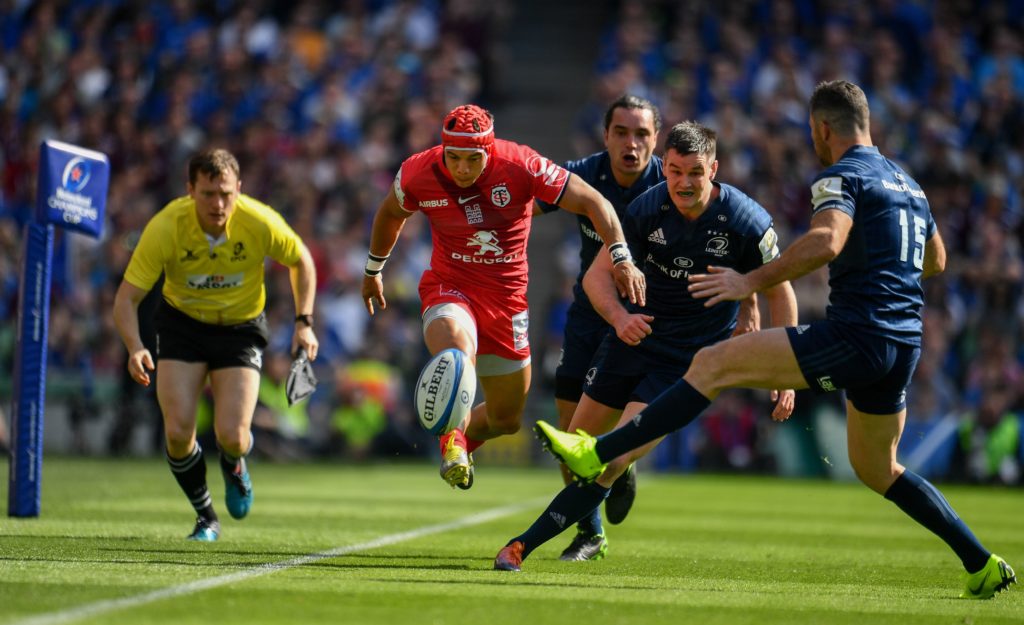 The support of Toulouse has also been influential in the evolution of Cheslin Kolbe, and the South African can't speak highly enough of the club that recognised his unique talent when the Springbok selectors seemed impervious to it. He has extended his contract with Toulouse until 2023, and goodness knows how many tries and accolades he will have to his name by then.
In his first season, 2017-18, Kolbe scored nine tries in 21 Top 14 starts and the following season he added six more in 16 appearances. Toulouse won the Top 14 title in Kolbe's second season (their first Bouclier de Brennus since 2012) and he was voted International Player of the Year by France's influential rugby newspaper Midi Olympique. "Since the moment we got to France the club has been awesome," says Kolbe. "It's a great club and a great city; people are friendly, easy-going and down to earth. It's also a family-orientated club, which is very important for me, because family comes first."
As hospitable as Toulouse have been, it was nevertheless a formidable undertaking for Kolbe and his wife to leave their comfort zone. Dozens of overseas players have been broken by the challenge of adapting to the French way of doing things, on and off the rugby field. Most fail because they refuse – or simply can't – adapt to a new culture. They don't bother to learn a word of the language, they whine about this, moan about that, and eventually flee back home with their tails between their legs. Not the Kolbes. "It was a challenge having played in South Africa for quite a bit and then coming over to something completely out of my comfort zone, and especially with a newborn baby then about four months old," reflects Kolbe. "There was quite a lot on my plate at that time, but what I told myself and what I told the family was we have to go over and find our feet, and make it as comfortable as possible and meet and get to know a lot of people, so that we don't feel we're lost."
"After the World Cup, coming back to the club and playing a few games, I could feel that mentally and physically I wasn't where I wanted to be.
A word here for Mrs Kolbe who, as her husband mentions, made the switch having just given birth. "My wife has sacrificed so much," says Kolbe. "She worked back in South Africa and resigned to follow my job. Then, arriving in a strange country with a four-month old baby, not knowing the language, or what to buy in the shops; it's been a challenge but she has adapted phenomenally well and I'm so grateful to have a partner who is so supportive."
A round of applause, too, for the Toulouse coach Ugo Mola, who recognised the damage that Kolbe could do in the Top 14. A winger for the club in the 1990s, Mola replaced Guy Noves as coach in 2015 and his first two years were bumpy; Noves had been in charge for two decades and the glory years were a distant memory; the club hadn't moved with the times, left behind by the likes of Clermont, Racing and Toulon.
Noves had shared Allister Coetzee's belief that big was better. Mola understood that Kolbe could exploit the space on the field against teams whose packs were huge but sluggish, creating gaps that a swift pair of legs allied to a sharp rugby brain could dart through. Clermont's lithe-limbed English duo of David Strettle and Nick Abendanon had proved this in the 2015-16 season, scoring fourteen tries between them from the wing and full-back.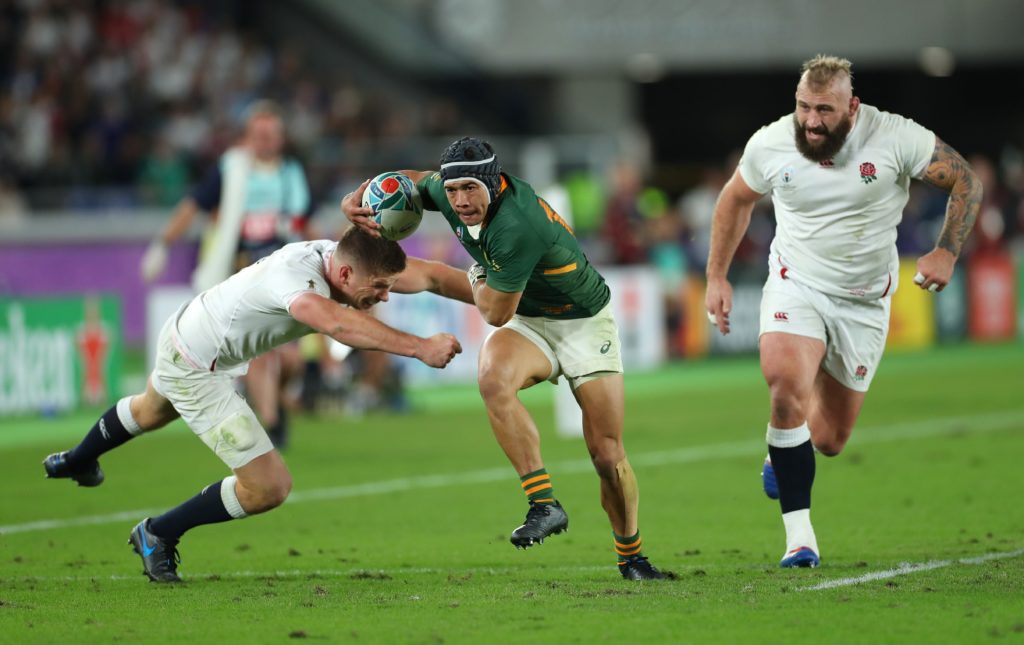 Kolbe's arrival at Toulouse coincided with the emergence of a new generation, young players such as Antoine Dupont (scrum-half), Romain Ntamack (fly-half), Thomas Ramos (full-back) and François Cros (back-row), all of whom have gone on to win international honours.
Kolbe speaks of them warmly, and missed their company during the lockdown or, as it was known in France, 'le confinement'. In fact Kolbe flew home for a two week holiday a couple of days before France went into lockdown [on March 17] but was in South Africa when they followed suit nine days later. "My two weeks ended up as four months, but it was nice because I got to see a lot of family that I hadn't seen for a long time."
Kolbe also admits that he was in need of a rest after a punishing twelve months in which he had been a winner in the Top 14, the Rugby Championship and the World Cup. "From a personal point of view I would say it [the lockdown] couldn't have come at a better time in terms of refocusing," he says. "After the World Cup, coming back to the club and playing a few games, I could feel that mentally and physically I wasn't where I wanted to be. I hadn't had much of a break…and I took the period of the lockdown to invest in myself so that when rugby does resume I'm 100% focused on each and every aspect of my game."
Watching the Lions, I knew that this is what I wanted to do. The Test series is definitely a goal for me.
Don't get the idea that Kolbe is a tunnel-vision sports star, a pampered athlete with no idea how tough the lockdown has been for millions. On the contrary, Kolbe took advantage of an enforced break in South Africa to help out with the Be The Difference Foundation, a charity with which he has been involved for a number of years. "The Foundation has really opened my eyes to how we live our lives compared to other people out there," he explains. "So for me during this lockdown it has been a blessing in terms of looking after my body and having the opportunity to serve other people during this difficult time."
Kolbe helped distribute hot meals to disadvantaged families in the Western Cape, an initiative he found fulfilling and humbling. "When people ask what I've taken out of the time I've been in South Africa I just tell them that God wanted me to be here and do what I have done, and I couldn't be any more grateful."
Kolbe returned to Toulouse at the end of June and the squad were put through the wringer at an altitude camp in the Pyrenees in early August. That hurt, says Kolbe, laughing, but the pain was offset by the camaraderie of a close-knit squad happy to be reunited.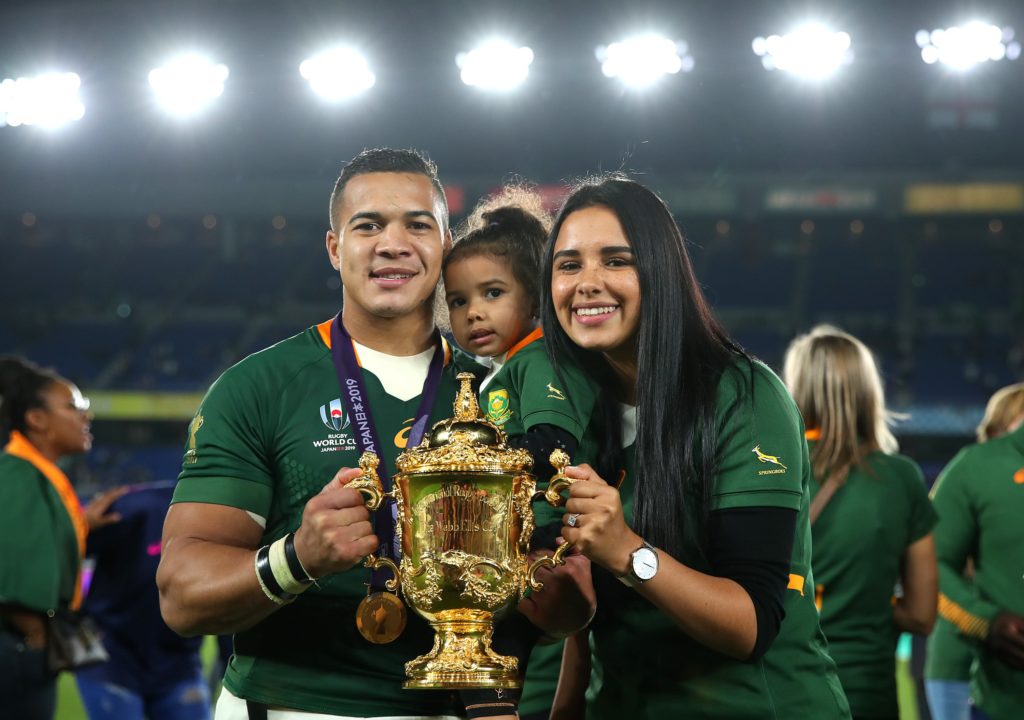 It's been a fraught few months for professional rugby, particularly in France. Unlike the English Premiership who are finishing the 2019-20 season, the Top 14 abandoned theirs and the new campaign has already begun in earnest. A packed fixture list follows with Toulouse hosting Ulster in the quarter-final of the Champions Cup this weekend but Kolbe is unsure how much international rugby he'll play in the autumn. The FFR and the clubs have fallen out over the proposal to stage six Tests before Christmas and he'll have to wait to find out the extent of his participation in the rescheduled Rugby Championship that starts in November.
Further down the line is the Lions series next summer, a challenge Kolbe would love to be part of. "The British and Irish Lions are massive in South Africa," he says. "I watched the last series in 2009. I was in Grade 10 at the time, and that was when I got my breakthrough in provincial rugby at school level. Watching the Lions, I knew that this is what I wanted to do. So to be part of a Lions Test series is definitely a goal for me."
South Africa have a new head coach in Jacques Nienaber, a man Kolbe knows from their time together at the Stormers several years ago when he was defence coach. Let's hope for the Springboks' sake that Nienaber is a coach who believes that it isn't size that matters, but skill and speed.
If you've enjoyed this article, please share it with friends or on social media. We rely solely on new subscribers to fund high-quality journalism and appreciate you sharing this so we can continue to grow, produce more quality content and support our writers.