Shout out to my ex
The story begins in the army. Even back then, 30 years ago, you could tell that Jacques Nienaber and Rassie Erasmus were officer class. The former had been pushed into taking a "gap year" as he tried to improve his final-year marks to gain acceptance for a physiotherapy degree at the University of the Free State.
Little was he to know then how that gap year would change his life. When Nienaber left a year later, his new mate, Erasmus, stayed on in the Armoured Corps at Tempe Base.
"He was very good in the army," remembered Nienaber on the day he was unveiled as the Springboks head coach. "He was unbelievably structured and tactical … a tactician kind of guy. I'm not sure how much longer he stayed there – they earned good money then – but he paid his way through his studies that way."
The whole point of this story is to show how, by the time he was 19, Erasmus already had a true general's sense of strategy, an attention to detail and appreciation for the big picture.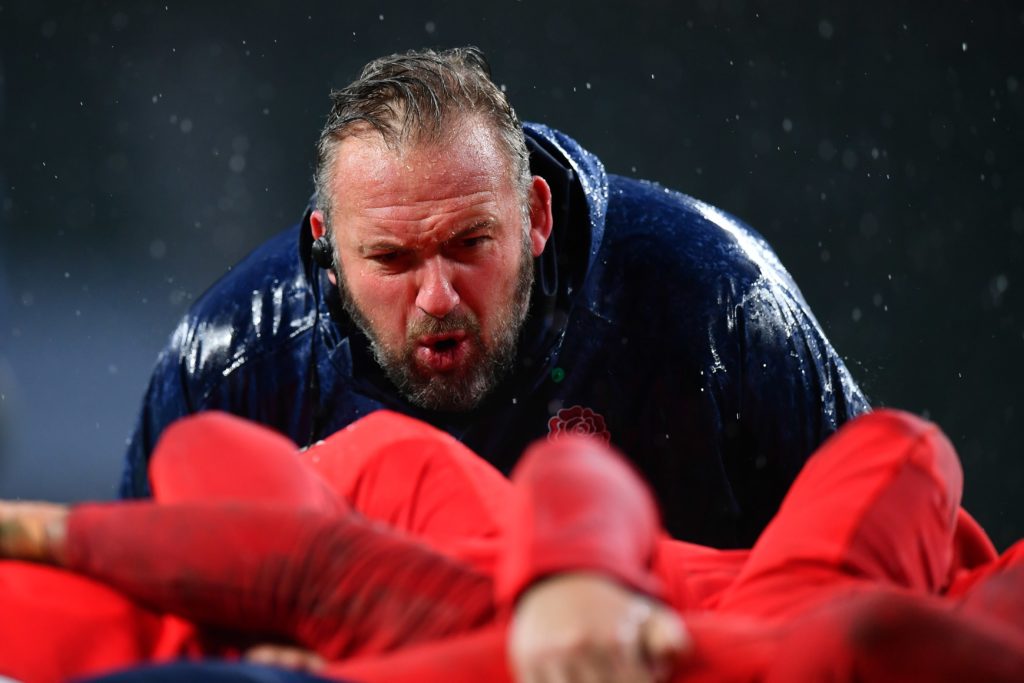 These same qualities were evident during his playing career, as he lugged a computer around with him from hotel to hotel, so he could help his coaches analyse the opposition. We saw them again when he won his first Currie Cup title as a coach the year after he retired from playing, and most notably in 2019, when he guided the Springboks to the World Cup just 18 months after inheriting a broken down team.
Front row seat
England forwards coach Matt Proudfoot was ringside throughout that unforgettable 18 months, a time during which a hospital pass turned into something approaching a modern-day miracle as the Boks went from the lowest ebb in their history to winning a third World Cup.
As an integral part of an Allister Coetzee regime which ended in acrimony, Proudfoot shouldn't even have been there.
But by turning down another gig as Coetzee's assistant in Japan, choosing instead to see out his contract so he could go to the World Cup and hopefully get a head coaching job afterwards, he was able to be part of South Africa's daring heist.
"I had a good understanding of what they could do and felt I had value to add. I felt I had good traction with the pack and that I could make a difference."

Matt Proudfoot.
"It was a tough decision to make, I was very close to Allister," Proudfoot explained. "I think he's an incredible man and he did a great job because it's always tough coming in after a World Cup. I thought he was turning it around.
"[But] decisions were made and that requires you to re-evaluate your whole process. My decision was based on my feeling I still had value to add to that pack of forwards because I'd worked with most of them through their Stormers days.
"I had a good understanding of what they could do and felt I had value to add. I felt I had good traction with the pack and that I could make a difference."
He certainly did. The aforementioned forward pack – at the time loaded with Stormers players, Steven Kitshoff, Bongi Mbonambi, Frans Malherbe, Eben Etzebeth, Pieter-Steph du Toit and Siya Kolisi, and the franchise's ex-players in Francois Louw, Duane Vermeulen, Vincent Koch and Schalk Brits – demolished England's scrum in the final. It wasn't just a World Cup final Proudfoot was involved in that day. It also felt like an interview for the England job that would subsequently come his way.
But while he was on the Springbok coaching ticket, the former Scotland prop was the nearest thing to an "outsider" in Erasmus' famously loyal and close-knit setup, even though the two had worked together at the Stormers from 2008 to 2011.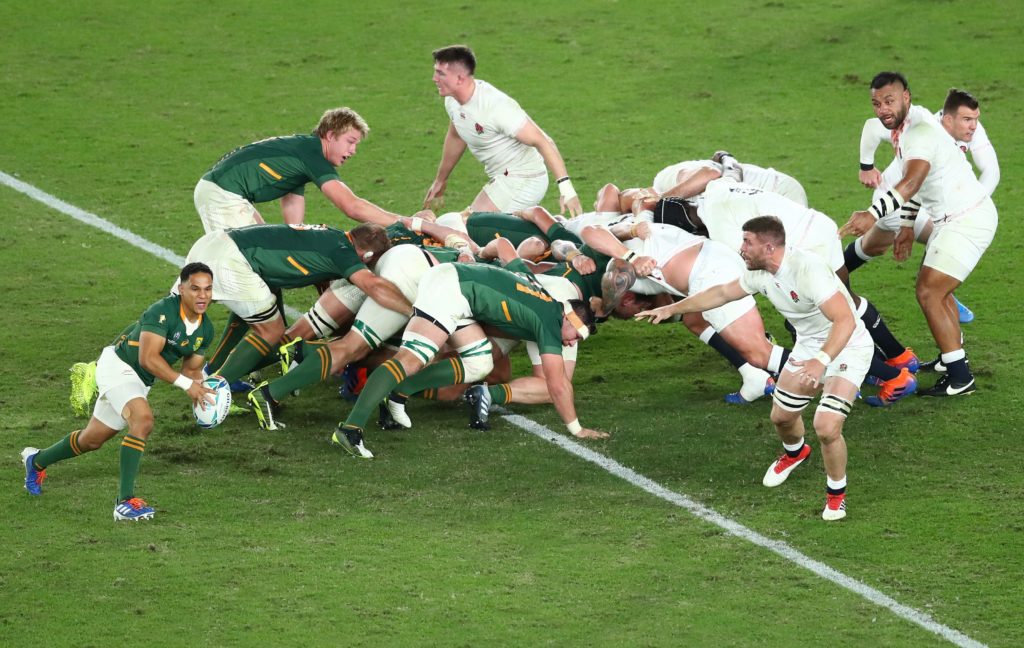 It also makes him the best person to ask what makes Erasmus' "boot room" such a potent mix: "It's a lot of time working together, a lot of time going through tough times, solving challenges," says Proudfoot, "almost rubbing up against each other and finding the fit.
"They understand each other's plan very carefully, they have great trust in each other – I'm talking about Jacques and Rassie in particular here, that was the core before [Mzwandile] Stick came along, then Felix [Jones] and Aled [Walters] were part of that – and they have an incredible alignment in what their plan is and how that plan is going to evolve."
The general and his lieutenant
The glue to all of this is the relationship between Erasmus and Nienaber, the general and his lieutenant.
When he took over as a director of rugby (who would be head coach for the first two years of an unprecedented six-year deal) Erasmus narrowed down his focus to performance, transformation – the euphemism for racial representation in SA rugby teams – and the creation of player depth.
The appointment of Kolisi as the country's first black captain was a historical declaration of intent on Erasmus' part, especially as the player had been passed over for the role in favour of Etzebeth the year before despite being the Toulon lock's leader at franchise level.
A lot of white coaches need to be honest and not see transformation as something to work around. They need to be honest and do what's in their hearts because that is what players respect.

Matt Proudfoot.
"The debate around it was whether he was ready or if we were protecting him too much," said Proudfoot at the time. "It was Allister who first educated me on the transparency needed when dealing with it. He said every player deserves an opportunity when he's ready, and Rassie has done the same thing.
"He's been honest by judging the players on whether they're good enough or not. A lot of white coaches need to be honest and not see transformation as something to work around. They need to be honest and do what's in their hearts because that's what players respect – there's no need to hide behind a piece of paper [the transformation regulations]."
If the Kolisi call got a restless and disenfranchised black majority onside, beating an England team which had equalled New Zealand's world record winning streak of 18 matches just the year before, 2-1, in their first series got everyone on board.
At the time Proudfoot traced the early success to getting buy-in from the notoriously parochial franchises and Erasmus' intense work ethic: "In the past there's always been an 'us and them' thing, Rassie worked hard to break that down. We realised that if we didn't align we would never catch up to New Zealand.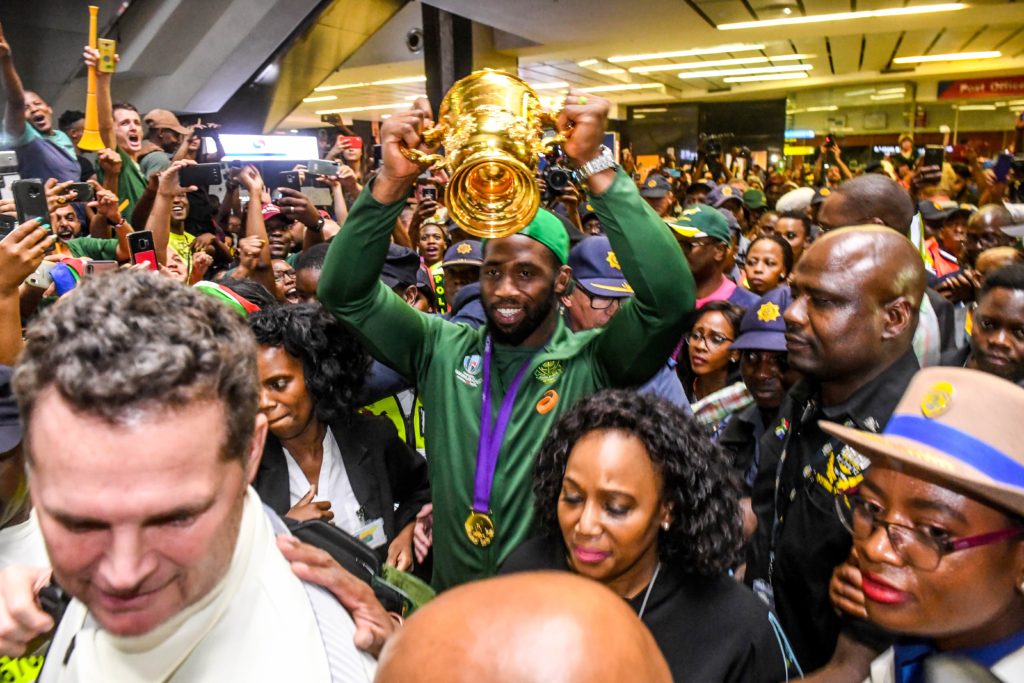 "His work ethic will frighten you. Having played for the Boks he feels responsible for making sure the team succeeds again. He told me on a daily basis to rate my pack and where I think they are in the pecking order."
The genius of simplicity
The word genius is often bandied about by those who have come into contact with Erasmus, which is hard to believe because he does his best to hide it. What's more, he doesn't have Eddie Jones' "been there, done that" smirk, or Warren Gatland's confrontational intensity.
Proudfoot reckons if he does have genius, it's in his simplicity: "He's all about getting to the core of the matter. Where Rassie is very good is looking at the cause of the problem and saying 'this is what we need to fix'.
"He is driven by that process – he never sleeps looking for that advantage. He's got a saying that he uses: 'Let the main thing stay the main thing', and I think that's his genius. Rassie has a unique ability to see what is the one thing that is going to make a difference."
The best way to encapsulate Proudfoot's observation was Erasmus' revelation in the documentary Chasing the Sun that when they prepare for a team they drill down to what its "soul" is so as to clinically take it out of the equation during the game.
Where Rassie is very good is looking at the cause of the problem and saying 'this is what we need to fix'.

Matt Proudfoot.
Nienaber: unheralded or underrated?
Nienaber may not be recognised as a genius but over the years he has proven to be crucial to Erasmus as his eyes and ears everywhere they've been (the Free State Cheetahs, the Cats, the Stormers, Munster and now the Boks).
The bespectacled Nienaber doesn't have Erasmus' playing, or indeed head-coaching-pedigree, having only played for Grey College's seventh team as a 63kg distance runner who doubled up as a flanker.
But as a qualified physiotherapist who morphed into a conditioning coach, and then a defence coach before ending up as an international head coach, Nienaber has always found himself as the link between coaches and their captains on the touchline.
"To do that you actually need to know the game plan and the calls, and not just relay messages," was Erasmus' explanation when he found himself having to defend the appointment of his friend as Bok coach. "Lying on his physio bed back then he would chat rugby for a whole 90-minute session, and you'd realise that 'oh shit, this guy's talking a lot more sense than many of the coaches'."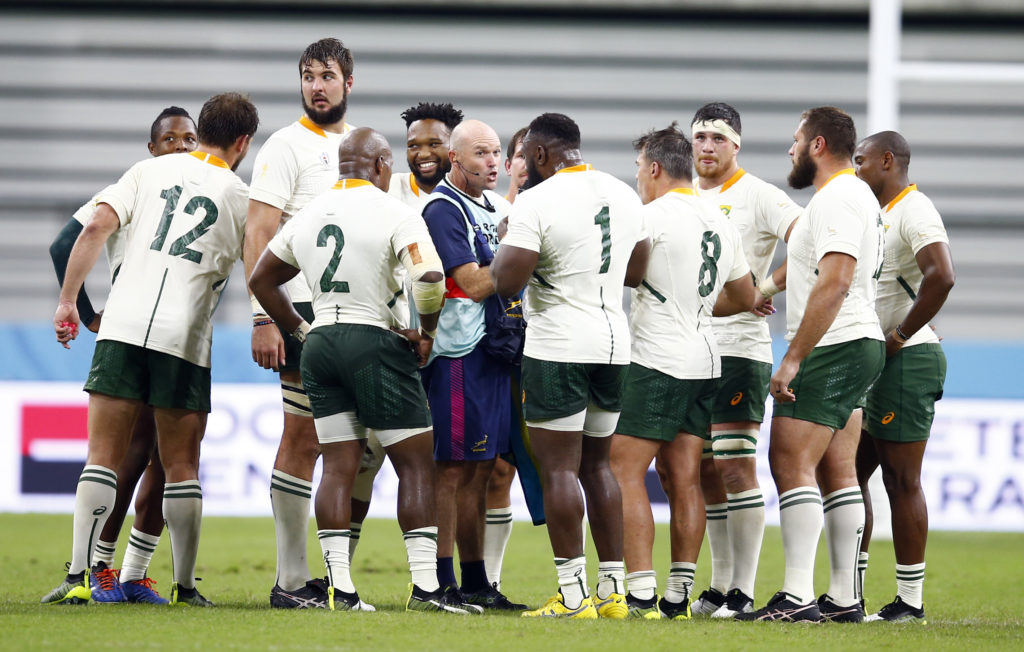 Things fell into place. For starters, Walters' taxing conditioning programme turned the Boks from big men who could be relied on to run out of puff into a pack who just wouldn't go away physically. Then there was Stick's sevens input of off-the-ball work, which made the Boks seem like they had parity even when they were down to 14 men. Finally, Felix Jones' subtle observations about how to manipulate opposition defences helped Erasmus and Nienaber conquer the world.
Proudfoot also highlighted the role of team manager Charles Wessels, an organised and methodical man with the kind of light touch which freed the coaching staff to do just that; coach.
The belief that they could win the World Cup came as early as the miracle of Wellington in 2018, where the Springboks, having shipped 57 unanswered points the year before, upset the All Blacks 36-34.
"We always knew we had the players," explained Proudfoot. "We just needed to create an understanding in our alignment and in the way we wanted to play. Once that came together in Wellington we knew we could do this.
"Winning away created a lot of belief in a group of players. We knew after winning in New Zealand that we could win in Japan. We also looked at the teams we'd played against and we'd beaten all of them except Wales, so we'd beaten everyone we were going to play and felt pretty confident in that sense."
Rassie's philosophy is to give the players license to go as hard as they can. His whole game plan was built around physicality, dominating the contact and intensity of movement. To get that your pack does the majority of the work.

Matt Proudfoot.
Six-two split and the future
After losing the opening pool match to New Zealand, South Africa had to take the low road to win the World Cup. Freed to be their belligerent best – we saw them embrace the six-two split.
"Rassie's philosophy is to give the players licence to go as hard as they can. His whole game plan was built around physicality, dominating the contact and intensity of movement. To do that your pack does the majority of that work.
"With Frans Steyn in such good form and forcing selection into the 23, that allowed flexibility into the bench. The competition between the two packs was such that we were in a position where we said 'which one do we pick?'
"We then went and looked at a plan of how we could utilise them better, and that's how the six-two split came about. We were going to go heavy scrum, heavy maul to force dominance in the game, so we needed two locks and a full front row – also Kwagga Smith and Schalk Brits gave us flexibility."
It's been 17 months since the six-two split played a critical role in the Springboks winning the World Cup, and the same amount of time since they played together as a team.
With a month being a lifetime in international rugby, and Nienaber's elevation to head coach giving the coaching setup a sameness about it, the fear in South Africa is that the world champions will have fallen behind by the time they face the British and Irish Lions in July.
If ever there was going to be a team to test Erasmus, Nienaber and Co's genius, it would be one coached by Gatland, whose Wales side gave Erasmus sleepless nights ahead of the World Cup semi-final.
Proudfoot says he expects the Boks to evolve under Nienaber: "Jacques' strengths will come to the fore as his personality does as well. Jacques' strength is how well prepared he is, nothing is left to chance.
"The style of the team will be very similar, but Jacques and Felix's relationship is very strong, so having an attack and defence coach to bounce ideas off each other will create an era of growth in the team.
"So it'll be interesting to see the way the Springbok attack develops."
It certainly will. Encircled by Lions, 20 months after they last played a test, it appears as though Erasmus and Nienaber have been tasked with yet another rescue mission. But they wouldn't have it any other way. After all, they're at their most comfortable when things are uncomfortable.
More South African stories
If you've enjoyed this article, please share it with friends or on social media. We rely solely on new subscribers to fund high-quality journalism and appreciate you sharing this so we can continue to grow, produce more quality content and support our writers.