Back
By Bryn Palmer
Rhona Lloyd's World Cup quest
Elite sport is all about constant striving, the quest for self-improvement and hitting targets, both personal and collective. But what happens when those goals go unfulfilled, or the goalposts shift?
Rhona Lloyd had three ambitions at the start of the year. To help Scotland qualify for next year's delayed Rugby World Cup in New Zealand. To secure a first appearance for Scotland at the Commonwealth Games next spring.  And – most coveted perhaps, having declared it a childhood dream – to make the Great Britain squad for the Olympics and win a medal in Tokyo.
The first is tantalisingly within reach. Scotland are in the unfamiliar position of favourites to emerge from a final global repechage event in January, having progressed from a nerve-shredding European qualifying tournament also involving Italy, Spain and Ireland.
The second is already in the bag, with Lloyd helping Team Scotland qualify for the multi-sport event being staged in Birmingham next summer.
The third? Well… Lloyd spent two months earlier this year in the extended GB Sevens training squad in the countdown to Tokyo, missing the Covid-delayed Six Nations in the process. But when the final cut came, her name was missing from the list of players heading to Japan.
I didn't engage with the Olympics as much as I had anticipated because I had hoped to be there. It was a difficult time personally. But working on the Paralympics was a phenomenal experience.
"It was extremely difficult, and something I am still dealing with," she says. "In training for the Games, the goal was to win a medal so to miss out, and then for the team not to win a medal (GB finished fourth, losing to Fiji in the bronze medal match), I took that very badly. It was another blow I had to process. For the first couple of weeks I thought, 'I don't think I'm ever going to get over this'."
Salvation, or at least a partial healing of the wound, came in different forms. Missing the final run-up to Tokyo at least allowed her to play for Scotland in a sevens tournament and help secure the high placing they needed to qualify for the Commonwealth Games.
Later in the summer she enjoyed a few weeks working for a digital sports agency helping deliver social media content for the Paralympics. "I didn't engage with the Olympics as much as I had anticipated because I had hoped to be there. It was a difficult time personally. But working on the Paralympics was a phenomenal experience. I was producing graphics for all the medals and medal table every day, so it was crazy at times but such a rewarding experience. I'm already passionate about promoting women's sport, and it made me very passionate about Paralympic sport too."
Someone blessed with such positivity, energy and talent was never likely to stay down for long. At 25, Lloyd has packed plenty into her adult life already. In three seasons playing for Loughborough Lightning in England's burgeoning Premier XVs competition, the Edinburgh-born winger completed a Masters in Sports Biomechanics at Loughborough University whilst also working as an analysis intern with British Athletics. Since 2019 she has co-hosted the Women Who Sport podcast with Scotland team-mate Sarah Bonar, showcasing the journeys of women across a range of sports.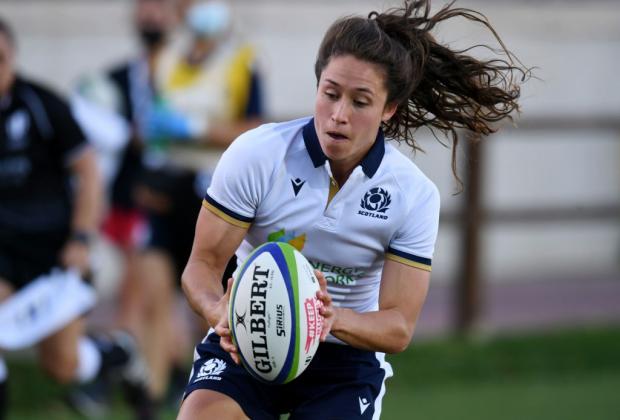 Her Olympics omission also helped finalise a decision on her rugby future. She had "itchy feet" in Loughborough, but loyalty to Lightning made moving to another English side unattractive. An offer from Les Lionnes du Stade Bordelais, who play in France's elite competition, was already tempting.
"I'd been thinking about it and hadn't fully committed," says Lloyd, who has scored 13 tries in 31 Tests for Scotland. "But after missing out on Tokyo, I thought 'I need a change, I don't want to be in Loughborough where the GB team will be training'."
So last month she swapped the East Midlands for the sunshine and sparkling waters of the Bay of Biscay, the public gardens and quays beside the River Garonne and the reflecting pool of the Miroir d'Eau in Bordeaux's grand Place de la Bourse. A soothing backdrop as she grasped the challenge of communicating in a different language and settling into a new rugby culture.
"The Olympics is still very raw but coming to France was definitely part of the healing process," Lloyd explains. "Once I arrived here, I felt a lot better about it.
"It has been daunting, and I felt quite out of my depth when I first arrived. A big part of that is the language barrier but I came here to challenge myself. There are very few English speakers at the club, which is good for me – it means I'm having to learn French.
"I did a bit at school, and then in the summer once I'd decided to come, I made a big effort – listening to French music, watching French TV. I feel so much more confident after a few weeks here now, but I can still only speak in the present tense. I need to learn some different verb conjugations!"
I can feel myself getting faster and I'm learning so much. It was a risky decision to come here but I am loving it.
The club set her up in a flat with two other players for company: Montserrat Amedee – one of several France internationals in the squad – and Spaniard Mar Escusa. Canadian back-rower Karen Paquin, from Quebec, will also be moving in shortly.
Lloyd does some work for the club one day a week and helps with the Under-10s. "Last week I took them for a beach clean and some touch rugby. It's a very good set-up. They are very flexible with me and I'm still able to chip away with my podcast. I wouldn't say I am fully professional but it's definitely the best work-life balance I have had."
After the frustration of having to rehab a knee injury in her first few weeks, Lloyd's subsequent integration has been rapid. On her belated debut last Sunday she scored five tries in a 39-12 French Cup win at Stade Rennais. Not too shabby for a first outing.
'Les Lionnes' had already won their opening three league games in one of the two seven-team pools that make up the Elite 1 competition. With the club's men's team, Bordeaux-Begles, also riding high in the French Top 14, these are exciting times for rugby in the city.
"There is quite a big group of us who can train during the day most days which is good, because it's often the case that some girls can't get the time off work and you end up training three times a week at night. There is a big emphasis on recovery and every Monday we go to a spa and do our session there. The strength and conditioning coaches are brilliant and we work extremely hard in training. I am definitely going to benefit from that. I can feel myself getting faster and I'm learning so much. It was a risky decision to come here but I am loving it. It has proved to be the perfect decision."
Lloyd is not the first Scotland player to head to France. Current team-mates Jade Konkel, Chloe Rollie and Lisa Thomson blazed a trail when they joined Lille Metropole in 2017 – as Scotland's first professional female players – before returning to play for clubs in England. Fly-half Helen Nelson also had a spell with Montpellier before joining the seven-strong Scottish contingent in Loughborough.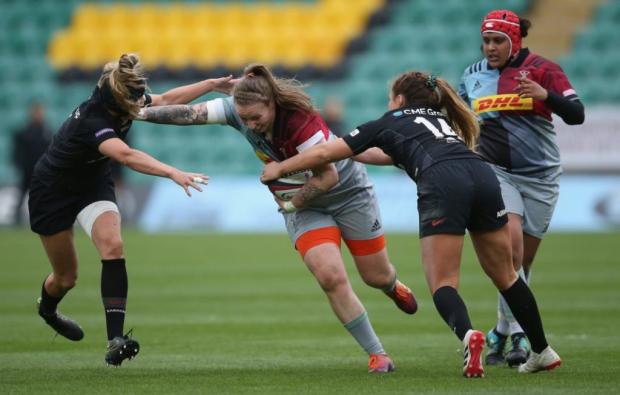 But Lloyd is currently something of an exile, as the only member of the squad not based in England or Scotland. She returned to her home city this week with a spring in her step, scoring a double as Scotland beat Japan at Edinburgh's new DAM Health Stadium, in the shadow of Murrayfield.
Five years ago, in her first season of international rugby, Lloyd was just out of her teens when Scotland lost qualifying play-off over two legs with Spain to miss out on the 2017 World Cup.  Their last appearance in the tournament was back in 2010.
"Some of the older players were crying in the dressing room, knowing their last chance had gone," Lloyd recalls. "I remember thinking, 'I am going to get to a World Cup'. I don't want to feel like that again. The World Cup dream has been there a long time, but it feels a lot bigger and nearer now."
In September, Scotland entered the European qualifying tournament ranked 11th in the world, behind all three of their opponents Italy (seventh), Ireland (eighth) and Spain (ninth).
After a heavy opening 38-13 defeat by the hosts in sweltering conditions in Parma, the dream threatened to become a nightmare. "We had trained really hard in the week and the heat hit us extremely hard," says Lloyd. "About 20 minutes in, I felt like I had little left to give – it was horrible."
A rollercoaster must-win encounter against Spain followed, Scotland twice coming from seven points down to emerge with a prized 27-22 victory featuring some heroic late defensive resolve. That set up an all-or-nothing clash with Ireland, who had won 14 of the countries' 15 previous meetings.
"The evening before, and the day of the game, every part of me thought we were going to win," says Lloyd. "Right through the warm-up, the anthems, there was just this feeling among the squad. We have been on this journey together since the last qualifiers. I get quite emotional reflecting on it."
The goal is to get to the World Cup and that tournament was just part of the process. The journey isn't over.
Lloyd grabbed her third try in three matches but the Scots left it excruciatingly late, full-back Rollie crossing in the final minute to level the scores before Sarah Law slotted a nerveless conversion to seal a 20-18 victory – one of the finest in the history of the Scotland women's side.
"It was so overwhelming," says Lloyd. "A lot of people were overcome with emotion; it all went a bit crazy. To get the win, and the way we did it, it was an extremely proud moment but part of me was heartbroken for Ireland. I have been in that situation.
"We celebrated but it was a strange one. The goal is to get to the World Cup and that tournament was just part of the process. The journey isn't over. We haven't achieved what we want yet."
If the merits of expanding the women's global jamboree to 16 teams for the 2025 edition were amplified by the fact eighth-ranked Ireland and Spain, now 10th, will not be in New Zealand next year, the final step for Scotland, who are up to ninth, comes in January.
Bryan Easson's side will face Samoa (ranked 16th), Colombia (26th) and either Kazakhstan (15th) or Hong Kong (18th) in a repechage tournament, probably in Dubai, for the right to join hosts New Zealand, Australia and Wales in Pool A of the tournament starting in October 2022.
"There's a bit of the unknown about it but it is nice to have no history against these teams," Lloyd adds. "We can just focus on ourselves. We have spent a lot of time together now and we need to be confident. It will be a new experience to be the top-ranked side, but we need to rise to that. We're all best friends off the pitch and give each other so much support. We've all got the same goal; we've sacrificed so much for the jersey over the years and it is finally paying off.
"I remember our footballers qualifying for the 2019 World Cup and I found that hugely inspirational. I hope if we succeed in getting there, other girls will find that inspiration from us and more players will think, 'I could play for Scotland and compete at World Cups and Commonwealth Games'."
As the pain of one missed target recedes further, perhaps two out of three wouldn't be such a bad success rate.