Back
By Jamie Lyall
Raymond Rhule: 'Rugby refuses to tap into personality, players must be seen and not heard'
Raymond Rhule loves to stand out, but back in Bloemfontein, a bashful Ghanaian boy who knew nothing of rugby, he did all he could to blend in with the crowd. Rhule was six when his family moved 7,500km south from Accra to the South African Free State. His mother, Blessing, ran a hair salon and little Raymond would help out braiding and plaiting on weekends.
He looked different to the other kids. He sounded different. He acted different. In those early days, he longed to camouflage.
"I've always stood out like a sore thumb," Rhule says. "Being dark-skinned, not being able to speak the Afrikaans language, not having the same background. It all ties back to being a kid, being able to adapt to your surroundings and finally being able to fit in.
"But for me to get the best out of myself, I have to be myself. I am going to be the one who stands out.
"I've learned that you don't always have to fit in. But if you're the nail that sticks out, you're going to be the one who gets the most heat."
If Cheslin Kolbe's name was on jerseys, he himself, and the team, would make a lot of money from branding. Rugby is not there yet. It's not part of its ethos.
Rhule is talking about the concept of identity. Or more pointedly, conformity. He laments how some of those cherished rugby values we hear so much about may in fact be holding the game back from new frontiers. The chummy, be-a-good-bloke code can stifle personality.
At La Rochelle, Rhule can be himself. He plays with flamboyance and speed, abandon and elan. The try he scored in the Champions Cup final, bamboozling Leinster with a blast of pace and a vicious swerving run off the left, was his joyous style in microcosm.
"I follow a lot of American sports and their whole sport is based on individualism. That is a huge marketing point. People don't just support their team; they support a specific player.
"Look at rugby: only in the English Premiership do the players have names on their jerseys. In every other country, you are a number, part of the system. Your personality effectively doesn't matter. In American sports, yes, you're a part of a system, but your name is a huge part of their brand and can be an addition to it. Rugby would benefit a great deal from that.
"If Cheslin Kolbe's name was on jerseys, he himself, and his team, would make a lot of money from branding. Rugby is not there yet. It's not part of its ethos.
"Rugby is a business and if you want to pay players more, you've got to make more. And if you want to make more, you've got to make the experience for the supporter a bit more personal, closer to home, more than just a number.
"If you look at the Drive to Survive Netflix series, you might not have taken any interest in Formula One but you become invested in the individual. That's a unique selling point that rugby refuses to tap into. We've got amazing individuals around but it's always 'be seen and not heard'. Being seen and not heard doesn't make money.
"For you to improve, you either have to innovate or copy. At the moment, rugby is not doing either. It's not copying anyone but it's not really innovating. We're just going round and round in circles."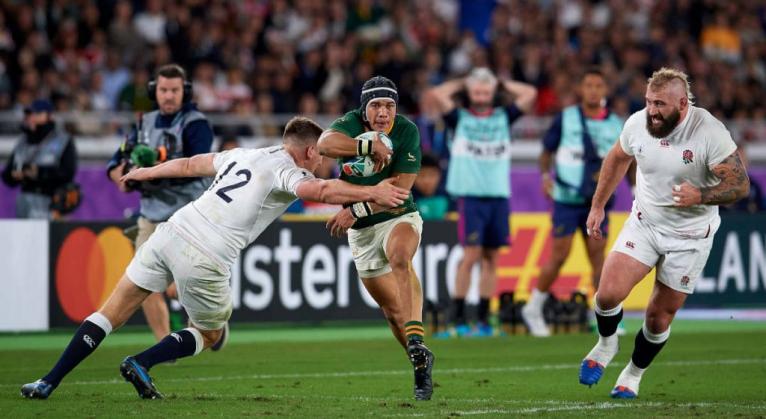 The game is frequently unkind to its extroverts. Finn Russell, Gavin Henson, James O'Connor and Danny Cipriani have been repeatedly maligned. Joe Marler was misunderstood for an age. There was Marcus Smith and Eddie Jones' clumsy Emma Raducanu reference. Ellis Genge still cops rubbish online. Those who dare to be different too often draw scepticism and ire. Rhule, who turns 30 this year, knows this better than most.
It has taken many years him to own his differences. To understand why, you have to go back to Albany, New Zealand in September 2017. One of the darkest days in Springbok rugby history. The All Blacks stuck 57 unanswered points on Allister Coetzee's meek and malleable charges. This mortifying humiliation remains South Africa's heaviest defeat of all time.
There are certain teams where guys can do no wrong. There are certain guys who do a little wrong and get the flak for everything. I got labelled, packaged and shipped.
On the right wing, Rhule missed nine tackles and quickly became a lightning rod for the fury of his proud rugby nation. Abuse flowed in torrents. It infected his social media accounts to such an extent that he switched off his notifications. He moved from the Cheetahs to the Stormers and the vitriol followed. He has not played for the Springboks since. The ordeal haunted him for an age and deep down, you get the sense it may haunt him still.
"You expect to be welcomed with open arms at the Stormers. The teams are announced at Newlands on matchday and everyone gets a big roar but for your name, it's quiet. You've still got to prove yourself.
"I was really naïve back then, being a young kid. I imagined, yeah, I had one bad game against the All Blacks but surely that's not what defines me.
"I got three or four man-of-the-match awards that Super Rugby season. If a new guy did that, he'd be a Bok straight away, the next talked-about guy. But because it was me, everything gets swept under the rug.
"You have a great game, you miss one tackle, and what they talk about is the one missed tackle, not the three tries you created, the five line breaks you made. The body of your work is summed up by one missed tackle. No-one else gets judged like that.
"There are certain teams where guys can do no wrong. There are certain guys who do a little wrong and get the flak for everything. I got labelled, packaged and shipped. It's hard to come back from that but I've never counted myself down and out."
When Rassie Erasmus took charge of the Springboks in early 2018, he invited a group of 100 players to attend his first training camp. Rhule was not among them. The anxiety turned to resignation.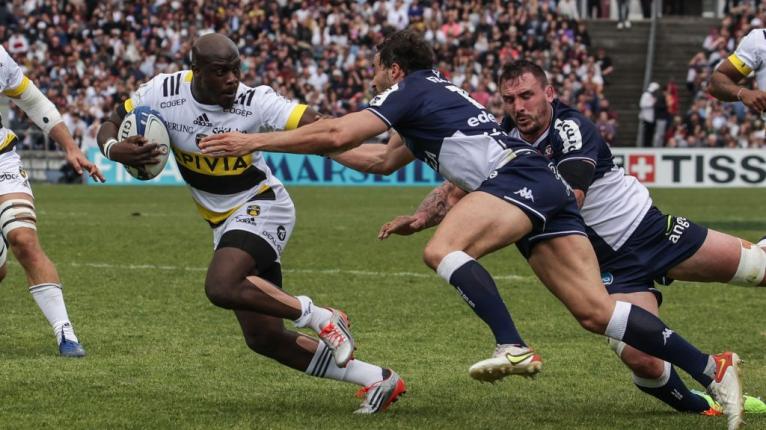 "I had a starting spot at the Stormers and got those man-of-the-match awards. We have four Super Rugby teams in South Africa with 15 starters per team. I'm not good enough to be in that initial 60 in the Bok squad. And I'm not even good enough to be one of the 40 others. It showed me I wasn't in their plans and I had to accept it."
He sought an early exit from his Stormers contract, left his young family in South Africa and journeyed to Grenoble and the shark-laden waters of the Top 14. The scars of Albany continued to stalk him. For two years, Rhule would rush back to the changing rooms at full-time and check his tackle statistics.
"As soon as I left South Africa, I left it all behind from a crowd perspective or from a commentator perspective. But I didn't leave it mentally, you understand?
"When you play a high-performance sport, there is no time for doubt. When there is doubt, you don't know yourself. You've got to play on instinct and when there's doubt, your instincts go out the door. Things you could do without thinking, you have to think about.
"I go into a tackle now thinking, 'I've got to make it, let me see if I can make a positive outcome'. In the midst of that, I was like, 'shit, just don't miss this tackle'.
"You're still physically capable, but mentally you become a prisoner of your own body."
France quite literally bludgeoned the doubt from Rhule's mind. The seismic pressure of a league where expectation soars and relegation looms forced him to evolve. When Grenoble dropped to the ProD2, he made himself a star of the second tier and won Ronan O'Gara's admiration. Two years later, he is a European champion, Top 14 finalist and one of the most coveted backs in France.
Coming home from a defeat at 2am or 3am, there are still supporters lining up to greet everyone getting back. That's after a loss.
"Playing at the Cheetahs and Stormers, if you didn't do well that season, you tried again next season. That's the approach of Super Rugby, it's static.
"At Grenoble, every game mattered. You were playing for your life. All I got from the coaches my first year was 'garder le ballon' – keep the ball. I learned the discipline of keeping the ball because if we didn't, we found ourselves under our poles and losing the game.
"It was playing under constant pressure and being able to execute. Yeah, you can play with freedom, but you need the responsibility of securing the ball.
"Linking up with Ronan and all the boys here, I've always been able to play freely and try certain things, but I've never lost that responsibility of keeping the ball."
Ask Rhule about life in the bustling little port town, and a great smile spreads across his face. La Rochelle has his heart. He has never known passion to course through a place like it, not even in the hotbeds of South Africa. He has never encountered a people so in thrall to its rugby team that the town ebbs and flows and pulsates with the fortunes of Les Maritimes.
When La Rochelle stunned Leinster in that final back in May, close to 40,000 thronged in the streets. They crammed in like a swarm of black-and-yellow bees at the port. Some leapt into the Bay of Biscay. The players puffed cigars and sipped champagne and marvelled at the euphoria erupting all around.
"Still today I don't understand how nobody fell into the water," Rhule laughs.
"Coming home from a defeat at 2am or 3am, there are still supporters lining up to greet everyone getting back. That's after a loss.
"The trophy itself was great but the best part was just to see what it meant to everyone, from little kids to grown men. We as sportsmen speak about being able to influence people's lives but it's hard to actually see it. For the first time, I could see the difference in the vibe, the people. That's special.
"Even today, the last thing they'll say to you is, 'thank you for the championship'. That's nearly four months later."
This is the final year of Rhule's La Rochelle contract and he is in negotiations with the club over a new one. "Happy" is how he puts it when you query his situation. But he remains separated from his wife and three sons, aged six, five and four, who continue to stay in South Africa.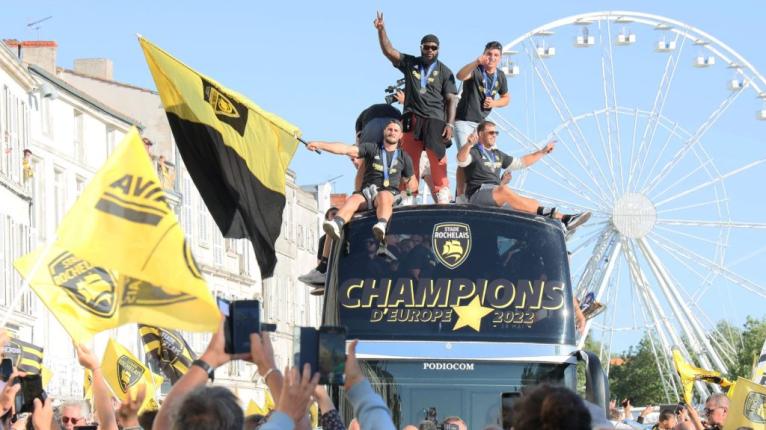 "I am back there every opportunity I get. It is tough but a lot of players have uncertain futures; I've seen worse.
"I left South Africa firstly to sort myself out, and also to sort my family out financially. Whatever chance I get, I am back home. I don't have much of a holiday. One week, two weeks, whenever I get time off, I'm back with my family."
Away from his brood, but at ease with himself, Rhule has learned to love his differences. His unrelenting excellence for La Rochelle has quietened the last of the dissenters. His identity shines bright, a beacon of pizzazz in the bright yellow of his team.
"If I'm going to be loud, be myself, enjoy music, whatever, you can't give them anything to hammer you on. If you're loud off the field, you have to produce on the field. I put myself in a position to get a lot of flak but I make sure I produce.
"I don't always get it right but that's what I've embraced. I need to put myself out there in order for me to be more involved. If I'm not involved, then I'm average. It gives me the opportunity to show people who I am."