Back
By Owain Jones
Protheroe given licence to thrill
The emotions of a nation were stirred with the three-part documentary Slammed, which charts the boom and bust nature of Welsh rugby in all its glory. In it we are reminded of the prodigious talents that have been produced in Wales, with a seam of gifted Ospreys mainstays of the narrative. In 2005, the impish Shane Williams skipped around defenders for fun and later we saw the languid gait of James Hook bamboozling defenders before a shake of the hips, a fend and grass opening up in front of him. That's not to mention the lavish gifts of a certain Gavin Henson, who most certainly 'played good, when he looked good'.
Mat Protheroe was just eight years of age when he watched the first Grand Slam and already showing fleet-footed promise on rugby pitches around Swansea.
Fast forward 16 years and Protheroe is lifting bums off seats like Williams as he cuts a swathe in the Champions Cup. Against Sale Sharks in the Champions Cup, playing in his favoured full-back position, commentator Sam Warburton was gushing in his praise of the back-three player who had transferred from Bristol Bears in the summer of 2020 and returned to his boyhood region.
When the game finished, Protheroe had slalomed round defenders for 173 metres after giving the Sale Sharks defence a torrid afternoon. He left bloodied after a clumsy off-the-ball block from Luke James, as the teak-tough Northerners tired of his derring-do from deep.
Speaking to Protheroe you can see a little smile comes across his face when discussing his influence on the Ospreys' last outing in Europe, before taking on the decadent, but deadly, Parisiens, Racing 92 this afternoon. "I only had the opportunity to play full-back because Dan (Evans) had a niggle. I love playing there, it's where I played for Gloucester and Bristol, so I went out with the motivation to go and express myself."
What has pleased the 25-year-old is that he's been given licence to pin his ears back in an Ospreys shirt, in a similar way to the generation he grew up admiring, even if his comparatively lightweight frame, saw him taking a circuitous way back to him home region. It included him playing with a Red Rose on his chest at U20 level alongside the likes of Max Malins, Joe Marchant and Callum Chick in a No 10 shirt.
Even on the training ground, Hooky would do ridiculous stuff that left me thinking, 'how do you even do that?
It was while at Gloucester he brushed shoulders with a childhood hero. "Until I was 20, I played fly-half and I was soon training at Hartpury alongside Hooky (James Hook), who was with Gloucester. He was the Ospreys No 10 I watched when I went down The Liberty to watch with family. I know it sounds cringey but when you're 18 and rubbing shoulders with someone you used to watch and tried to emulate in the back garden, it was pretty cool. He is down-to-earth. Unfortunately, he was on the verge of retirement when I pitched up at the Ospreys, but even on the training ground, Hooky would do ridiculous stuff that left me thinking, 'how do you even do that?'"
Similar to entertainers Williams and Hook, Protheroe resolved to concentrate on his strengths that set him apart; namely his x-factor of beating players in broken field play. "When I signed for Gloucester at 18, there was a lot of talk about my size, they'd say, 'you're not big enough', and back then I wasn't. I think they thought if I piled on a heap of weight everything would be fall into place but I did it too quickly, so when I saw a gap, my brain told me to dart through but my body couldn't manage it. I'll never be a player that will be writing off 110kg players but I like to think I am defensively sound. The way I get an effective hit is by making the decision to fill the space and not let the bigger boys get a run up. If you give the likes of (Nemani) Nadolo and (Taqele) Naiyavaro a head of steam, it's going to be a tough day at the office."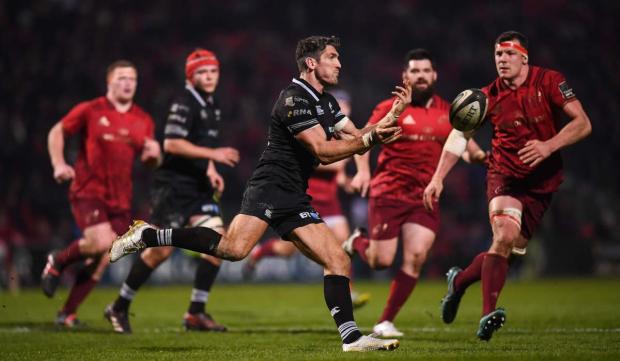 Being pigeon-holed is something Protheroe has had to contend with for some time which is why he feels so comfortable under Toby Booth, perhaps for the first time in his career. "Since coming to the Ospreys, Toby is the first coach I've had that has really celebrated what I can do. He backs me to be myself. I'm looking forward to working with him for a long time to come."
His previous coach was Pat Lam, the Bristol Bears coach, and Protheroe does see similarities, and differences, with his current DoR. "The main similarity between Toby and Pat is that they are very attack-minded coaches. The main difference is working under Pat, who is an incredible coach, I didn't feel it was as easy to express myself as much as I do here. If you I went off-script, I felt I'd be letting the team down. Toby has his systems like every coach, but if it's a spontaneous decision then he backs you to go for it, as long as you can justify it."
I have really enjoyed working with Dan in the back three. We complement each other and he has helped me hugely with the nuances of full-back play
'Proth' as he's known by his team-mates knows patience will be a virtue with the ultra-dependable Evans in situ, but at 33, Protheroe knows the opportunity will eventually come. "I have really enjoyed working with Dan in the back three. We complement each other and he has helped me hugely with the nuances of full-back play. When he's eventually hangs up his boots after another million games, I'll be putting my hand up for the 15 shirt."
The speedster knows it would be unwise to limit himself to one position and he is equally adept on the flank for the Ospreys. "I prefer to play at full-back because I get more touches and feel I can influence the game more. On the wing, if you're not trying to gas someone, you're trying to keep your positional discipline. As a former fly-half, in phase play I run towards the ruck, tell the 10 what I'm seeing. Sometimes feel like I'm edging infield before checking myself and holding my position."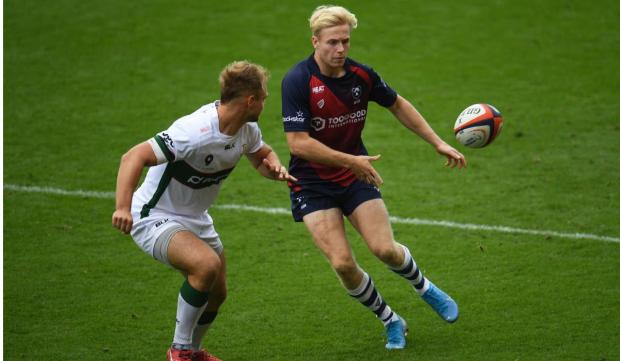 Hailing from Loughor, and playing his mini rugby with Waunarlwydd, Protheroe was made in Swansea but went to finishing school in Hartpury, like Test stars Louis Rees-Zammit, Alex Cuthbert and Ross Moriarty. He came through the districts in Swansea, but at U16 level, was overlooked before the Ospreys had a chance to look at him. "When I was 15, I went into school one day and one of the lads asked, 'why weren't you at training last night?' I spoke to the coaches who told me, 'we didn't think you were going to get in, so didn't put your forward' My attitude was, 'it wasn't really your decision to make, that was for the Ospreys'.
Undeterred, he wasn't about to give up his dream.
A month later, Protheroe had a call from the Hartpury DoR, after a video of Protheroe slicing teams apart found itself on his desk. After heading over the Bridge with his grandmother, within five minutes, he was told the hugely respected college wanted to offer him a scholarship to further his studies and play rugby. "I thought, I have nothing to lose, I've always wanted to be a rugby player, so I packed my bags and headed to Gloucester."
People look at rugby players and think their lives are perfect but no one knows what is going on in their life outside the game.
His single-mindedness was unsurprising due to the challenges he had to overcome in his teenage years, losing a parent. "My father, Andrew, passed away at 15 and when you go through something like that, not getting selected in a rugby squad isn't the biggest thing in life but it is the making of you."
Protheroe said it took a little convincing for his gran to see her beloved grandson leaving home, so he had to promise to come back to Swansea after two years, if rugby didn't work out, and get his qualifications. He has stayed true to his promise and along with collecting coaching badges, is doing qualifications towards a teaching PGCE. "If I'm honest, at times I've used rugby as an escape. I lived with my gran from the age of eight, who I saw as my mum basically. Sadly she passed away last August. That was really tough and didn't help me at the start of the season because I had lots of personal stuff to sort out, like the house, but thankfully my sister, brother and girlfriend were very supportive."
The loss of his gran has added an extra motivation to succeed. "Her and dad are the two main people I want to make proud, I've got them to think about if I'm blowing out of my behind at the end of a game and in pain. I know I'll get through it. Losing them has forged me. People look at rugby players and think their lives are perfect but no one knows what is going on in their life outside the game. I have gone through the same stuff as the fans and hopefully I've dealt with it pretty well."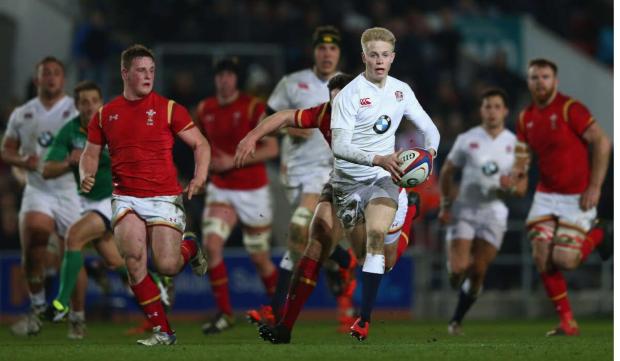 The efforts and elan Protheroe has shown in an Ospreys shirt hasn't gone unnoticed by fans and he has been mooted as a Six Nations bolter by rugby's cognoscenti. So has the man in question been contacted by Wayne Pivac ahead of Tuesday's squad announcement? "I haven't heard a thing from the Welsh management.  Players are lying when they say they don't think about it at all but it isn't at the forefront of my mind. Don't get me wrong, I'd love to play for Wales, it's the main reason I ended up coming back, alongside playing for my home region. Hopefully one day I'll get a cap but I know I need to keep performing for the Ospreys."
When Protheroe and his team-mates take to the field against Racing 92 this afternoon, thoughts will be with Ifan Phillips, their young hooker who lost a leg in a motorcycle crash. The incident shocked the tight-knit Ospreys squad. "We want to do our bit for Ifan (Phillips). Go out and represent him to show him what he means to us as friend. I'm close to Ifan outside rugby and one of my best mates was with him at the time, so it's been tough. The way he's held himself is a testament to his character. I know he'll be saying, 'what's the next best thing I can do? He will excel in anything he does next."
As Protheroe knows, strength comes from adversity, and he is a shining example of that.