Back
By Jamie Lyall
Premiership final: Sean Maitland's Saracens 'revolution'
Sean Maitland's harshest critics aren't his snarling Saracens leaders. The worst barbs don't come during review sessions, when the screen of doom flickers into life and clips of a dropped pass or a missed tackle are beamed before the room. They don't come from Mark McCall or Joe Shaw or any of the Saracens brain trust. They don't even come from his family.
No, the most ruthless spectators make their feelings known every Monday, when Maitland fetches up at a North London pitch to coach them. The winger has spent the past year working with the Saracens Foundation, helping their disability team, Sarries RFC, for which he was recently nominated for the Premiership community player of the year award. The work is rewarding; the banter unforgiving.
These children battle a range of impairments and learning difficulties and Maitland thinks of them often as he readies himself for the final lap of Saracens' road to redemption. Twickenham on Saturday; a shootout with Leicester Tigers; the Premiership title at stake.
"Not many people know this, but the Saracens Foundation is absolutely outstanding," he says. "They go under the radar. They're doing some brilliant stuff. We've got our own high school in a tough neighbourhood in North London.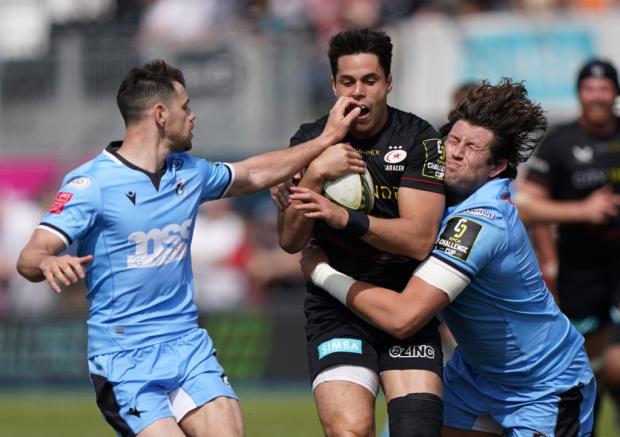 "They have a Saracens disability group and every Monday, me and a few of the other guys go down for an hour to coach. I've got three healthy kids and sometimes it gets a bit tough, especially with no family here, but you spend time with these kids and it puts life into perspective. You run a few training drills, catch a few balls, play a few games.
"They're so funny. They give you energy. And they're so brutally honest. If you have a bad game, they'll let you know about it. I shaved my head, just wanted a change, and one of the boys said noticed.
"I asked him 'what do you reckon?'
"He said, 'Mate, that's got mid-life crisis written all over it'. I was in tears. It puts a smile on their face, they're all big Saracens fans, and for me it's something so small."
This tranquil and fulfilling endeavour sits in stark contrast to what Saracens are attempting to achieve, indeed what they have already done on their return to the Premiership. A second-place finish was followed by a thunderous semi-final bludgeoning of Harlequins. The ferocity of that contest is virtually unheard of at club level. The collisions were frightening, the pace relentless, the niggle palpable. Saracens copped three yellow cards in the second half alone, each for a dangerous tackle.
There was a bit of shit-talking during the week from them especially. A couple of their players – you probably know who I'm talking about – and I don't mind that at all.
Underpinning it all was the heated London rivalry, an enmity swelled by the recent past. Harlequins were among the most vocal detractors when Saracens' salary cap violations came to light and they were booted out of the top tier. The pot was stirred in midweek by some punchy quotes from Joe Marler and the visiting players.
"It was a special game, all-out for 80 minutes," says Maitland. "It had everything: great attack, massive collisions, the yellow cards didn't help us but they added to it. For us to defend with 13, and 14 for most of the second half, was bloody tough.
"There was a bit of shit-talking during the week from them especially. A couple of their players – you probably know who I'm talking about – and I don't mind that at all. They were trying to get under our skin but we don't mind that. We don't really shit-talk too much.
"There's been no anger at all [fuelling us]. All this white noise, we've been good at shutting it out."
Maitland paints Saracens as machine-like in their focus, unaffected by the chaos and rancour which erupted all around them back in January 2020. His own experiences, though, were trying. He returned, earlier than hoped, from Scotland's grim 2019 World Cup to a club in turmoil, sent to serve penance in the Championship. He worried whether he'd be kept on, and if he wasn't, where he might find a new home.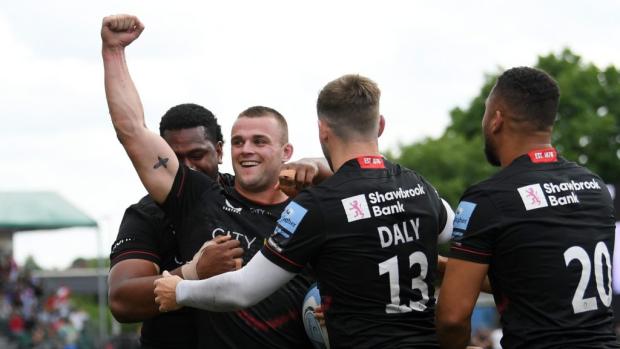 "It's been a long, long road. I went from a pretty disastrous World Cup to getting back to the club and literally finding out, oh, our salary cap stuff is kicking off, we're getting relegated and playing for nothing in the Premiership.
"The most difficult thing was my future, not knowing what was going to happen with contracts. I've got a young family; I'm not getting any younger. I was 31, 32 at the time, and I wanted to stay and be part of that group of players who almost started another revolution. You stuck with the club, played in the Championship, went through all those hard times and now you're bringing it back up to, hopefully, some glory.
"A lot of people have had to leave but one thing that's stood out is how the boys have knuckled down and got on with it. We lost a few, but our spine, our leadership group have been really, really important and we knew it was a massive challenge.
"We had to win the Championship – I couldn't imagine if we hadn't won it, an absolute disaster – but we haven't looked too far ahead. We've enjoyed the journey, enjoyed the grind. We played in the Championship with no fans, won it, and we knew it was going to be tough coming back up, having not played that high level of rugby for a good season-and-a-half. To come back and do what we've done has been just so special."
While the past was fraught, the present is invigorating. Maitland will turn 34 as the new season begins but continues to deliver some of his slickest stuff. He has a respectable haul of seven tries this term, having missed only four of Saracens' 23 Premiership matches, and recently signed a one-year contract.
Those at the StoneX value him highly, for his finishing acumen, aerial prowess, defensive nous and keen rugby brain. McCall says he is "hugely respected by everyone at the training ground". Shaw, his head coach, calls him "one of the most coachable players I have ever come across".
I haven't retired. Me and Gregor have a good relationship, he texted me 'well done' on the contract extension.
For one reason or another, it has been fifteen months since Maitland's 53rd and most recent Scotland cap. Age is a factor, as Gregor Townsend builds for next year's World Cup. So too is accessibility: Townsend called him in as injury cover during the Six Nations, but knowing he was only there to train, Maitland declined, preferring to spend time with his wife and three children while easing the load on his body.
Duhan van der Merwe and Darcy Graham are Townsend's premier wingers right now. Rufus McLean is emerging, Kyle Rowe is flying and Kyle Steyn recovers from injury. Maitland has pledged never to retire from Test rugby and Townsend has been clear that he still has much to offer.
"I'm starting for one of the best teams in Europe," says Maitland. "There's still a drive, a desire to play for Scotland. I haven't had too much chat but I understand they're looking for the future and have two quality players there in Darcy and Duhi.
"I'm just keeping my head down. But I haven't retired. Me and Gregor have a good relationship, he texted me 'well done' on the contract extension. International rugby is in the back of my mind. I feel great and definitely feel I'm playing some of my best rugby."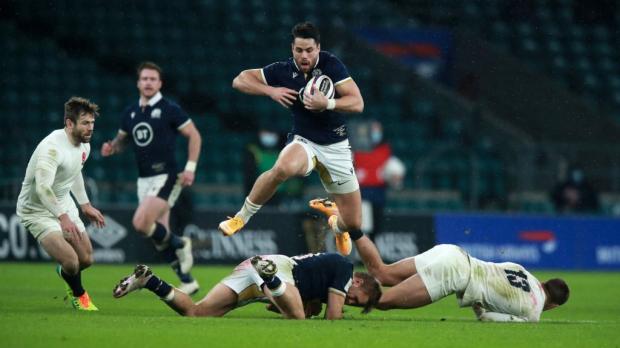 This will be Maitland's fourth final as a Saracen, fifth if you count the Championship showpiece against Ealing, and sixth if you include the 2017 Champions Cup showdown against Clermont, for which he was injured.
His haul of two Premiership titles and a European crown is impressive. Few Scottish internationals, especially, amass such riches. Scalp the Tigers, though, and it would stand proud above the rest. A moment he has longed for since relegation was confirmed. A joyous day he could share with the young Sarries fanatics he coaches on Monday nights.
"I don't know if any other club could go through what we have. Mark McCall said after the semi-final it's loyalty which saved the club, staff and players sticking it out.
"I sat down with the coaches at the start of the season and, you don't want to look too far ahead, but I just couldn't help thinking about it: going out there, winning the Premiership after everything we've been through. Even to make the semi and then the final, that's just ridiculous. Winning it would be one of the most special things in my career."